Joe Allen has enjoyed a fine start to the season and his importance in the squad will increase this season, writes Aaron Cutler.

Joe Allen has, by his own admission, endured a frustrating spell on Mersyside. Punctuated by injuries, inconsistency and misfortune his has proven a curious case; a Liverpool career yet to truly catch fire.
Seen as the first significant cog in Brendan Rodgers' sizeable re-build, the former Swansea man was bought on the premise of ball retention, quick transition and an eye for a pass.
High hopes were ratcheted considerably by the unhelpful and quite frankly absurd moniker bestowed by Rodgers himself. His now infamous 'Welsh Xavi' tag became a cross to bear, albeit one only aired courtesy of the misjudged Being: Liverpool series.
New Season Tenacity
Having weathered two years of stop-start football it is only now that Allen threatens to come into his own. Re-energised, the Wales international has fared as well as anyone in the Reds opening three games.
Often accused of executing short, risk-free passes many supporters overlook his all round contribution to the team. In last Sunday's impressive victory, Allen made as many tackles as anyone on the park. By no means a one off, he featured in the top three (successful) tacklers during a debut Premier League campaign with The Swans. That tenacity and work-rate is not only endearing but essential given the current state of our midfield.
Steven Gerrard, for all his majesty, is never going to master the responsibility of an out-and-out Defensive Midfielder. Slow on the turn, he can be exposed if isolated in that role. Southampton capitalised on such frailties, where a hapless Lucas offered little if no support as Gerrard sought to push on and – instinctively – influence matters higher up the field.

What Allen and Jordan Henderson provide is cover. On those occasions where discipline (and legs) betray the captain one or the other is on-hand to plug that precarious gap.
Between them they have the stamina to not only support Gerrard but break forward and contribute to the counter-attack themselves. Last weekend Henderson burst into the box to assist the first, Allen to win a penalty and thus facilitate the second.
A diamond suits the latter perfectly. It was to this system that Rodgers reverted against Saints, Allen's introduction changing the game and gifting Liverpool a much needed foot-hold. Economical in possession he at least possesses the mobility and game intelligence to crop-up further afield, something Lucas has never acquired.
Importance
An automatic starter? Maybe not but make no mistake, Joe Allen is a key member of this squad. Those quick to dismiss his quality are suspected armchair supporters. Indeed, a litmus test on sporting intelligence can be taken simply by asking fans their opinion of our impish dynamo. This is a real footballer and someone Liverpool will rely upon with a hike in competitive games forthcoming.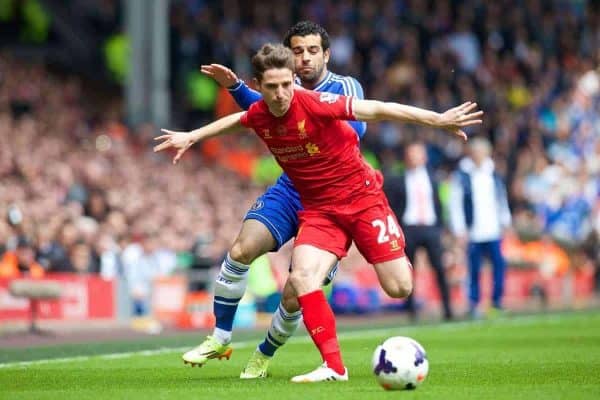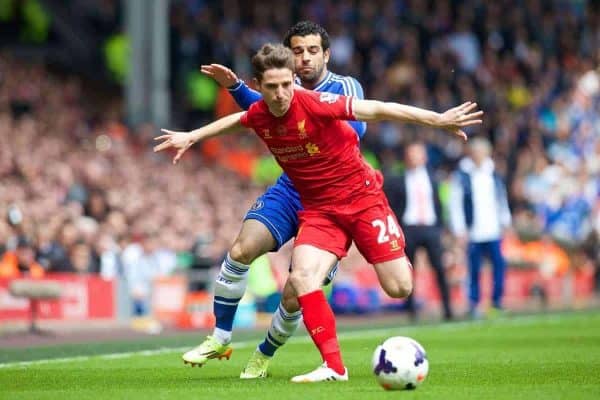 The imminent return of Adam Lallana has led many to speculate a would-be fall guy. Currently in possession of the shirt, it would be harsh and unwarranted should Allen fall by the sword for the visit of Aston Villa. But weight in numbers is a definite blessing given the dearth of options in reserve last term. Turning to one of Victor Moses or Iago Aspas to alter a game is like asking Ray Wilkins to recommend a good barber. We ultimately paid that price.
A cultured footballer, Allen will come into his own on Europe's biggest stage. Retaining the ball in the Champions League is essential, particularly in hostile environments such as FC Basel's St. Jakob Park.
Liverpool's gung-ho style is much loved but game intelligence will prove important in tense arenas. The We Attack, You Attack mantra is a reckless one and punishable by superior opponents.
Control the ball, silence the crowd, manage the game. Rafa Benitez perfected that art and it will be intriguing to note if Rodgers at least tweaks his customary principles on the continent.
The one area in which Lallana emphatically trumps Allen is goal-getting. To date, the Welshman has netted just three times for Liverpool, only one of which materialised in the Premier League. To estimate an improvement here is bold given THAT MISS at Goodison Park. My personal reaction to this monstrosity almost led to my eviction from an Egyptian bar. That's another story.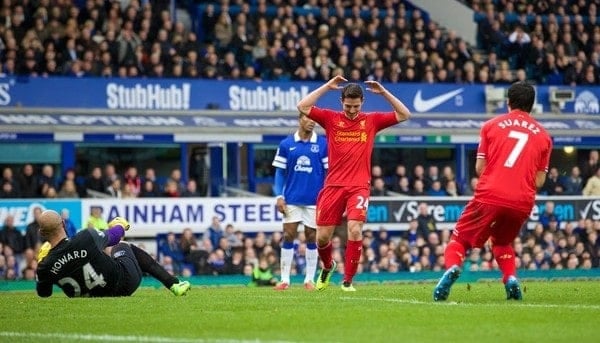 Nevertheless, a player capable of arriving late into the box – ala Sunday and Carrow Road last season – should be chipping in more. At 24 there remains time for that figure to spike and indeed the emphasis switches to midfield to compensate for our depleted Suarez tally.
A clean bill of health is deserved and a sustained run in the team will coincide with Allen proving just how good he is. Another Xavi? Obviously not but a selfless midfielder due some recognition.
Early Observations
Elsewhere, our start to the season has been an intriguing one. An opening day victory was fortuitous and indicative of a team unsure of its identity. Inevitable, the post Suarez hangover was always likely to pose uncertainty.
City away was disappointing but not too disparaging given their formidable home record (Stoke aside). Few of the so-called 'Big Boys' will leave Eastlands with anything but the tinny sound of Oasis reverberating in their eardrums. That and unerring respect for Joe Hart, a goalkeeper capable of playing through the pain barrier of an itchy scalp. Incredible.
In truth, White Hart Lane was the first throwback to the last season's breathless style. Notable was how sharper we looked with the diamond deployed and two up front. Debutant Mario Balotelli exerted influence through his sheer presence alone, occupying defenders as Raheem Sterling exuded class at the tip of the midfield.
Variations will no doubt abound. As we know, Brendan employed several systems last season – most of which paid dividends. Nevertheless, Sterling has become the talisman and the key to our success is involving him as much as possible – be it centrally or elsewhere.
Six points from nine is respectable and likely to instil confidence entering a winnable set of fixtures. A positive September would set us up nicely for an exciting season. This month itself takes on added significance as we finally dine at Europe's top table again. A long time coming, the rewards should taste all the sweeter. Enjoy the banquet.