With Jordan Henderson officially confirmed as Liverpool's new vice-captain, Jack Lusby believes this is just reward for the important midfielder.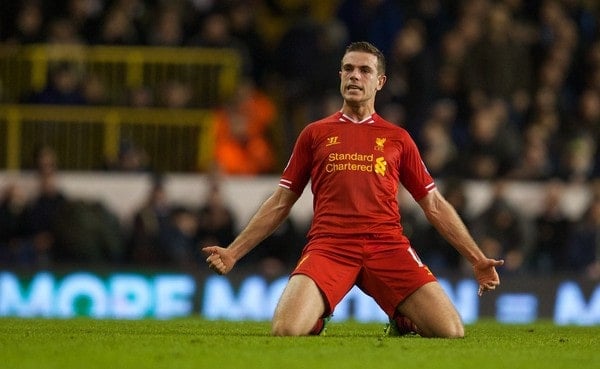 Following the departure of Daniel Agger to Brondby last month, a vacancy opened within the Liverpool ranks in the form of the vice captaincy, a position held by the great Dane since the retirement of Jamie Carragher.
On Monday night it was announced, to no real surprise, that Liverpool's new vice-captain was English midfielder Jordan Henderson.
The appointment of the 24-year-old former Sunderland man caps a remarkable rise within the Reds ranks following a big-money transfer in the summer of 2011.
#LFC are delighted to confirm Jordan Henderson is the club's new vice-captain pic.twitter.com/uAM02GCwDG

— Liverpool FC (@LFC) September 15, 2014
Henderson is now one of the most important members of Brendan Rodgers' squad, and a model pro, making the tireless performer a no-brainer for Steven Gerrard's understudy at Anfield.
BR: "It's another great story for Jordan in his journey as an #LFC player & it shows the great progress he has made." pic.twitter.com/7tqDMJDlPa

— Liverpool FC (@LFC) September 15, 2014
Rise
Much has been made of the fateful swap deal that could have been, with Rodgers offering Henderson to Fulham as part of a deal for American forward Clint Dempsey in 2012, but the fact that the Englishman is now the club's vice-captain makes this all the more remarkable.
https://twitter.com/MrBoywunder/status/511629026713403392
A £16-odd million acquisition under the frivolous Kenny Dalglish, Henderson was unfortunately tarred with the same brush as ridiculous signings such as Stewart Downing and Andy Carroll.
Even at the time, however, the midfielder stood out as a young player with great potential.
#LFC confirm Jordan Henderson as new vice-captain. What a 12 months he's had – key player for club and country

— Ben Smith (@BSmith) September 15, 2014
Things didn't work out, and the former Mackem looked to struggle to impose himself on the Liverpool first-team following the appointment of Rodgers.
However, Henderson is now key for the Reds manager and, in recent fixtures, is also proven so for Roy Hodgson's England side.
Delighted that Henderson has been named new #LFC vice-captain. Undoubtedly the most improved player in English football over last 2 years

— Henry Jackson (@HenryJackson87) September 15, 2014
Once derided, the midfielder is now a hugely respected figure by all parties in English football.
This rise, as a key Liverpool player, has made Henderson the perfect leader for Liverpool in terms of output on the pitch.

On the Pitch
Liverpool's recent 1-0 home loss to Paul Lambert's Aston Villa underlines the ebb and flow nature of the club at times—whilst under Rodgers results have generally been hugely impressive, there have been some blots in terms of consistency.
This cannot be said, however, of Henderson, and it is this consistency that makes the midfielder a true leader on the field.
Delighted for Hendo. Shown himself to be a real leader of late.

— Green Scouser (@Green_Scouser) September 15, 2014
Last season, the Englishman made 35 appearances in the Premier League, only missing out on the final three due to suspension.
During that period, Liverpool only lost five times.
With Henderson suspended, following a red card in the 3-2 win against Manchester City, the wheels fell off in the Reds' title charge.
Delighted for Henderson, he fully deserves to be VC. Has improved so much & is integral to everything good about our game. #LFC.

— Si Steers (@sisteers) September 15, 2014
Henderson is the lynchpin within Rodgers' high-tempo pressing system, with the midfielder's boundless energy vital as the Reds consistently probe the opposition off the ball.
Furthermore, the 24-year-old seems to have added an exceptional passing range to his locker since the beginning of last season.
New vice-captain Jordan Henderson has made 136 appearances for #LFC since joining in 2011, scoring 13 times #HendoLFC pic.twitter.com/OKcKLZ1mWN

— Liverpool FC (@LFC) September 15, 2014
So far in 2014/15, it seems that Henderson's influence will only increase in the Liverpool midfield, as can be seen with the midfielder's two assists so far; a long-range, threaded through-ball opening up the Southampton defence for Raheem Sterling's opening weekend deadlock-breaker the highlight.
Jordan Henderson under Brendan Rodgers, Premier League –

69 appearances
60.9% win rate
9 goals
100 chances created pic.twitter.com/xQvkAlVjDT

— Squawka Football (@Squawka) September 15, 2014
Henderson still has great scope to develop under Rodgers, and this is immensely encouraging given the player's on-field work completely merits such a vaunted role even at this juncture.
Do Liverpool truly possess a more important player at this stage?
BR: "Both he and Steven Gerrard are examples to others in how they conduct themselves on and off the pitch." #LFC pic.twitter.com/Uy2rXj52Hk

— Liverpool FC (@LFC) September 15, 2014
Off the Pitch
Henderson is an exceptional influence, too, off the pitch.
Brendan Rodgers: "He is someone who represents the best values of what we are all about, as a team & as a club." #LFC pic.twitter.com/FXiZe8mjxn

— Liverpool FC (@LFC) September 15, 2014
As a club, the Reds under Rodgers are more than just a footballing outfit, with the Ulsterman looking to instill a wholesale pragmatism and workmanship from top to bottom—Henderson embodies this.
Delighted to see Jordan Henderson announced new #LFC vice-captain. Always rated him + great to see him reaping the rewards of his hard work.

— Ben (@bm12s) September 15, 2014
This hard work has been apparent from a young footballing age with Henderson, who received his first England cap as a Sunderland player in 2010.
A tee total footballer, who described himself in an interview prior to this Wembley appearance as "a little bit boring, I guess," the midfielder believes he remains grounded due to his upbringing.
"My Mum and Dad have been a good influence on me and brought me up really well. They have kept my feet on the ground and not let me get carried away."
These quotes are reminiscent of both Gary Neville and Gareth Bale, two players who are also impeccable professionals whose game was based on years of hard graft—the latter may be a high-profile Galactico now, but his beginnings were as humble as that of Henderson.
"I try to do as much as I can to help the team – that's important," he said recently http://t.co/jGpHvfJcZY #HendoLFC pic.twitter.com/RYBVsY4u5H

— Liverpool FC (@LFC) September 15, 2014
This lends supremely to Henderson's influence off the pitch, and could be seen on England duty when talking about the rise of Liverpool teammate Sterling.
"He's a very level headed for a young lad his age. Hopefully he can continue improving and working hard…He's got the right people around him at the club and off the field as well. If he keeps working hard, with the players and the manager he has at Liverpool he can really kick on."
Although Sterling is five years Henderson's junior, it is important to recognise that the midfielder is still a young player developing himself.
These quotes, however, portray an assured influence, and relieving the pressure from Sterling—who has just adopted a focal role under Hodgson—is true captain's work.
BR: "I believe Jordan will be an important player here at #LFC for years to come." pic.twitter.com/CYm9Woib1J

— Liverpool FC (@LFC) September 15, 2014
Perhaps most importantly, there is great longevity to the appointment of Henderson as vice-captain under Rodgers.
The Ulsterman has overseen a dramatic development in the midfielder at Liverpool, and Henderson is the encapsulation of everything the manager is trying to do at the club, from his ideals on development, his style of play, and his foundations at the club overall.
[poll id="246″]
Henderson is a real Boot Room character, so to speak, and a model pro reaping his just rewards at Liverpool.
No doubt, the 24-year-old will succeed Gerrard as de facto captain in due course.
How do you feel about the appointment of Jordan Henderson as Liverpool vice-captain? Let us know in the comments below.