The League Cup may have been devalued in recent years, but Steven Scragg doesn't think that should be the case. Embrace Liverpool's rich history in the competition.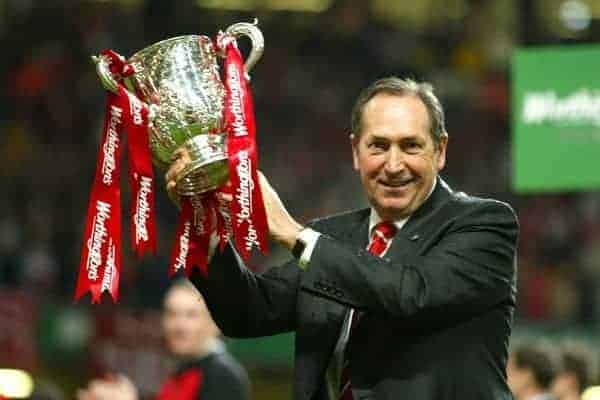 I love the League Cup, or whatever sponsor's name it currently resides under.
The League Cup changes its partner in sponsorship on a regular basis. Everyone eventually reaches an age when you either call it by whatever name it had when you stopped paying attention to such things, or you plump for the secure method of simply referring to it by its 'birth name'. I go with its birth name; otherwise I'd still be calling it 'The Worthington Cup'.
A cursory Google search unearths the concept that I stopped paying attention over a decade ago. The League Cup hasn't been the 'Worthington Cup' since Liverpool beat Manchester United in the 2003 final. I also found out that it's shockingly over two decades since Rumbelows effectively went bust, while I completely forgot that Coca-Cola once had their name embossed upon the tournament.
For me Opal Fruits are Opal Fruits instead of Starburst. A Marathon will always be a Marathon rather than Snickers. I will insist upon striding into a newsagents and confusing shop assistants that weren't even born in, let alone remember 1983 by asking for a Marathon. The League Cup will always be The League Cup to me.
Liverpool's League Cup History
I came to football coherence at the beginning of the 1980s, at a time when Liverpool simply didn't lose League Cup games. After an embarrassing 0-1 defeat away at 4th Division Bradford City in the 1st leg of the Second Round on August 27th 1980, a defeat Liverpool rectified with a 4-0 win in the 2nd leg at Anfield, before going on to lift the trophy for the very first time, the club then remained unbeaten in the competition again until losing 0-1 away at Tottenham Hotspur over four years later on October 31st 1984, Halloween no less.
Between those losses to Bradford and Spurs; Liverpool went 39 games unbeaten in the competition, and became the only English football club to win a trophy four times in succession, an achievement that still stands to this very day. It is one of the most under-rated accomplishments in football history, plus it was all done during the competitions heyday when all sides fielded full strength line-ups. Liverpool saw off some heavyweight opposition in each and every one of those finals, and along the way to reach Wembley in the first place.
West Ham United in 1981 were FA Cup holders and storming their way to the Second Division title, losing just four league games in the process, as well as a run to the last eight of the European Cup Winners Cup.
Tottenham Hotspur in 1982, Manchester United in 1983 and Everton in 1984 all went on to lift that years FA Cup after being beaten in the League Cup Final by Liverpool. The FA Cup suddenly became a consolation prize in my eyes for those we beat in the League Cup Final.
After all, they would even be given soft opposition in those FA Cup Finals wouldn't they? QPR, Brighton and Hove Albion and Watford? QPR were a mid-table Second Division side, Brighton relegated and Watford were well, they were just Watford. The FA Cup was for losers really. Absolutely nothing to do with the fact that Liverpool kept shooting themselves in the foot in that particular competition. Honest. The League Cup was where it was at.
I was gutted when we lost that game at Spurs in late 84. It was weird watching Norwich City beat Sunderland in the final of 'our competition'. Natural order seemed set to be restored in 1986 until we contrived to score all four goals in the 2nd leg of the semi-final against QPR in the 2-2 draw at Anfield. By the time we lost to Arsenal in the 1987 final things had changed a bit, although it was no less unsettling an experience, but by then Oxford United had gone on to win it in 86 and we'd won an FA Cup for the first time in my lifetime. The FA Cup was now in fashion for Liverpool fans.
The competition had changed names and trophies once again. The' Littlewoods Cup' looked like an oversized silver drinking goblet. The Milk Cup trophy hadn't been an aesthetic joy by any means, but it was ours, while I've always preferred the three handled original League Cup trophy. At that 87 final we knew Ian Rush was off to Juventus, while Kenny Dalglish had gone into semi-retirement as a player and was only on the bench.
It was the first time we lost a game in which Rush had scored, plus we lost from being ahead. It was a culture shock really. 1987/88 was the response however and the League Cup lost its relevance in the blizzard that was Barnes-Beardsley-Aldridge and the constant chase of league and cup doubles that just didn't quite happen when they really should have.
Once we lost the art of winning league titles then it became an occasional joy to win the competition again. I've had some great days out watching us win the League Cup, particularly in Cardiff. Yes, there's a degree of 'meh' about the competition, but everyone tends to sit up and take notice if we drift our way through to the last eight. Who doesn't want to be part of a sea of red at a cup final? It's one of the greatest things you can be a part of.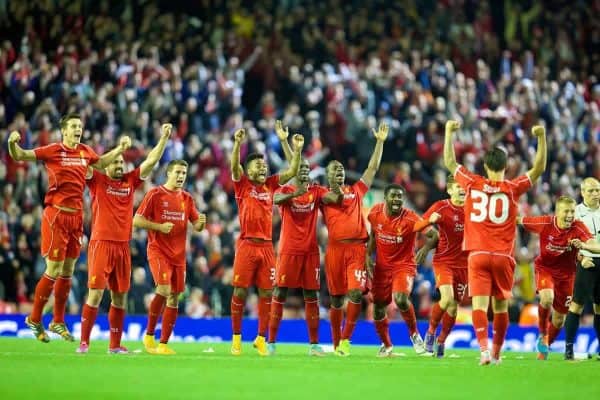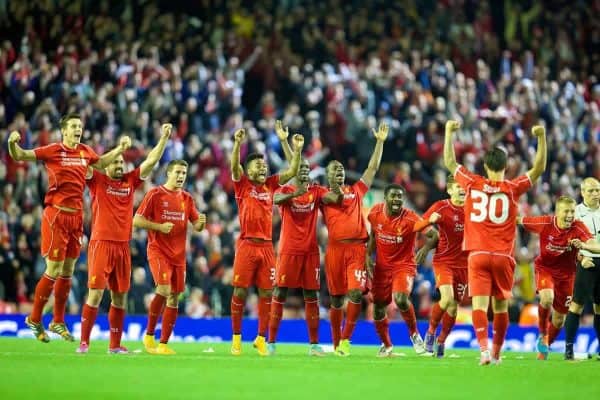 Tuesday night against Middlesborough was nuts. The League Cup excels in being 'nuts'. I've never witnessed a penalty shoot-out that went around the entire block of players before, resulting in them having to step up a second time. I'd guess you'll be waiting a very long time before you see that happen again. In the world of 'anything is possible' that Brendan Rodgers has worked so hard to nurture at Anfield perhaps the only shock should be is that it took this long to happen?
You can't read much into Tuesday night's game as far as it being a continuation of what's gone on in 2014/15 so far. In many ways the modern-day League Cup, certainly this early in the campaign, is almost like a little moon that orbits the main planetary body of the Premier League and Champions League entities. Maybe half of the side that walked onto the pitch against Middlesborough are in with a shout of starting against Everton on Saturday? Not all of those 'in with a shout' will actually start on Saturday. 3 or 4 might start.
Games like Tuesday are remarkably difficult for a player to walk away from in a stronger squad position than the one they occupied beforehand. Most players will either ebb away further still in the manner Kolo Toure in all likelihood did, or they will more or less maintain their status quo with an 'OK' performance, such as Lucas perhaps. Occasionally the spark and exuberance of youth will ignite, as in the cases of Jordan Rossiter and Jordan Williams.
Very occasionally you'll get to see the regeneration of a player that's been written off by not just the fans, but possibly even by the manager and coaching staff too. Suso emerged from behind the glittery and golden 'Stars in their Eyes' curtain on this occasion. There is a good player there and I'd like to see him involved in the weeks ahead. Maybe he can walk away from this season with a League Cup winner's medal in his pocket.
Steven Scragg