We look at who the best people to follow are on Twitter when it comes to everything related to Liverpool.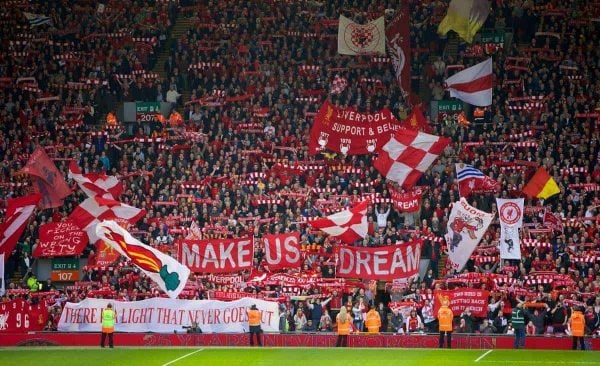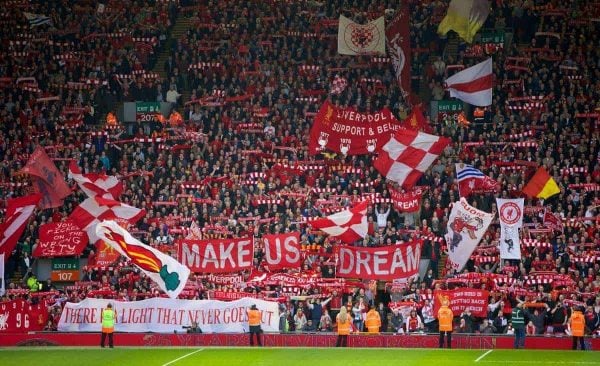 Twitter has become a huge part of many supporters' football fix in recent years, whether it be to read articles, watch videos or engage in debate about the Reds.
There are many terrific Twitter accounts to follow when it comes to Liverpool, and we have selected 10 of the best in our opinion.
Tony Barrett: @TonyBarretTimes
Liverpool made an approach to Raheem Sterling's representatives in the last fortnight & talks on a new deal are set to begin soon.

— Tony Barrett (@TonyBarrett) October 5, 2014
Tony Barrett is the Merseyside football writer for The Times, and is very highly-regarded among the top journalists in the country.
He offers an honest and knowledgeable opinion on anything to do with Liverpool, and when it comes to transfer news he is the man to trust. His dry sense of humour is an added bonus!
Karl Matchett: @karlmatchett
That looks an awful lot like a Gerrard-Lucas midfield pivot… :-/

— Karl Matchett (@karlmatchett) September 26, 2014
Karl writes regularly for Bleacher Report, and is the perfect person to follow if it's in-depth analysis you're looking for.
Although much of his focus is on his beloved Liverpool, he also offers plenty of interesting statistics and opinion from across Europe's biggest leagues.
MostarLFC: @MostarLFC
https://twitter.com/MostarLFC/status/519557909630308352
When it comes to consistently excellent Liverpool-related videos, there is nobody better to follow than Mostar.
Whether it be his well-edited highlights of an individual Red's performance- they are always of a good length, and give a proper idea as to how they have played- or his regular vine posts, Mostar is a must-follow.
James Pearce: @JamesPearceEcho
#LFC defender Dejan Lovren has a suspected groin injury. Returning to Merseyside to be assessed by club medical staff.

— James Pearce (@JamesPearceLFC) October 9, 2014
James Pearce is the lead LFC reporter for the Liverpool Echo, and is one of the best people to follow if you want regular streams of news regarded the Reds.
He writes match reports and excellent opinion pieces, and like Barrett, is a very good source when it comes to transfer rumours and injury news.
Dan Kennett: @DanKennett
One for @_Maleven: Creativity and passing numbers for Balotelli vs Sturridge last season #lfc pic.twitter.com/H03eopcWzn

— Dan Kennett (@DanKennett) October 4, 2014
Dan is another terrific football analyst, and often tweets numerous intriguing statistics regarding the Reds.
There is an originality about his posts, and they invariably stir a good debate.
The Redmen TV: @TheRedmenTV
SUBSCRIBERS! You wanted us to rate the summer signings (so far), so we did. Watch it now: http://t.co/2zUejifZcq pic.twitter.com/j3bb7x4Lwu

— The Redmen TV (@TheRedmenTV) October 8, 2014
The Redmen TV is essential viewing for any Liverpool fanatic. It's uncensored, off-the-cuff videos are hugely entertaining and insightful, and they often have good guests on too. Visit their website here.
The Liverpool Way: @theliverpoolway
Picture in the telegraph of my arl fella selling the mag. They managed to get his best side too! pic.twitter.com/YOR0VZoFrj

— The Liverpool Way ??? (@theliverpoolway) September 29, 2014
The Liverpool Way, run by Dave Usher is a superb Liverpool FC Fanzine and Podcast. There is a huge amount of top-quality content on the site, while the twitter account is always both highly amusing and thought-provoking.
Paul Tomkins: @paul_tomkins
New on The Tomkins Times: WBA: "I've Got to Admit It's Getting Better" | http://t.co/Y5j9PoTQvq | #lfc #ttt

— Paul Tomkins (@paul_tomkins) October 8, 2014
Paul is a sportswriter and author of 11 books, and has been a Reds fanatic for over 30 years. He also runs The Tomkins Times, which is full of articles rich in analysis and statistics.
His twitter feed is always interesting, whether it be informative statistics or the sort of honest, passionate opinions we all feel as Liverpool supporters.
We Are Liverpool Fanzine: @WeAre_Liverpool
…and then there were 3 :-) #3 #WAL on sale at game tomorrow & at http://t.co/TOcjHJMPif pic.twitter.com/5fCQ6u9u1l

— We Are Liverpool Fnz (@WeAre_Liverpool) September 12, 2014
We Are Liverpool is a brand new Liverpool fanzine that is available to buy at home games, and has many terrific articles written by numerous talented writers. The twitter page is always full of links to LFC articles from various different sites.
The brains behind it is Neil Poole, a born and bred Liverpool fan, who undoubtedly writes some of the funniest Reds-based articles around. Read some of his recent efforts for This Is Anfield here.
Jay Riley: @Jay_78_
Gerrard brutally honest & correct with his after match comments. #LFC simply not good enough.

— Spion Kop (@TheKopHQ) October 1, 2014
Jay is one of the most passionate Reds on twitter, and has a reputation for being a good club insider. More often than not, unlike many 'ITKs' on social media, the transfer speculation and Liverpool team news he tweets is spot on.
He also appears on numerous radio shows and podcasts to talk about Liverpool, including City Talk 105.9 and The Redmen TV.
Which Liverpool accounts do you recommend following on twitter? Let us know in the comments section below.