September's international break had devastating consequences on Brendan Rodgers' Liverpool as they lost key players and slumped into bad form that saw them win just once in the following six games. Ben Twelves discusses the need for a more authoritative approach from the Reds manager towards future international activity. 
Just as Brendan Rodgers' new look Liverpool team began to settle, heading back to the performance levels that had come to be expected, a poorly timed international break intervened. It didn't just get in the way of an evolving team slowly but surely finding its feet though, it killed us, severely impacting on our early season form. Make no mistake about it.
Emre Can, Joe Allen and most devastatingly, Daniel Sturridge all returned to Melwood nursing injuries – none of which were just slight knocks either – and all of which kept each of them out for the month of September and will continue until mid-October and beyond.
Any momentum and chemistry being built up within the squad and team at that time was then completely undone by the absence of two key players and a new-boy settling in to the Anfield surroundings but learning the English game at the same time.
Since crushing Tottenham for the second season running at White Hart Lane, the Reds have been unable to replicate a display of that class in over a months' worth of fixtures, with the international break a big reason behind it. Something has to be done to minimise the chances of this happening again starting from now.
Guardian – Rodgers is confident Sturridge, Allen and Can will be fit after the forthcoming international break

— LFCTS (@LFCTS) October 3, 2014
Negligence 
It could have been worse last time round too. Jordan Henderson limped out of training on Sunday evening then bafflingly played all 90 minutes of England's match in Switzerland the following night, with no thought or regard for player management in the slightest.
Rodgers thankfully put his foot down over Sturridge's availability as he nears a return to fitness from the thigh injury picked up last time out, to prevent the England set-up damaging him once again, and it's something the Liverpool boss should get used to doing, especially where Roy Hodgson is concerned.
Brendan Rodgers: @D_Sturridge will be available for #LFC again after international break – http://t.co/okv8iERpzL pic.twitter.com/MWu66KyKtO

— Liverpool FC (@LFC) October 4, 2014
Management
Such careless supervision of players and little consideration for clubs means Rodgers should start preventing the chosen lads from joining up with the England squad for certain games, such as the meaningless friendlies played during the season starting with Scotland in November.
A friendly performance is not going to shape an international future and any England friendly played disrupting club level should see the Liverpool players withdrawn.
There would be no worries over their future involvement with the England squad either, as all – Johnson aside – would remain involved in the squad or be nailed on starters when fit; not even Hodgson is daft enough to not pick the key Liverpool players.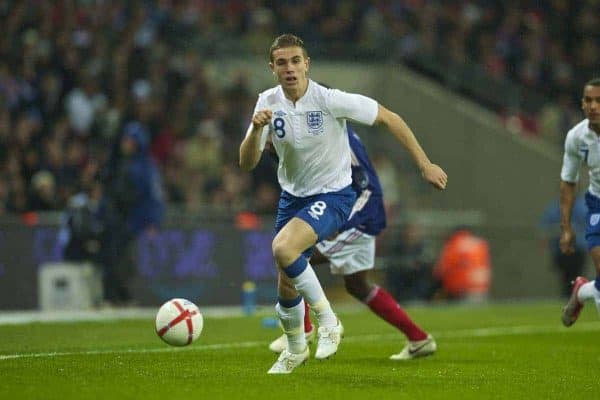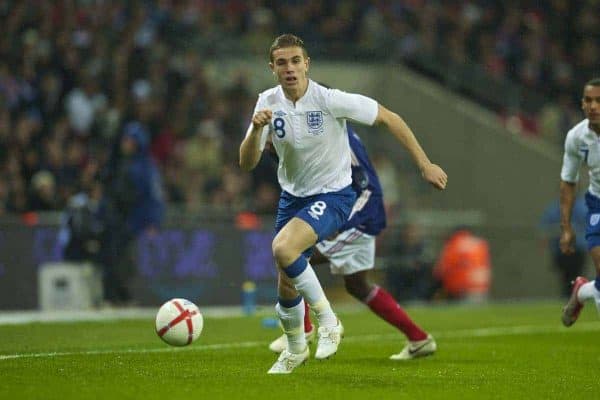 Qualifying games are different for all nations and while it's more difficult to withdraw players from fixtures of higher importance, Rodgers again needs to be more authoritative where these are concerned considering the level of opposition involved in a lot of the matches. The Reds boss needs to begin to have an input on involvement and minutes.
Henderson unnecessarily played the whole game against Switzerland despite an injury scare as alluded to and England being comfortable in the match, with only our vice-captain's outstanding natural fitness pulling him through unscathed.
Emre Can also played on through injury with Germany under 21s 6-0 up in their 8-0 win over Romania causing him to be out for around six weeks. Such carelessness is unacceptable and needs managing.
Ferguson Factor
I'd never usually use Alex Ferguson as an example of anything, but one thing that the Scotsman undoubtedly did so well was controlling his players' international activity. He was a master at it and the way he benefited is plain for all to see.
"At one stage there was nine of us and he would pull one or two of us out and let the other six go."
Former United midfielder Nicky Butt recently revealed that players at the club weren't even given a choice at times over whether they wanted to go to England after being called into the squad. Ferguson simply told them they weren't going and he carefully managed the situation, allowing certain players to go while keeping others within his grasp back at Old Trafford.
"He never once said to me to fake an injury," said Butt.

"He'd just say 'You've got an England friendly coming up and you're not going'. And that was that."
Rodgers should certainly be deploying similar tactics where some of our internationals are concerned.
Ryan Giggs enjoyed one of the longest football careers known to man, but only played for Wales a total of 64 times over a 16 year international career – an average of just four games per season – the important ones no doubt.
His standing within Welsh team made it possible for that to happen and Joe Allen should be next to benefit from a similar kind of management as he's also a nailed on starter regardless of loyalty to the set-up.
The fear of course in restricting players' international minutes would be that players kick up a fuss but they must remember that most are nailed on starters for their respective countries providing their performance for Liverpool is impressive and it's only performances in the important fixtures that will decide that.
It should also be remembered by the England lads, that no one from the international set-up showed any faith in either, Sturridge, Sterling and especially Henderson, until Rodgers took their performances to levels that propelled them to new-found national importance through his man-management.
Conclusion
When crunch time arrives and squads are selected for the major tournaments, players will be chosen on their form at club level and for country in important games – not picked on the amount of matches they've played or their willingness to complete 60 minutes against San Marino and the likes.
There's no concerns for Brendan Rodgers to have over pandering to international requirements and the Reds boss should become far more ruthless over international duty before Liverpool are once again derailed.