Having spent the international break resting, We Are Liverpool editor Neil Poole, is back rejuvenated and ready to review the last seven days of Liverpool FC.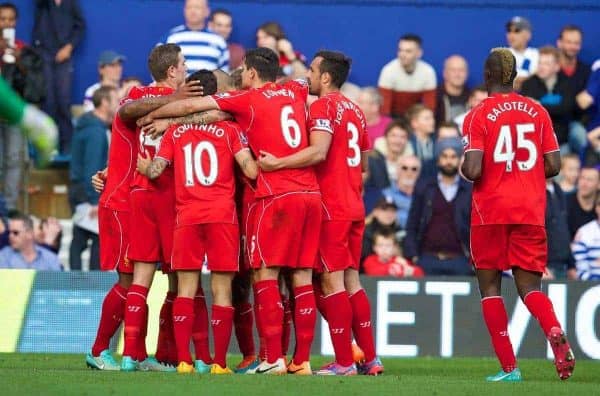 The last 9 minutes of the QPR v Liverpool anus clencher was the type of thing the unconscious mind of the seemingly narclopetic Raheem Sterling would dream up during one of his fourteen hour naps. It summed up a bizarre week in which Liverpool did very little of merit yet still managed to somehow get the tongues wagging.
No one should be surprised that insanity occurs at Loftus Road. Anyone who has seen the excellent 'The Four Year Plan' documentary will have sat open mouthed as they watched former co-owner Flavio Briatore sending down messages from the stand instructing manager, Paulo Sousa, which substitutions to make during the game.  Despite the interference of a cluessles bellend, QPR achieved their four year plan in 2011 and won promotion back to the Premier League.
In 2012 QPR were host to a horrific capitulation of a performance that foreshadowed our horrific capitulation of a performance against Crystal Palace last season. Two nil up with 75 minutes gone, in a game we'd dominated and which featured a spectacular overhead kick from Sebastian Coates, the players lost their minds and somehow we ended up losing 3-2. Thankfully, this time the score line was reversed.
You sensed things might go our way when we managed to limp to half time without conceding, when in truth we should have been two nil down. Leroy Fer, who was  turned down by North Wales' Everton eighteen months ago much to the dismay of their fans relieved any fears of misjudgement. He pinged his sitter off the cross bar leaving Redknapp scratching head, visibly perplexed. Less Leroy Fer, more Leroy Err?
However, I call your Fer sitter and I raise you a Balotelli sitter. Plenty of people already have the knives out for Mario, yet his shot was so appallingly and badly beyond description that he's even robbed this anally retentive blagger (sorry blogger) of a convenient slicing metaphor to use. What the f*ck Mario! Sort it out fella. However, never linguistically beaten, I'd observe that you could only get under a ball so much and hit it so vertically in the way Mario did if you were to first burst it with a sharp object. Like a knife.
Whether it be Gerrard and Rodgers in the post match interviews, Jamie Carragher in the studio, or fans shaking their heads like they were being attacked by flies in the Australian desert, there was much talk of Liverpool's luck. And while there's no debate we were poor and there was an element of fortune with the own goals, I think it does a disservice to the contributions of Raheem Sterling and Phillipe Coutinho to put our win down to fortune alone.
Sterling's quick thinking with the free kick that led to the first wasn't lucky. The rapid counter attack and slick passing in the build up to the second wasn't lucky. And if you think there was anything fortuitous about Coutinho's ball through to Raheem for the third, and you can't give credit where credit's due I'd apply for a job as a Hollywood Prison Guard now. Because you'd get it you bastard.
All season we've been watching our attacking players not move the ball quick enough and making the wrong choices in the final third. All season we've seen a defence that's looks like it's been injected with a horse tranquiliser. In the last nine minutes of the QPR game, improvement was seen in one of the above. I don't need to point saw no improvement. Although if you check Instagram right now you will see Enrique has taken a selfie with Mignolet, Lovren and Skrtel asleep in a stable.
Which brings me neatly to the 'Sterling tiredness' based news that dominated the whole week. I can't be bothered with overly criticising Hodgson; the man is a cretin. Any person who needs scientific evidence to show a human has more time to recuperate over two days rather than one is probably also the type who has to walk into a tree to believe in forests. What has interested me more in this debacle is the other ghoul who has come out of the shadows to comment. Step forward Michael Owen.
Owen claimed the concept of players burning out was a myth stating, "I know people will say, 'Well, we don't want anyone having burnout'. But I'll ask you now – can you name one player who has ever been burned out? I don't know of anyone."
Bloody hell Michael do you own a mirror?
Why on earth he's trying to knock down the one excuse he has for his career falling off a cliff after he left Liverpool is beyond me. Take the burnout argument away from Owen and all you're left with is a shithouse who jumped what he thought was a sinking ship, who spent the rest of his career in the treatment room, pocketing cash and gladly accepting Championship medals in which he'd played next to no part in winning without an ounce shame. He was also involved with horses and stables too.
Unlike Owen, Brendan was in Raheem's corner claiming that he'd been hung out to dry and saying all the right things. It seems the media training is working well throughout the ranks at Liverpool now as Sterling expertly swerved Geoff "you'll say what I want you to say" Shreeves attempts to resurrect the whole debate.
As the week draws to a close there are three more points in the bag and everyone can sleep easy at least for a couple of nights before Madrid gallop into town. However, most of that team currently need buckets of cold water poured over them to wake them out of their stupor. Otherwise, Wednesday night could be a nightmare.
As for Raheem. Put your feet up mate. You deserve it.
Issue 4 of We Are Liverpool will be on sale at the Madrid and Hull games this week outside the Kop, or you can order now at www.weareliverpoolfanzine.com