Liverpool face Real Madrid at Anfield on Wednesday evening, in what could be a memorable Champions League clash. Henry Jackson selects his combined XI between the two great clubs over the last decade.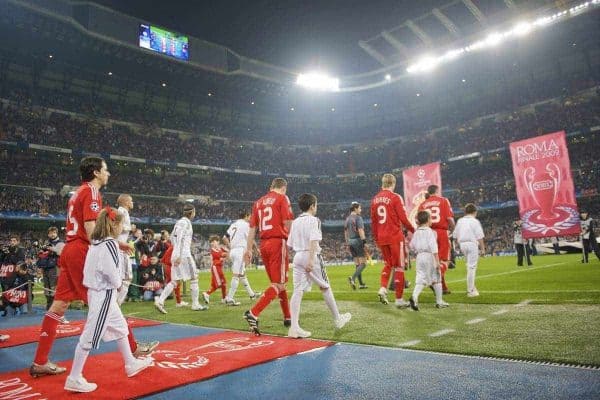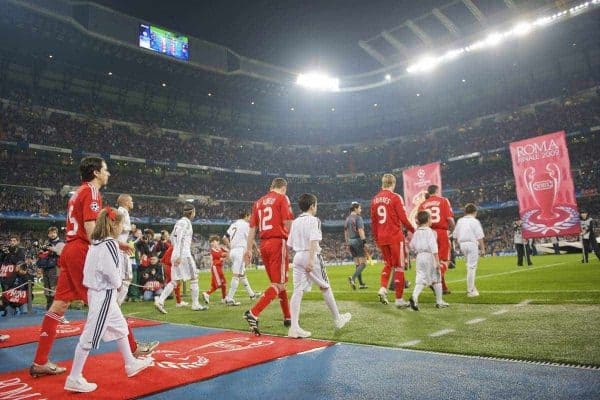 Goalkeeper- IKER CASILLAS
http://www.youtube.com/watch?v=abhrM5hFmuw
This is a very tough call between Casillas and Pepe Reina, but for pure longevity and influence the Real Madrid goalkeeper edges it in my opinion. The 33-year-old has been one of the best 'keepers of his generation, winning an incredible 158 caps for Spain. He has won everything there is to win in the game.
Reina was a superb servant to Liverpool for nearly a decade, but he just doesn't quite have his Spanish teammates' ability. Casillas' performance against the Reds in 2009, albeit in a losing cause, was exceptional.
Right-Back- SERGIO RAMOS
Although admittedly now predominantly a centre-back, Ramos has played at right-back plenty of times too. He is far from everyone's favourite player, but you can't argue with his leadership, quality and consistency over the years. He has over 100 caps for Spain and is still just 28.
Alvaro Arbeloa has been a very solid player for both clubs, while Steve Finnan was also criminally underrated. Ramos is a level above them though. Michel Salgado was becoming less effective by 2004 too.
Centre-Back- JAMIE CARRAGHER

Carragher is undoubtedly one of the Reds' best ever defenders, and he was one of Europe's best centre halves for several years. His displays in the 2004/05 Champions League winning season were legendary, and he went on to play more than 700 times for the club.
Pepe is too inconsistent, and although Raphael Varane has the ability to be the best centre-back in the world one day, he has not yet played nearly enough to merit being in the side. Fabio Cannavaro was poor when he joined them, despite having just inspired Italy to World Cup glory.
Centre-Back- SAMI HYYPIA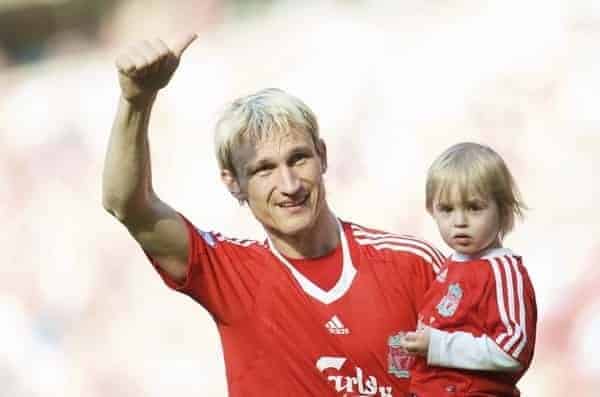 Hyypia was one of Liverpool's greatest ever bargain buys, costing just £2.5m from Willem II in 1999, and he is a genuine club legend.
His reading of the game was exemplary, he oozed class on the ball and he was a great captain. He is exactly the kind of player Los Blancos have craved over the past decade.
Left-Back- MARCELO
Marcelo might not be the most perfect left-back around- he can be very erratic defensively- but he's still been the best in his position at either club since 2004.
Roberto Carlos was past his best a decade ago, while John Arne Riise was a great servant to Liverpool but never in that world-class bracket. Fabio Coentrao is more solid than Marcelo, but the Brazilian's attacking brilliance just gives him the edge.
Centre Midfield- XABI ALONSO

Alonso walks into this side, having been a wonderful player for both clubs. He is one of Liverpool's best ever Premier League players, bossing the midfield for five years at Anfield, while at Santiago Bernabeu he won every major honour before joining Bayern Munich this summer.
The 32-year-old has wonderful creativity, good defensive work and an eye for the spectacular. Javier Mascherano and Luka Modric come close, but Alonso is on another level.
Centre Midfield- ZINEDINE ZIDANE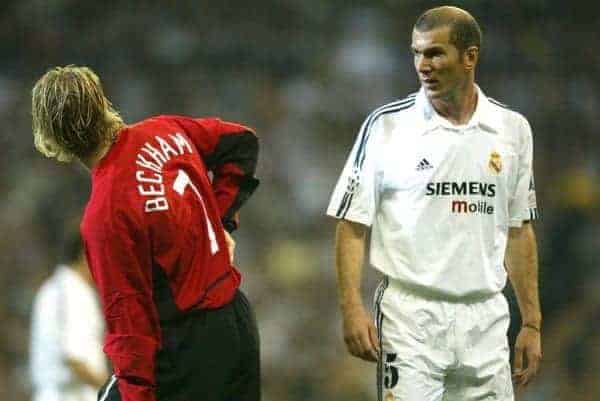 Zidane's unbelievable talent may have been on the wane a little by 2004, but he was still a fantastic player up until his retirement two years later. You simply cannot leave him out.
The Frenchman is one of the greatest footballers of all time, and there has been no midfielder close to having his balance, control and genius over the last 20 or 30 years.
Attacking Midfield- STEVEN GERRARD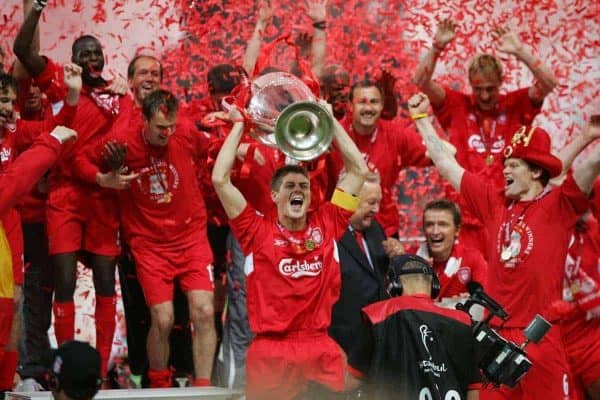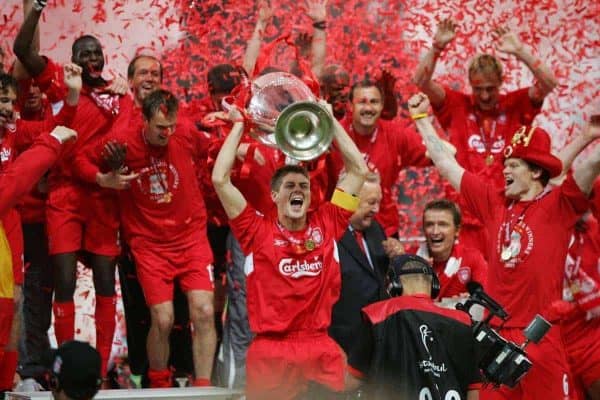 Gerrard is another certainty in this team. He is the greatest player ever to wear a Liverpool shirt in the eyes of many, and he is one of the best midfielders of the last 20 years.
His influence at Anfield has been unrivalled for so long, and his ability to produce at the biggest moments separates him from many. A truly world-class footballer, and the only player ever to score in the final of the Champions League, UEFA Cup, FA Cup and League Cup.
Right Forward- CRISTIANO RONALDO

Regardless of whether you like him or not, there can be absolutely no denying that Ronaldo is a phenomenon of a footballer, and one of the greatest to have ever played the game.
The former Manchester United star is the complete attacking player, combining speed, skill, physical stature and a, quite frankly, ridiculous scoring record. 271 goals in 258 games is astounding.
Raheem Sterling could be somewhere near this team in a few years time, presuming he keeps improving at the rate he is, while Arjen Robben blew hot and cold during his time in Spain.
Left Forward- LUIS SUAREZ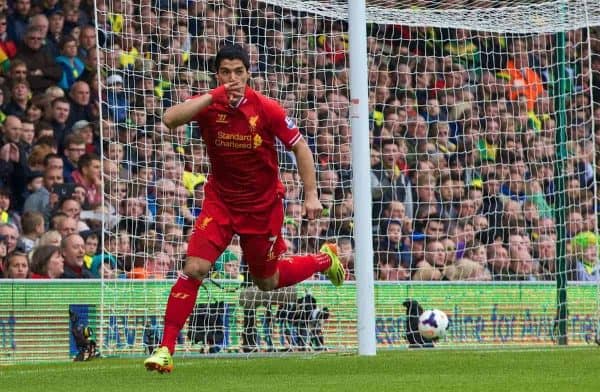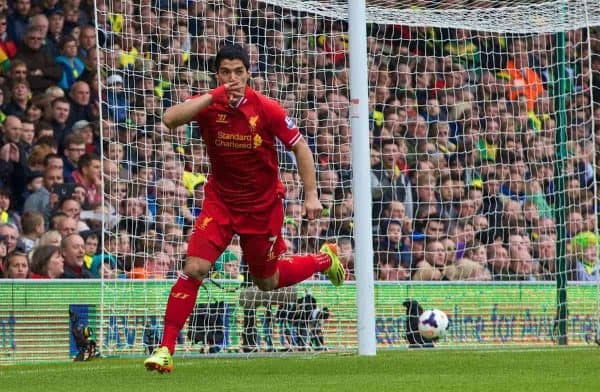 Suarez may well be the most naturally talented Liverpool player ever. Although the 27-year-old was only at the club for three and a half years, he produced endless moments of genius and scored at a stunning rate. Now at Barcelona, he may even go up another notch.
Fernando Torres was world-class for a few years but he lacked the Uruguayan's all-round game, while former Madrid striker Gonzalo Higuain and current man Karim Benzmea are not at his level.
Striker- RAUL
Raul is one of Real Madrid's most iconic players of all time, and was an unbelievable servant between 1994 and 2010. He scored 323 goals in 741 appearances, and was one of the most intelligent strikers on the planet throughout that time.
Although the former Spain captain was possibly a tiny bit past his best by 2004- he hit his absolute peak very early, like Michael Owen and Robbie Fowler- he was still world-class a decade ago. He won six La Liga titles and three Champions League crowns during his unforgettable time at the club.
Some may say Brazilian Ronaldo should make the cut, but in my opinion, and as someone who rates him as perhaps the most devastating striker in history in his prime, he was considerably past his best a decade ago.
XI: Casillas, Ramos, Carragher, Hyypia, Marcelo, Alonso, Gerrard, Zidane, Ronaldo, Suarez, Raul.
What is your Liverpool and Real Madrid Combined XI between 2004 and 2014? Let us know in the comments section below.