Liverpool were blown away by three first half goals from Real Madrid and after a promising opening 20 minutes found themselves out of the game long before half time.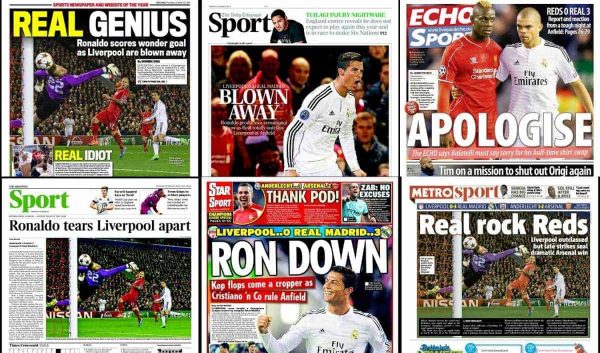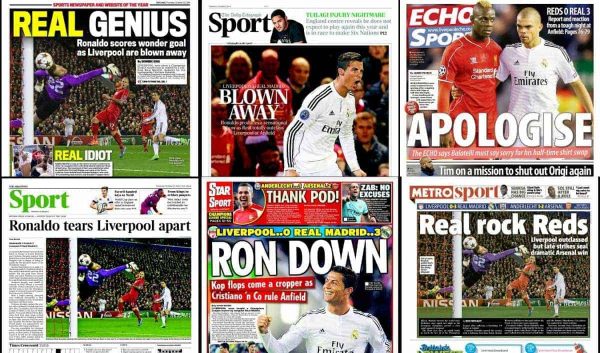 Thursday's sports pages are filled with reaction from the match, with Mario Balotelli's decision to swap shirts with Pepe at half time filling many column inches – but that masks the issue of Liverpool's failing defence and Balotelli's actual performance.
We round up the reactions of the back pages.
BALOTELLI
The Liverpool Echo, somewhat bizarrely, lead with a headline of "Apologise" – referencing Mario Balotelli's half time shirt swap. Yes, we'd rather he didn't do it but to lead with that over Liverpool's woeful set-piece defending or Real Madrid's impressive display, seems to be clouding the picture.
That doesn't mean Balotelli shouldn't be without criticism, as Paul Hayward correctly states in The Telegraph:
Against Real Madrid (against QPR for that matter), a striker simply cannot afford to stand around like Mr Micawber, hoping something will turn up.
SHAMBOLIC DEFENDING
The headlines today surrounding Balotelli are, as BBC Sport's Phil McNulty correctly states, a sideshow. He writes:
Balotelli's gesture was ill-advised, badly-timed with Liverpool 3-0 down at half-time and an affront to former players who recognise the unique bond the shirt has between players and fans at this club.

It can, though, be filed under the least of Rodgers' worries after Real almost did their opponents a kindness by easing up and looking towards this weekend's 'El Clasico' with Barcelona.
Neil Jones of The Echo writes pertinently:
If Charlie Austin and Bobby Zamora can cause you problems, then Cristiano Ronaldo and Karim Benzema are enough to give you sleepless nights for a month.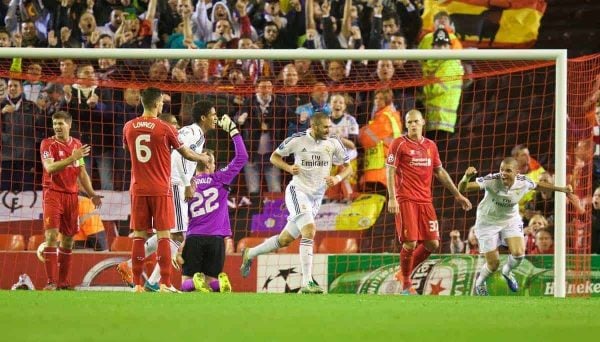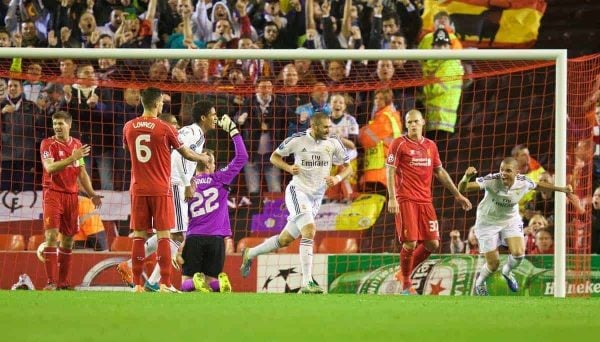 Swapping shirts at half-time is worthy of derision, but it's the least of the problems where Balotelli is concerned.

— Oliver Kay (@OliverKayTimes) October 22, 2014
Henry Winter notes in The Telegraph, Liverpool "defended wretchedly, particularly against balls played in from wide". He was particularly scathing of Glen Johnson:
Glen Johnson is into his second decade as a defender in the professional game, has more than a half-century of England caps, has moved for almost £30? million in deals, and has still not acquired an appreciation of the importance of marking. 'Help yourself, Karim, I'll look the other way. Merci.'
On the subject of Liverpool's defending, Martin Lipton writes in The Mirror, that Liverpool turned "schoolboy defending into an art-form, once again". Can't argue that. Benzema's second goal, a scrappy finish from a corner, was reminiscent of the shambolic defending in Basel and against QPR on Sunday.
RONALDO AND THE ANFIELD CROWD
Daniel Taylor in The Guardian writes of the sportsmanship displayed by the Anfield crowd:
When Cristiano Ronaldo was substituted a crowd who once regarded him as a sworn enemy applauded him off the pitch. It was a wonderful show of appreciation and the same followed shortly afterwards when Toni Kroos and Marcelo were withdrawn. Liverpool had been beaten in a manner that had left the crowd marvelling at the opposition's gifts with great sportsmanship.
McNulty too recognises the impressive Liverpool support, both before the match and upon Ronaldo's departure:
It takes something special for a player so closely associated with the old enemy Manchester United to be applauded off at Anfield
On the same subject, Winter writes:
Liverpool supporters [..] also saluted the departing Kroos and Marcelo.

Anfield appreciates class. It wore white on Wednesday night.