Brendan Rodgers' pre-QPR press conference on Friday afternoon saw the Liverpool boss defend Raheem Sterling, calling treatment of the teenager this week "grossly unfair".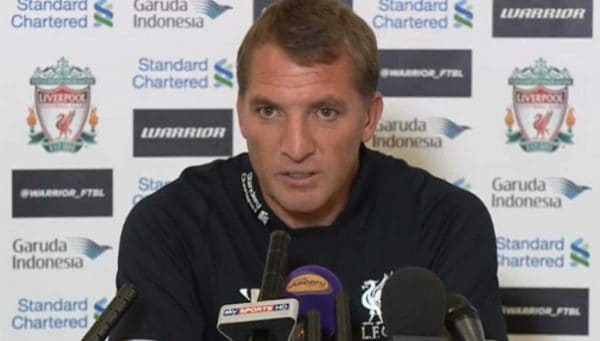 "It's been grossly unfair how Sterling has been put in the back pages for something he clearly didn't say," explained the boss.
Speaking about the player himself, Rodgers praised: "He's a wonderful talent, he's a kid we've brought up to be honest and responsible. All he said was that he was tired [not refusing to play].
"I've been very fortunate to work with Raheem. From the pre-season trip as a 17-year-old, he's been incredible for me.
"He's [Sterling] maturing into a great young man, now 19, he's responsible, honest. Lots of players will play when they don't feel right.
"He's back here in a secure environment. The last week shook him a wee bit but he was brilliant in training this morning."
On the subject of 'club vs country', Rodgers said: "I take pride in players playing for their countries. I see it as an earmark for how we're developing our players.
"Liverpool is very much club and country, not club vs. country. I will continue to work for all nations and all our players to progress."
On his relationship with England boss Roy Hodgson, Rodgers said: "Me and Roy Hodgson have exchanged messages, but we want to put this to bed. Sterling is a huge talent, we all want him to do well."
Speaking of keeping players fresh, with seven games in 21 days now for the Reds', Rodgers said: "As a manager it's key to have your best players playing. They can't play every game at the top level – in particular young players."
"Too many miles on the clock of a young player will break him.
"It doesn't surprise me, the number of players who are tired given how many games they have to play."
Rodgers was quizzed on the club's preference for giving players a second recovery day, explaining his beliefs "to make players better".
"A second day recovery is a technical session," he explained – saying that players aren't sat at home watching Sky Sports with their feet up!