Much was made of Steven Gerrard's return to the Liverpool attack in Saturday's win against West Brom with many happy to see the club legend moving higher up the pitch. Ben Twelves discusses why it shouldn't become a regular feature in Brendan Rodgers' side however.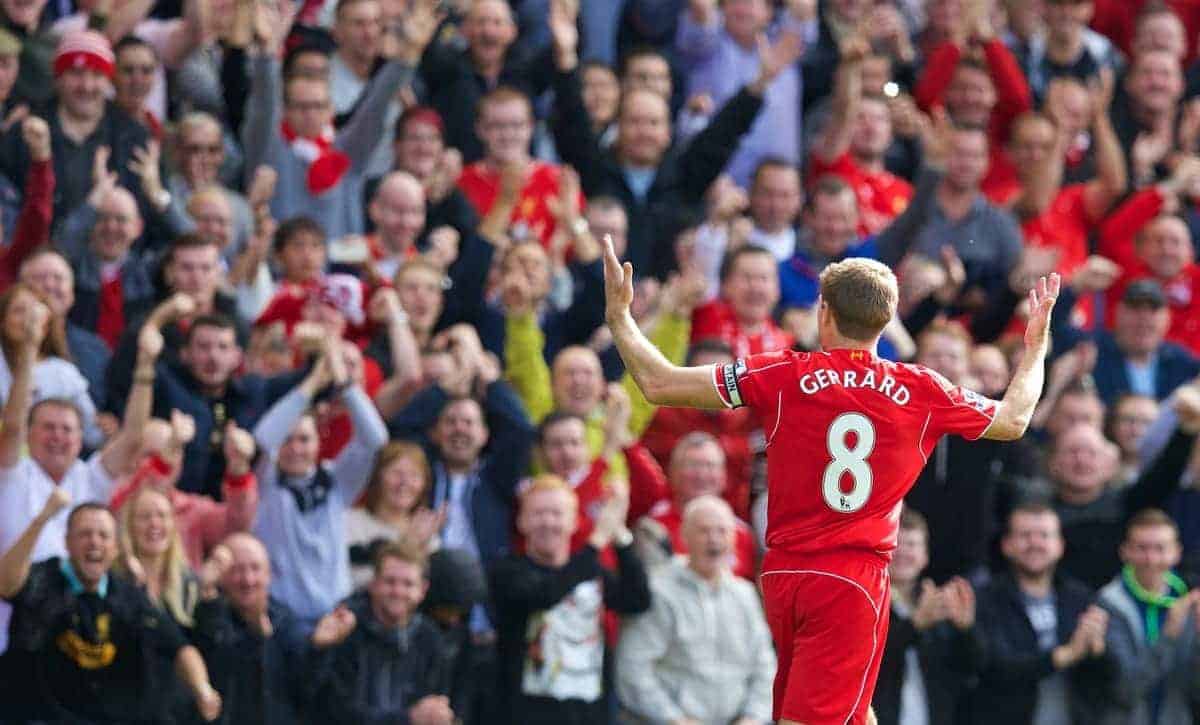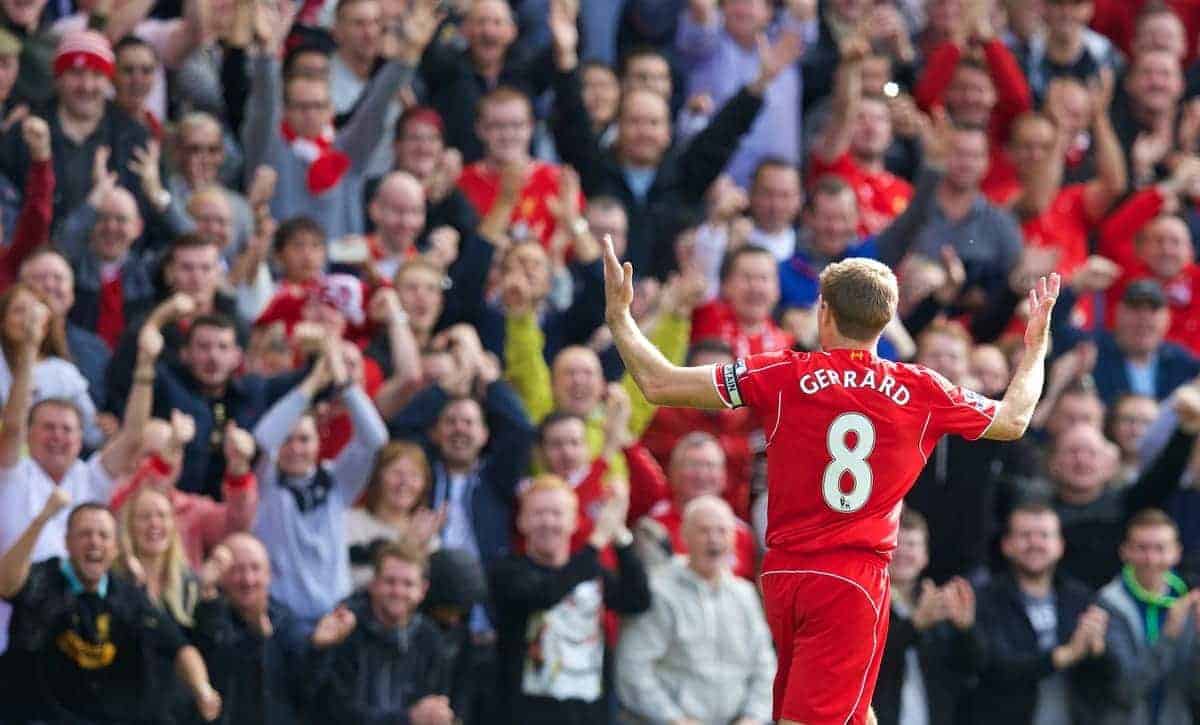 The other side of the debate: Why the No. 10 role COULD work again for Gerrard
An air of nostalgia descended over a sun drenched Anfield on late Saturday afternoon, as Brendan Rodgers replaced Philippe Coutinho with Lucas Leiva after 75 minutes of Liverpool's welcome victory over West Bromwich Albion.
The substitution of the two Brazilians meant that Gerrard rolled back the years as he in turn took up the position that catapulted him to true world class recognition under Rafael Benitez – the number 10 role playing off the striker – who this time was substitute Mario Balotelli.
Gerrard playing much higher up the field since Lucas came on alongside Henderson……just like the old days at Anfield

— John Bradley (@jbradleymedia) October 4, 2014
It was great to see Gerrard back in the position where he damaged opposing sides single-handedly at times for old times' sake, but is it really something that Brendan Rodgers should possibly be looking to introduce on a more regular basis as he alluded to after the match?
"If I thought it would help the team I could do that. You could see his quality and his ability to combine with Balotelli straight away."
Today's Gerrard
In his prime Gerrard possessed devastating power, dynamism and explosiveness – all attributes that he used to carry the fight for Liverpool – playing off the then lethal Fernando Torres. Nowadays, he doesn't have that same ability to do so.
Mobility is often a criticism levelled at the former England captain and playing in the fluid, explosive Liverpool attack requires continuous movement – something that Gerrard struggled with along with the high pressing of opposition – and it was the very reason Rodgers decided to move him back into the deep-lying role.
Speaking in January after Liverpool's 5-3 win at Stoke – Gerrard's first match in the deep position – Rodgers said:
"He's got the personality to play in that controlling role. He gives us great variety in his passing. We saw today he picked it up from deep and stretched the game with his vision and quality."
After a duration of playing in the new role, more positive comments from Rodgers followed in April, when the Reds manager said:
"We mustn't forget that he is arguably the best in European football in this controlling role at the moment.

"You look across Europe now at the holding players in the top teams and I wouldn't swap him for any of them. He is a playmaker who is unique in that he can also defend and he doesn't get enough credit for his ability to read the game."
The Liverpool Attack
The Liverpool attack has been built on the premise of fluidity, pace and technique and it's why players such as Raheem Sterling and Daniel Sturridge have impressed so greatly.
Gerrard certainly has the technique, vision and passing required – as displayed late on in the second half – but in a tighter area where it's more restricted and even more quickly shut down, it would be a move that come's unstuck, as it has done in the deeper role at times too.
The signings of Adam Lallana, Mario Balotelli and Lazar Markovic – despite the settling period and while yet to fire – are all a continuation of what the Reds boss desires. All are mobile, athletic players if not blistering, and it makes the immobile Rickie Lambert's stand out as the polar opposite.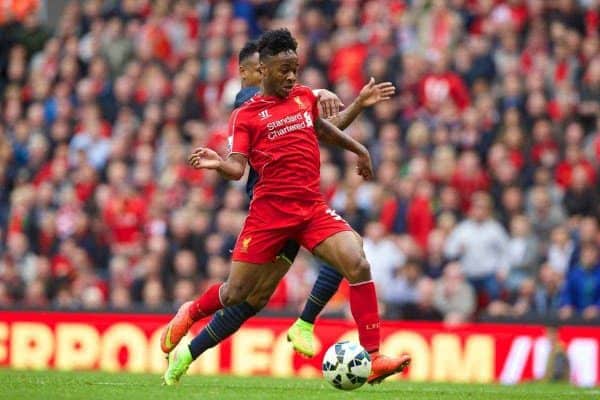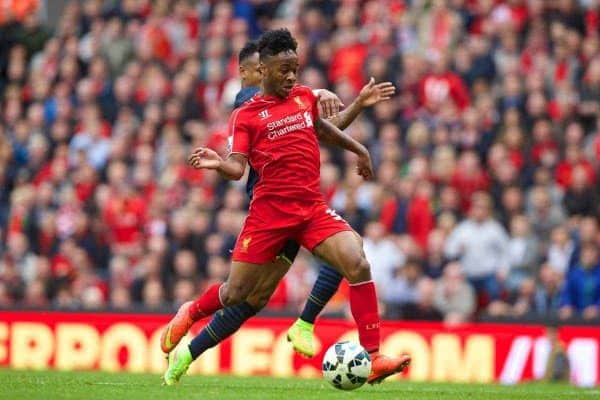 With the attacking players comes a flexibility, rotation and movement. Sharpness over small distances and in tight areas is needed, which is what makes Sterling, Coutinho and Sturridge's intricacy so special and engrossing to watch.
Steven Gerrard at the age of 34 lacks these characteristics. The Captain's vision, passing and one-touch game is very much still alive as displayed in the impressive 15 minute cameo, but it's important to remember that's all it was.
Defending from the Front
The beauty and ruthlessness of the attacking play under Rodgers has seen opposition blown away at times but there's also the defensive side to the Liverpool offense – the relentless and swarming press carried out to suffocate opponents.
Pressing needs to be instigated before being backed up in those high areas by a pacey hunting pack. Steven would need to be one of those following up, charging down opponents stopping them in their tracks before any danger can be built, and it's something that he would struggle with again as he did before. It could cause even more defensive problems for the Reds as opponents would then find it easier to progress with less pressure on the ball.

Playing Steven higher up the pitch would also restrict the penetrative running of the influential Jordan Henderson. If Gerrard is playing as the number 10, whoever sits behind the captain would have to be more disciplined making it even harder to press high as the energetic vice-captain would be required to sit in alongside another holding player.

Even if moving the Anfield hero forward to the central attacking position was an option, would it be the best available when Sterling excels so evidently there, and with Coutinho, Lallana and Henderson himself all alternatives to keep the mobile and unpredictable attack progressing?
Conclusion
Moving Gerrard with 15 minutes of the game remaining caught West Brom off guard and even though it was nice to see the Reds legend higher up for nostalgic reasons, its success was aided by it being a spontaneous move and catching West Brom unaware.
The only way Gerrard could/should play as No. 10 is as a bit-part player ala Lampard last 2 seasons.

— Matt Ladson (@mattladson) October 7, 2014
The tactical change helped Liverpool hang on for the win but Steven Gerrard in the number 10 position should be viewed as simply another curve ball to throw at opposition rather than a genuine option at Rodgers' disposal.
[poll id="253″]
Should Steven Gerrard be used in the No. 10 role again for Liverpool? And how often? Let us know your thoughts in the comments below.
[table id=79 /]
The other side of the debate: Why the No. 10 role COULD work again for Gerrard