With Liverpool crushed to a 3-1 defeat away to Crystal Palace on Sunday, Jack Lusby believes Brendan Rodgers has a lot to answer for.

What a surprise.
After the relief of a timely international break, Liverpool were supposed to return with a renewed vigour, and with Brendan Rodgers having been allowed the time to collect his thoughts, and consider his poor tactical decisions, and start afresh.
The news that Daniel Sturridge was to face another disappointing injury layoff was an immense setback, and will be a prolonged narrative this season it seems.
However, a goal from his replacement on Sunday afternoon, Rickie Lambert, after just two minutes gave the travelling Reds fans hope, but beyond that there is little else in this Reds defeat.
An equalising goal from Dwight Gayle — the scourge of Merseyside after that 3-3 comeback last season — was joined by strikes from burly midfield duo Joe Ledley and Mile Jedinak to consign Rodgers' side to a fourth successive defeat.
Liverpool have now lost their fourth game in a row. pic.twitter.com/C4YU0hObHk

— Squawka Football (@Squawka) November 23, 2014
Liverpool now sit 12th in the Premier League, with a miserable 14 points.
In appraisal of the team performance, it may be pertinent to focus on some positives first, and there were, surprisingly, a few.
Javier Manquillo, Joe Allen and Adam Lallana
Joe Allen's head gear is the best. pic.twitter.com/jufIigPLuG

— Back Page Football (@bpfootball) November 23, 2014
These were, namely, the performances of Javier Manquillo, Joe Allen and Adam Lallana.
Firstly, deployed in his natural right-back position, Manquillo was tasked with dealing with the threat of Yannick Bolasie—a player who seemingly relishes playing against Liverpool.
The Congolese international is one of a dying breed of raw, direct wingers and is devastatingly effective when utilised in a counter-attacking system such as the one Neil Warnock inherited from Tony Pulis.
Yannick Bolasie's game by numbers:

5 crosses
4 shots
4 take-ons
3 chances created
100% tackles won
1 assist pic.twitter.com/4rwIsmRss5

— Squawka Football (@Squawka) November 23, 2014
While Bolasie did get some joy on the left flank, Manquillo did a fine job of hampering his surges forward.
According to WhoScored, the Spaniard won two tackles, made two interceptions and six clearances.
Ahead of Manquillo in midfield, Lallana enjoyed a large measure of space, which saw the former Southampton man set-up Rickie Lambert for his first goal in the Premier League for the Reds.
The 26-year-old was vibrant and incisive, with his attacking forays the most likely to put the Palace defence under any pressure.
Rare for an attacking midfield player, Lallana recorded a passing accuracy of 97.1 percent at Selhurst Park, and it was holding on to the ball that a majority of Rodgers' side struggled with, unfortunately.
The only player to better Lallana's accuracy was Allen, and the Welshman—with phenomenal rate of 98 per cent—was Liverpool's best performer on Sunday.
Joe Allen completed 98% of his passes for Liverpool today. The Welsh Xavi, so they say. pic.twitter.com/5F98XMTxS9

— Squawka Football (@Squawka) November 23, 2014
Contributing astutely in both defence and attack, Allen joined Lallana as Liverpool's most effective players.
However, for all the good Allen and Lallana were doing in linking the midfield to Lambert as the lone striker, Rodgers clearly saw their contributions as disposable, as the manager promptly replaced the pair.
Therein lies Rodgers' enduring problem.
'Key' Players

As everyone who has invested countless days into the Football Manager series will know, in that rigid, computer-generated realm your squad consists of key players, first-team regulars, rotational fixtures and back-up charges.
However, in football as a tangible game, this should be entirely malleable, and this is seemingly a notion that Rodgers struggles to perceive at the moment.
With this in mind, the substitutions of Lallana and Allen should be mentioned after the manager's initial team selection.
Confirmed: #LFC's starting XI and substitutes v Crystal Palace pic.twitter.com/nlm1BGpMbT

— Liverpool FC (@LFC) November 23, 2014
The same names again: Glen Johnson, Martin Skrtel, Dejan Lovren and Steven Gerrard.
Each of those players have performed abysmally over the past several months, but each remains seemingly untouchable in Rodgers first-choice starting line-up.
He spoke after his shock tactical switch in the Champions League away to Real Madrid and was unabashed in his claims that "I picked a team that I thought could get a result. The players that came in were excellent and we were unfortunate not to get a result."
Rodgers continued "I didn't see this as a big showcase game where I had to play the so-called names," suggesting those fringe players in his starting line-up had earned their place.
https://twitter.com/LickyRambert/status/536539673766932480
This is a notion that suggests a meritocracy on Merseyside but, when Rodgers dropped the dominant Kolo Toure just four days after he stymied the likes of Cristiano Ronaldo, Karim Benzema, James Rodriguez and Gareth Bale at the Bernabeu, this proved a fallacy.
Johnson, Skrtel, Lovren and Gerrard rewarded Liverpool with a clutch of dreadful performances at Selhurst Park, and each would have warranted replacing at half-time.
Liverpool remained unchanged after the break, but Rodgers substitutions of Allen and Lallana—two of his best performers—were bizarre to say the least.
Allen was playing well. Grow some balls and take the skipper off who isn't playing well.

— Gareth Roberts (@robbohuyton) November 23, 2014
https://twitter.com/M_Sweeting/status/536537329536872449
Fabio Borini replaced Lallana on 72 minutes, whilst Emre Can emerged in place of Allen two minutes later.
This isn't to say that Can and Borini don't warrant a place in the side; the German in particular has stood out recently as one of Liverpool's most in-form stars.
"Rodgers Out?"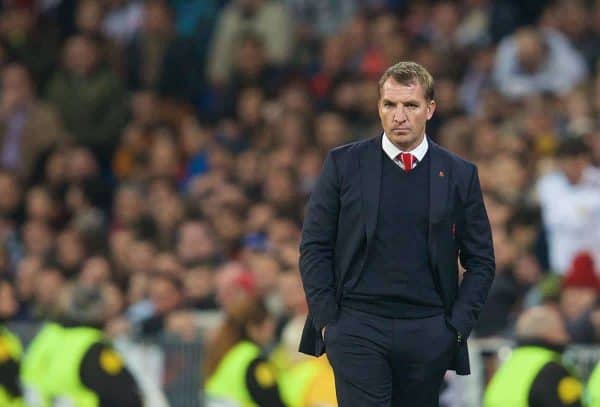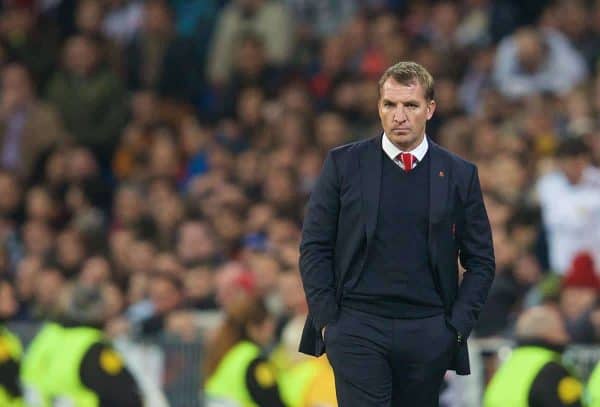 However, the salient point underpinning these substitutions is a stubbornness in Rodgers that is becoming infuriating to further stretches of the Liverpool fan-base to the point that the Ulsterman's position is becoming under severe pressure.
Favouring players such as Johnson and Gerrard over in-form young players like Can and Alberto Moreno, sticking rigidly with a 4-2-3-1 formation that is doing none of players any favours, and an inability to adapt to circumstances all underline this.
These unpalatable defeats serve as evidence.
Brendan Rodgers tactically outwitted by Paul Lambert, Sam Allardyce & now Neil Warnock this season! #Shocking #LFC

— Spion Kop (@TheKopHQ) November 23, 2014
This consistent disregard for individual form, and a glaring oversight in terms of the deficiencies of his set-up are beginning to grind down even the hardiest of Rodgers ultras.
After last season's heroics it is difficult to judge the manager's current performance without a measure of sentiment, but there is a need to be realistic.
BR: "I'm not arrogant enough to think that I will be in a job through anything… There's no doubt as a manager you have to get results"

— This Is Anfield (@thisisanfield) November 23, 2014
It would be remiss to suggest that there is no going back for Rodgers at Anfield, and a good run of form would surely see the manager's popularity rise once more, but these important areas need to be addressed immediately.
Nevertheless, another Selhurst Park drubbing, names such as Jurgen Klopp, Diego Simeone and Frank de Boer do begin to look attractive.
Where does Brendan Rodgers stand after this latest Liverpool defeat? Let us know in the comments below.