Henry Jackson rounds up the latest transfer news affecting Liverpool, with numerous stars rumoured to be moving to Anfield in the January window.

Another week, another disappointing result for Liverpool. Brendan Rodgers' side's 2-1 loss to Chelsea at Anfield on Saturday was their ninth defeat already this season, in all competitions, and it has raised further question marks about the strength of the Reds' squad.
With that in mind, there have been numerous transfer rumours regarding Liverpool over the last few days, with several extremely talented players linked with moves to Anfield in January.
Here are some of the transfer rumours that have made the back pages since Saturday's defeat. It's fair to say some are more believable than others…….
ISCO

The Echo reports that Isco is at the top of Rodgers' January wish-list, with a £30m bid imminent.
The 22-year-old Spanish star was majestic in Real Madrid's 3-0 win at Anfield in last month's Champions League clash, but his first-team opportunities Santiago Bernabeu appear slim now that Gareth Bale has returned from injury.
Perhaps this is the pessimist in me coming out, but you can't help but feel that, like Alexis Sanchez, Radamel Falcao, Henrikh Mkhitaryan and numerous others, Isco is a player we will get our hopes up about, only for him to either sign a new deal or join Arsenal or Manchester United. It's becoming the norm these days.
ASMIR BEGOVIC
Having been linked with a move for Begovic in 2013, the Mirror now claims Rodgers will make a £10m bid for the Stoke goalkeeper in January.
Simon Mignolet continues to be an inadequate first-choice 'keeper at Anfield- his pass to Dejan Lovren on Saturday that went for a corner was a particularly low moment- and the only reason he is keeping his place is because Brad Jones is even less dependable.
Begovic has been one of the Premier League's standout 'keepers for several years now, and he would be a terrific acquisition. He would make a huge difference to Liverpool's shaky rearguard, bringing confidence, dominance and consistency currently lacking with Mignolet between the sticks.
YOHAN CABAYE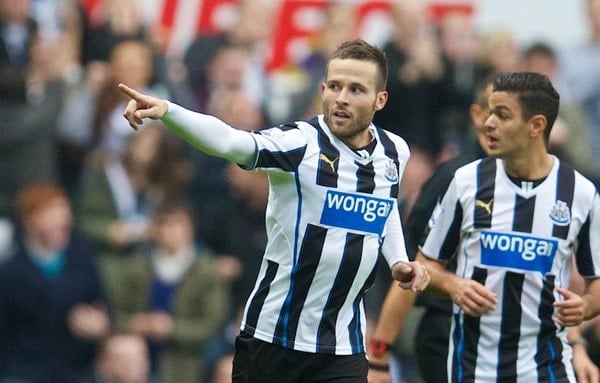 The Express, not always the most trustworthy source by any means, are claiming that a host of top clubs will battle it out for Cabaye's signature in January, and Liverpool are one of them.
The former Newcastle man has struggled to break into the first-team at Paris Saint-Germain since joining earlier in the year, with the likes of Blaise Matuidi and Marco Verratti preferred to him in the middle of the park.
The 28-year-old would be an excellent signing by the Reds, bringing quality on the ball, bite in the tackle and goals to their midfield. It is a move you could see happening, although he does have the look of an Arsenal signing about him too. Let's just hope he isn't swayed by the bright lights of London like Sanchez was.
WILLIAM CARVALHO
The Daily Star reports that Liverpool are now in the hunt for Portugal's highly-rated youngster Carvalho, along with United, Arsenal and Chelsea.
The 22-year-old Sporting star has impressed hugely in defensive midfield since breaking into the team in 2011, and his positional sense, defensive expertise and power are exactly what the Reds are looking for in that area of the pitch.
Whether there is a huge amount of truth in the story is debatable to say the least, considering the source, but Carvalho would be a terrific, long-term addition to Rodgers' squad.
PATRICK ROBERTS
According to the Mirror, the Reds are cranking up their efforts to sign Roberts, Fulham's highly-rated 17-year-old.
The talented winger has caught the eye of many of England's top clubs, and Liverpool scouts have watched him in action on three different occasions this season.
It is rumoured that the west London club would be willing to begrudgingly sell their prized asset in January, assuming he can return on loan immediately. Roberts has played 11 times in the Championship this season, and has impressed despite not scoring. He was born in 1997, which is just ridiculous.
And finally:
STEVEN GERRARD

There has been much talk about Gerrard's future over the last week or so, with some claiming he may leave Liverpool at the end of the season. According to the Guardian, however, the legendary skipper's representatives will discuss a new one-year deal with the club this week.
The 34-year-old's contract expires at the end of this season, and he would be able to sign a pre-contract agreement with a foreign team in January. It appears unlikely though.
Gerrard's influence may be on the wane- his lack of pace is alarming when people run at him now- but the thought of him in any shirt other than a Liverpool one sends a shiver down the spine of a generation of Reds fanatics.
[poll id="274″]