Playing a bit-part role for Liverpool in their win over Stoke City on Saturday, Jack Lusby believes this is the way forward for Steven Gerrard.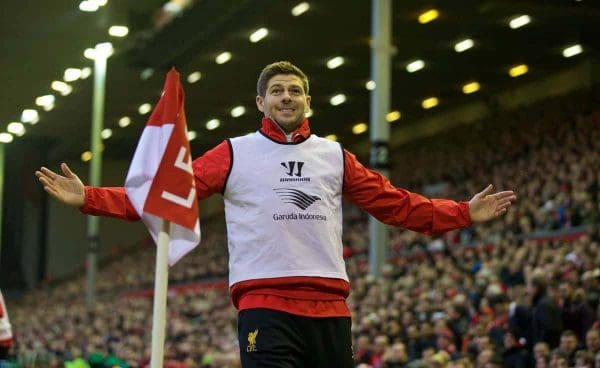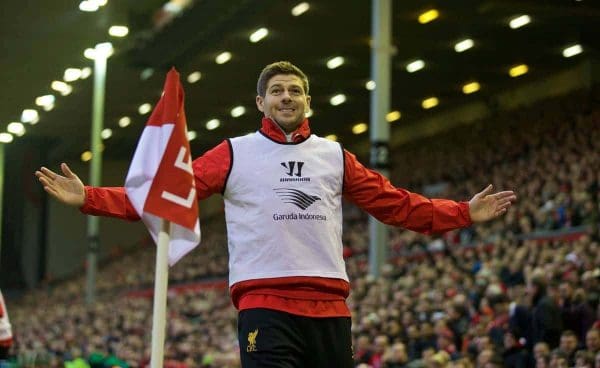 After Liverpool's 1-0 victory over Stoke City at Anfield on Saturday, the focus was once more on captain Steven Gerrard, who has been one of the club's most debated players this season.
The 34-year-old denied rumours on Sunday that he and Brendan Rodgers have fallen out. "Just to set the record straight media talk of a fall out between us two is NONSENSE…have a nice Sunday," he wrote on Instagram.
These claims came after Gerrard was left on the bench for Saturday's Premier League encounter, with Philippe Coutinho taking the No. 10 role the captain assumed in midweek against Ludogorets Razgrad.
Coutinho joined Raheem Sterling and Jordan Henderson in supporting lone striker Rickie Lambert.
The Telegraph continue to underline that Gerrard's "role in the team has come under intense scrutiny in recent weeks with his position in front of the back four cited as one of the reasons Liverpool's defence has been so shaky."
Gerrard on for Lucas. 15mins to go. The 16th anniversary of the captain's Liverpool debut.

— James Pearce (@JamesPearceLFC) November 29, 2014
Gerrard was introduced on 75 minutes in place of Lucas, and operated in a more advanced position as the side moved to more of a 4-3-3 shape.
Far from misusing the midfielder, however, Rodgers' utilising of Gerrard against Stoke was exactly how his captain should be used as he ages in a Liverpool shirt.
Defensive Midfield and Age

In a particularly challenging piece for his Daily Mail column this week, Jamie Carragher outlined how he feels Gerrard should be used as he approached the end of his Liverpool career.
Carragher opens with the claim that "if Liverpool were playing in a major final now, Steven would be one of the first names I'd put down on the teamsheet. My reasons would have nothing do with sentiment."
That notion of sentiment has been a crippling criticism with Rodgers' selection recently.
Lambert makes a fine example, having recently attested that "criticism of Steven I find shocking to be honest after what he's done for the club."
This is particularly tender given the position that Gerrard has been playing for Liverpool for a season now, as a defensive midfielder.
Carragher accurately outlines that "Steven is not a great protector of a defence. He's there to start attacks from deep rather than shield a defence as Dietmar Hamann or Javier Mascharano did for me."
The Sky Sports pundit continues: "Liverpool need to sign a top defensive midfielder in the near future and it should not be that… he is still being looked to provide the inspiration."
This shaky Reds defence needs a shield, and when Gerrard has struggled, so have the likes of Dejan Lovren and Martin Skrtel.
Rather than "dropped", Gerrard omission looks like belated recognition that playing him 2x a week at 34 does him & team more harm than good

— Oliver Kay (@OliverKay) November 29, 2014
Clearly, Gerrard's slip against Chelsea is the ultimate highlight of this — however, this is an anomaly, a mistake that any player could make.
More alarming has been how sides such as Aston Villa and West Ham have targeted Gerrard in this role, with Gabby Agbonlahor and Stewart Downing overrunning the midfielder with a man-marking tactic.
The performances of Lucas and Allen respectively in the holding role at Stoke suggest that Gerrard should perhaps find his future elsewhere on the pitch.
The No. 10 Role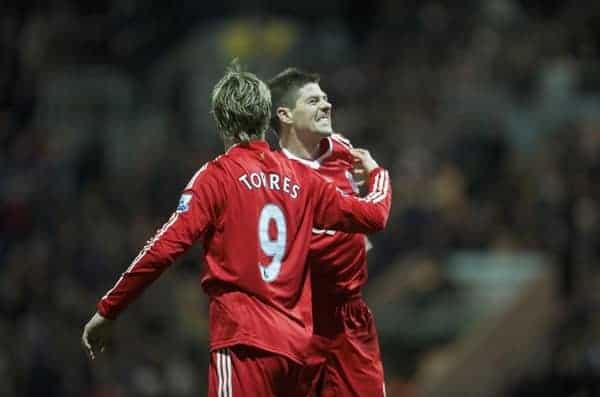 This is an interesting renege, given how Gerrard's switch to the regista role was supposedly one that would prolong the midfielder's career in a way which benefited the longevity of Ryan Giggs, and currently Andrea Pirlo and Xabi Alonso.
But Gerrard being introduced as a bit-part No. 10 against Stoke perhaps outlined a return to his old role on a less-regular basis.
That's exactly how Gerrard should be used. Maximise his technical ability by introducing him late against tiring legs.

— WHAT•A•HIT•SON•LFC (@whatahitsonlfc) November 29, 2014
The 34-year-old was at his best when played behind Fernando Torres under Rafa Benitez, and undoubtedly knows how to perform in this role when his body allows him.
However, this should not come at the expense of players such as Sterling and Coutinho, who are both most effective in the No. 10 role and, undoubtedly now, more crucial to Liverpool's style of play; Sterling showed this when he moved inside at Anfield on Saturday.
This is where the notion of the cameo comes in for Gerrard.
Carragher pointed towards the endurance of Frank Lampard at Manchester City this season, with the midfielder scoring two goals and making one assist in seven league appearances so far this season—just two of those being a starting role.
"Do not doubt Steven's ability to go on making contributions, but do not underestimate that he needs help. Take what is happening with Frank Lampard at Manchester City. He is surrounded by top players, is being used sensibly and his reputation continues to be enhanced."
These top players for the Reds can be Sterling, Coutinho, Henderson, Adam Lallana and even Mario Balotelli, who the captain effectively dovetailed with in the win over West Bromwich Albion in October.
Steven Gerrard is on the bench. It's sort of what happens when you get towards the end of your career. You need the odd rest. No big deal!

— Gary Lineker (@GaryLineker) November 29, 2014
Although Lampard is two years Gerrard's senior, Rodgers should be following the former Chelsea man's example—against Stoke we saw a glimpse of this.
Vs. Stoke
Gerrard's introduction against Stoke didn't necessarily prompt Liverpool's best football — that came with a great interchange involving Allen, Sterling and Coutinho — but it did herald the biggest headlines.
At 16 years to the day that Gerrard made his Liverpool debut from the substitutes' bench, in a 2-0 victory over Blackburn Rovers in 1998.
16 years ago today, Steven Gerrard made his debut for #LFC as a late substitute against Blackburn Rovers at Anfield. pic.twitter.com/oyBVAzJ3vS

— Liverpool FC (@LFC) November 29, 2014
Rodgers claimed that "I wasn't aware it was 16 years until I walked into the dressing room and saw the programme."
This is a significant gesture towards an unsentimental approach that the manager must take as Gerrard ages.
The sooner Gerrard can be selected and rotated like any other player, the better it will be for all parties.

— Dan Kennett (@DanKennett) November 30, 2014
In justifying his utilising Gerrard from the bench, Rodgers continued "Steven is in a part of his career when he is not going to play every minute of every game."
The manager, importantly, declared "we have other players here who can come in and do a job and Steven understands that…I need to look at each game. We have good players that are fresh."
Gerrard offered energy and impetus in his 15-minute cameo at Anfield on Saturday, and his introduction understandably lifted both the Liverpool crowd and his teammates.
Gerrard was used exactly how he was meant to be today. From the bench, 20 minutes left. Full pace available, lifts the crowd and the lads.

— Zak Forster (@ZakForster_) November 29, 2014
This, as Carragher says, can be potent option for Rodgers:
"Can you imagine the reaction inside Anfield with 30 minutes of a tight game remaining and seeing No 8 getting stripped for action? With space to exploit and energy to change the game, he could be a lethal weapon."
Johnson's winner displayed a grit and determination that has long hallmarked the captain's career.
Steven Gerrard can still be an important player for Liverpool but Brendan Rodgers must continue to be realistic in managing the midfielder and favour a bit-part role when required.
On his performance against Stoke City, is this how Steven Gerrard should now play for Liverpool? Let us know in the comments below.