Liverpool boss Brendan Rodgers has signed 25 players since arriving at Anfield in 2012, but how many of them can so far be considered a success?
Brendan Rodgers is finding himself under genuine pressure for the first time since becoming Liverpool boss in June 2012. The Reds lost their seventh game of the season at home to Chelsea, as their poor start to the season continued.
The Northern Irishman has done a fine job in the Anfield hot-seat, bringing a refreshing, attacking style of play lacking at Liverpool for years, but managers have to be judged in the present, not the past. Just ask Arsenal fans.
One thing being aimed at Rodgers by his detractors are his transfer dealings since taking charge. He, and the 'transfer committee', have bought in a lot of players over five different transfer windows, but how many of them, so far, can be considered as a successful signing?
2012/2013
Summer
Rodgers made three permanent purchases in his first summer on Merseyside, bringing Fabio Borini, Joe Allen and Oussama Assaidi to the club (signings made before the transfer committee was in place).
Assaidi has never managed to become anything other than a fringe player with the Reds, and is now on his second year on loan at Stoke. He is not of the standard required.
Borini played under Rodgers during his Swansea days, and the Italian was thought of very highly by the manager. He has struggled to justify the £10.4m Liverpool paid for him though, and in truth, he belongs at a mid-table club like Sunderland, where he spent last season and did well. He is an adequate squad player, and there are so many Premier League forwards who could be just as effective, if not more so.
Allen is a player who divides opinion more than most. As soon as he was dubbed the "Welsh Xavi" by Rodgers there was immediate pressure on him to impress. He hasn't come close to hitting those heights though, but that's not to say he's been a failure by any means.
The 24-year-old can often be a quietly effective part of the team, and Liverpool's passing always appears slicker when he's on the pitch. Much more is needed in terms of influence and consistency, however, if he is to become a regular for many years.
The highly-rated Nuri Sahin joined from Real Madrid on loan, but was never used in his favoured position deeper in midfield. He made just 12 appearances in a Reds shirt before his loan was cut short early.
January
January 2013 saw Rodgers make arguably his two best signings to date. He acquired Daniel Sturridge and Philippe Coutinho, from Chelsea and Inter Milan respectively, and both have been the quality additions that were needed at the time.
Sturridge was seen as a gamble when he joined, but it has paid off spectacularly. The 25-year-old has scored 36 goals in just 52 appearances, becoming England's first-choice number nine in the process. The only negative is his consistent injury problems, and his absence from the team has hit Liverpool hard so far this season.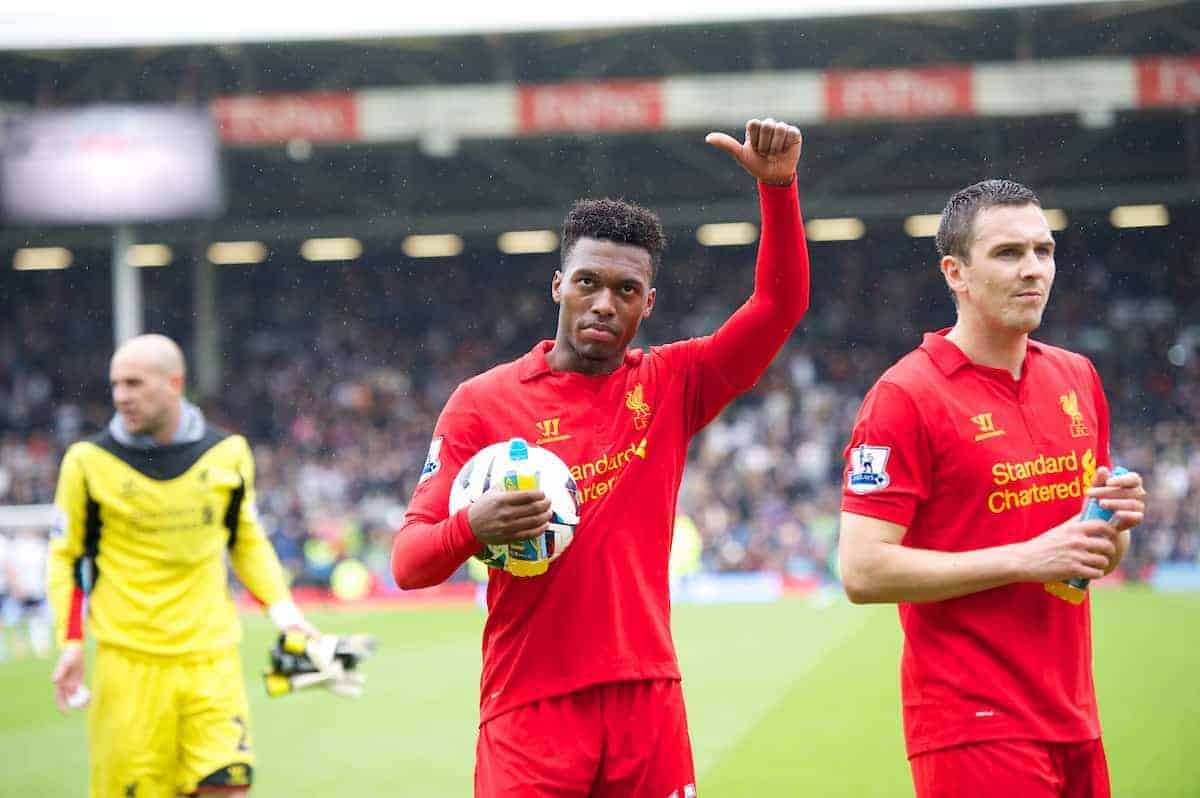 Coutinho, meanwhile, is a majestic footballer on his day. The young Brazilian has wonderful natural talent, and when he's on top of his game he is Liverpool's greatest creative spark. Like Sturridge, there were some who felt the 22-year-old was a risk, but he's been a definite success. He will only get better too.
2013/14
Summer
Having finished seventh in the league in 2012/13, Rodgers knew his squad needed bolstering. He made six permanent signings in total in the summer of 2013, but it's fair to say the majority have not impressed.
Simon Mignolet replaced Pepe Reina as Liverpool's first-choice goalkeeper, but the Belgian has struggled during his first year or so. His confidence appears lacking, his decision-making is erratic and he looks very uncertain with the ball at his feet. Rodgers must find a better replacement, assuming the 26-year-old continues in this current vein.
Luis Alberto and Iago Aspas arrvied from Spain for almost £14m combined, but neither had even the slightest impact at Anfield. The latter's late corner against Chelsea last season still haunts even the toughest Reds fanatic.
Both have now returned to La Liga, and although Alberto's move to Sevilla is only a loan one, the chances of him returning to Liverpool appear slim.
Mamadou Sakho was signed from Paris Saint-Germain for £15m, and the centre-back has had a mixed time so far. The France international's progress has been hampered by injury, and when he has played he's been unpredictable.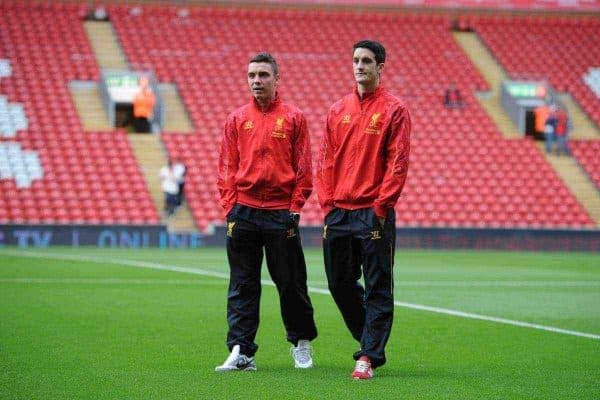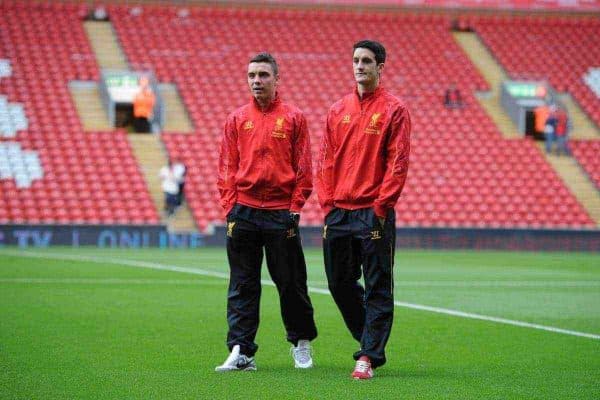 There is definite potential there though – the fact that he was PSG captain at 19 speaks for itself – and Rodgers should view him as his first-choice centre-back when he's fit again. He may look a little awkward and gangly, but his positional sense, dominance and use of the ball are the best Liverpool have in the centre of their defence.
Kolo Toure arrived from Manchester City, but he's not the player he once was. He was poor whenever he played last season, and although his recent display against Real Madrid was superb, he doesn't signal a long-term solution at the back.
Tiago Ilori is a defender with huge potential, but the former Sporting Lisbon star has yet to play a game for the Reds. The 21-year-old spent the 2013/14 campaign on loan at Granada to continue his development, and is doing the same at Bordeaux this season. He could well be a future regular at Liverpool though, and is one to judge in a few years.
Aly Cissokho and Victor Moses were signed on loan by Rodgers in September 2013, but the less said about them the better.
There were no transfers made in January 2014, much to the dismay of those who felt the Reds needed added squad depth in their quest for a top-four finish. As it turned out, they didn't do too badly without the addition of new faces.
2014/15
Having finished second in the Premier League, many viewed this summer as critical to Liverpool kicking on and mounting another potential title push. The exit of the magnificent Luis Suarez has, unsurprisingly, hurt the Reds, and the jury is still out on many of the players Rodgers has bought in.
£20 million centre-back Dejan Lovren has, for me, been a disaster so far. The 25-year-old was seen by Rodgers as the man who could solve Liverpool's defensive woes, but he's actually made them worse. The hope is that he is just taking time to adapt to life at a big club, but his form is very worrying.
Emre Can and Adam Lallana have both shown potential in midfield, but injuries have thwarted their progress somewhat. There is certain reason for optimism with both though, and they need to be judged further on in the season when they're fully fit.
Alberto Moreno and Javier Manquillo- the latter is on loan from Atletico Madrid, with a view to a permanent deal- have shown definite potential at full-back, although Moreno has made two bad errors leading to goals against Manchester City and Newcastle.
Mario Balotelli has struggled greatly since his move from AC Milan, scoring just twice in 12 appearances. Although the 24-year-old has taken too much criticism – there have been far worse players in the team who have not come under the microscope as much – he must do better. The next few months are crucial.
Rickie Lambert and Lazar Markovic both look hugely off the pace. Lambert looks weighed down by the pressure of playing for his boyhood club, and looks past his best, while Markovic simply hasn't come close to justifying the £19.8m the club paid for his services. He is rated incredibly highly by some, however, and must not be written off three months into his first season in a different country.
Divock Origi, like Ilori, has been sent out on loan in order to get guaranteed first-team football. The 19-year-old Belgium international has huge potential though, and there are some fans desperately calling for Rodgers to bring him back early from his spell at Lille.
With all of this summer's signing, it's impossible to judge them properly yet, but there certainly isn't a huge amount to be positive about.
Conclusion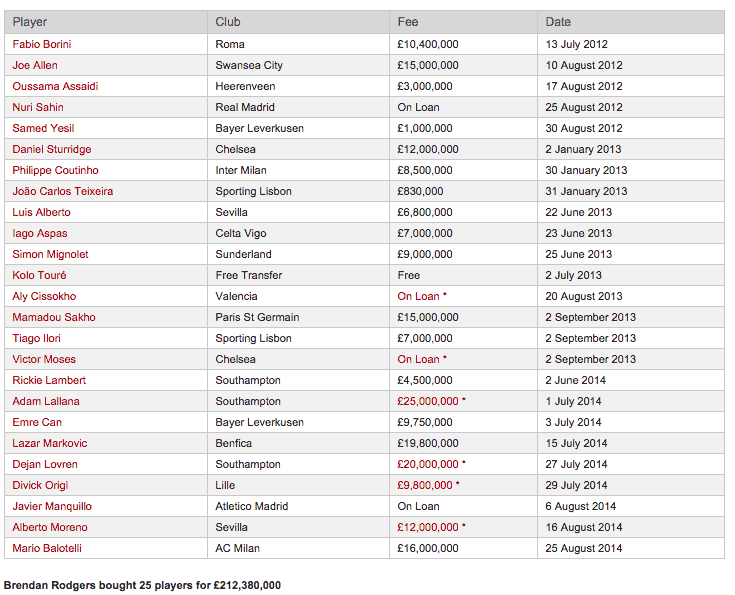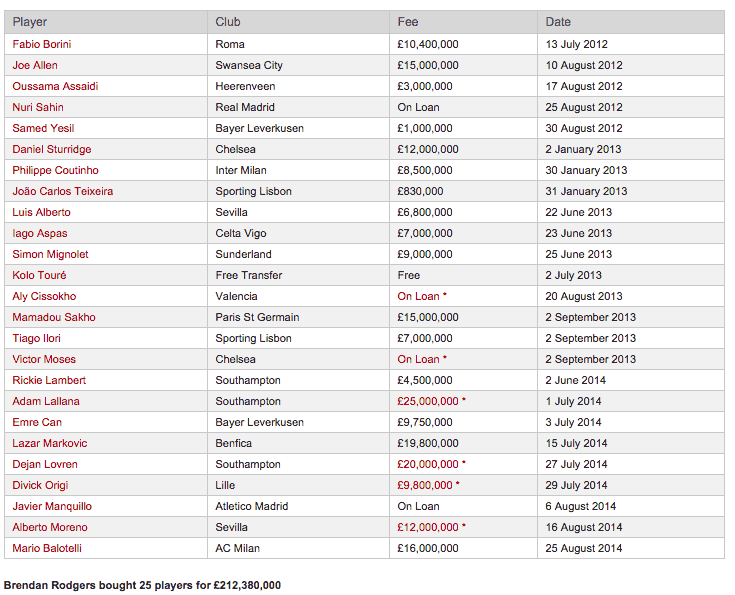 (via LFCHistory.net)
Since becoming Liverpool manager in 2012, Rodgers has signed 25 players – whether that be permanent or on loan. Of that group of players, there is an argument to say that Sturridge and Coutinho have been the only genuine triumphs so far. It's vital to stress that it's early days with a number of new players though, especially those of a tender age.
The likes of Assaidi, Sahin, Alberto, Aspas, Cissokho and Moses must all be deemed failures at Anfield, while there are definite doubts over the current crop of Mignolet, Toure, Lovren, Markovic and Borini.
Moreno, Manquillo, Sakho, Allen, Can, Lallana and Balotelli have enough quality to become important players over the years, but they must start going up a gear if they are to be success stories.
Rodgers has done so much good since taking over, and he is still an extremely young manager with great potential. To be brutally honest though, his work in the transfer market has simply not been good enough so far.
SUCCESSES: TWO / DOUBTS: SIX / TIME WILL TELL: TEN / FAILURES: SEVEN
[poll id="273″]