Paris Saint-Germain midfielder Yohan Cabaye has been linked with a move to Liverpool in January, and Henry Jackson discusses whether the France international would be a quality addition.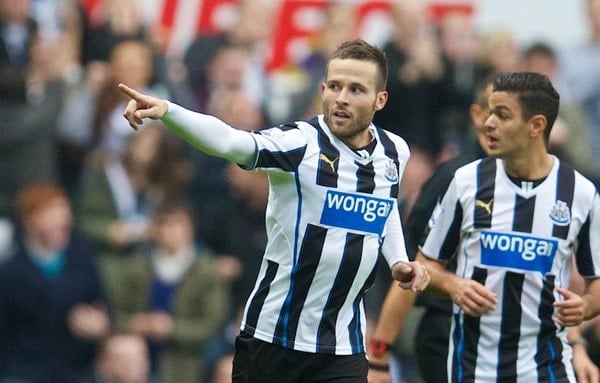 It's fair to say that Liverpool's season has been one of huge disappointment so far. The 2-1 defeat to Chelsea at Anfield on Saturday – the Reds' ninth defeat in all competitions this season – was another low point, leading to more calls for reinforcements to be made in January.
For all Liverpool's attacking and defensive issues, another area of the pitch the Reds could use strengthening in is midfield. Steven Gerrard again showed that he can't be relied on regularly these days, and despite the quality of Jordan Henderson, Emre Can, Joe Allen and Lucas Leiva, who all bring certain attributes to the team, they lack someone who can do the skipper's job; dictating play and spraying passes from a deep-lying role.
One player who has been linked with a move to Anfield in January is Yohan Cabaye. The former Newcastle star has struggled to nail down a regular starting berth at PSG since joining them in January, and his career there is in danger of stagnating.
The question is: Would Cabaye be a good signing for Liverpool in January?
Pros
https://www.youtube.com/watch?v=fBM8s6vd5U8
Admittedly Cabaye's short spell at PSG has not worked out as he would have hoped, but sometimes moves to a bigger club simply don't work out for issues beyond a player's control.
He hasn't done anything wrong, but manager Laurent Blanc has favoured the likes of Blaise Matuidi, Thiago Motta and Marco Verratti instead, who were mainstays of the side even before Cabaye's arrival.
The 28-year-old should be judged on his performances for the Magpies. He became one of the most influential midfielders in the Premier League between his arrival in 2011 and his exit.
In many ways, Cabaye is the complete midfielder, combining great creativity, goals and set-piece expertise with feisty tackling – something abundantly lacking in the Reds' side at present – and a good reading of the game. He is similar to Gerrard in a lot of ways, but he has far more dynamism and mobility than the skipper does these days.
He was the scourge of Liverpool on more than one occasion during his time in the North East, scoring two memorable strikes against The Reds. There is an edge to him, not dissimilar to Xabi Alonso.
According to Squawka, in 2012/13 Cabaye made no defensive errors from midfield, which outlines his reliability in a defensive midfield role. He created 53 chances for teammates and scored six himself.
Seven goals in 19 appearances the following season showed that he can be both a box-to-box midfielder or a deep-lying one, showcasing a versatility that Rodgers looks for in his players, and he once again made no defensive mistakes.
His pass completion rate is 89% for PSG so far this season, which is superior to all of Liverpool's central midfielders since August. The fact that his style of play means he attempts more audacious passes than the likes of Henderson, Allen and Lucas makes this all the more impressive.
In many ways, the transfer of Cabaye to Liverpool is a complete no-brainer for both partries. He would be guaranteed regular first-team fooball, and would add undoubted experience, quality and fight to Rodgers' team.
Cons
The first thing that may work against Cabaye, particularly considering FSG's preference to sign young players and improve them, is his age.
The 37-time capped Les Bleus international will turn 29 in January, and there is an argument to say that he wouldn't be in the prime years of his career for long at Anfield. That is very debatable, however.
Another downside to Cabaye's game is his disciplinary record. He has always had a bit of a nasty side to his game, and although a fiery personality is not always a bad thing, it can be detrimental to the team.
Cabaye loves a snide tackle

— John Bradley (@jbradleymedia) January 12, 2014
According to WhoScored, he has conceded an average of 1.3 fouls per game for PSG this season, picking up three bookings and one red card along the way. In his final two years at St James' Park he was yellow carded 13 times. In that respect, there are echoes of Lucas about him, and we all know how infuriating his constant committing of fouls can be.
Squawka also shows that, in 2012/13, 2013/14 and 2014/15, his average duels won have been just 41%, 39% and 43%, respectively. That is noticeably worse than Gerrard during the same period.
Conclusion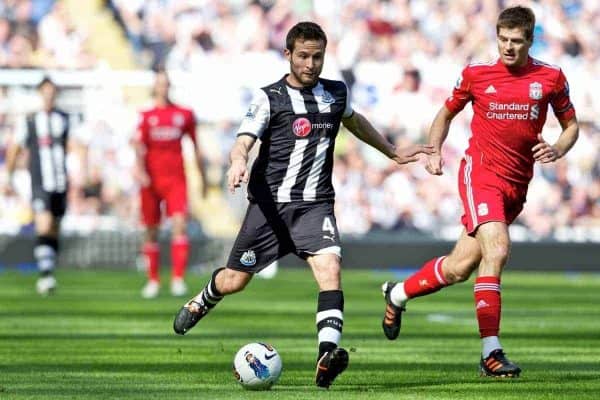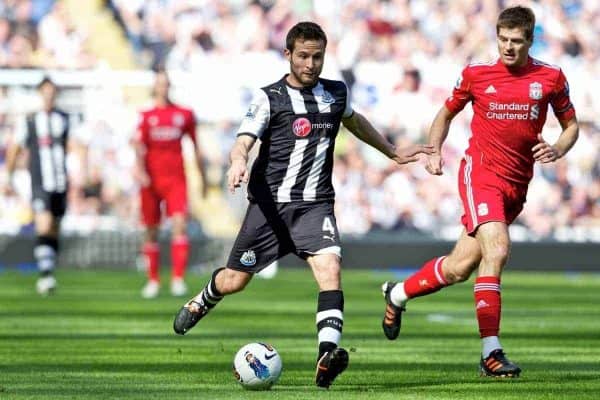 Despite a few slightly weak aspects to his game, most evidently his disciplinary record, the positives hugely outweigh the negatives when it comes to discussing whether Cabaye would be a good signing for Liverpool or not.
He is a proven international midfielder with a great amount of quality, and at 28 he is in the prime of his career. Considering his game does not really rely on pace, there is absolutely no reason why he couldn't be a key player for the Reds for three or fours years.
The time has come where Gerrard needs to be used more intelligently and sparingly by Rodgers, and Cabaye would be the perfect long(ish)-term replacement for the legendary 34-year-old. The Frenchman is a born winner, and he would be hungry to prove himself after a frustrating time in Ligue 1. It makes total sense.
[poll id="275″]