Brendan Rodgers recently hinted at some outgoing loan deals in January. Here, Jack Lusby looks at five players that would benefit from such a move.

Quizzed on January departures last week, Liverpool manager Brendan Rodgers suggested that "there might be a few who need to go out on loan because they are not playing so much."
This is a great way of ensuring progress for young players. Under the guidance of Steve McClaren for example, the returning Jordon Ibe's development was nurtured, and the benefits of a temporary move like this are obvious.
Liverpool must continue to tailor their promising youth players' loan moves with the right club, and the right management.
In January, this should continue, and importantly this must be with a view to gaining a role in the first-team.
Here are five Liverpool players whose progress would benefit from a loan move this January.
Ryan McLaughlin

With Rodgers utilising a wing-back system for the first-team at present, a ready-made option for the role of right wing-back in Liverpool's academy is 20-year-old Ryan McLaughlin.
A pacey, attacking full-back, McLaughlin recently told LiverpoolFC.com that his dream was to "win silverware with Liverpool," highlighting his commitment to the club, but also the long road ahead.
McLaughlin spent a short spell with Championship side Barnsley last season, making nine appearances, but is yet to make a senior appearance for Rodgers' Liverpool.
At 20 years old, McLaughlin would need to break through to the first-team in the near future.
A loan move to a top-level Championship side could help him to develop his game, much like Andre Wisdom, who enjoyed success at Derby County last season.
Brad Smith

Like McLaughlin, Australian left-back Brad Smith is well-suited to the current wing-back system at Liverpool, owing to his great pace and attacking ability.
Smith made his Liverpool debut last season, replacing Joe Allen as a 59th minute substitute in the Reds' 2-1 loss away to Chelsea. Deployed as a left winger, this underlines his attacking nature, and a deft flick with his first touch displays a great confidence.
https://www.youtube.com/watch?v=1HkvZZPusLE
A powerful performance in Liverpool's post-season friendly win over Shamrock Rovers evidenced Smith's ability and potential.
Having already been recalled from a loan spell with Swindon Town this season, Smith needs another temporary move to continue his development.
Jordan Williams

Jordan Rossiter may have made the headlines with a debut goal in Liverpool's 2-2 penalty shootout victory over Middlesbrough in this season's League Cup, but alongside the midfielder was fellow academy midfielder Jordan Williams.
After the game, Rodgers highlighted this pair of debuts as "a step towards them playing for the first-team regularly."
True to his word, Rossiter has made Rodgers' substitutes' bench in the Premier League of late.
At 19 and two years Rossiter's senior, Williams has less time to establish himself—and seemingly less chance of breaking into the first team at this juncture.
However, clearly possessing the potential and the backing of the manager, a loan move in January could be ideal in nurturing Williams' talents into a first-team role at Liverpool next season.
Jerome Sinclair

Academy striker Jerome Sinclair made his first and only senior appearance for the club to date in Liverpool's 2012/13 2-1 League Cup victory over former club West Bromwich Albion, becoming the club's youngest ever player in the process, at just over 16 years old.
Since then, Sinclair's progress in the first-team has been, understandably, muted, with the poacher utilised in both the U18s and U21s last season, with great success.
A pacey, robust strike option, Sinclair has all of the tools to become a feature in Rodgers' attacking line in the future, but requires the experience that a loan move would provide.
Perhaps a lower-level Championship side would take the punt with the goalscorer this January?
Samed Yesil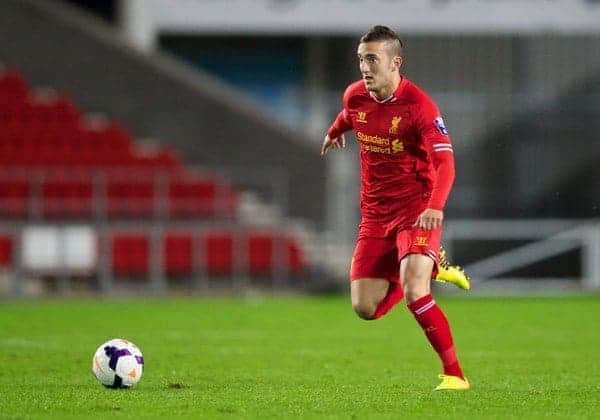 Signed from Bayer Leverkusen for £1 million in 2012, German striker Samed Yesil came with a great reputation stemming from an exceptional goalscoring record at both domestic and international youth levels.
Yesil said all the right words on joining the club, too, stressing the importance to "improve physically on my body because the Premier League is a hard league," and work hard to make the first team.
However, Yesil's physicality has proven the biggest issue, with the striker suffering a pair of crippling anterior cruciate ligament injuries in 2013.
Now back fit, Yesil should be looking for game time with a Championship club in order to prove his quality in front of goal and build his physicality to impress Rodgers enough for a chance in the Liverpool first team.
Who else should Liverpool send on loan this January? Let us know in the comments below.