Liverpool dropped two potentially valuable points at home to struggling Leicester City on New Year's Day, and Henry Jackson discusses five topics of debate from the 2-2 draw at Anfield.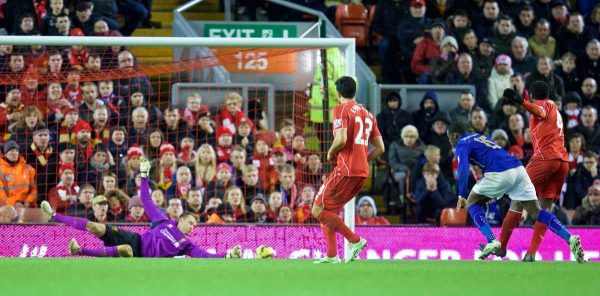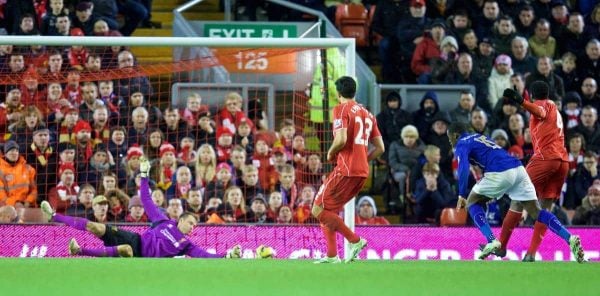 It's fair to say that it was far from an ideal start to 2015 for the Reds, who despite leading 2-0 at half-time against Nigel Pearson's side, gave away two quickfire second-half goals to surrender that position of dominance. There is an argument to say Brendan Rodgers' men were fortunate to even earn a point in the end.
Liverpool's performance was lacking from start to finish, and had nowhere near the pace and zip of their brilliant 4-1 win over Swansea City on Monday night.
Although eight points from the Reds' four Christmas matches is a pretty decent return, they appeared to run out of steam somewhat against the Foxes, with the busy run of fixtures seemingly taking its toll on a few players. It should really have been 10 points from a possible 12 had Rodgers rotated a little better.
Arsenal's defeat to Southampton means Liverpool are only four points behind the Gunners though, while Tottenham and the Saints are five and seven points ahead of the Reds, respectively. It will likely be a straight fight between those four teams for the final Champions League spot this season.
FT: #LFC 2 #LCFC 2 Frustrating start to 2015 as Reds throw away two-goal lead at Anfield. In the end the Foxes good value for a point.

— James Pearce (@JamesPearceLFC) January 1, 2015
Here are five talking points from the draw with Leicester:-
Steven Gerrard's performance

The news that Gerrard is set to leave Liverpool at the end of the season has hit many Reds fanatics hard, but prior to that hammer blow last night, he was receiving more abuse than any other player for his performance against the Foxes.
Having been rested against Swansea, the 34-year-old came back into the side alongside Lucas Leiva, but he had an extremely disappointing afternoon.
While he may have been as ruthless as ever from the penalty spot, scoring twice, his overall contribution was lacking throughout, and Liverpool had absolutely no drive in the middle of the park.
https://twitter.com/M_Sweeting/status/550697273831997440
The skipper won just 25 per cent of his duels, according to Squawka, and his trademark long-range passes didn't come off, as has been the case so much this season.
Defensively he never looked comfortable, and although it may be painful to admit for some who have grown up adoring him, there was little point in him being on the pitch.
It's very sad that Gerrard is leaving, but the time is right. His influence on the side has diminished significantly in 2014/15.
Jordan Henderson's change of position
Henderson was fantastic against Swansea on Monday, having been switched back to his preferred midfield role. He played a key part in two of Liverpool's goals, and his pace, energy and drive gave his side an extra dimension in midfield. It was the Henderson of last season.
Rodgers inexplicably decided to put him back to wing-back against Leicester, however, in order to accommodate the returning Gerrard. It was a terrible decision on so many levels.
It is clear to see that Gerrard and Lucas playing together makes for one of Liverpool's most one-paced midfields in history, whereas Henderson offers constant box-to-box running.
Henderson played well against Swansea, in the middle. So what should you do, play him in the middle. Not out wide so Gerrard can play.

— LFC Fans Corner (@LFCFansCorner) January 1, 2015
He created four chances, had a passing accuracy of 86 per cent and won 50 per cent of his duels in midfield against the Swans, while his respective statistics at wing-back against the Foxes were two, 67 per cent and 40 per cent.
The 24-year-old is completely wasted at wing-back, and does not look remotely comfortable there. He is a player who will always give his all in every position, but there can be no doubting which role he really thrives in.
Raheem Sterling's tiredness
Sterling has played more minutes than any other Premier League player this season, including internationals, and it is really starting to show.
The 20-year-old has been showing glimpses of his top form in recent weeks, but against the Foxes he looked like he didn't have much more to give.
His intensity simply wasn't there, and even his sensational burst of pace seemed to elude him on a couple of occasions. One through-ball from Philippe Coutinho looked perfect for Sterling to run onto, but goalkeeper Ben Hamer got to the ball first with relative ease.
If Sterling plays 90 minutes tonight, he'll have racked up 91% of his total minutes from 2013/14 in half a season #LFC

— Andrew Beasley (@BassTunedToRed) December 29, 2014
Rodgers is in a difficult position, in fairness. He knows how important Sterling is in terms of getting results, and resting him would be a risk on his part.
He has to be aware of over-playing him though, and if he's not careful, the young star could easily pick up a Michael Owen-esque hamstring injury and his career could suffer badly because of it. Playing him for yet another full 90 minutes was madness.
Rodgers' reluctance to rest Sterling is pretty damning on the likes of Mario Balotelli, Rickie Lambert and Fabio Borini, who are natural strikers. He clearly doesn't trust them to deliver in the absence of his speedy talisman.
The England international simply has to be left out against AFC Wimbledon in the FA Cup on Monday, in order to recharge his batteries.
Fabio Borini's introduction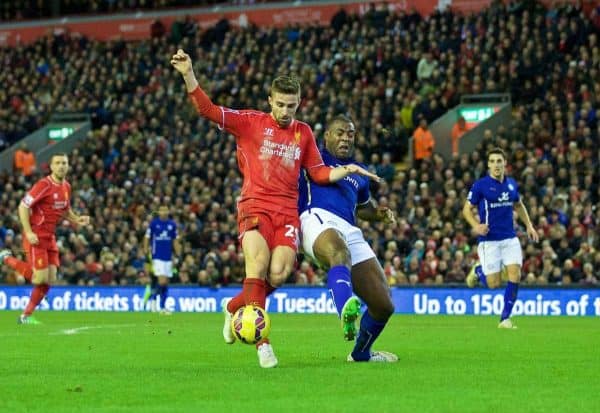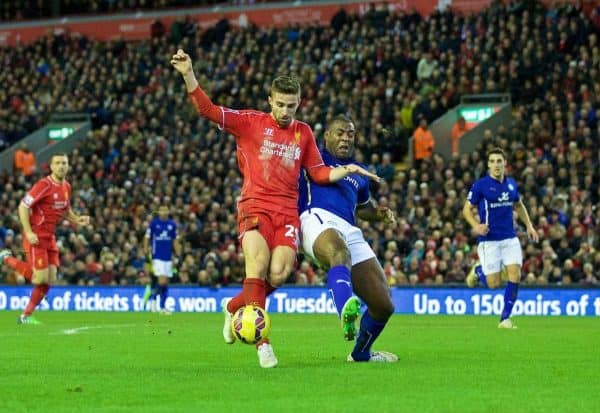 When Adam Lallana limped off early in the second-half, with Liverpool 2-0 up, Rodgers rather bemusingly decided to replace him with Borini.
The Italian is a player who divides opinion greatly at Anfield, but the fact of the matter is he's contributed very little whenever he has played this season.
Within minutes of his introduction it was 2-2, and although neither Leicester goal was remotely his fault, his introduction seemed to disrupt things.
So Borini has now gone from completely ignored for a must-win match with no strikers, to ahead of Balotelli. In three weeks.

— Karl Matchett (@karlmatchett) January 1, 2015
Quite why Lazar Markovic wasn't brought on instead, considering his good recent form, is a mystery, and there is definitely an argument to say Mario Balotelli should also have been a better option too.
Borini's second-half cameo was very forgettable. He missed a glorious opportunity to win it for the Reds, but fired over from close-range, while he frustratingly got in the way of Coutinho's goal-bound effort late in the day.
The 23-year-old is far from good enough to be a Liverpool player- his level is Sunderland, as he showed last season- and Rodgers' decision to make him his first substitution was a poor one.
Mamadou Sakho's display
One of the biggest plus points at Anfield over the last few weeks has been the return of Sakho to the Liverpool side.
Since coming back into the team against Arsenal, the 24-year-old has excelled, looking far and away the Reds' most accomplished defender.
He has his detractors- there are some who seem to rather lazily assume that, because he looks a little gangly, he must be rubbish- but he was superb once again against Pearson's men.
The France international had a very impressive passing accuracy of 92 per cent, some of which were very incisive, thoughtful passes, and he made no defensive errors.
Great tackle by Sakho to deny Vardy. The Frenchman has been excellent so far today.

— James Pearce (@JamesPearceLFC) January 1, 2015
His general dominance, both in the air and in one-on-one duels, was terrific, and he made a brilliant block to deny David Nugent making it 3-2 to the visitors in the second-half.
Liverpool are unbeaten since Sakho came back into the side in place of Dejan Lovren, and it's no coincidence that they suddenly look better in defence.
Admittedly, they are still far from perfect in that area, and Sakho does have to shoulder a small proportion of that blame, but he has done far more good than bad.
Let us know your thoughts on the game in the comments section.