Emile Heskey has become an unfunny joke among sections of the football world, but the striker had the model Liverpool career, writes Jack Lusby.

Liverpool welcome Bolton Wanderers to Anfield on Saturday for their FA Cup Fourth Round clash, and the tie should see a Merseyside return for former striker Emile Heskey.
Heskey joined Neil Lennon's side, along with fellow veteran Eider Gudjohnsen, on a short-term deal just before Christmas, and the pair immediately made an impression in a 2-1 win over Blackburn Rovers.
At Bolton, Heskey is defying his recently manipulated reputation as one of England's most risible strikers, with his name seemingly punctuating sentences for many brain-dead 'lads' over the past five years.
Heskey is the punchline to an incalculable number of unimaginative jokes, and undeservedly so.
On Saturday, Heskey returns to the ground where he made his name as a briefly unstoppable Premier League striker—one who was better than many seem to remember.
Early Days
Liverpool signed Heskey from Leicester City in March 2000, in an £11 million deal, making him a club-record transfer at the time, and manager Gerard Houllier's first home-grown signing.
Why?
On Heskey's sale, then-Leicester manager Martin O'Neill described the striker as "irreplaceable," continuing: "We as a club did everything we could to persuade Emile to stay with us for as long as possible."
Heskey's form for the Foxes had made him one of the Premier League's most-coveted forwards, rightly underlining Houllier's enthusiasm in signing the 22-year-old.
In six years with Leicester, Heskey scored 40 goals in 156 league games, including seven in the 1999/00 season before his March move.
It was, however, more Heskey's style of play that had made him a talisman at Filbert Street, and the striker brought this to Liverpool.
This is what Houllier recognised, as he detailed on Heskey's 2000 unveiling:
"You take a player because he is a talent and because you think he will work out well for the team…I think at his age he is not the finished product. Like every player here he will want to progress and improve. You take players not for the number of goals they score but for the role they can play for the team."
Heskey proved particularly vital in his first full season with Liverpool, after establishing himself slowly following his March move.
The Treble Season
Many remember Heskey as a pure physical, battering ram of a striker, indebted to his spells with Wigan Athletic and Aston Villa, but his pace aided him in his early days, and he was at his peak at Liverpool.
The striker kicked off his tally with the only goal in a 1-0 win over Bradford City, and it came at the perfect time, with Reds fans beginning to question his quality and place in the side.
Strong performances in wins over former club Leicester, and fierce rivals Everton, helped endear Heskey to the Liverpool faithful, and his confidence increased throughout the season.
Heskey scored his first, and only, Premier League hat-trick that season, in a 4-0 victory over Derby County at Pride Park.
In a dominant team performance, Heskey displayed an all-round excellence—on that day, the striker was truly unplayable, and this is a quality indicative of his best days at Liverpool.
Heskey ended the 00/01 season with 22 goals from 56 appearances, including a career-high 14 league goals, and secured top scorer in the FA Cup, with five goals in five games.
In interview with Boardwalk Empire star and boyhood Reds fan Stephen Graham last year, Heskey talked about how significant his success with Liverpool remains to him:
Notably, Heskey points to England's 5-1 victory over Germany as his most memorable moment, and that the win was inspired by Liverpool players.
This helps mark just how good the striker was during his time at the club.
Heskey & Owen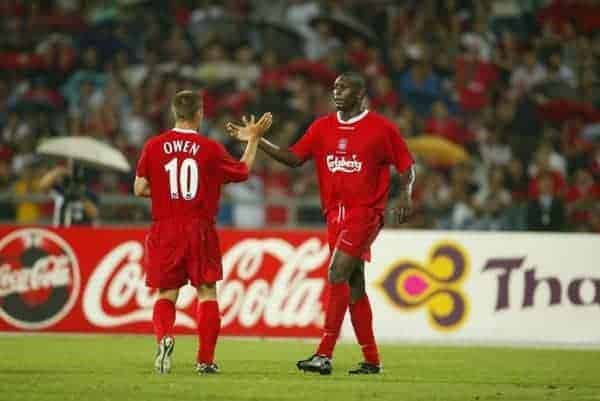 On joining Liverpool, Heskey declared a deciding factor behind his decision to move to Merseyside was the chance to play with an international teammate.
Heskey claimed: "I have played with a lot of forwards and we have bonded together and that includes Michael Owen…I found it an exciting prospect to play alongside Michael."
Nowadays it is difficult to imagine the words "Michael Owen" and "exciting" in a sentence, but at the time this was a mouth-watering partnership in the making.
Owen and Robbie Fowler, Liverpool's primary strike options before Heskey's arrival, both offered similar qualities—as pure finishers they were deadly but, particularly with the former, contributed less than requisite in build-up play.
Heskey offered a different dimension to the Reds.
The perfect build man, little man partnership, Heskey and Owen established an exceptional understanding with each other than went some way to ending Fowler's glittering career on Merseyside before his 2006 return.
In Heskey's four full seasons at Liverpool, Owen scored more goals than he had managed before or since, with 99 from 181 appearances.
https://www.youtube.com/watch?v=ZR4qrzsOkmc
In 2001, Owen won the Ballon d'Or and, while no one can take away from the striker's achievement, a big factor in this was undoubtedly his partnership with Heskey for Liverpool and England.
Heskey was the perfect foil for Owen and the model striker for Liverpool: modest, hard-working and tactically astute.
Emile Heskey embodied the Gerard Houllier reign at Liverpool, and despite his success under the calculated Frenchman, he is often looked down on in the pantheon of Reds players.
But on his return with Bolton Wanderers on Saturday, the former England man should be lauded for his success on Merseyside.
What is your favourite Emile Heskey Liverpool memory? Let us know in the comments below.