An emotionally charged Steven Gerrard has opened up about the last 24 hours and his decision to leave Liverpool after over 16 years.
In an interview with LFC TV presenter Claire Rourke, Gerrard took the opportunity to explain his decision, how he came to it and the timing of it to Reds fans around the world.
He also confirmed that he would be swapping Merseyside for America, though which MLS team he will play for is yet to be confirmed.
"It feels a bit strange, it's been an emotional 24 hours for me and my family but I've got plenty to achieve at Liverpool still," he said.
"There'll be plenty of time for tears and sentiment at the end of the season. Now it's real, it's a strange feeling.
"I have to put my family first, I think about me and the club as one. It was a tough decision but the reality is I'm 35 in the summer.
"I always knew it was going to end one day and it would be an emotional decision. Hopefully I will return one day.
"The key moment was speaking with Brendan about managing my playing time for the team. It was difficult but I accepted it."
Gerrard was full of praise for manager Brendan Rodgers and believes had Rodgers arrived at Anfield 10 years earlier, Liverpool will have won the Premier League.
"I wish I'd met Brendan when I was 24 because I think I'd be talking about a lot of titles we'd won," he added.
"It was tough to tell my family but at the same time it's exciting, it's great opportunity.
"I'd like nothing better to win a trophy here and leave this team in top form.
"I've lived in Liverpool all my life and never lived elsewhere, it's a new opportunity I'm really looking forward to.
"I wanted to announce it after the Leicester game as I didn't want it to effect that game. Teammates have been very supportive."
When Rourke offered to read some of the tributes from his teammates to him, Gerrard welled up, shaking his head, telling her, "It'd break me."
As the interview progressed he told her, "I'm nearly going here".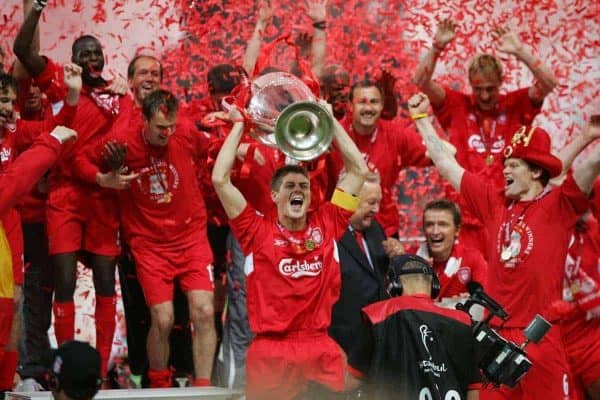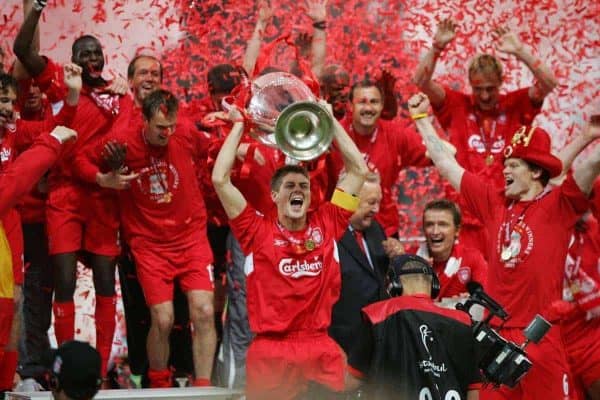 "I'm very humbled to be named amongst some of the players I get named beside," he continued. "It's big for me and my family.
"I'm one of the luckiest people in the world to have the relationship with the club and the fans.
"I'll always be a fan, but I'll only come back to the club if I feel I can help. I'd like to help in whatever capacity that may be.
"I didn't want this is he going/isn't he going thing to drag on so that's why I've announced it now, after the Leicester game.
"I can tell the supporters I will be going to play in America but I'm not over the line with any team right now.
"After that, we go to try win a trophy and forget about Steven Gerrard for a bit.
"I'm really proud of what I've done and hopefully I can write a few more chapters. It's so tough to say goodbye. But hopefully it's more a see you soon than goodbye."
The interview concluded with Gerrard left speechless by a tribute from Hillsborough Family Support Group chair Margaret Aspinall who said, "To the city of Liverpool, Steven Gerrard is more than a footballer."