After conceding a sloppy penalty in Tuesday night's 1-1 draw with Chelsea, Emre Can responded with class, writes Jack Lusby.

Liverpool's 1-1 draw at home to Chelsea in Tuesday night's League Cup semi-final first-leg clash will ultimately disappoint manager Brendan Rodgers after seeing his side dominate throughout.
In arguably Liverpool's best performance of the season, the side were unfortunate to draw.
Emre Can was thwarted by the pace of winger Eden Hazard, who coolly slotted away Chelsea's opener from the penalty spot before Raheem Sterling equalised for the Reds after a wholesale flood of intensity from the Reds.
Can's overall performance followed suit.
Despite being criticised by Jamie Carragher in the Sky Sports studio after the game, the No. 23 responded to this mistake with a classy display.
The Challenge Posed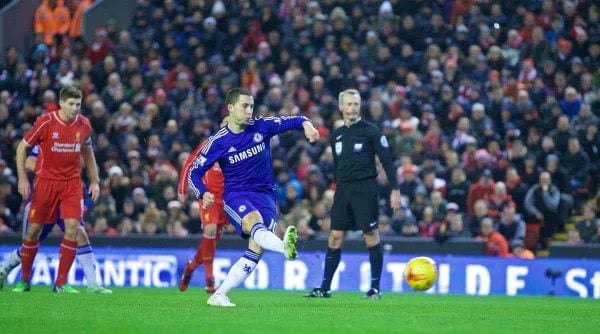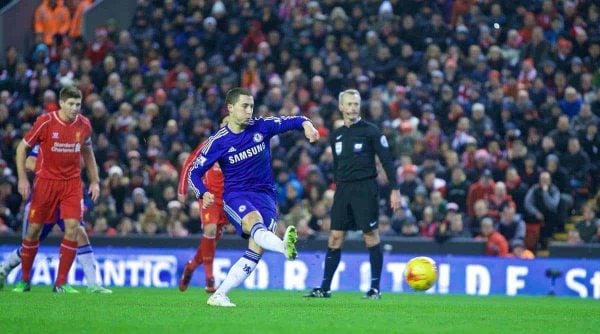 For Liverpool, this was teed up as their most testing challenge of the season—Chelsea were going into this tie on the back of a 5-0 away win over Swansea City, and as league leaders for much of the season so far.
For Can, this was amplified.
Signed primarily as a central midfielder—and with Rodgers providing a recent testimony to suggest his future lies as a defensive midfielder—Can has been utilised at right centre-back of late.
In Rodgers' 3-4-2-1, Can is expected to operate with defensive diligence, as well as help build from the back with his passing skills and dominant presence in flight.

Against Chelsea, one main area was highlighted as a potential weakness in the Reds' line-up—that being Lazar Markovic at right wing-back, just ahead of Can.
Bleacher Report's Sam Tighe theorised that "the thought of Eden Hazard going up against him on the left flank is enough to make Reds fans stomachs turn…[he] has proven himself an in-form, gifted out-ball, but he'll get run over in this one-vs.-one."
While this may do Markovic a disservice—and in fact his performance was exceptional in both defence and attack—the power of Hazard was rightly accentuated.
Eden Hazard has completed more take-ons in the Premier League this season (106) than the entire Southampton squad combined (104). #CFC

— Squawka Football (@Squawka) January 17, 2015
Eden Hazard has completed 521 final-third passes in the league this season, more than any other player across Europe's top 5 leagues. #CFC

— Squawka Football (@Squawka) January 17, 2015
Hazard is showing signs of reaching his immense potential with Chelsea this season and, if anyone was going to breach Liverpool's defence, it would have been him.
At just 21 years old, in an arguably unnatural position and up against one of the Premier League's most accomplished attackers, Can had a challenge on his hands.
Hazard made a fool of Can for Chelsea's penalty, and it is this that seemingly stuck with those charged with formerly analysing the game.
Jamie Carragher's Critique

After the game Carragher gave his evaluation of Can's performance on Sky Sports, and was particularly critical of the converted midfielder's defensive game.
The former No. 23 suggested that "against top-class players he's been found wanting," before continuing:
"He got beaten too easily and tried to rectify it and made two mistakes. He found it really difficult and looked like a midfielder playing at the back. People say he's been doing well recently in relation to bringing the ball out, but it was clumsy and a penalty, no doubt about it."
Roundly criticised for his comments, Carragher attempted to rationalise his comments via Twitter-expansion client Kicca:
"My thoughts on Can at centre-back in a back three [are] that he gives control to the team on the ball and helps the team build from the back. In a back three he will also have less defending to do but…his main strength is not the defending its bringing the ball out which he'd do less in a back four."
These comments still seem to rather neglect the context of the situation and, bizarrely, are founded on the notion that Can would struggle as part of a back four.
Liverpool haven't set up with such a defensive line since mid-December, so is this criticism fair, or even relevant?
Did Can truly look like a midfielder playing at the back?

Despite this early error, Can's overall performance at Anfield on Tuesday night was outstanding, particularly given the context of the occasion for the 21-year-old.
This was arguably the biggest game of Can's career so far, with a DFB-Kopal quarter-final loss to 1. FC Kaiserslautern with Bayer Leverkusen and this season's clashes with Real Madrid in the Champions League the closest the midfielder has come to such a high-profile contest previously.
Closer than ever to silverware, and lining up against Hazard, who is in the best form of his life, Can's display belied the circumstances.
Hazard was reasonably muted throughout proceedings, and this was due to Can's presence.
The Chelsea winger made four dribbles on the left flank at Anfield, significantly less than his season's average of 6.2 per game.
https://twitter.com/MostarLFC/status/557923955416117248
This was largely due to the diligent and attentive Can, who made six tackles and one interception, not letting his admittedly clumsy intervention on 17 minutes affect his physical game.
Furthermore, as ever Can's passing game was exceptional.
Making 74 passes, with an accuracy of 88.9 percent, Can was the third most prolific outlet for Liverpool on Tuesday, behind only central midfielders Jordan Henderson and Lucas Leiva.
Particularly outstanding was a long ball sprayed diagonally across the length of the pitch, beyond Willian and Branislav Ivanovic and into feet of Alberto Moreno.
One of Can's failed passes came after a lung-bursting run from right-back into an attacking midfield position, with his resulting through-ball eluding the perception of Raheem Sterling.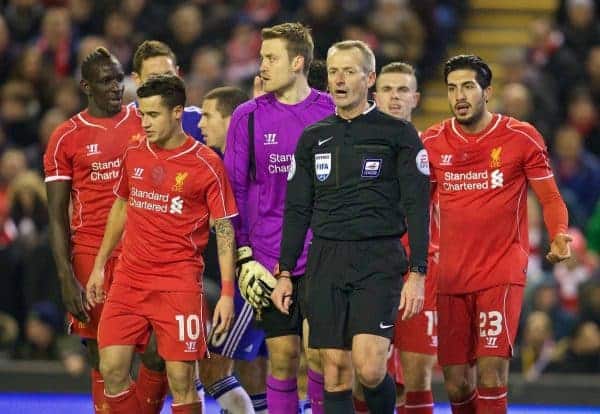 This movement underlined Can's response to his early error: the midfielder didn't let his confidence dip, and improved as the game went on.
Carragher's criticism likely stems from Can's shaky disposition directly after conceding the penalty—the No. 23 was shown up for pace on occasion—but the way in which he responded is paramount.
Can's display against Chelsea was another in a long spell of impressive displays in what was a relatively unfamiliar position at centre-back.
To scrutinise the 21-year-old's performance for one mistake is obtuse.
Overall, Emre Can turned in another expectation-defying display as centre-back at Anfield.
Statistics via WhoScored.com.
Is Jamie Carragher right to criticise Emre Can for his performance against Chelsea? Let us know in the comments below.