On the eve of Daniel Sturridge's long awaited return from injury, Simon Collings takes a look at other similar returns for top Liverpool players in recent times.

Let's face it, it's been a tough first half of the season. At times we've been awful, and at times we've been great. Yet one thing still remains: our lack of a top-class striker.
Oh how we've missed Daniel Sturridge. Many have tried and failed up front – Raheem Sterling being the best of a bad bunch, but whose talents perhaps lie elsewhere.
And whatever anyone's thinks about Mario Balotelli, Fabio Borini, or Rickie Lambert, a Daniel Sturridge they are not!
The England striker's comeback is so eagerly awaited it hurts every time he's not on the field – particularly since we've begun creating chances in front of goal. If he'd played in that second leg against Chelsea, we may be looking at a Wembley day out.
As that's all in the past, however, we must now look to the future. And judging be his latest tweets, Sturridge is chomping at the bit to return in the coming week.
This is all very encouraging – a proven, natural finisher who can't wait to bang in the goals for our beloved Liverpool FC. Of course, we have to give him, and Brendan Rodgers, time in his recovery – a couple of late sub appearances over the next week would be sensible. But the fact remains: the sooner our No.15 is back scoring goals, the more games we'll win.
Clearly, this isn't the first time we've craved the return of a star player – and it certainly won't be the last! But for some reason, Sturridge's five months out have been the most painful of spells. Yes Luis Suarez is missing too, but the way the team is playing of late (meaning that we can create without the Uruguayan genius), Studge's return has to be the most eagerly awaited homecoming in a recent memory. Let's take a look…
Robbie Fowler: Injury and a fairy-tale return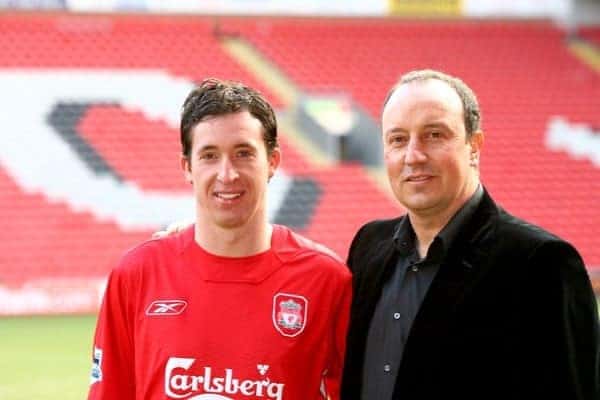 Such as 'Gods' lengthy Liverpool career, we've had the privilege of not one, but two messiah-like returns. The first was back in September 1998 after a painful spell on the side-lines due to a cruciate knee ligament injury. The opponents where newly-promoted Charlton Athletic at Anfield, in an entertaining 3-3 draw. The match was remembered as much for our horrific defending as for Fowler's return, as our fit-again No.9 grabbed a brace – rescuing a point.
In his absence (which forced him to miss the '98 World Cup), Michael Owen emerged as the new darling of the Kop, but the prospect of the two lining up together – when fully fit – had us all rubbing our hands.
However, due to the two having recurring injuries, we only saw them hit it off on a handful of occasions. As a consequence, Gerard Houllier lost patience with Fowler and was shipped out to Leeds United in 2001.
That is until Rafael Benitez saw the light and re-signed the striker from Man. City in January 2006. Fowler had remained a Liverpool fan since his departure and this fairy-tale return to Merseyside gave everyone concerned a massive boost.
Although his reincarnation lasted only 18 months, on his final appearance for the club he was given a much-deserved standing ovation – giving everyone, including Fowler himself, the opportunity to say a proper thank you and goodbye. Thank God for that!
Jamie Carragher: A broken leg, but stronger for it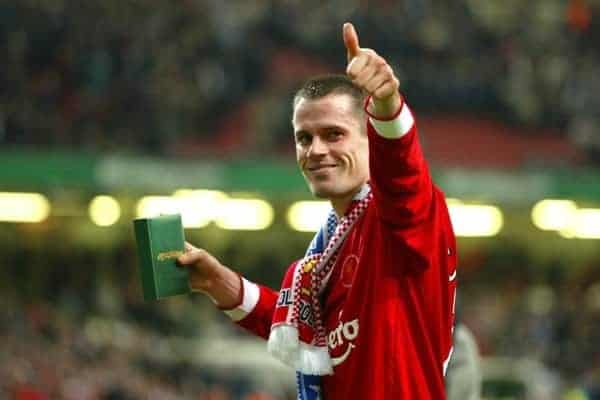 Despite Carra making an astonishing 737 appearances for the club, he was in-and-out of the first team between 2002 and 2004, due to two major injuries. First, he missed the 2002 World Cup with a knee operation, then, in 2003 he suffered a broken leg after an over-the-top tackle by Anfield favourite Lucas Neill.
Lesser players would have had their confidence rocked – but not Carragher. He quickly returned to the first team with minimum fuss, displacing new signings Steve Finnan and John Arne Riise in the process.
His absence (albeit brief), was felt at the club – particularly with Djimi Traore waiting in the wings! However, this 'break' from gruelling first-team action allowed the No.23 to grow and mature – enabling him to establish himself at the heart of the Liverpool defence for the start of 2004-05 campaign.
From then on he didn't look back. Looking stronger than ever, and missed only six league games during what is considered his peak years at the club (2004 to 2010).
Carragher of course would have loved to have played every game, every season – yet even the toughest of professionals needs a breather. I remember the time when he was out injured – it was as though Liverpool's soul was missing. As it turned out, it was all worth the wait as history was made, and a club legend was born!
Fernando Torres: A Spanish flame burnt out

It's fair to say Torres's first season at Liverpool was exceptional: 33 goals in 46 appearances. He would go on to score many more, and create a memorable partnership with Steven Gerrard.
His departure however, to Chelsea in 2011 left a sour taste in the mouths of many. Personally, I still love him. Other's will hate him, but what he did during his first couple of seasons at the club will live long in the memory.
At the time, Liverpool did rather well out of that January transfer window: Torres and Ryan Babel out, Luis Suarez and Andy Carroll in. With the former two being shadows of their previous selves, it's seemed that new blood was desperately needed.
However, something lingered over the Torres departure, and with his debut for Chelsea being against Liverpool in the coming days, something was special was bound to happen.
With a week to digest the transfer, everyone was anticipating what would happen when the two sides met at Stamford Bridge on February 6th. Was Torres going to make Liverpool regret letting him go, or were Liverpool going stifle him out of the game?
As it turned out, he was as quiet as a mouse – making minimal impact.
Much to the joy of the travelling Kopites, he was substituted in the second half after Carragher had had him in his pocket all night. The 1-0 victory for the Reds made it all the more sweeter.
It was clear that after a number of hamstring injuries during his time with Liverpool, he would never be the same player – a bit like Michael Owen.
I will always hold him in high regard for his scoring record, but with all the hoopla surrounding his bitter transfer and debut – along with the outcome that followed – this will stay with me for a long, long time!