Liverpool were unlucky to draw after dominating Chelsea in Tuesday's League Cup semi-final, thanks to some Brendan Rodgers tactical genius, writes Jack Lusby.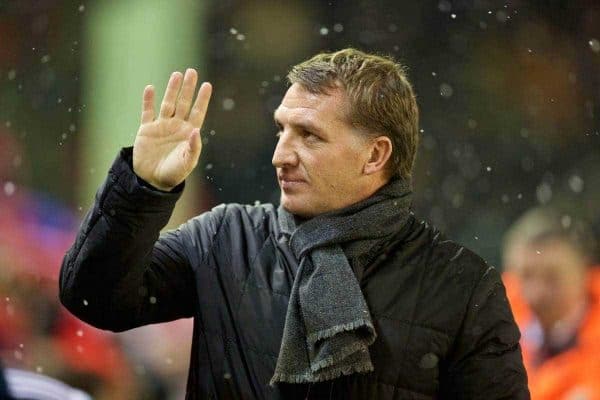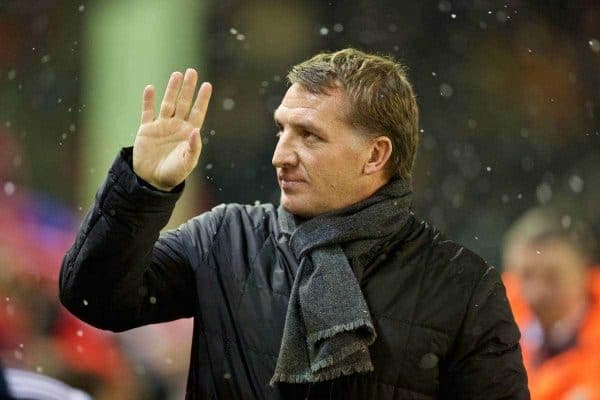 In what was arguably the performance of the season so far for Liverpool, Rodgers' side were extremely unlucky to take just a 1-1 draw from Tuesday night's match at a freezing Anfield.
After a clumsy foul from Emre Can, Chelsea's Eden Hazard converted a first-half penalty to put the Blues one up.
However, Raheem Sterling's 59th-minute equaliser ensured next week's trip to Stamford Bridge will be a tasty encounter.
Lining up against former sensei and oft-proclaimed tactical genius Jose Mourinho, Rodgers faced a tough challenge, but showed a formidable nous as he shifted the game in Liverpool's favour.
The Chelsea Block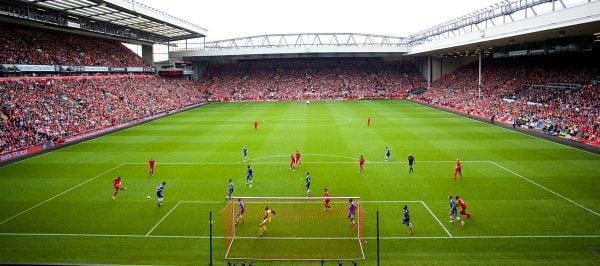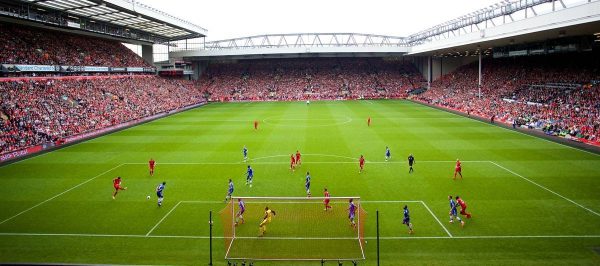 What with this first leg taking place at Anfield, Mourinho will likely have been content to take a draw from the first whistle — Chelsea are yet to lose at Stamford Bridge in the league this season, representing impressive home form.
This showed as the Portuguese set his side up in a hugely defensive manner, with a back four of Branislav Ivanovic, Gary Cahill, John Terry and Felipe Luis shielded by defensive midfielders Nemanja Matic and John Obi Mikel.
Furthermore, when Liverpool were in possession, and that was a lot, Willian and chief playmaker Cesc Fabregas withdrew into defensive roles.
This made Liverpool's attacking game a difficult proposition, despite their phenomenal initiative from the start.
While some great pace-led play from Sterling had Cahill calling for his teammates to "relax" on 14 minutes, Liverpool were predominantly limited from to long-range attempts in the first half.

Steven Gerrard's attempt forced a top-quality save from Thibaut Courtois on 16 minutes — one of many from the Belgian goalkeeper on the night, with Liverpool having 20 attempts on goal.
Ten minutes later, Lazar Markovic's instinctive half-volley failed to test Courtois, the winger's attempt a poor resolution to some fine intricate attacking play.
Sterling, operating in his new auxiliary No. 9 role, was too often found in wide areas, leaving these central spaces free for the clearances of Cahill and Terry.
Overall, Liverpool were guilty of attempting to play the ball too often in the first half, with Chelsea parking the bus.
Withdrawing at 1-0 down at half-time, could Rodgers counter this Chelsea block?
1. Moreno and Markovic

Markovic and Alberto Moreno, Rodgers' established wing-back pairing in the 3-4-2-1, were an effective force in the first half — the pair contributed comfortably in attack.
Importantly, Markovic played a vital role in hampering Hazard's progress in the Liverpool half, too.
But in the second half, Rodgers' initiative saw the pair take a more focal role in Liverpool's build-up play, and in turn this helped the Reds to pick apart Chelsea's solid back line.
Markovic in particular probed dangerously from the right flank, attempting six dribbles – and also showing he was up for the physical challenge defensively too.
Meanwhile, while the Reds seemed less inclined to pass to Moreno in the first half, the Spaniard was given more license after the interval, and this troubled an increasingly shaky Ivanovic.
Drawing Chelsea's block apart, this manoeuvre allowed two of Liverpool's key players to thrive in the second half.
2. Philippe Coutinho, Liverpool's Brain

Rodgers talked Coutinho up as the hub of everything exciting for Liverpool in the summer, and the No. 10 is growing into this role following the change of system of late.
The Brazilian was bright in the first half, and arguably Liverpool's most effective player, but Matic and Mikel often came tight to the midfielder as soon as he received the ball, as well as a deep-lying Fabregas when required.
The deployment of Moreno and Markovic even further up the field, and their added responsibility, allowed Coutinho to find a lot more space in front of the Chelsea defence.
Matic and Mikel confused each other attimes, and their dual-deployment was a mistake from Mourinho.

Utilising two defensive midfielders should effectively ensure a clean sheet, but the pair must work together, and Matic and Mikel were abysmal in terms of communication.
Aided by this, Coutinho noticeably grew in confidence in the second half, taking more shots on and driving at Chelsea's defence.
In the second half, with added space, Coutinho was devastating, creating chance after chance — he made four key passes, as well as five crosses, over the 90.
Raheem Sterling, Liverpool's No. 9?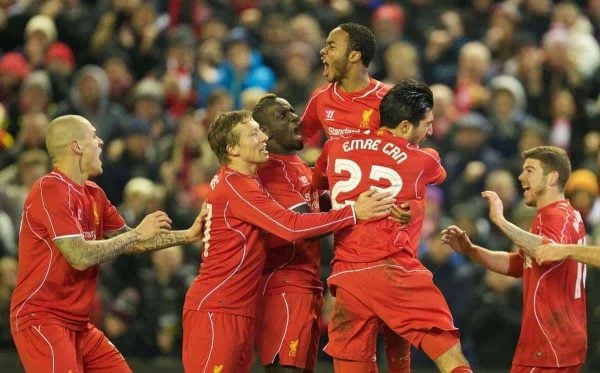 Coutinho's liberation, and Moreno's growing role, impacted hugely on Sterling in the second half, too.
In the first 45, a convincing argument could be made for the introduction of Fabio Borini—the peripheral figure may not be the most effective striker, or the most aware, but he has been nurtured as a striker, and typically remains in a central role.
Sterling was guilty of drifting wide too often in the first half, at one point taking the ball off Moreno's foot, with the left-back then at odds with the move.
At the end of the aforementioned move, the ball did make it into Chelsea's box, but found no one—Sterling, as Liverpool's striker, wasn't in the box, and the Blues made an easy clearance.
By forcing his wing-backs even higher up the pitch, and therefore allowing Coutinho more freedom, Sterling was naturally in a more effective central role.
https://twitter.com/MostarLFC/status/557648746230841344
The perfect example of this was Sterling's goal—allowed time and space in a central area, the 20-year-old drove between Matic and Mikel, through a flailing Chelsea defence, and through on goal.
This equaliser was the work of a tactical masterstroke from Brendan Rodgers who, despite an ultimately disappointing result given the context of the tie, showed his ability to outmanoeuvre the most tactically aware of managers.
Does Brendan Rodgers deserve the praise after Liverpool's performance on Tuesday night? Let us know in the comments below.