Liverpool drew 1-1 with Chelsea in their League Cup semi-final first-leg clash on Tuesday night, and we round-up the reaction from fans, players and journalists.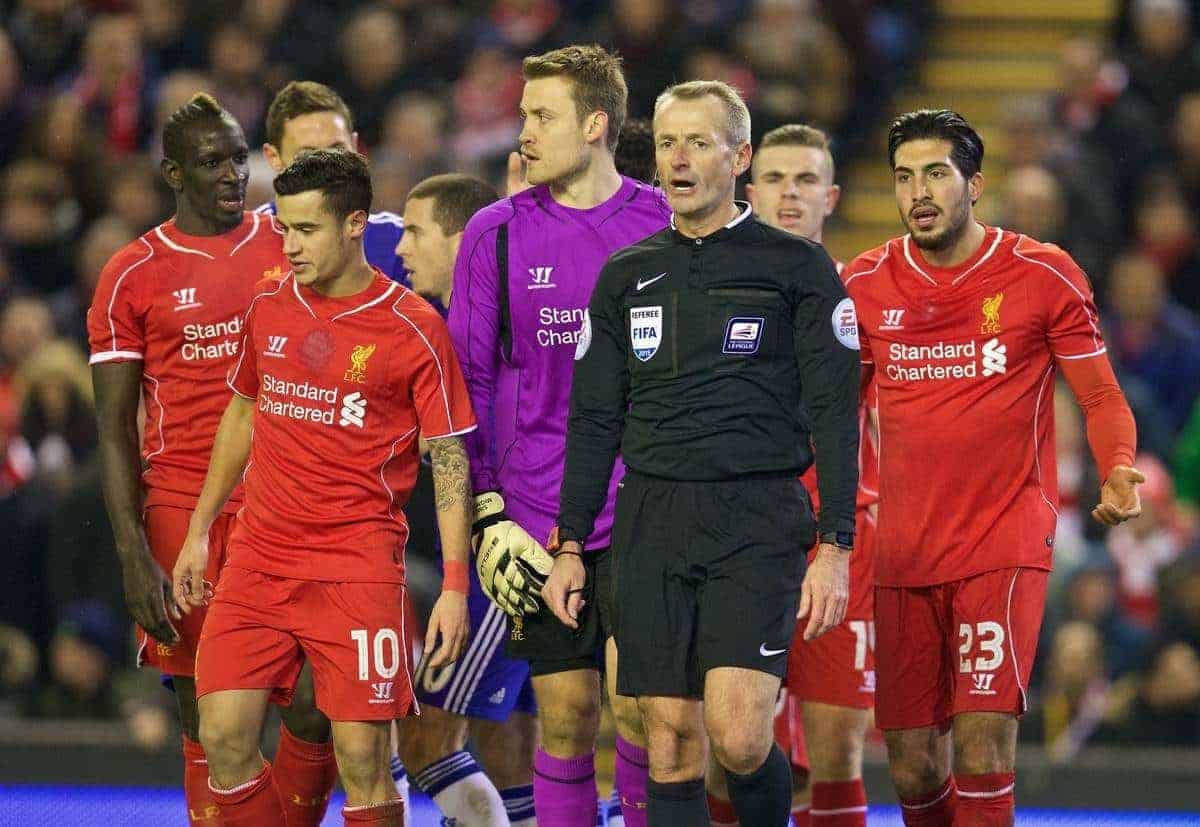 The Reds may not have picked up a victory against Jose Mourinho's side at Anfield, but this was undeniably their finest performance of the season.
The intensity, quality and pace had echoes of last season's brilliance, and there was not a single Liverpool player who didn't impress greatly.
Lucas Leiva was phenomenal in the middle of the park, Philippe Coutinho and Raheem Sterling were electrifying at times and Lazar Markovic continued his excellent run of form at wing-back. The defence also did themselves proud on the whole.
Eden Hazard's first-half penalty was Chelsea's only effort on target throughout the game, while the terrific Thibaut Courtois was tested time and time again by well-hit Liverpool strikes.
Sterling's superb individual effort gives Liverpool genuine hope of still qualifying for the final, despite the fact Mourinho's men are the clear favourites to progress still.
Here is how the Liverpool fans and media reacted to an entertaining game on Merseyside.
What a goal! pic.twitter.com/A0XeOG4PzN

— This Is Anfield (@thisisanfield) January 20, 2015
Chelsea have averaged 16.3 shots per league game this season, and the fewest they've had is 5.
They had 2 tonight #LFC

— Andrew Beasley (@BassTunedToRed) January 20, 2015
Liverpool's front five are playing exceptionally though. Moreno, Coutinho and Markovic in particular. Maybe PLAYING too much though. #LFC

— Jack Lusby (@jacklusby_) January 20, 2015
https://twitter.com/beccaparry10/status/557656607061188608
"theres always tommorrow" in the forums:
First game this year that has had me on the edge of my seat. I said before the match that Sterling would be out-muscled…how wrong I was. The lad had a great game. No one played badly and so many should be candidates for Man of the Match. Could be the turning point of the season….confidence is everything.
We suffered an identity crisis for 3 long months. The return of an incessant attack coincides with the return of Sturridge – exciting times.

— Aaron Cutler (@aaron_cutler) January 20, 2015
If we play like that at plastic bridge and Sturridge is back anything is possible

— Jeff Goulding (@ShanklysBoys1) January 20, 2015
Steven Gerrard sing-off commences at Anfield. Home & away fans. Different words

— Sam Wallace (@SamWallaceTel) January 20, 2015
Lucas Leiva and Thibaut Courtois were the picks for me from that game. Brilliant demonstrations of holding midfield play and goalkeeping.

— Tony Barrett (@TonyBarrett) January 20, 2015
"fivetimesredmen" in the forums:
Outstanding performance from the Red Men against an excellent Chelsea team – dont want to see any negatives in here tonight because that deserves nothing but praise. You can see this team progressing again as a group which was a worry early in the season cos we weren't. Coutinho was MOTM for me.
No player U-21 has created more chances than Raheem Sterling this season (50) across Europe's top 5 leagues. pic.twitter.com/lNWJKHSpzM

— Squawka Football (@Squawka) January 20, 2015
The irony when Chelsea fans sing "Where's your famous atmosphere" yet were the club pondering playing recorded fan noise in their stadium.

— LFCZA ?? ???? (@LFCZA) January 20, 2015
Let's put that #LFC performance in perspective – a few days ago Chelsea beat the away team 5-0. Today they barely got a shot away.

— Tom McMahon (@tomjpmac) January 20, 2015
Team looked class tonight!!

— Daniel Sturridge (@DanielSturridge) January 20, 2015
Let us know your thoughts on the game in the comments section below.