Liverpool fans around the world have revealed their emotional state after watching a teary Steven Gerrard explain his decision to leave the club this summer.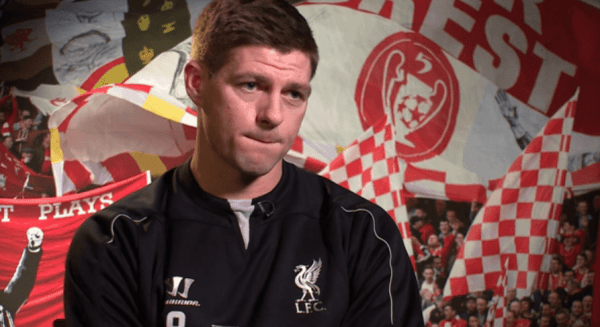 Speaking to the club's official TV channel, LFC TV, tears filled Gerrard's eyes as he explained his decision and what it meant to leave Liverpool behind.
At one point in the interview Gerrard admitted, "I'm going here", as he battled through to
confirm he will be swapping Merseyside for America later this year.
Gerrard also had words of praise for current manager Brendan Rodgers, having worked under five different managers during his 16 years at the club.
"I wish I'd met Brendan when I was 24 because I think I'd be talking about a lot of titles we'd won," he said.
Here are just a selection of reactions from fans and Twitter users to the interview. Let us know your thoughts on what Gerrard said and how it made you feel in the comments section below.
For more in-depth discussion, head to our Liverpool FC Forums.
https://twitter.com/kelseytwigg98/status/551428852057374720

That Gerrard interview is a tough watch

— LFC Hub (@Lfc_Hub) January 3, 2015
Gerrard crying will finish me off.

— LFC Fans Corner (@LFCFansCorner) January 3, 2015
Steven Gerrard thinks it was a privilege to captain Liverpool for us. NOPE the privilege was that we got to see you play for us.

— Mamun Choudhury (@Mamuniho) January 3, 2015
Emotion in Gerrard's interview towards end is incredible. Etched in face + voice. Great display of what #LFC means. Huge value in free view.

— Andy Kelly (@AndyK_LivNews) January 3, 2015

https://twitter.com/CalvLyfeson/status/551437490843029505

No matter how reluctant we are, and all that sadness, it'll be nothing compared to what the man himself is feeling.

— noc (re)tired/born (@nocrypticreep) January 3, 2015

https://twitter.com/Robish13/status/551428628710715393

gerrard interview got me in tears gonna miss that guy so much ?#CaptainFantastic

— jack parker ?? (@jackparker_123) January 3, 2015