Steven Gerrard's Liverpool team-mates paid tribute to their captain after he announced he is to leave the club at the end of the season.

Gerrard will depart Anfield after 17 years' service in the summer when his contract expires.
Daniel Sturridge was among 23 current Reds players to pay tribute to the 34-year-old on the club's website on Friday morning.
The striker said: "Stevie will always be a legend – not just for Liverpool but to England as well.
"He will go down in history as one of the best midfielders in the game. He's just unbelievable every day, a great leader and the perfect example for every young player around the country."
Lifelong Liverpool fan Rickie Lambert realised a childhood dream when he moved to Anfield to play alongside the Reds skipper last summer.

Reflecting on Friday's announcement, the Kirkby-born striker said: "Stevie is his own man but he is Mr Liverpool.
"He's number one for me and I think he always will be. He has meant everything to me, growing up as a Liverpool fan.
"The nights he has given Liverpool fans are unbelievable – I'll never forget them and I know the Liverpool fans will never forget them."

Gerrard has often spoken highly of Raheem Sterling and the England forward thanked Gerrard for the role he has played in helping him settle in at Anfield.
"He has been brilliant for me," Sterling said.
"He's always looking after me, always checking to see if I'm all right. He's an inspiration and a great captain."
Gerrard's midfield partner Jordan Henderson spoke highly of the 34-year-old and his "humble" personality.

The Liverpool vice-captain said: "He is a top player but he is also a top person. The lads can go to him with anything and he will always help them out and put them first. That is massive as a captain. With the aura that he has got, he could be a different person but he is very humble."
Mario Balotelli paid tribute to Gerrard, likening him to his Italy team-mate Andrea Pirlo, who is regarded as one of the greatest midfielders in the country's history.
The Italian striker said: "Wow. I think of him as being at the same level as Pirlo. Vision, technique but he is powerful as well.
"Stevie can do anything, he's an amazing player. It's going to be very difficult for the team to find another player like him in the future."
Gerrard's other team-mates were just as forthcoming with their praise for the midfielder, who has won 10 trophies during his time at the club.
Kolo Toure said: "He makes the magic when no-one can make it and that is why he is one of the best players in the world."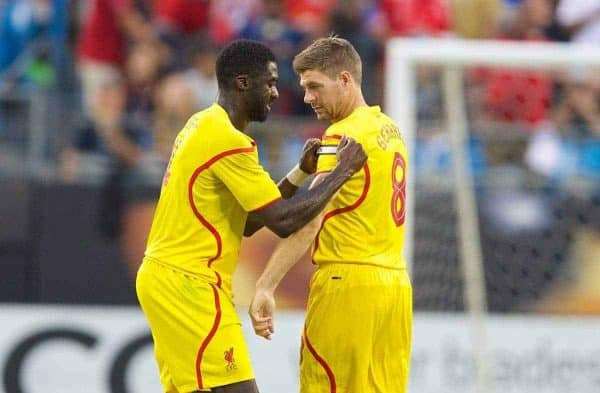 Emre Can said Gerrard was "the greatest captain Liverpool have ever had" and Philippe Coutinho described his skipper as "phenomenal".
Academy product Jon Flanagan called Gerrard his "hero" while Joe Allen said the former England skipper "is an iconic figure, an inspiration."
Right-back Glen Johnson, who has been at Liverpool for five-and-a-half years, added: "Steven has been a fantastic player for many years and what he has done for Liverpool Football Club is just huge."
Jose Enrique insists Gerrard has not lost his touch despite 17 years in professional football.
"The quality of his passes, his crosses, and the free-kicks is amazing. At 50 years of age he will still be doing the same thing," he said.
PA