Liverpool need to gain victory over Chelsea in Tuesday night's League Cup Semi-Final Second Leg, and Jack Lusby details how they can do so.

Liverpool travel to Stamford Bridge on Tuesday to take on Chelsea in the League Cup Semi-Final Second Leg, and the tie represents manager Brendan Rodgers' best chance at grasping silverware this season.
The first leg played out in mesmeric fashion — the Reds were bold, Chelsea shrinking, and the match-up could have been put to bed were it not for some profligate finishing.
Much of this (relative) success was due to Rodgers' tactical mastery on the night.
Poised a 1-1, and now facing a tough away leg, Liverpool need to recapture this tactical thrust to stride to a Wembley final against either Tottenham Hostpur or Sheffield United.
But what are the key tactical elements that Liverpool need to focus on?
Get Lucas Leiva Prowling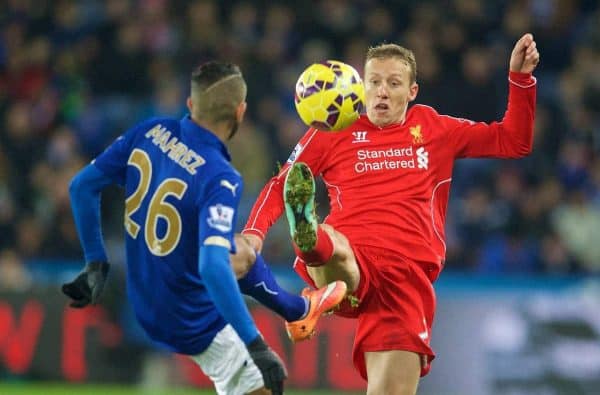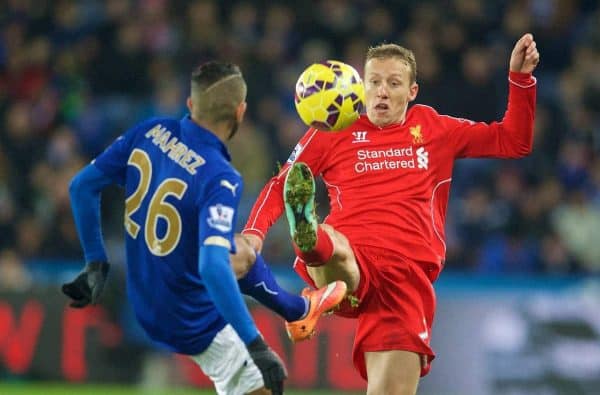 The Reds' weekend draw at home to Bolton was hallmarked by a lack of vigour in central midfield.
A partnership of Jordan Henderson and Joe Allen made Darren Pratley look like Yaya Toure on occasion, bursting past the midfield duo.
Allen, making his return from a long-term injury, struggled to keep the pace in that game, but this was a mere step towards regaining composure and fitness for the divisive Welshman who, when focussed, can play a crucial role in the Reds midfield.
Pratley's skillset allowed these misgivings to go unpunished, but a Chelsea midfield likely consisting of Cesc Fabregas, Nemanja Matic and Oscar won't offer the same leniency.

This requires a return for Lucas Leiva, in place of Allen.
Against Chelsea in the first leg, Lucas was attentive and aggressive, making seven tackles and two interceptions—the same as the coveted Matic.
Lucas spoke before Tuesday's game, stressing how he's "realised that you have to work hard, no matter what," and this has boosted his game during his time at Liverpool.
In order to protect the Liverpool defence against Chelsea, and keep Oscar quiet, Lucas must return.
Focus on Chelsea's Full-Backs

It seems a superficial point to make, given the immense quality Chelsea have in their full-back positions, but this area currently represents one of the Blues' weakest points, and should be made a target for Liverpool at Stamford Bridge.
At Anfield, Mourinho fielded Branislav Ivanovic and Felipe Luis on the right and left flanks respectively, and neither will have been pleased with their output.
Ivanovic in particular endured a torrid night, short of confidence and bereft of support.
The 30-year-old was extremely wasteful on the ball, finding his intended target with just 58.6 percent of his 29 passes, the worst of any outfield starter on the night.
Expect Mourinho to counter this deficiency by fielding Cesar Azpilicueta in place of either Ivanovic or Luis, and crossing his fingers — Azpilicueta showcased poor form himself in Chelsea's 4-2 FA Cup loss to Bradford City on Saturday.
Former Chelsea trainee Filipe Morais gave Chelsea's left-back the run around in that game, and Liverpool's Lazar Markovic should look to do the same on Tuesday.

Crucially, in this tie, Liverpool must improve on the service to Markovic's left-sided counterpart, Alberto Moreno, who made consistently threatening runs behind Ivanovic last week.
Moreno was often ignored in favour of a central approach, and Liverpool arguably didn't capitalise on what was likely a rare off-day for Ivanovic.
Nevertheless, Chelsea's full-backs represent a weak link at present, and Liverpool should look to exploit this with probing runs from both Moreno and Markovic.
Reds No. 10 Philippe Coutinho should look to them not as a second-best alternative to Raheem Sterling's movement behind the Chelsea defence, but a primary target.
Revert to Martin Skrtel at Central Defence

Against Bolton, Rodgers chose to rest Martin Skrtel and included a returning Glen Johnson at right centre-back, moving Emre Can to a central role.
This marginalised Can's creative talents, and also offered him as a target for the bullish Emile Heskey—although the Trotters striker failed to take advantage of this.
Against Chelsea, Skrtel must return in Johnson's place, with Can shifted back to the right hand side.
Skrtel suits this limited central role, with his raw physical talents tailored to a pure defensive battle of clearances and covering tackles.
This will be crucial again on Tuesday, with Chelsea's Diego Costa a formidable physical centre-forward.
Pitting Can or Johnson up against Costa would be a swiftly punished mistake — the Spanish-Brazilian thrives on an intimidating approach, and neither would match up to his dominance. Skrtel, however, is perfectly suited to this battle.
https://www.youtube.com/watch?v=ExY9VSbR06Y
In fact, the 30-year-old has towered over Costa with regularity, on the international stage and in the Anfield leg of this tie.
Arguably it is the mental battle that Skrtel seems to most benefit from in this match-up, and the centre-back thanked former Liverpool man Luis Suarez last year for the "rude words he'd taught me which I could use against [Costa]."
Get under his skin and, surprisingly, Costa fades.
At Stamford Bridge, Skrtel needs to gain every advantage he can against Costa once more, suffocating his talents and frustrating him as Chelsea's lone striker—cut the head off the snake, if you will.
Statistics via WhoScored.
How can Liverpool defeat Chelsea at Stamford Bridge on Tuesday? Let us know in the comments below.