We round-up the best newspaper reaction from Liverpool's brave 1-0 defeat at Chelsea in the League Cup semi-final second-leg at Stamford Bridge on Tuesday evening.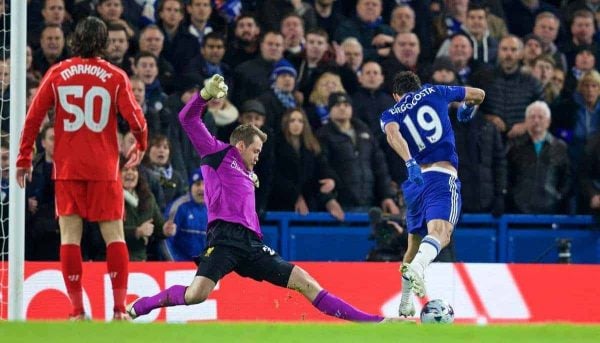 The Reds produced a terrific performance from start to finish at the home of one of Europe's strongest clubs, often outplaying the favourites to win this season's Premier League.
Sadly, a lack of ruthlessness in the final third saw Brendan Rodgers' side fail to find that elusive goal that they had to score to have any chance of progressing, and Branislav Ivanovic's extra-time header settled matters.
Rodgers' men should take plenty of positives from the game, most notably the performances of Simon Mignolet, Martin Skrtel, Lucas Leiva and Philippe Coutinho, and they must make sure their season continues to kick on from here.
Jason Burt of The Telegraph believes the Reds have their mojo of last season back, but admitted Luis Suarez's quality up front remains an obvious loss:
This was a completely different Liverpool from the ponderous, unsure and predictable side that plodded through the first half of the campaign. With their high-pressing game, 'high block' and their 'intensity' to use one of Brendan Rodgers's favourite words, this was the Liverpool of last season.

[…]

Liverpool are not quite the same without Luis Suárez, however – he continually drove them forward and harried the opposition – and there was an inevitable drop off in the second half. But credit to Rodgers. He is being proven right. His team are getting better and can look forward to a strong finish to the season.
Imagine if we had players who could shoot. We'd be 3 up.

— Matt Ladson (@mattladson) January 27, 2015
The Mirror's Ed Malyon lauded the display of Mignolet in goal, questioning whether it could be a defining night in the Belgian's Liverpool career.
First was a wonderful save – changing direction after he had already committed – from Diego Costa, before denying the same man by tackling bravely at his feet. They were superb stops in arguably the Reds' biggest game of the season and while they ended up crashing out, he came out of this game hugely in credit.

Rodgers is strong-willed and looks like he's made his mind up about Mignolet's future already, but if the former Sunderland man can put in a Lucas-esque bid to resurrect his Anfield career by turning in performance after performance then it's only going to give the Ulster-born coach a headache.
Mignolet was superb last night. Been really good the past few games. pic.twitter.com/GF3SmVzgN1

— LFC Fans Corner (@LFCFansCorner) January 28, 2015
Neil Jones of the Liverpool Echo believes it is vital Rodgers' men don't let the result affect their confidence for the rest of the season, and that they must take great pride from the performance:
They (Liverpool) could barely have given more, either here or at Anfield. They can be proud of their efforts, and deserved the ovation they got from the 4,000 travelling Reds at the final whistle. They were out on their feet by the end.

But when the dust settles, they must take this experience and use it in a positive manner. No licking their wounds, no feeling sorry for themselves, no hard-luck stories. They lost this tie because they gave away a soft penalty in the first leg, and because they switched off at a free kick in the second. And because over both games, they lacked the finishing touch which sets the decent sides apart from the successful ones, missing a clutch of big chances to take themselves through.

So can Liverpool, with this team, make the leap from a decent one to a successful one? It's a big ask, but they have to believe.
Mourinho: "Liverpool are a very good team, and very good work from Brendan to change shape and model of play."

— Neil Jones (@neiljonesgoal) January 27, 2015
The Independent's Jack Pitt-Brooke was full of praise for Coutinho and Lucas, with the former out-performing the world-class Eden Hazard and the latter continuing to show just how important he is to his side in the middle of the park:
This was a frenetic, physical, intense game, played on the edge of legality by players from both sides. Amid all that, it was impressive to see the two No 10s, Eden Hazard and Philippe Coutinho, playing as bravely as they did.

Both players took responsibility throughout, demanding the ball, riding the tackles and trying to win the game single-handedly for their sides. Hazard was electric in the second half, but Coutinho was even better, skipping and wriggling away from opponents at will.

Chelsea have blown teams away this season with their power through the middle but yesterday evening Liverpool held them at bay, thanks to the reliable presence of Lucas Leiva in the middle. Lucas might have looked like he was on the way out of Anfield in the summer, but his return to the team has been as important as anyone.
Coutinho has been incredible in recent weeks. New formation keeps him involved and his confidence has rocketed.

— Paul Tomkins (@paul_tomkins) January 27, 2015
Next up for Liverpool is Saturday's home Premier League clash with West Ham (3pm kick off GMT), followed by the FA Cup fourth round replay at Bolton next Wednesday.