Growing in influence this season, Philippe Coutinho has become indispensable for Liverpool, but can still improve, writes Jack Lusby.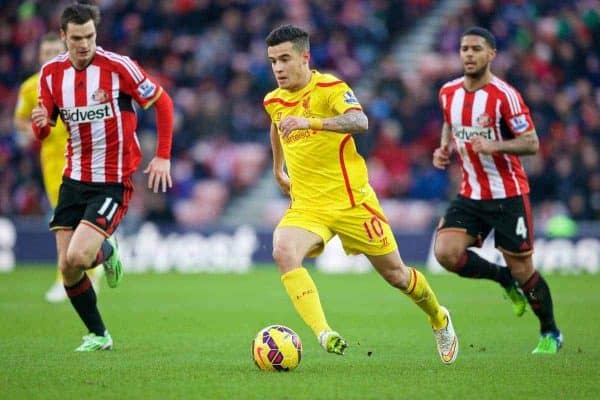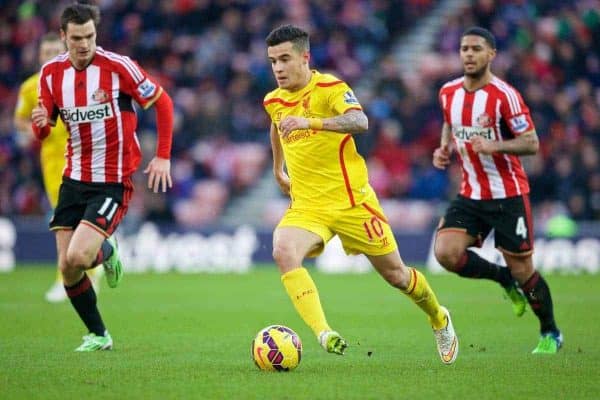 After an initial struggle in a Liverpool shirt this season, Philippe Coutinho has well and truly established himself as a key player once again for manager Brendan Rodgers.
A series of star turns since Rodgers has switched his tactical layout to a 3-4-2-1 formation has earned Coutinho widespread praise, and the manager's summer planning is seemingly coming to fruition.
During pre-season, Rodgers described Coutinho as "the brain in our team, the continuity player," and "the one that gets the team ticking."
While this would have suggested a central role for the 22-year-old, Coutinho was deployed in a variety of positions in the early stages of 2014/15, typically as a left inside forward.
Now, however, Coutinho is becoming that nucleus, and the improvement is truly stark.
Becoming Key in a Central Role

After this turbulent start to 2014/15, Coutinho has come into his own of late, and this can be widely attributed to a positional switch in Rodgers' new 3-4-2-1 formation.
This has allowed Coutinho to become a more advanced version of the deep-lying "brain" that Rodgers theorised in the summer.
Prior to the switch, Coutinho had an average of 30 passes per game, with an accuracy of 83 per cent; after the switch, he has made an average of 36 passes per game, with an accuracy of 79 per cent.
While he may be less accurate, that's the case for any player playing in a more attacking role, where risks are expected.
In terms of chances created, Coutinho's move into a central role has seen a significant improvement.

Prior to Rodgers' formational turn, Coutinho created just five chances — including key passes and assists — in 12 games, at a rate of 0.42 per game.
Since moving central in the 3-4-2-1, however Coutinho has created 14 chances in six games, at a rate of 2.33 per game.
Furthermore, as Rodgers described that his formational change as one that "allows you to press and it means your game can be much more aggressive," Coutinho's physical game has increased since a move into a central position.
Before the 3-4-2-1, Coutinho made 0.67 tackles per game with a success rate of 31 per cent; in the 3-4-2-1, Coutinho has made 2.5 tackles per game with a success rate of 44 per cent.
Clearly, this central role has improved Coutinho's output.
Amongst Contemporaries

Overall, these attributes are crucial for a modern No. 10.
Comparing Coutinho to his compatriot Oscar, as well as other outstanding Premier League No. 10's, since his move into a central role outlines his improvement.
For the sake of comparison, these are taken from fellow those closer to the top of the table: Oscar of Chelsea, Christian Eriksen of Tottenham Hotspur, Dusan Tadic of Southampton, David Silva of Manchester City, Santi Cazorla of Arsenal and Juan Mata of Manchester United.
From the last six Premier League games—as in line with Rodgers' introduction of the 3-4-2-1—below we compare each players' average of passes, passing accuracy, chances created and tackles made per game.


While Coutinho is not yet the most prolific creative No. 10 in the Premier League, his improvement since moving into a central role is clear to see.
Furthermore, his imperious statistical output in terms of pressing the opposition from high up the pitch is a testament to his fitting Rodgers' system—defending from the front is vital.
However, there are areas that Coutinho can still improve in his game in order to become a complete No. 10, and a truly invaluable asset to Liverpool.
Room for Improvement

This, namely, comes in form of the Brazilian's frustratingly profligate shooting.
This is an issue that has plagued Coutinho's game since joining Liverpool, despite a measure of spectacular goals such as the winner in last season's 3-2 victory over Manchester City.
Comparing Coutinho to the No. 10s mentioned above displays an alarming oversight in his game:


While Coutinho takes less shots per game and is more accurate than Oscar and Eriksen, the vastly superior conversion rates of Silva, Cazorla and Mata, for example, underline his deficiency.
To take him to the very top, and comparable to the likes of Silva and Cazorla, Coutinho must develop this area of his game.
However, as detailed, Coutinho's development since moving into a central, free playmaking role in Liverpool's 3-4-2-1 formation is exceptional, and the 22-year-old is clearly flourishing since this switch.

It is also worth noting that, in terms of age, Coutinho has plenty of time on his hands, especially when compared to the likes of Silva, Cazorla and Mata.
This should allow the midfielder to hone his finishing, and thus becoming a truly devastating player for Liverpool.
For the time being, however, Brendan Rodgers must continue to utilise Philippe Coutinho in a central role for Liverpool, as in this position the 22-year-old is one of the Premier League's most prolific creative outlets, as well as a true proponent of the pressing game.
Statistics via Squawka.com.
Can Philippe Coutinho become one of the Premier League's best players? Let us know in the comments below.