Liverpool defeated Bolton 2-1 in the FA Cup on Wednesday evening, after Philippe Coutinho's last-gasp stunner, and we assess each Reds player on an unforgettable night at the Macrom Stadium.

SIMON MIGNOLET (out of 10)- 7
The Belgian has been much improved of late, and he was solid in general against the Trotters. He read the danger well on a number of occasions and commanded his box well.
EMRE CAN- 8.5
The 21-year-old was colossal all evening and really is starting to look like a sensational signing. He was a class act at the back, moving inside to sweeper again at half-time, then drove the team forward higher up the pitch late on and produced a sublime pass for Raheem Sterling's vital equaliser. Future captain?
MARTIN SKRTEL- 6

Skrtel reverted back to his rash ways against Neil Lennon's side, committing needless fouls and looking shaky. His 'foul' on Zach Clough may not have seen much contact but it gave the referee reason to appoint the spot kick. Clumsy.
MAMADOU SAKHO- 7
The Frenchman was good once again, and you just expect a faultless performance from him now. He was strong in all aspects of his play, in particular his use of the ball. Incredibly, there are still some who rate Skrtel higher than the Frenchman.
LAZAR MARKOVIC- 6
The 20-year-old has not been in the greatest form in the last couple of weeks, and he was quiet again against the Championship side. The young Serb did nothing wrong, but a little more attacking zest was required.
JOE ALLEN- 5
The Welshman was extremely disappointing throughout, and has to start doing more if he is to have a future at Liverpool. He was weak physically, far too safe in possession and generally lacked any influence whatsoever.

STEVEN GERRARD- 5.5
The skipper was well off the pace, particularly by his standards. His passing and set-pieces were disappointing and he lacked dominance alongside Allen in the middle of the park.
He showed some class when moved into a 'number 10' role, but Lucas Leiva and Jordan Henderson are now definitely ahead of him in the pecking order. Why Rodgers moved him back into centre-midfield, a role he hasn't played since the defeat at Old Trafford in December, was bewildering.
ALBERTO MORENO- 6
The Spaniard is a consistently solid performer, but he has to start doing a bit more and add an end product. Too often he failed to drive forward, preferring a more conservative style of play instead, and his final ball was inconsistent.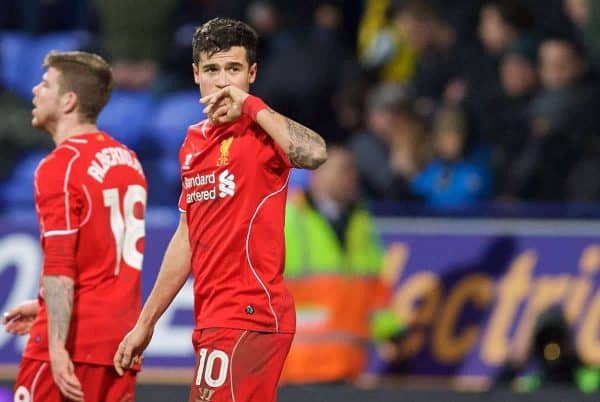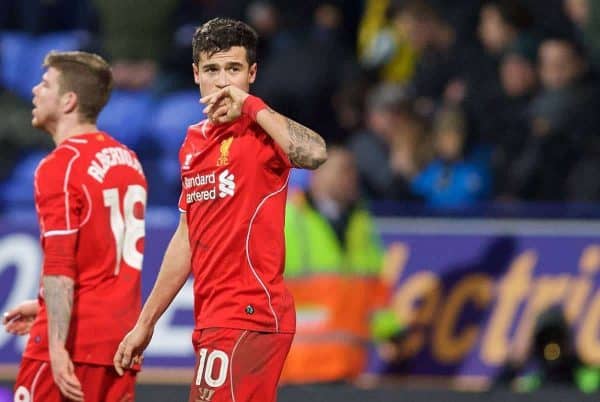 PHILIPPE COUTINHO- 8.5
Coutinho is in absolutely majestic form at the moment, and is well on his way to becoming a world-class footballer. He was a constant menace with his creativity, and his stunning 91st-minute strike sent the Reds through to the fifth round. He is a joy to watch.
Despite being on the receiving end of many poor challenges, he kept going and took responsibility, which showed maturity.
ADAM LALLANA- 4.5
The former Southampton man was appalling during his 55 minutes on the pitch. Time and time again he got robbed of possession, and he played in a laid-back style that almost looked as though he was disinterested. The 26-year-old needs to improve, or face being a regular on the substitutes' bench.
RAHEEM STERLING- 7.5

Like Sakho, you just expect good performances from Sterling in every game now, which given his age, shows what a supreme talent he is.
He came close to scoring on several occasions, before volleying home an excellent equaliser after 86 minutes, and his pace and trickery was top draw from start to finish.
Coutinho will rightly get headlines but quality of Sterling's finish should not be overlooked, dropping over his shoulder

— Ben Smith (@BSmith) February 4, 2015
Substitutes
JORDAN HENDERSON (on for Lallana 55)- 7
The vice-captain added quality when he came on, despite the Reds falling behind after his introduction, and he helped drive his side forward as they looked to turn the game around. He was missed greatly from the start.
FABIO BORINI (on for Markovic 65)- 5
The Italian was pretty hopeless when he came on, giving away a needless foul and offering little in terms of quality. Just not good enough for Liverpool.
DANIEL STURRIDGE (on for Allen 70)- 6
The 25-year-old looked a little rusty, but still added a threat in attack.
MAKE YOUR RATINGS
[statsfc-player-rater key=2dCG2IPndnJBm4GL141AFJQnx7Wsl6gT3JGGW02u team=Liverpool date=2015-02-04 default_css=false]