With Liverpool taking a slender 1-0 lead away from their first-leg Europa League clash with Besiktas, Jack Lusby believes Brendan Rodgers changed the game.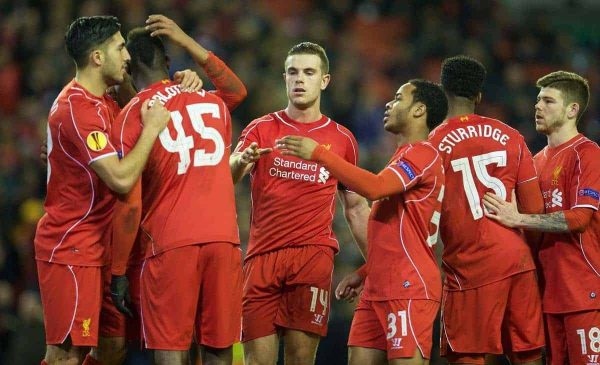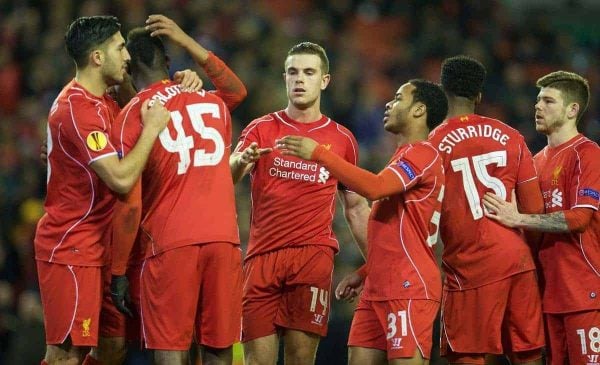 We'll take that.
One Mario Balotelli penalty was all Liverpool could muster in their Europa League last-32, first-leg clash at home to Besiktas, but Brendan Rodgers will be pleased with how his side went about the game.
Dominant throughout, Liverpool were just lacking a cutting edge to seal the win ahead of a tough trip to Istanbul to take on Slavan Bilic's side again next week.
In the end, it took some inspiration from Rodgers to change the game for the Reds, and the manager can now look to finish Besiktas off after achieving an invaluable first-leg victory.
A Meandering First Half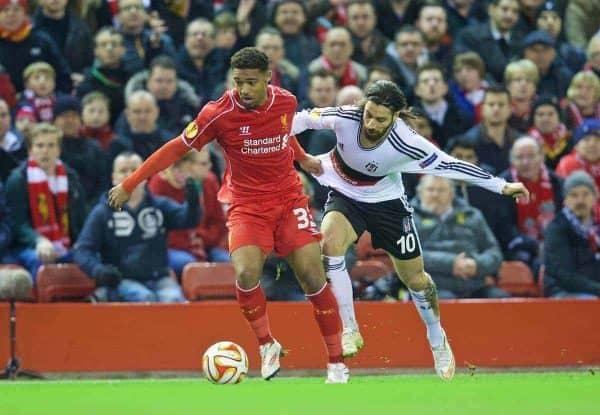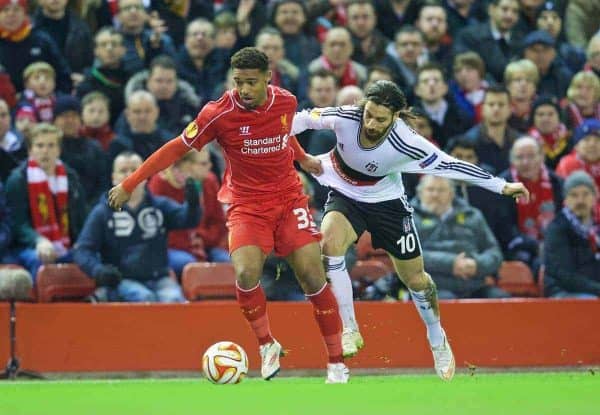 Rodgers set his side up in their now-customary 3-4-2-1 formation, and against Besiktas' 4-2-3-1 this seemed to be right approach, as Liverpool's liminal dual-No. 10s could find space inside and the wing-backs would benefit from the additional space.
In some ways, this tactical approach paid off in the first half.
The wing-backs, Jordon Ibe and Alberto Moreno, stretched their opposing numbers with regularity, with Ibe in particular proving a devastating proposition before the interval with his fearless, direct style.
Jordon Ibe & Gokhan Torë either side's dangerman out wide in first half. Five dribbles each, most of any player. #LFC pic.twitter.com/kuKwVE9eqh

— Jack Lusby (@jacklusby_) February 19, 2015
Adam Lallana combined well with Ibe, too, and enjoyed a lot of space on the inside—although the No. 20 failed to conjure anything truly magical.
Sakho and Henderson serving as Liverpool's creative hub in first half, 86 touches between them. #LFC pic.twitter.com/u7veMOuTOo

— Jack Lusby (@jacklusby_) February 19, 2015
Elsewhere, Jordan Henderson and Mamadou Sakho thrived in possession, and Liverpool looked dominant.
But there were definitely holes in Liverpool's setup, namely in a tired Philippe Coutinho, a quiet Joe Allen and an uncharacteristically sloppy Emre Can—Rodgers ushered the Reds in at half time knowing that, despite their dominance, his side would need some tweaking to ensure victory.
Inspired Changes

It is rare that manager and armchair critic are of the same opinion, but Rodgers clearly saw where his side were failing and looked to amend this in the second half.
Giving his starting line-up just over 15 minutes to attempt to kick into action, Rodgers introduced Dejan Lovren for Allen and Balotelli for Coutinho on 63 minutes.
Lovren's arrival saw Can move into the midfield role alongside Henderson, while Balotelli partnered a struggling Daniel Sturridge up front, with Lallana moving into a more central No. 10 position just behind the pair.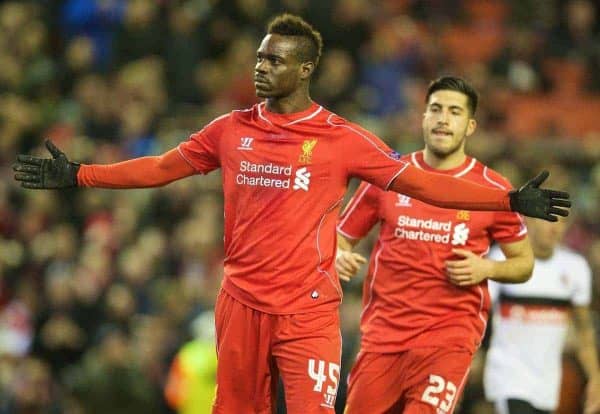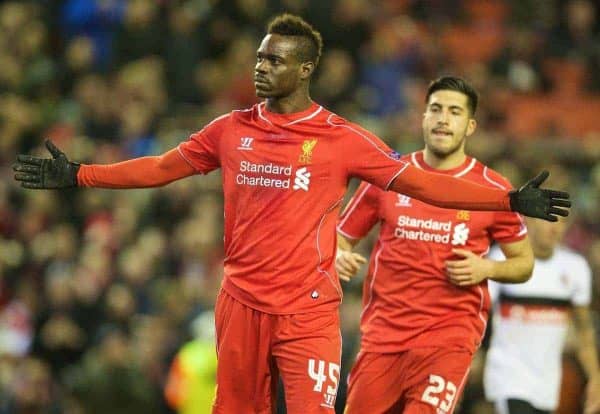 Liverpool looked more of a threat from this point onwards, and this predominantly came from Balotelli, although Can's move into midfield did allow Henderson more license to prove, also.
After Liverpool's 2-1 FA Cup comeback win away to Crystal Palace at the weekend, Rodgers praised Balotelli's recent improvements—the striker inspired that victory as well as this one.
"I think now the penny's dropped," Rodgers claimed. "It has been difficult for him, because he's come into a style maybe he's never been in before, but one thing he has got is quality, and he's got big quality and the last couple of games he's come off the bench and been effective for us."
So previously critical of his contributions—of his unwillingness to press, and of his jarring with Liverpool's overall style—Rodgers will now be pleased with the efforts of what looks like a changed striker.
The most obvious difference is his improving goal record.
Two goals in three games for Balotelli. Well, well, well …

— Ben Smith (@BSmith) February 19, 2015
But aside from the penalty, Balotelli was consistently willing to press, ingenious in his use of strength in holding up the ball and surprisingly selfless in the final third.
There were calls, before the game, for Rodgers to start Balotelli—perhaps now, the striker has shown enough to earn one.
Rodgers' Options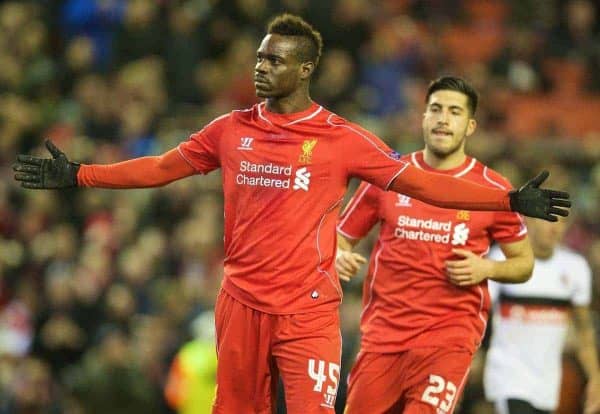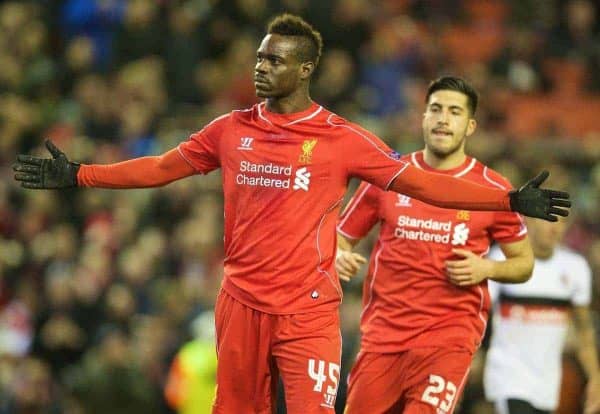 For a side that looked so perilously thin earlier in the season, and particularly during their ill-fated Champions League campaign, Liverpool now look like a multi-faceted and interchangeable side—all of a sudden, Rodgers has options to play with.
"We are a far cry from what we were a few months back, and that was the frustration," Rodgers said before the game.
"We had put two years of hard work to get into the Champions' League, but when we got there, we didn't have our team or way of working."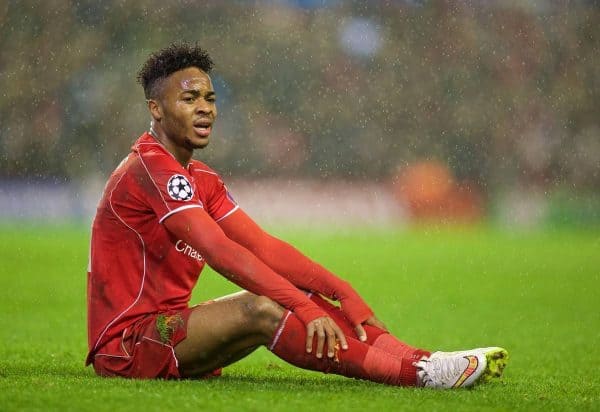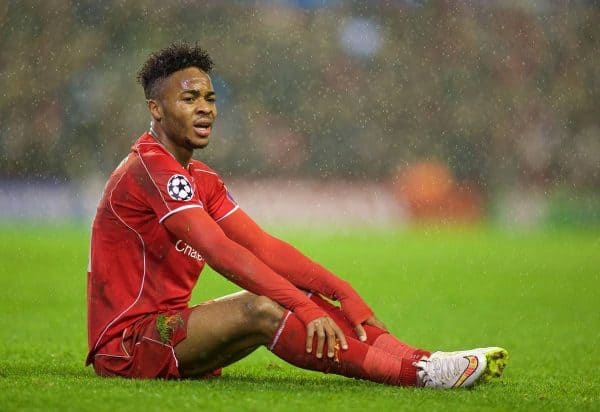 Liverpool hadn't clicked earlier in the season, and this was partially due to the time it took for Rodgers' new signings to gel, and also the manager to gel with his new signings—Can, for example, was a marginal figure in the first half of the season.
Balotelli has taken longer than most to show his quality after his summer signing, but now his emergence perhaps offers Rodgers the most flexibility.
The striker's continued influence in big games—wins against Spurs, Palace and now Besiktas—shows he can be an important player for Liverpool this season, and his replacing Coutinho on Thursday night perhaps shows where.
Good win. Jordan Ibe man of the match. Balotelli impressed again as a sub.

— Jamie Carragher (@Carra23) February 19, 2015
Rodgers has been bold in his tactical flexibility in recent games — his willingness to switch from a 3-4-2-1 to a 3-1-4-2 is encouraging.
With his side now used to him, and him now used to his side again, Rodgers must continue to explore the tactical flexibility he showed against Besiktas and harness his varied options.
This can start with Balotelli partnering Sturridge up front against Southampton.
Does Mario Balotelli deserve to be given a start by Brendan Rodgers? Let us know in the comments below.