As part of our look at Liverpool owners FSG and why they may be Liverpool's best chance of success (read here), Si Steers speaks to Henry Winter, chief football correspondent from The Telegraph.

1. What is your assessment of the situation FSG inherited in 2010?
FSG inherited a fractious situation in 2010. They inherited a manager who was not popular with the fans. They inherited a business which still had a corner-shop mentality in the high-rise commercial world of the Premier League. They inherited an imbalanced squad. They inherited a passionate support alienated by previous owners, Hicks and Gillett, who embodied everything Liverpool didn't.
2. How would you describe the transformation that has taken place both on and off the pitch at Liverpool?
Impressive but ongoing.
3. What are your observations on the similarities between the Red Sox and Liverpool?
When FSG arrived, I talked to a couple of American owners of English clubs, one directly, the other via their 'people', and they were both full of praise for what they called the "values" of John W Henry and Tom Werner. That might be the Uncle Sam union, sticking together, but they did both point out the historic traits of the Red Sox which sounded to me as if they would chime with Anfield's. Fenway seem to understand tradition; the name itself reflects that. Boston and Liverpool have similar feel as cities too. The rivalry with the Yankees echoes Liverpool's with Manchester United.
4. What do you think FSG bring to Liverpool?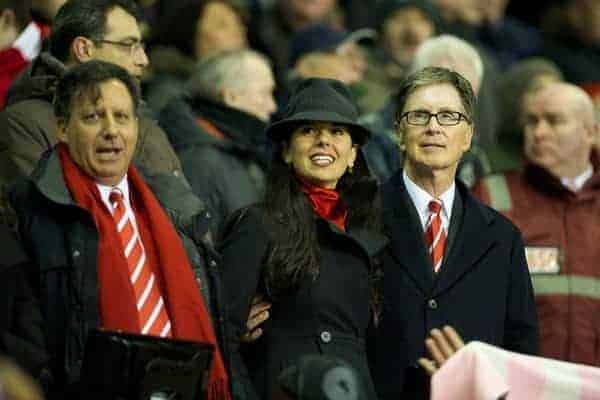 A touch of class. I like the philosophy of 'under-promise, over-deliver'. It's pure Paisley. Whenever I hear the 'under-promise' line, it reminds me of Paisley flattering Gordon Strachan and building up Aberdeen in 1980, dishing out "sweets" to soften them, before Liverpool took them apart. Be polite, under-promise, take them on, over-deliver. They are prepared to show their studs with occasional spiky tweets.
Henry and Werner are shrewd; they know they are sitting on a gold-mine with Liverpool because of the name, the history, the Anfield atmosphere, the unique nature of Liverpool. They know they can make a fortune in the long run from an iconic name in the world's no 1 sporting league (commercially and broadcasting-wise if not tactically or technically). They know they have to balance maximising revenue without compromising Liverpool's ethos of roots in the community. So they take a long-term view, riding short-term dips etc. That seems to be their approach to clubs anyway. But they're ruthless when required. Ask Kenny Dalglish. Sacked.
They are also better owners now than in 2010; they listen, learn, act. They make better decisions; look at the more decisive, more contrite approach to dealing with Suarez's bite on Ivanovic compared to the weak reaction to Suarez's abuse of Evra.
5. Why do you think Brendan Rodgers is the right fit for the FSG model?
Brendan Rodgers is the perfect fit for Liverpool, let alone the Liverpool of FSG. Just as Roberto Martinez would have been. Rodgers would be the right model for any intelligent, sensible, ambitious owner. He's that good. The David Brent stuff was ludicrous. Rodgers is a serious, innovative coach with the desire to deliver in a top position. Players want to play for him. He makes good players better. Rodgers was never going to freeze when the opportunity came along. FSG like that youthful, media-friendly, hungry persona. Rodgers also plays attacking football.
6. What do you think the future holds for Liverpool under FSG?
Successful long-term development with short-term setbacks. Liverpool have to stay in the Champions League places. Simple as that. It will be a brutal Premier League this season with rivals investing, strengthening, aware of Liverpool's threat.
Players are beginning to move up a gear like Emre Can. Jordan Henderson was criticised for squaring up to Diego Costa but I thought it was a statement of intent, that he will stand up for the team and that he can be Gerrard's successor (although nobody can match Gerrard's natural authority). Jordon Ibe was my Xmas tip for 'player for 2015', having heard from people at Derby how he'd developed, and he could become a regular under Rodgers. Plenty of positives.
One thing occasionally forgotten about Henry and Werner is that they enjoy life. They work hard and enjoy themselves. Henry is slightly more understated than Werner. I bumped into Werner in a London hotel once and it was great five-minute chat, totally uplifting, he was just loving life. If you were going to organise a good night out, you'd definitely get Werner along.