Neil Poole digs out his book of football manager stock phrases and finds himself agreeing for once that the forthcoming derby against Everton is only about picking up three points.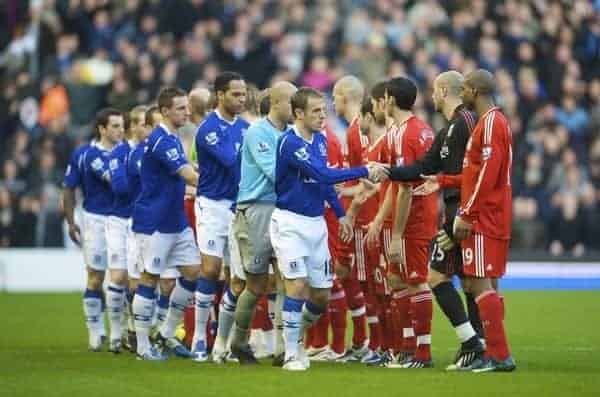 As a football supporter, hearing the historic and impassioned rivalry of a local derby whittled down to the cold, hard nub of three points in a pre match press conference by a manager can leave you feeling very detached. There you are floating precariously free in the blackness of space looking back at the earth happily musing how it looks like a big shiny football for someone to shatter the serene silence with a shout of, "It's just a f***ing planet knobhead.." Do these people have no romance?
Yet despite this, and as we approach the 224th Merseyside Derby there's something in the back of my head that screams this is just another game of football. Forget the Kenwright Carnival, aim straight for the prize on Saturday, grab the 3 points and scarper quick fast out of there. Brendan Rodgers hasn't uttered this point of view yet, and he understandably plays to the gallery so I doubt he will. However, I hope he is thinking it.
The premise of my idealogical treachery into simple rationality is borne primarily out of one thing. We are in a difficult, difficult dog fight for third and fourth place with Manchester United, Arsenal, Southampton and Tottenham Hotspurs. A lack of forward thinking in the summer has placed us on the back foot and we already lie in wake with ground to make up against four competitors.

They have all frustratingly put their feet on the gas and started tearing up the points at the same time we have. Nonetheless, the return of Daniel Sturridge, an at least temporary solidifying of our defence, and a run of decent form gives us a fighting chance. We can do it if we are focussed and avoid distraction.
Becoming emotionally engaged away with the frivolities of a derby would be a distraction from playing our usual, and currently winning, game.
Indulge me with an analogy as a way of explanation a minute. There's a well-worn docker joke that goes something like this:
Every day, for years, a security guard at the gate of the dock checked the dockers as they left at the end of their shift to ensure they hadn't stolen any of the produce. Every day the security guard came across the same man walking out with a wheel-barrow. Its main hold was always suspiciously covered by sack cloth. Every day the security guard would pull the docker over, lift the sack cloth and search underneath for stolen goods. He never found anything. It drove the security guard to despair.
Years later when both men were elderly and retired they bumped into each other. The security guard approached the docker and said, "I know you were up to something all those years. Just tell me will yer, what were you robbing?"
The docker smiled, leant into him and whispered, "Wheel barrows."
You're a clever lot my Red friends but for the purposes of clarity, think of the wheel barrow as a Champions League spot, the distracted security guard as Liverpool FC and the phantom stolen objects as any symbolic importance placed on a game of football featuring Liverpool and Everton.
If we get distracted with the curiosities and intrigue of the derby this Saturday we may well forge a path in which the Champions League is wheeled away from us under our noses; it will only be when we look back in hindsight at the end of the season that we realise we were foolishly distracted from the main prize by something that wasn't even there.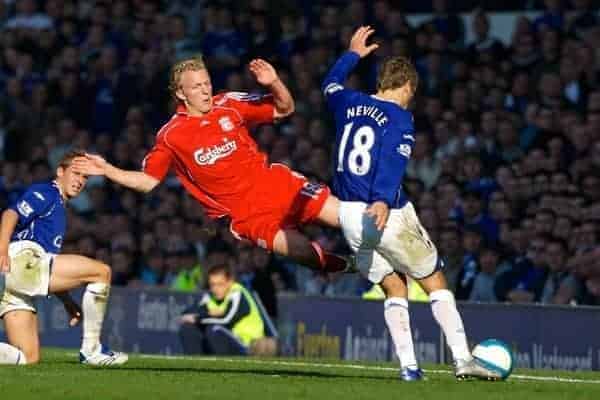 I don't know how to break this: On this particular occasion; in this particular game, there is as little riding, emotively, on a derby as I can remember in in recent years. The only thing that matters is the crucial three points we really must try and obtain. But that's got nothing to do with Everton. That would be the case whoever we're playing.
Even "bragging rights" ™ seem corporately branded these days. If we lose, I'll just turn my phone off, turn the telly off and physically hide from any Evertonians I know. I'm not kidding.
If we win, they'll hide from me. I'll just be laughing at empty seats where Evertonians should sit. Nothing new there then! Boom Boom. I'm here all week…sigh.
But genuinely, beyond the norm there's nothing additional riding on this game. There's no apocalyptic fallout to worry about, for them or us. Neither team is in direct competition with each other. That's not even a dig. I don't do digs when were 7th. It just feels a bit too Newcastle.
No result will explicitly do irreparable damage to one or the other which will allow one set of supporters to claim that they changed the course of the other's season. (Although as previously mentioned and fundamental to this article the loss of three points could be very damaging – it's just they won't be able to convincingly claim it on Saturday!)
Relative to our own aspirations at the beginning of the season, both teams have had disappointing campaigns and are slowly and quietly looking after their own houses, trying to get things back on track. Both sets of fans could happily do without this game and better use the 90 minutes licking some still open wounds from the first half of the season.
There's no story to wrap the game around either. Aaron Lennon has joined Everton on loan. He doesn't look best pleased, but Liverpool FC don't have any previous with him that I can think of. There's no Downing or Carrol-esque urge for misguided revenge based on their own inherent shitness.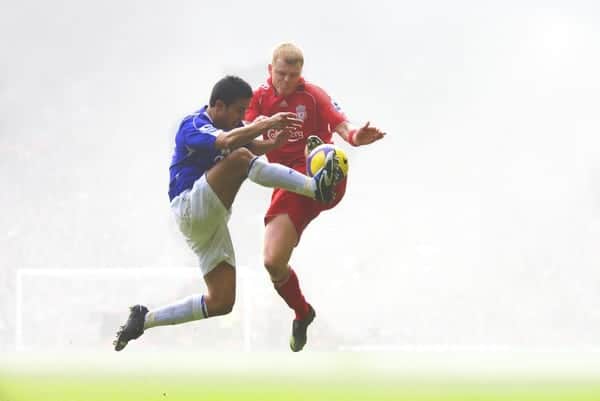 Tim Cahill didn't re-sign for Everton and is standing ready to punch a flag like the t**t he is. Nicky Barmby doesn't even play for us anymore.
Lots of blue veins in Evertonian temples will be given a chance to pop for the last time at the sight of Steven Gerrard. Nothing new there.
The key is to forget the passion and the pride. Don't get caught up in story of absolutely nothing currently happening. We're higher in the league than they are and playing better than they are. Get the form book. Follow it. Stick it in the wheel barrow next to the three points and lets start pushing it down the Dock Road. It's a long bastard of a road but there's a Champions League place at the end of it if we start now.