Adam Griffies (@whatahitsonlfc) looks at our win over Southampton, and picks out some things you might not have noticed.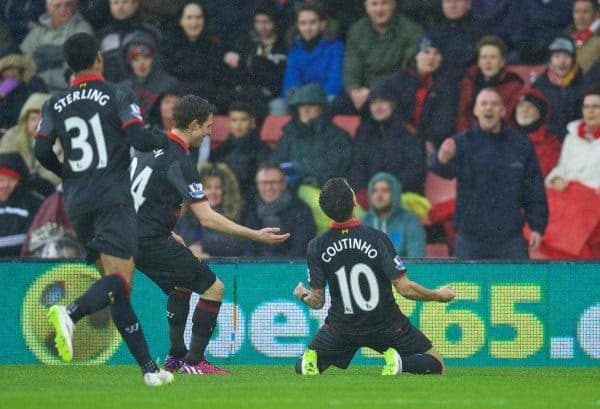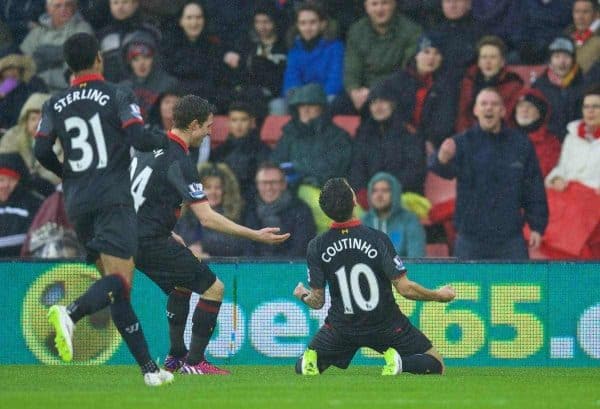 The Reds won again. We won again. We're all happy. Three points off third, two off fourth, and five away league clean sheets on the bounce for the first time since 1985. 30 years. Defensive coach and all that. You've probably been made aware of that last piece of trivia at least 10 times since full-time yesterday, but I don't care; I'm writing an article here and things like that would be worthless if they weren't included in things like this.
Fluency Lacking, Three Points Not
Don't know if you did, but I took great solace in the fact we showed we could win ugly again. It's a sign of a team full of character. Shades of the start of last season.
It was obvious we were lacking our recent fluency, but it seemed our lads accepted that and decided they'd find a way to win the game anyway. I'm almost certain our disjointed display was down to our lack of balance, particularly in the first half.
Our entire XI consisted of right-footed players which left the Reds a bit lopsided. Mamadou Sakho's ability to bring the ball out of defence and play accurate, penetrating passes through midfield was clearly missed and equally we were missing Alberto Moreno's habit of stretching the pitch on the left touchline.
I praised Sakho there because the moronic mainstream media certainly won't. Don't listen to the mainstream media, please; they're so rubbish. Listening to ex-footballers attempt to talk about football is soul-crushing most of the time.
It all became even more pathetic for me when BT Sport pundit Ian Wright was asked about Christian Eriksen being banished to the bench by Mauricio Pochettino on Saturday. Wright's thoroughly insightful reply was "Who's Eriksen again?" Extraordinary. Great player and I'm sure he's a good laugh, but he's getting paid silly money for saying things like that on our tellies.
Good Subs

Credit to Brendan; he wasted no time in rectifying things. The Markovic to Moreno change was one of the most necessary tactical switches you're ever likely to see. But still, I bet a lot of managers wouldn't have made it, especially not as early as half-time. Sturridge was introduced as it became clear we needed a focal point to our attacks; someone to get hold of the ball and bring others into play. His arrival freed Sterling up which helped us.
Finally, Johnson replaced Ibe. And Reds everywhere let out a universal sigh. Just do alright please Glen; no lapses. He did. Brendan must have been overflowing with smugness, and Jordon Ibe had his feet up for Turkey on Thursday. Happy days.
Impressive Individuals
The aforementioned Ibe continued to impress. Attacking down the right with the ceaseless youthful exuberance he buzzes about with, whilst marrying that with the positional and defensive perception of a seasoned professional.
Joe Allen again looked like he had a point to prove. He was busy, busier than usual even, and mostly tidy in possession. I felt like his energy was key to our win.
After recovering from a shaky start, Martin Skrtel decided to boss everything. I lost count of the number of headers he won and clearances he made. Could look it up but stats are boring, so I'll say loads. He did loads. Played Martin.
Simon Gets His Own Sub-title

Simon Mignolet's renaissance continued. On the few occasions the colossus Skrtel was beaten, Mignolet came to the rescue. A few very good saves, some noteworthy handling and even a Manuel Neuer-style foray out of his box to clear some danger. He's gone a bit mad and I like it.
Remember he was dropped for Brad Jones? Hahaha.
The Strike

Can't write this without mentioning that goal, can I? "Don't shoot" I said to myself as Phil from Brazil picked the ball up 35 yards out. You did too; don't lie. We meant well; he can't shoot. Luckily the little magician ignored our pleas and unleashed that. Went in off the underside too, which is always gorgeous to watch.
You know a goal is decent when you can see opposition fans behind the goal being reduced to an open-mouthed clap of appreciation as the ball goes in. Wools.
Jobsworth Steward
This steward >>> http://t.co/UfdItMtivr

— Dan Wilcox (@LfcDan) February 23, 2015
Our second was loads of fun. Moreno's rubbish cross somehow found its way to Sterling's feet, whose rubbish shot somehow beat Fraser Forster. Raheem ran off, celebrated in front of the travelling Reds, and was joined by everyone else. Except Mingo. I'd love Mingo to run full length and get involved. He'd done enough on Sunday though, fair enough.
One fella that did put in a monumental effort to get involved was a fan. Scaled the hoardings and was then taken down with absurd force and no doubt extreme delectation by a stupidly spirited steward. The fella had probably just had a tough week at work, wanted to kiss Emre Can and hug everyone. They don't get what footy means to us down in Southampton.
Next Up
Besiktas away on Thursday then. Don't envy anyone who's going. Hope everyone, including the players, returns in one piece with a win. One player I'd be leaving at home, with the City game looming, is Phil Coutinho.