With Liverpool targeting a top-four Premier League finish this season, Jack Lusby highlights five things Brendan Rodgers must do to achieve this.

The turnaround in Liverpool's form in the second half of this Premier League season has been remarkable, and Brendan Rodgers can now look towards a top-four finish and Champions League qualification in earnest.
In fact, Rodgers claimed in his pre-Swansea City press conference that "it's going to be very tight," before continuing: "We've joined the race in past 3 months. We need to give everything."
The manager is seemingly confident that his side can reach the top four by the end of the season, and will likely have a plan in place in order to do so.
Ian Doyle of the Liverpool Echo made five suggestions recently, but Rodgers would be better off refining other areas.
But what does Rodgers need to do to secure a Champions League place?
Continue to Dominate Sides

Doyle's main tactical suggestion was to "return to the counter-attack," based on the devastating, pace-based displays of last season.
2013/14 was synonymous with the Steven Gerrard Hollywood pass, and the Luis Suarez unfathomable finish—neither of these qualities are available to Liverpool this season; Gerrard is still at the club of course, but his quality has waned drastically.
Rodgers recently declared that he likes his sides to "control the game without the ball," and this is far from a counter-attacking game.
Liverpool must continue to look to dominate sides on and off the ball, with a high-intensity pressing system—the 3-4-2-1 system is perfect for this, due to its overloading in the attacking areas.
Pace is still a big feature of Liverpool's game—it would be impossible not to, with Raheem Sterling, Alberto Moreno, Lazar Markovic, Jordon Ibe and Daniel Sturridge in the ranks—but this is most effectively paired with a discipline and intelligence.
Tweak the 3-4-2-1 When Required

Rodgers' masterstroke of the season has been the switch to the 3-4-2-1 formation, with an emphasis on fast-moving attacks and flooding the opposition's vulnerable defensive areas.
But at times this has failed to fully materialise on the pitch, with Daniel Sturridge isolated, and the centre of midfield under consistent pressure, and Liverpool have looked in need of a 'plan B'.
If Rodgers is to achieve a top-four finish this season, he may need to find that.
This is Anfield's Tom McMahon recently outlined just how that could be possible, suggesting an in-game switch to a 3-4-1-2 formation, or a return to last season's effective 4-4-2 diamond.
This could involve utilising Mario Balotelli in a centre-forward role alongside Sturridge, or adding bodies to the midfield.
Embrace his Returning Players

Despite a significant summer of investment, Rodgers' Liverpool squad remains relatively thin this season, and the manager has been troubled with injury concerns recently.
If Rodgers is to reach a top-four place, he must embrace these returning figures.
Two names in particular stand out as key on their return: Ibe and Lucas Leiva.
Lucas' injury has been abated somewhat by a rise in form of late by Joe Allen, who has provided an energetic and intelligent defensive partner for Jordan Henderson in the midfield.
But the return of Lucas would help to add numbers to what is a depleted area, testified by 19-year-old Jordan Williams' regular place on the substitutes' bench recently, and would also provide Rodgers the option to switch to a 4-4-2 diamond if required.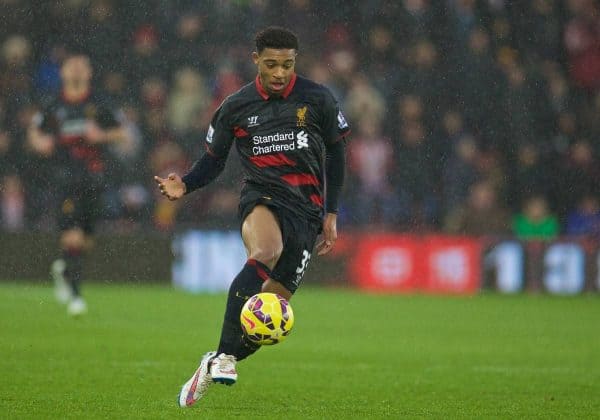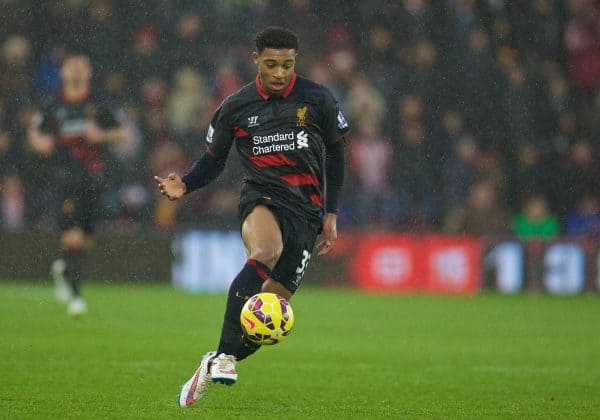 Ibe had made the right wing-back slot his own since his recall from loan with Derby County, displaying the right balance between defence and attack—his forward runs in particular have proved devastating.
In his absence, Markovic has struggled, and Ibe's return could be key to Liverpool's success.
Gerrard and Jon Flanagan are also set to return in the coming weeks, and Rodgers' approach to the former is also crucial.
Manage Gerrard's Reputation Sensibly

Gerrard has been out of the Liverpool side for over a month with a hamstring injury, and his return gives him a chance to secure the Reds another top-four finish before he departs for LA Galaxy in the summer.
But in Gerrard's absence this season Liverpool have flourished, and Rodgers must recognise this.
Liverpool have won nine games out of 22 with Gerrard in the side in the Premier League this season, while they have won all six of the games he has missed.
This is largely due to the added pace and energy in the side without the captain—at 34 years old, Gerrard's attributes jar with Rodgers' system, and he has performed best away from his usual deep-lying role, with his one-touch play and creativity best suiting an attacking midfield slot in the 3-4-2-1.
It can be argued at times this season Gerrard has been included based on his reputation as a match-winner, but Rodgers must not bow to this now the midfielder is back fit and available.
For an increased chance at a top-four finish, Rodgers must use Gerrard as a rotational player, and in an attacking midfield role.
Restore the Can-Skrtel-Sakho Defence

Another of Doyle's points was to "plan with Emre Can in midfield."
Can's widely regarded long-term role at Liverpool is as a central midfielder, yes; but his qualities are best used in his regular right centre-back position for this season.
Against Blackburn Rovers in their last clash, Rodgers ended up with a back three of Glen Johnson, Kolo Toure and Dejan Lovren—this must not happen again.
Can must return to a defensive role—neither Johnson or Lovren are viable options in this position.
Returning from an injury of his own, Mamadou Sakho must also be restored to the Liverpool starting line-up as soon as possible.
A back three of Can, Sakho and Martin Skrtel has proved the most effective this season, why change it now?

What is the most important area Brendan Rodgers must address to secure a top-four finish this season? Let us know on INPLAY – the fantastic football social messaging app. Download the app for FREE for iPhone or Android and get chatting to Reds and other football fans around the world!