Brendan Rodgers described Liverpool's 3-1 November defeat at Crystal Palace as a "turning point." Here Jack Lusby selects five things that have changed.

Liverpool struggled under Brendan Rodgers for much of the first half of the 2014/15 season, and this culminated in a 3-1 loss away to bottom-half challengers Crystal Palace in November, the manager claims.
"The Crystal Palace defeat was a defining moment in our season," Rodgers said, in interview with talkSPORT.
"I needed to come away from that and really look at the team. We were certainly nowhere near the level we'd been in the last 18 months. That was a turning point."
Since that defeat, Liverpool have won 10 of their last 15 Premier League games, with just one further loss, away to Manchester United in December, and have climbed the table as a result.
But how has Rodgers changed things since that Selhurst Park hiding?
Taking the Hint With Lovren, Johnson and Enrique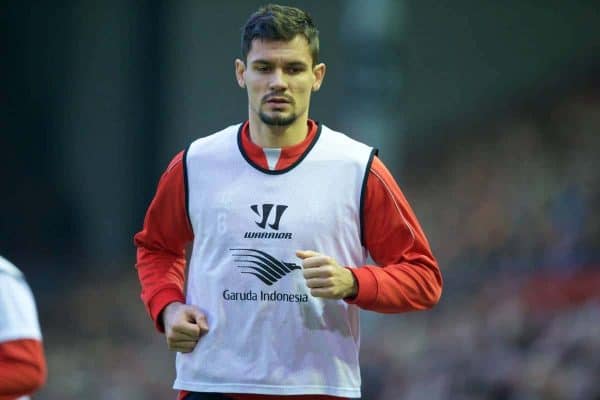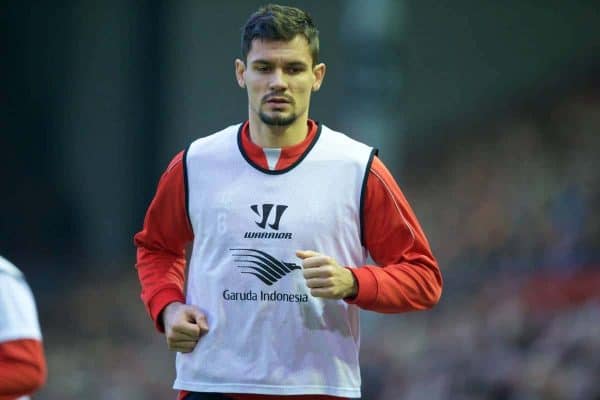 The loss to Palace took a considerable toll on Rodgers' credibility as Liverpool manager.
One of the main factors in this was a perceived stubbornness, particularly in terms of the personnel used.
The two biggest yardsticks in terms of Rodgers' favour with the Anfield faithful were Dejan Lovren and Glen Johnson, with the two rightly coming under regular criticism, but with seemingly little retribution in terms of team selection.
Lovren was a league ever-present up to and including the Palace loss, while Johnson made seven appearances in these 12 games.
Since however, be it through injury or form, neither has been a regular for Rodgers — Lovren has made seven appearances in 15 games, while Johnson has made just five.
Fellow defensive misfit Jose Enrique also hasn't started in the league since.
No Steven Gerrard in Defensive Midfield

When Rodgers converted Steven Gerrard into a deep-lying regista-style midfielder last season, it seemed like a tactical revelation; Gerrard was able to dictate play from deep while Daniel Sturridge and Luis Suarez caused havoc in the attacking areas.
This season, however, with age an ever-creeping threat, Gerrard has struggled when deployed in that role.
In the loss at Palace, the captain was a non-entity, with the likes of Mile Jedinak and Joe Ledley charging past Gerrard at will, terrorising Liverpool's defence — devoid of a genuine defensive midfielder, Liverpool were vulnerable, and conceded 18 goals in 12 league games.
Gerrard hasn't started in a defensive midfield role since that loss.
Rested against Stoke City, Gerrard returned to a starting role in the win over Leicester City as a No. 10.
This switch did a kindness to Gerrard's diminishing stamina and low defensive intelligence, and Liverpool have conceded 12 goals in 15 league games since, with Lucas Leiva and Joe Allen impressing in defensive midfield.
Emre Can and Mamadou Sakho Playing Regular Roles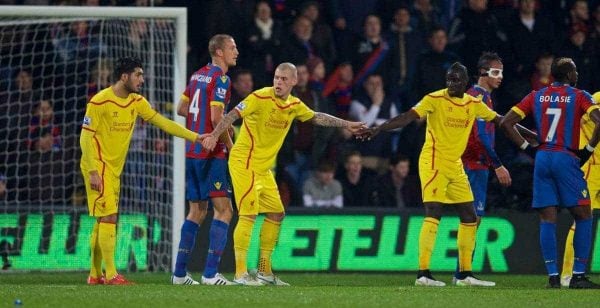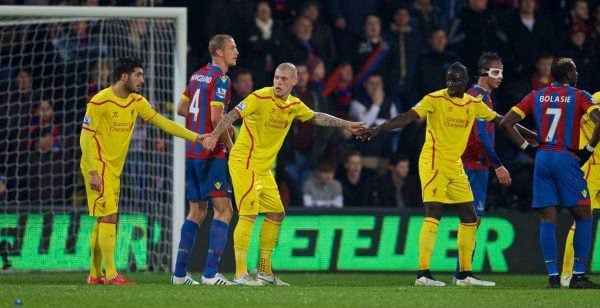 In the 12 league games Liverpool played up to and including the Palace trip, between the pair of them Emre Can and Mamadou Sakho had made just nine appearances.
Can was considered too raw, and Sakho had been exiled through a combination of his Merseyside derby transgression and a mysterious, lengthy injury.
In the 15 league games following the Palace loss, Can and Sakho have made a combined total of 19 appearances for Liverpool, with Sakho returning from his injury for the 2-2 draw with Arsenal at Anfield in December.
This coincided nicely with the introduction of the 3-4-2-1, with Sakho adopting the left centre-back role; Can was introduced at right centre-back in the Boxing Day win at Burnley.
In nine league games with Can and Sakho in the back three, Liverpool are unbeaten, have conceded just seven goals and have kept five clean sheets.
At the beginning of the season, Can and Sakho were peripheral figures; now, it's hard to imagine a Liverpool side without them in a regular role.
Moving Philippe Coutinho into a Central Position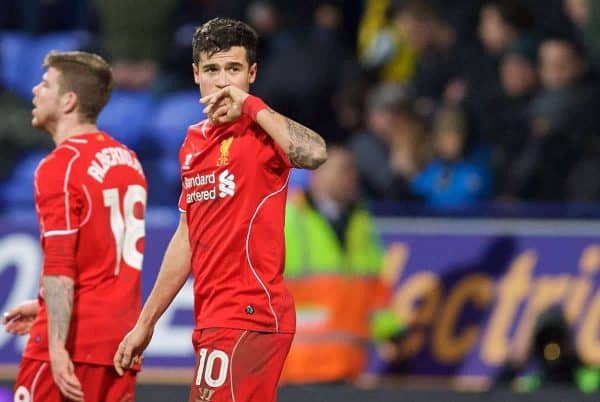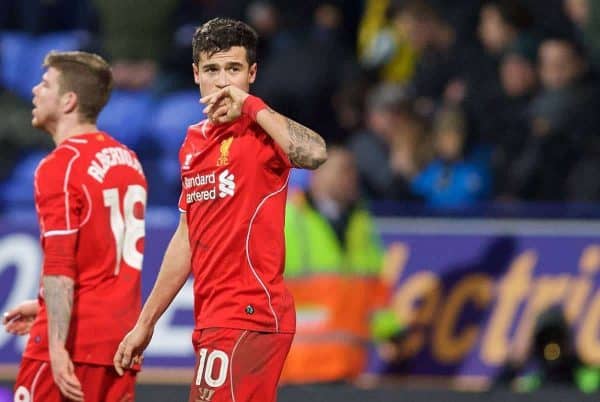 Fresh from a PFA February Player of the Month award—another for a rapidly increasingly collection of awards—Philippe Coutinho's current form is a far sight from that of earlier in the season.
In the loss to Palace, for example, Rodgers fielded a 4-3-3 formation, with Coutinho shifted into a wide-left role.
Coutinho failed to make any kind of impact on the game—despite a comfortable 92 passing accuracy, the midfielder failed to make a single key pass in the game, with this indicative of his hampered sense of adventure in that role.
Restored to a central role in Liverpool's next league game, Coutinho returned to his natural position.
This is amplified in the 3-4-2-1, and in his 12 appearances in that system, Coutinho has averaged 1.75 key passes per game.
In his 10 appearances up to and including the Palace loss, Coutinho averaged just 0.5 key passes per game.
Rodgers has allowed the No. 10 creative freedom following that negative defeat, and Coutinho has thrived as a result, and is now arguably Liverpool's most important player.
Employing Quick, Mobile Strikers Only

The loss at Palace actually began positively, with Rickie Lambert netting in the first two minutes to put the Reds ahead with an instinctive finish, latching onto Adam Lallana's incisive long ball.
But, despite this, Lambert's presence affected Liverpool's play at Selhurst Park—a slow, lumbering, traditional centre-forward, the former Southampton man fails to contribute productively in terms of Rodgers' trademark pressing play.
Lambert started the next five games for the Reds, but swiftly after Rodgers altered his tactics.
Ahead of Sturridge's return from injury, Rodgers opted to deploy Raheem Sterling as a striker, and Liverpool's fortunes have improved as a result.
Lambert has started just one game since—the 2-1 FA Cup win over AFC Wimbledon—and, similarly, Mario Balotelli is yet to start in the league following the Palace loss.
Sterling, and now Sturridge, offer a more mobile, hard-working forward option, which has proved integral to Liverpool's overloading tactic in the 3-4-2-1 formation.
What has been Brendan Rodgers' most influential change since the loss to Crystal Palace? Let us know in the comments below.