Liverpool were held to a goalless draw by Blackburn in the FA Cup quarter-final on Sunday, and we round-up the best of the reaction from the morning newspapers.

It was a disappointing afternoon on Merseyside, given how superb the Reds' form has been of late, but the result must be put into perspective. Brendan Rodgers' men are still in the cup, and should progress in the replay at Ewood Park.
Liverpool's fluent passing game simply never got going, and a number of their recent star performers struggled to reach their peak level.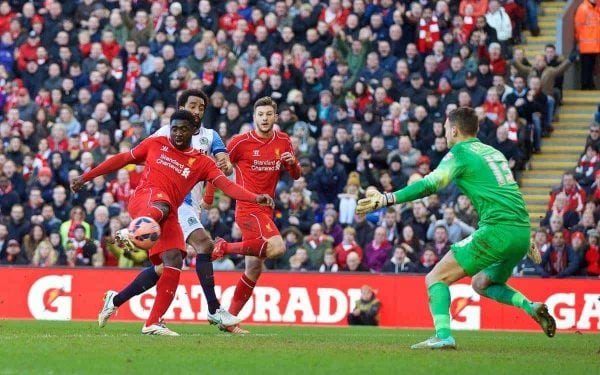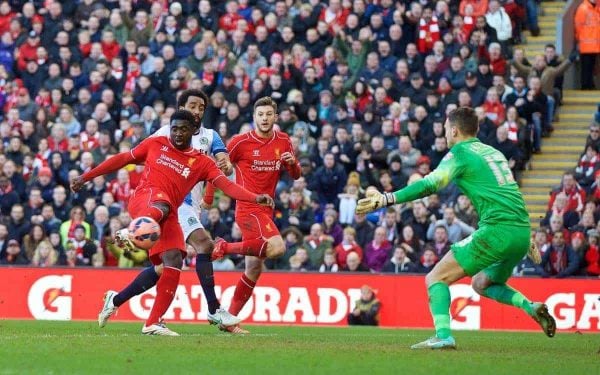 Blackburn deservedly took the tie back to their own ground, defending doggedly and showing Manchester City manager Mauricio Pellegrini exactly how to play Rodgers' 3-4-2-1 formation.
The result was nowhere near as damaging as a draw against Blackburn's local rivals Burnley would have been in the Premier League last week, and Liverpool now have a welcome break ahead of next Monday's trip to Swansea.
James Pearce of the Liverpool Echo was far from impressed by the game as a whole, and highlighted how tough Liverpool have made things for themselves in this season's FA Cup:
There were no complaints. No Liverpool fan was asking for more. A grim FA Cup quarter-final tie ended in stalemate as the Reds were frustrated by a jubilant Blackburn Rovers.

If this season is going to reach a glorious finale under Wembley's iconic arch then Brendan Rodgers' side will have to do it the hard way.

[…]

Having ground out a trio of hard-fought 2-1 away wins at AFC Wimbledon, Bolton and Crystal Palace to reach the sixth round, now Liverpool will need to deliver once again on their travels.

If the Reds do go on to lift the FA Cup for an eighth time on May 30 they won't have scored a single goal in the competition at Anfield this season let alone won a game.
The Echo's Andy Kelly highlighted what a loss the injured Joe Allen was, and believes Emre Can is still a work in progress as a midfielder:
Lots of Liverpool players of course seem to improve in the minds of some supporters when they are not actually on the pitch – but in Allen's case it seemed justified.

For all Emre Can's outstanding promise and potential to be "world class" as Brendan Rodgers pointed out this week, he remains a work in progress in midfield.

When Lovren's poor pass left him exposed first half, he was forced to collect his first booking of the season as he hauled down Tom Cairney from the wrong side. He wouldn't have had to if Allen was on the pitch.

Allen does lots of unseen, ugly parts of the game, as well as helping deliver some tidy control, and in his absence Liverpool struggled to find someone who wanted to take his place.
Kelly also felt Philippe Coutinho's indifferent showing affected the whole team, such is his influence these days:
It wasn't just him of course but the little Brazilian is the one who Liverpool now look to to unlock a resilient opposition defence. Blackburn had done their homework and everywhere the number 10 went there seemed to be several blue and white shirts following.

When he did get a little space he continued his policy of long range shooting, missing first with his left and then with his right in a rather wretched first half for the Reds.

[…]

A most uncharacteristic free-kick ten minutes from the end was the most obvious manifestation of a frustrating afternoon for the Little Magician who for today could find nothing to pull out of his hat.
Henry Winter of the Daily Telegraph felt Rodgers couldn't complain about the result, with several players failing to ignite on the day:
Whatever the grievances felt by Rodgers, his players and supporters at those two incidents, the painful truth for Liverpool was that they were disappointing. Sterling was slightly wasted as a wing-back, his attacking brio tempered by having to track back to contend with the runaway Conway.

Sturridge was isolated, needing more service. Coutinho and Lallana failed to maintain their recent exuberance. Balotelli did little when coming on, barring one shot that was almost a danger to shipping in the Mersey.
The Mirror's Jack Lang also focused on Sterling, reiterating Winter's views that the 20-year-old was wasted in a wing-back role:
Rodgers' 3-4-2-1 formation has worked well in recent months, but at times you wonder whether the Northern Irishman isn't being too clever for his own good. Case in point: while Lazar Markovic and Emre Can have adapted well to unfamiliar positions, Raheem Sterling is surely wasted as a left wing-back.

The England star is no shrinking violent when it comes to defensive work but was unable to have much of an influence going forward in the first half as Blackburn took the fight to their hosts. Granted, Liverpool have a lot of attacking talent to wedge into the side, but Sterling simply must play further forward.
As mentioned, Liverpool's next game is away to Swansea in the Premier League next Monday (8:00pm kick-off GMT) before hosting Manchester United in a huge game the following Saturday.