Robbie Deighan pens a response to the reaction received by a recent piece on Steven Gerrard which explained why his individual career has been greater than that of Paul Scholes and Ryan Giggs.

On Tuesday, a piece by journalist Ian Herbert for BT Sport attracted attention on social media, mainly from Manchester United fans and others with a disdain for all things Liverpool.
The article's title: 'Gerrard's Career Greater Than Giggs and Scholes'. Shots well and truly fired.
The frothing mobs, having clearly not read what Herbert had to say, quickly and repeatedly pointed out the gap in Gerrard's medal collection. The United duo's haul of gold was held up against Gerrard's and there really is no comparison. In terms of club honours Giggs and Scholes have obviously had the better and more successful careers, of that there is no debate.
Of course, journalists almost never write the headlines for their own work. That task usually falls to a copy editor or some other member of the editorial team. And in this particular case, whoever headlined Herbert's article has misrepresented the point of the piece.
The journalist's argument is nicely summarised in his concluding paragraph:
"Reaching great individual heights with a stellar team, as Giggs and Scholes did, is one thing. Reaching them with a side which so often has been modest and moribund is something quite different. Supporters will chant and laugh and mock but Gerrard's accomplishments are greater than those of Giggs and Scholes – whose names they laud."
Yet, even Football365's usually excellent Mediawatch feature failed to grasp the writer's point when it described that very closing statement as "the most astonishing paragraph you will read today" and quipped that "supporters aren't the only ones chanting and laughing and mocking, Ian."
The use of the word individual seems to be lost on many because there's certainly nothing astonishing about believing that Gerrard's individual accomplishments surpasses Giggs and Scholes'.
Just as the Liverpool captain's relative lack of club medals can be used to suggest he had an inferior club career to the United pair, so too can the Scouser's plethora of individual honours be used to argue that yes, he has in fact reached greater individual heights than the aforementioned veterans.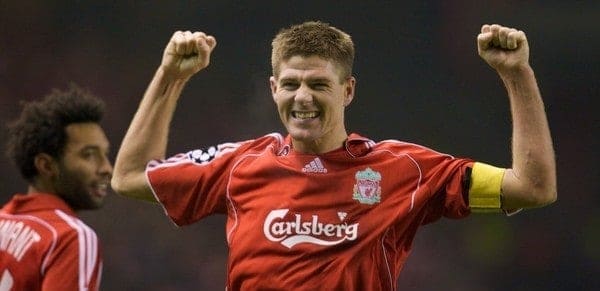 Jamie Carragher was asked on Twitter the other day who he thought was better between Gerrard and Scholes. Unsurprisingly Carra backed Stevie. To support his choice he shared the fact that Gerrard's fellow professionals voted him into the PFA Team of the Year on a record eight occasions. Exactly half of the sixteen Premier League seasons he has completed. Scholes, on the other hand, was included just twice.
Carra wasn't just plucking one particular award that suited his argument. There are further examples. The global equivalent of the PFA XI is the FIFPro World XI, for which Gerrard was selected three times. Scholes and Giggs never graced the XI with their presence over the course of their entire playing days.
Shortly after leading Liverpool to perhaps their greatest ever moment in Istanbul Gerrard placed third in football's most prestigious personal award, the Ballon d'Or. He was named UEFA Club Footballer of the Year that same season and featured in their official Team of the Year on three occasions.
Domestically, he's been the recipient of various Player of the Year awards as awarded by different bodies. Gerrard's even won Player of the Month more than any other footballer. He's also scored more goals (in less games) than the duo, both in the Premier League and across all competitions. Then there's all the big performances in cup finals, including goals in the deciders of the Champions League, UEFA Cup, FA Cup, and League Cup. The stuff of fairytales.
Internationally, Gerrard and Lampard's emergence resulted in Scholes getting shuffled out onto the left of the England midfield. The ginger maestro didn't have the stomach to fight for a place in the middle and subsequently retired prematurely. In terms of individual honours, Gerrard was named in the UEFA team of the tournament for EURO 2012 and was also twice selected as England's Player of the Year.
Obviously, Gerrard would swap all those personal gongs in a heartbeat for just one Premier League title and from a fan's perspective, whilst it's sometimes nice to see players get such recognition it's ultimately meaningless.
Ian Herbert was berated for recognising that Gerrard accomplished more than Giggs and Scholes on a personal basis. Football is a team game though and because of the often average Liverpool teams that Gerrard played in, there will always be those only too delighted to judge him on Liverpool's collective failings rather than on his own merits.
Robbie Deighan