With Jon Flanagan back in full training and his contract expiring in the summer, Jack Lusby ponders where he fits in to the new system – and what does his long-term future hold?

Flanagan finally returned to full training last week after suffering with a knee injury sustained during pre-season.
A tough-tackling, no-nonsense, versatile defender, with close ties to the club as a local lad, Flanagan became a fans' favourite with his clinical defensive displays last season.
Stitch that Milner https://t.co/Z0WjaIMbEP #Flanagan

— The Anfield Wrap (@TheAnfieldWrap) April 14, 2014
But the 22-year-old returns to a different landscape, with Brendan Rodgers switching to a hugely successful 3-4-2-1 formation at the end of 2014—Flanagan's role seems to be muddied on his return.
So what does the future spell for Flanagan at Liverpool?
Role in the 3-4-2-1: Wing-Back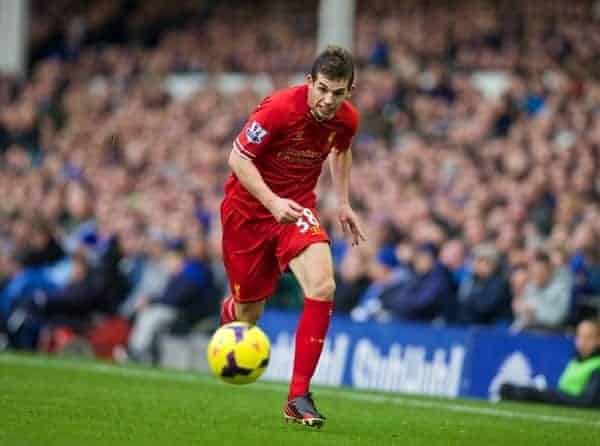 Based on his attributes, there are two potential roles in Rodgers' current 3-4-2-1 system for Flanagan on his return.
Firstly, and perhaps naturally given his regular role for Liverpool last season, the wing-back positions stand as the most obvious area for Flanagan to fill.
However, so far, more often than not Alberto Moreno, Lazar Markovic and Jordon Ibe have been deployed in the wing-back positions, with Moreno a regular left-sider, Ibe arguably now first-choice right wing-back, and Markovic a useful rotational option for either, and their attributes are starkly different to that of Flanagan.
The wing-back in Liverpool's 3-4-2-1 is primarily concerned with providing attacking support, and the league output of Moreno, Markovic and Ibe in this area is much better than Flanagan's last season:



(Note: Statistics, via WhoScored, based on Premier League output, with key passes, crosses and dribbles averaged per game.)
Each of these players is more effective in an attacking sense in at least two out of three of key passes, crosses and dribbles per game, outlining their tendency towards effective forward forays.
Of course, Flanagan played in a different system last season, but his lowly output suggests that he wouldn't necessarily suit this wing-back role.
Role in the 3-4-2-1: Centre-Back

With this new system emphasising an overloading attacking approach, the main defensive roles can be found in the trio of centre-backs; typically Emre Can, Martin Skrtel and Mamadou Sakho.
Owing to Flanagan's defensive prowess, a right centre-back slot may suit him on his return.
In terms of defensive work, Can and Sakho — Liverpool's wide centre-backs — are tasked with cutting down angles and smothering opposition attacks, and Flanagan would suit this remit, as the stats show:



(Note: Statistics, via WhoScored, based on Premier League output, with all data averaged per game.)
While Flanagan was more regularly dribbled past by his opponent last season than Can and Sakho have been this season, he is a seasoned defensive prospect, his full-blooded approach would suit the defensive side of this role, and his introduction could allow Can to move into midfield.
However, another aspect of this wide centre-back role in Rodgers' 3-4-2-1 is stepping out into midfield and supplying Liverpool's more advanced players.
With this in mind, Flanagan's meagre output of 0.7 dribbles (D) and 0.6 key passes (KP) pales in comparison to that of Can's overall output (1.2 D; 0.6 KP), raising questions over his suitability there.
Nevertheless, with regular stand-ins Kolo Toure and Glen Johnson likely to leave in the summer on the expiry of their contracts, perhaps Flanagan can become a steady deputy in that role.
The Javier Manquillo Situation & Flanagan's Contract

Flanagan's chances could be allayed as similar to that of Javier Manquillo since the switch in formation.
In the early stages of the season Manquillo was a regular in Rodgers' first team, making nine league appearances — just two less than compatriot and fellow summer full-back signing Moreno.
Since, however, Manquillo has made just one appearance in the league, in Liverpool's 4-1 win at home to Swansea City. In that game Manquillo made little to no offensive contribution, with no successful key passes, crosses or dribbles, but did support the defence diligently.
Manquillo's sustained absence, despite his early-season form, could be a big indicator towards Flanagan's situation, as a similar player.
Is there room for a defensive-minded full-back in Rodgers' current system? Jordon Ibe and Lazar Markovic's regular presence in this role underlines its primarily attacking function.
Furthermore, at this juncture, Flanagan will see his own Liverpool contract out at the end of the season.

Over six months ago, the 22-year-old revealed he was close to signing a new deal, claiming: "All I've ever wanted is to play for Liverpool and I want to stay here for as long as I possibly can."
In January, however, it was suggested that "talks over a new deal have dragged on and are yet to reach a successful conclusion."
Whether this is due to Flanagan's wage demands or a disagreement on his future role under Rodgers, for example, is pure conjecture, but this seemingly ongoing impasse is a cause for alarm.
Back in August, Flanagan described a potential new deal as "reward for all the hard work I've put in."
[interaction id="54f887e27fdf079b4edd984c"]
Now he's back in the first-team fold, Flanagan needs to continue this hard work to earn himself a place in Rodgers' long-term plans and a new deal at Liverpool.
Where does Jon Flanagan fit into Liverpool's squad on his injury return? Let us know in the comments below.