Neil Poole considers Raheem Sterling's ongoing contract wrangle by addressing the question: Is Raheem Sterling an exceptional exception to the rules?

 Exceptions
Football has always and will always make exceptions for exceptional players. It is difficult to say whether such an exception has previously manifested in the breaking of a club's wage structure or financial principles altogether.
Transfer fees are increasingly undisclosed, and most often its mere guess work and conjecture which establishes the common consensus of any given players' wages. Glen Johnson is on £120,000 a week? Show me the actual evidence. The only Liverpool player's salary I've personally known for definite is Jermaine Pennant's. My uncle was doing some work in his house and he'd left his payslip lying around. Said uncle had a peek. Well, it'd be rude not too. I still can't get my head round the fact footballers actually get a payslip like 'normal' people.
However, there's plenty of non-fiscal based evidence out there to show how all parts of the footballing world will sweep it's principles and rules under the carpet to ensure they are able to retain the services of an elite player. If it was case law you'd drown in precedent.
Alan Shearer
In 1998 the FA's finger in ears, closed eyes and loud repetition of "la, la la, can't hear you!" when faced with Alan Shearer's kicking in the face of Neil Lennon was a sight to behold. Honestly, have a look at this You Tube clip of the Newcastle vs Leicester game in which it occurred below. You'll be left scratching your head at how the England international and goal scoring machine that was Alan Shearer wasn't given the hefty ban he deserved by the English FA and which would have carried over into the World Cup and been significantly detrimental to the England teams prospects of progressing… Oh, actually…
Eric Cantona
Even, hard as nails, turn up on your doorstep, mouth like a domestic appliance Alex Ferguson acquiesced to the likes of Eric Canotna's strangeness. He applied a completely different set of rules to the karate kicking Frenchman and rolled with the punches for a player who won was absolutely integral to their first league in twenty six years and creation of a new footballing dynasty. God, I feel sick.
Luis Suarez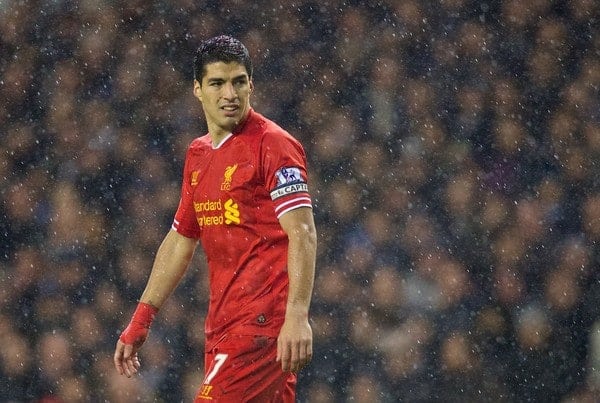 In our own Liverpool home you have to look no further than the multiple Suarez shit storms and our decision to put up the umbrella and pretend we were bone dry just so we could keep playing out with him. If he was only half the player we'd have ran into our houses, claiming our mum's were calling us in for our tea and and gladly have closed the door on Luis. It's easy to see why. Last season, we were a whisker away from him being our Eric Cantona. But he is so much better than Cantona. God, I feel sick.
Raheem Sterling
Turning to the present day and to Raheem Sterling, there have already been clear signs that the powers that be at Liverpool Football Club consider him someone for which exceptions can and should be made.
I have absolutely no qualms with the two week holiday that Raheem was awarded after the busy Christmas period in which he played almost every minute. It makes sense. However, it shouldn't detract from the fact that no other players were apparently given this option. There's plenty of other Liverpool players who fit the 'young' and 'have run around alot' criteria seemingly applied to Raheem.

Add on top of this the off-the-field capers and scrapes he was getting himself to in his first few years and, be assured that in the time that it would take to say, "No, honestly Raheem, what are you doing in Page Moss?" any less gifted youngster would have been shown the door by the club. And before I receive any kick-offs I'm not casting dispersions on Page Moss here. However, unless he was getting his dog seen to in that PDSA place or had some ideas about burst pipes he's about as out of place as Sylvester Stallone at Goodison.
Liverpool Football club are already making exceptions for Sterling. The question though, is he exceptional enough to deserve the ultimate exception of the unprecedented contract and salary for a player of his age that seemingly he and/or his agent is looking for?
Exceptional?
This is where it gets difficult!
Raheem Sterling is not yet an exceptional player.
However, for all the world you could argue that Sterling is on the path to becoming one of the finest players in Europe. Is he a million miles away from the player Cristiano Ronaldo was at this age? No, not a million miles. The potential of Sterling is frightening. Equally frightening is the prospect of letting a future star slipping through our grasp and living to regret it. I understand why Liverpool are persisting with negotiations and not just telling him to sling his hook.

When you look at how fundamental Raheem was to Rodgers' solution in turning around what was looking like a car crash of a season, there's an argument that before Christmas he was our most important player.
There are a variety of different reasons to why the 3-4-2-1 formation adopted worked which there's no room to discuss here. But as much as it solidified the defence and made use of personnel there was only one person that could be the '1' in that formation at that time.
No Sterling, no turn around? Raheem Sterling would be well within his right to turn point out there are four recognised strikers at the at the club, Brendan still chose him. Yes, Sturrdige was injured, but just look at some recent games; he's still turning to Raheem. That puts Sterling in a position of strength.
The thing is however, through the course of a season many players can validly claim the team wouldn't be as good without them. In the last month when there has been a slight downturn in Raheem's form, Coutinho, Sakho, Can, Ibe and even Mignolet have recently been the shining lights which have outshone Sterling's sparkle. Whilst you wouldn't want to lose Sterling, it's only taken an upturn in form and the development of a few other players to make him seem less indispensable than he did just a few months ago.
Things change quickly. You can never truly know how a player will develop. It's a massive risk for the club to pile in on Raheem. As difficult as it may seem to grasp, in the past, people spoke about the guaranteed rise to stardom of a player like David Bentley. I don't even know where he is now! He may never have been at the level of Raheem, but you get my drift. Shit happens.
Expensive?
The only way a new mega contract for Sterling works is if it is pitched to him, the other players as the fans that he is getting it because he is an exception. We know exceptions are made for exceptional football players. We can all live with that. He just needs to show it, and show it very, very fast.

The burden must be put on Sterling.
To Sterling the club says, we'll give you this money. It's up to you to prove you're a one off. No one else is getting a mad contract like this. We've never given this amount of money to a player so young and who has achieved so little in our history. We'll back you. But in return we want X, Y and Z and we want it by this date.
If he's willing to accept this burden, then let's do it, let's take the gamble. Show us what you're made of mate.
If he's not willing to accept our side of the bargain, then maybe he's not exceptional after all.
[interaction id="54febf647fdf079b4ee21cfc"]