As the Raheem Sterling contract furore rumbles on, the Liverpool forward would be wise to stay at Anfield, says Danny Gallagher.

First of all, let's put our football heads on before getting our teeth into this issue.
I'm approximately 22 months Raheem Sterling's senior and, were I to be offered the £30,000 per week which the forward currently pockets, I'd be politely enquiring as to where the hot coals were located that I could walk across – over and over again, and quite willingly at that.
But then again there is the small fact that I haven't made 120 appearances for Liverpool before my 21st birthday and been capped 14 times by my country in the process.
I'm quietly confident most of you haven't either.
Secondly, I'll make it clear from the outset that the theme here is Sterling holding out for a reported £150,000 a week, not the incredibly tenuous and almost nonsensical reports recently emanating from the Daily Mail that the winger is poised to reject a staggering offer in the region of £180,000.
Sterling has made headlines consistently this season, whether deserved or not. A vast majority of the time he has warranted them undoubtedly with some quite splendid performances, but recently the media appear transfixed in blotting his name in ink for even donning a pair of boots.
So let's talk in football terms – football in 2015.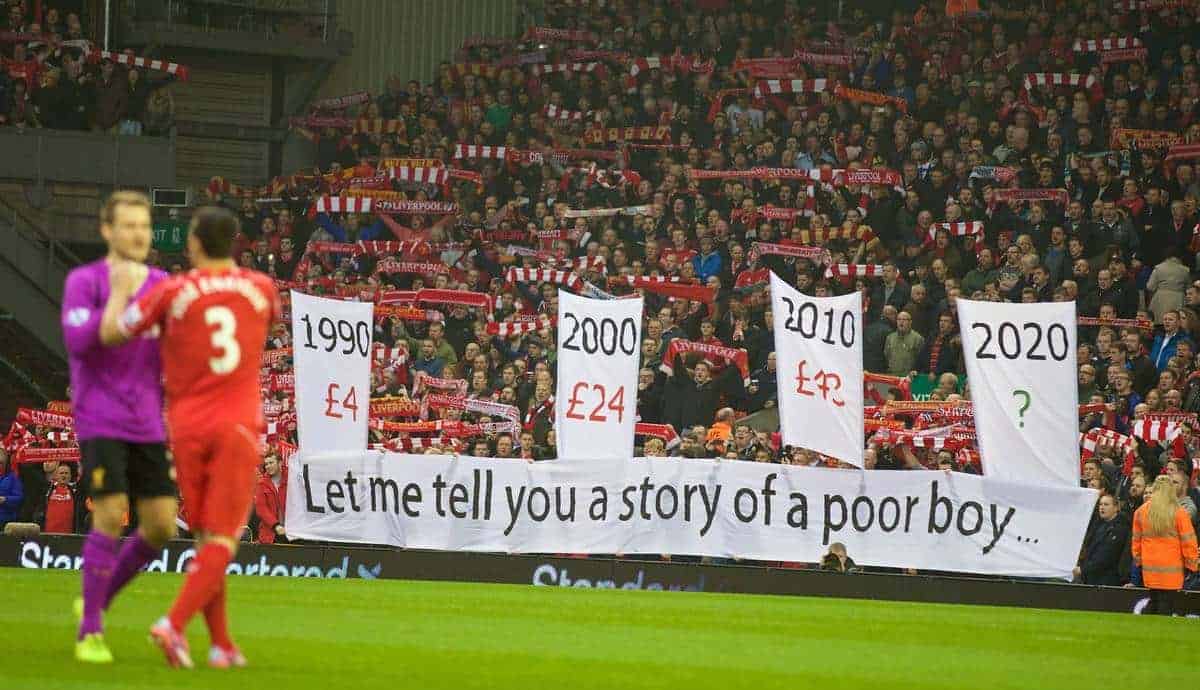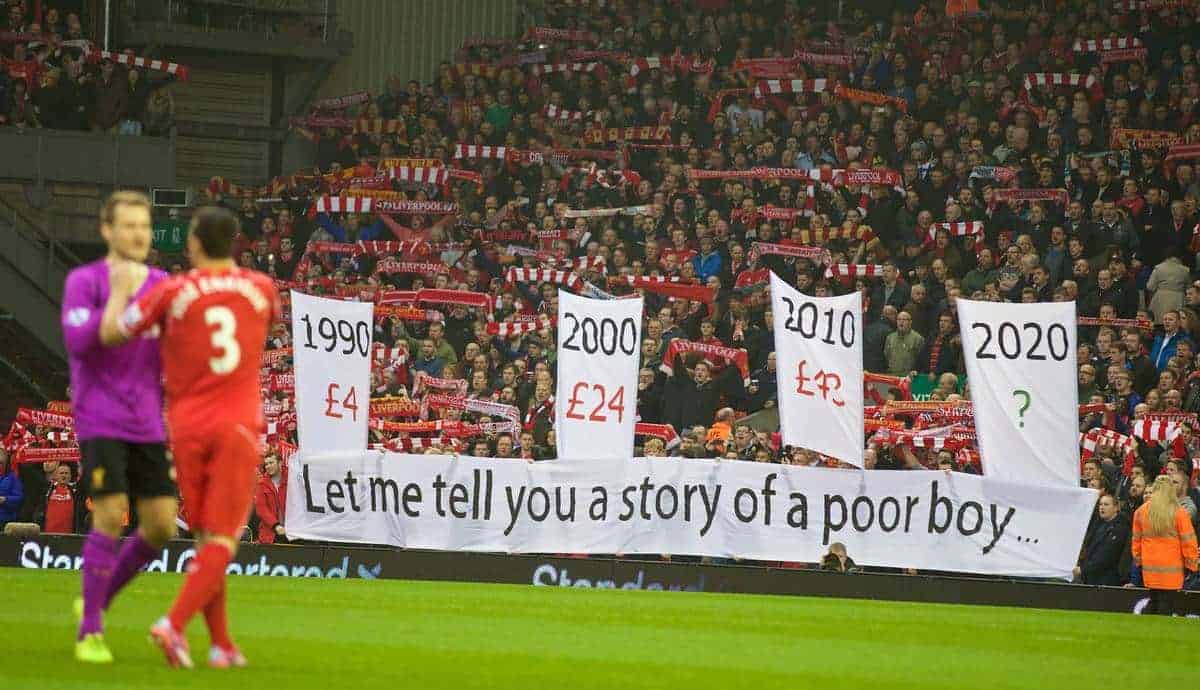 It's quite a modern phenomenon for fans of Premier League clubs to hear reports of their teams' spending habits and greet the news with utter outrage, as though the money splurged is their own.
I suppose in some slightly unhinged way it is, as fans pump millions into clubs by following them all over the globe.
But any player asking for a pay-rise or conversely taking a pay-cut will have no bearing upon the extortionate and ever growing ticket prices across the country.
The sad indictment of football today decrees that the same Kopites who are now priced out of attending home games will still have to resort to watching the Reds in a pub somewhere, over the same sticky bar coated in lager residue and debris of dry-roasted peanuts, whether players like Sterling take home £30,000 or £250,000 per week.
In many aspects it's disgusting, but that is the nature of Premier League football today, a booming global business where the players are no longer mere athletes but worldwide celebrities.
Figures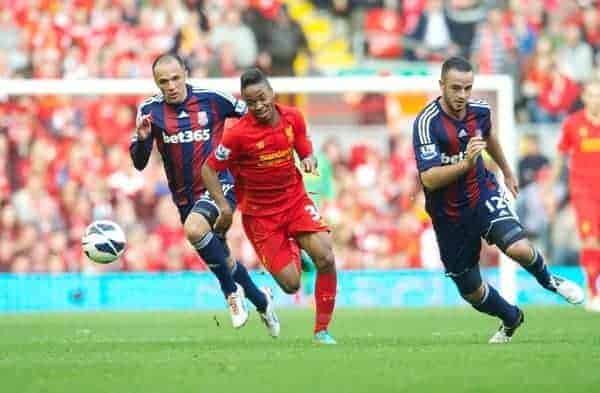 Sterling arrived on Merseyside for a meagre £600,000 – pocket money considering the value he would fetch in the current market.
Here the figures are important; those of a statistical kind, not monetary. Of his 2421 minutes played this season, Sterling has found the back of the net ten times and provided assists on seven occasions.
This, coming in a season which has seen his flexibility tried and tested – as a false nine, in the hole, out wide or indeed as a conventional wing-back.
At 20 years old and the second youngest debutant in the club's history, the frightening potential of Sterling is Europe's worst-kept secret.
Acclaim
The meteoric rise of the Jamaican-born forward led manager Brendan Rodgers to label him "the best young player in European football" back in April 2014.
Here an awkward dilemma reared its ugly head. Like it or not, branding an individual the finest in their category in the world raises serious status-related questions.
Unfortunately, today's football is just as much about egos as it is astronomical wages, and sadly these two elements are becoming increasingly entwined.
You only have to look at Cristiano Ronaldo demanding a pay increase following the arrival of Gareth Bale at Real Madrid to see prime evidence of this.
Sterling's – or more likely his agent's – reported demands of £150,000 are no doubt loaded with implicit reference to the earnings of Daniel Sturridge, who alongside Sterling is seen as the core foundations of Rodgers' architectural project of pacey, pressing attack.
Judgment Time

The logic thrown around by Sterling's people behind the scenes at Anfield likely followed the plot of: 'if you think the boy's the best youngster in Europe pay him accordingly, put your money where your mouth is.'
Sterling will perhaps be the first to admit that his rapid development would not have come about at such a ferocious speed anywhere other than Liverpool, after the meticulous detail and time invested in him by Rodgers.
It is easy to see why a pay increase of £70,000 allegedly being rebuffed is being greeted with hostility and viewed on the Kop as audacious.
The old chestnut 'no player is bigger than the club' has already begun to do the rounds, and rightly so – but considering the implications of his sale, losing Sterling makes no apparent sense for any of the parties involved.
The grass isn't always greener, as Messrs Owen and Torres came to realise. Following the same negative suit at such a precarious developmental stage in his career would be suicidal for Sterling's ambitions.
Transfer Policy

"He doesn't deserve 150K a week, let him walk," may be the held view of some, but whichever way you look at it, Sterling's exponential growth over the past two seasons warrants a hefty increase, and cashing in on the trickster wouldn't offer any immediate benefit to a developing Liverpool side.
Young, potential-laden and extremely tactically flexible – three core qualities Liverpool lose should Sterling ply his trade elsewhere. More importantly, three of the most valued traits which Fenway Sports Group search for when considering transfer investment.
Were he not already sporting the iconic red shirt, Sterling would be dream acquisition for FSG. Sterling's already high European profile dictates that, should he leave Anfield, his successor would have to be of a similar ilk.
With all reasonable thought therefore, what sort of players are we considering here? Julian Draxler? Memphis Depay? Juan Iturbe?

All said players would command a considerable transfer fee, such is the norm with the 'wonderkid' brand. These kids are like the shiny collector stickers everyone wanted in a Panini pack – given exclusive status, sometimes before thoroughly earning it.
Transfer fee aside, surely their hypothetical big move then commands a big wage – somewhere in the region of Sterling's purported £100,000 perhaps? Who knows?
Is it quite ironic that said developments would probably receive less attention than a new contract. Suddenly sceptics are more preoccupied cycling through the exciting motions of welcoming a new superstar; monetary concerns numbed by hysteria and swept under the carpet.
The current situation is untimely and far from ideal, a striking representation of player power and agent muscle-flexing.
Given his progression and unlimited potential, Raheem is certainly worth the Sterling, but he needs to clear the fog, sign on the dotted line and prove indefinitely that he merits every penny.
Would Raheem Sterling be best served staying at Liverpool for the long-term? Let us know in the comments below.