Alex Malone calls for patience with the Reds young squad and manager – because, in the long run, it will be worth the wait.

My last couple of articles have focused very much on the future of our great club, and how bright I believe it to be. But the key word is future.
The building process is just that – a process; and it takes both patience and time. Overnight success is rarely delivered in football, or indeed in any walk of life. It requires a vision, a strategy, a plan. Even then, no plan ever runs 100% smoothly, there are setbacks to endure, hurdles to overcome, battles to win.
It took even the great Bill Shankly many years to fully realise his vision. I have no doubt that in his early years there were fans calling for his head. Take a look at his managerial record before coming to Liverpool – underwhelming would be putting it mildly. Even the great man himself had to learn his trade.
With that in mind, it's always interesting to follow the emotional rollercoaster of today's fan, and the often over the top, knee-jerk reactions that follow a couple of decent wins, or, even more telling, a couple of demoralising defeats.
Just two league games ago, we were the form team in the Premier League, the best record in 2015, unbeaten, sweeping everyone aside. Tough challenges such as Spurs, Southampton and Man City were overcome. All we then had to do was wallop a bang average Man United side, leapfrog in to fourth place and disappear over the horizon towards next season's Champion's League.
But we didn't. We lost. Not only that, we then got our bottoms smacked as we were comprehensively schooled by Arsenal.
Suddenly from a wave of optimism, suddenly the sky was falling. Rodgers' reprieve was over. He was, according to the fickle press and (thankfully)a minority of fans, a game or two from the sack (again). "He's not the man for the job, we knew he'd be found out, he has no plan B" etc etc etc.
Being 'schooled' by Arsenal is an appropriate word given the circumstances. In school, we get taught stuff, and Arsenal taught us a lesson; maybe even a few lessons. Even Man United who, let's face it, have been stuttering along all season, got one over on us with relative ease. Louis Van Gaal for god's sake! We were outwitted by a bloody Thunderbirds puppet! And 'Brains' he is not! But the important thing about lessons, is that you learn from them.
Let's step back a bit to the beginning of the season. We started without Gnasher, and our other goal machine was consistently injured. A 50+ goal partnership went up in smoke. It needed a complete re-think of tactics, and required certain VERY young players to step up. It required Brendan Rodgers to rethink, reanalyse and reshape his entire team. And between one Man United league game to the next, it worked.
But in the Swansea game prior to the United game our 3-4-2-1 formation was finally exposed. Swansea had clearly done their homework and played us off the park for the first 45 minutes. It was that game where I believe Van Gaal and Arsene Wenger recognised a way to effectively neutralise and overcome the Liverpool approach.

That's how it is in the Premier League. Our new formation initially confused teams because it was so 'new'. It's similar to why so many players have first season success, but can't subsequently reproduce it. They get studied, their tricks aren't new anymore, and they struggle to adapt.
There are occasional great ones of course, like Suarez, who simply reinvent themselves and can't be mastered. Their talent is so great that they are consistently one step ahead in their thinking and ability to adapt. But those players are few and very far between. In this case, it was our manager and players who were found out – or rather the way to neutralise the system was, and Brendan, especially with his tactics, formation and team selection, was too slow to adapt.
Which brings me to the whole point of this article, and it's as simple as this. Currently, WE LACK EXPERIENCE!
You know, that thing that money can't buy for any player or any manager of a certain age. When you're young, you're young! You're inexperienced, you're gullible, you're a little rash and you make mistakes (y'know, like doing interviews with the BBC without the club's knowledge). And then, a few years later, with all those lessons learned, you finally wake up one day and suddenly you're "experienced".
Our team is just about the youngest first 11 in the Premier league. The only players in the first team picture who you might say have 'peaked' are Steven Gerrard and Martin Skrtel, and not surprisingly they're the arl arses of the group!
The others, from Sturridge, to Sterling, to Ibe, to Flanagan, to Moreno, to Can, to Coutinho, to Henderson and beyond, are all kids! I mentioned it in the last couple of articles – we have a shed load of players with huge potential, but as it stands today, it's just that – potential. Potentially great potential but it's still only potential – until they are doing it week in week out, season after season.
Then there's the other problem of youth and inexperience which also reared its ugly head in the recent two 'season defining' games. We choked! There's no denying it, we did. But again, you cannot put old heads on young shoulders, and we all know that youngsters can bottle it when the pressure is on. Every single one of us who are 'older' have been the victim of choking in our youth.
If you're a youngster reading this, trust me, it's gonna happen to you too. I believe the magnitude of the occasion against the Mancs got the better of our young manager and our young players. The 'prize' of moving above them in to the top four, the atmosphere at Anfield on the day, the weight of expectation, it seemed to weigh too heavily on the lads, and even the manager. I (naively!) thought beforehand they could handle it, but when I watched it unfold, it smacked of a combination of naivety and big game bottling. Naivety and inexperience of the manager's tactics, and of several of our young players, all told on the day.
Rodgers
Brendan Rodgers must get awfully confused when he reads the papers and the fans forums. One minute he's the next great managerial hope of Britain, the next minute he's the managerial equivalent of Paul Konchesky!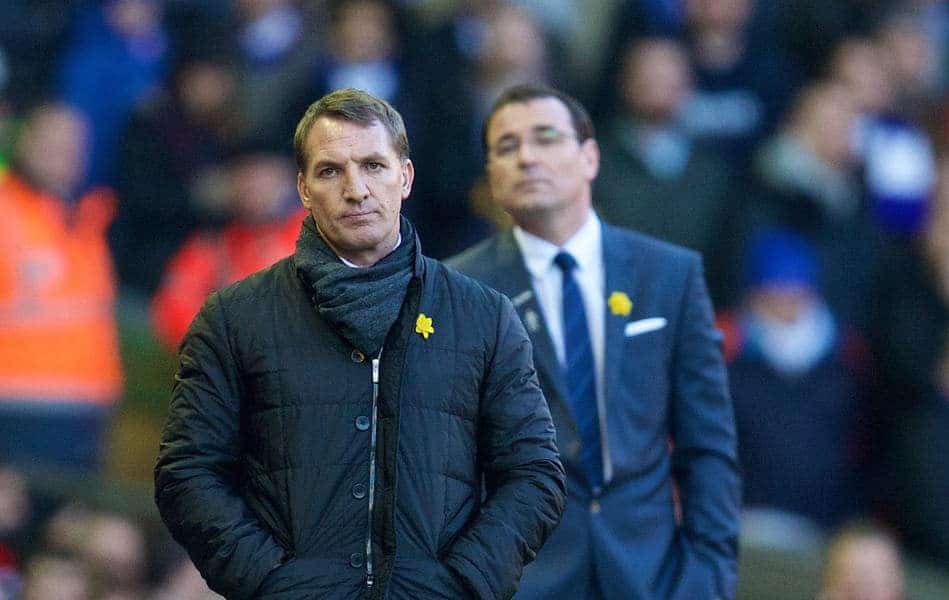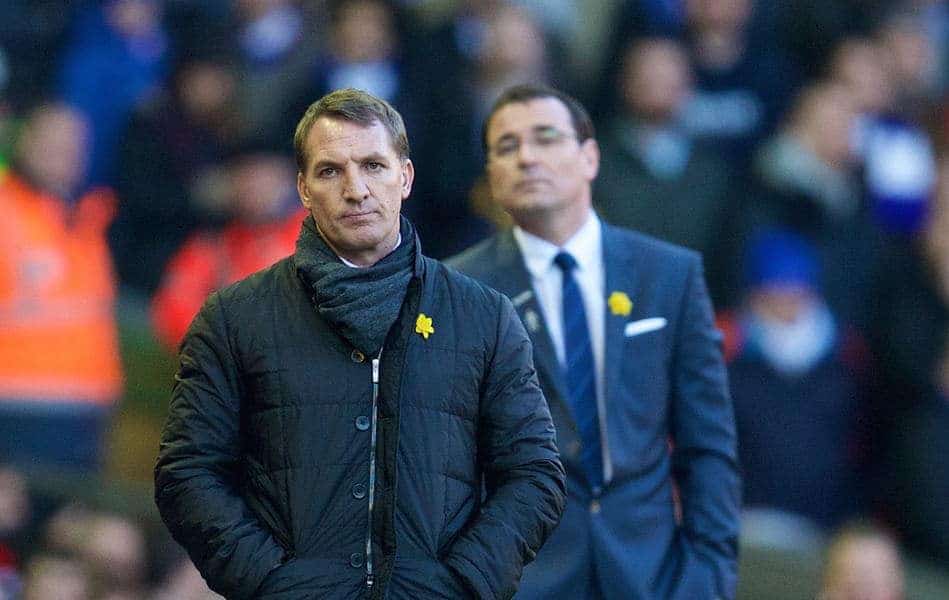 But you know what, he's 42! He's been a manager for a measly 7 years!
In managerial terms, that's Jordon Ibe's age. He's learning! He's making mistakes, he's showing inexperience and he's sometimes being outfoxed. He most definitely got it wrong against United and Arsenal, and in both games he wasn't quick enough to adapt and fix on the field what was glaringly obvious to many who were watching. That is inexperience.
He was outwitted by two old farts who happen to be two of the most experienced managers, not just in the Premier League, but in the entire game! We may love to tease those miserable old gits Van Gaal and Wenger, but they've been there and done it, they both qualify for free bus passes for god's sake!
Wenger is 65 and has managed at the top level for 31 years. In his first 114 games as a manager he lost 51 and had a 29% win ratio. His win ratio for Arsenal is currently 58%. Van Gaal is 63 and has managed for 24 years. His win ratio for United is also 58%.
Brendan Rodgers for Liverpool? A very respectable 53%. The point is, these two have had decades of honing their trade and using their 'experience' (there's that word again!) to adapt, learn from their mistakes, and build their reputation. Rodgers has had just 7 years.
So let's not jump the gun and be judge, jury and executioner every time we hit one of those pitfalls or setbacks mentioned earlier. Let's allow both our 42 year old manager and our batch of exciting youngsters the time to develop in to an exceptional force over the next few seasons.
Many of the building blocks are in place and the foundation is now solid. One or two of those building blocks may need to be replaced by other exceptional building blocks if they decide they think they're bigger than the club, but that's a fact of life when building ANY team. Players will come and players will go, but the vision, and the blueprint to achieving it, remains the same.
The two league defeats against two major rivals may have been hard to stomach. But it's my belief that these tough lessons will prove invaluable in helping this young team, and its young manager, to come of age. Let's just give them the time and experience they need and I'm convinced it'll be worth the wait.