If Brendan Rodgers keeps his job as Liverpool manager this summer, bringing in coaching reinforcements should be a major priority, explains Henry Jackson.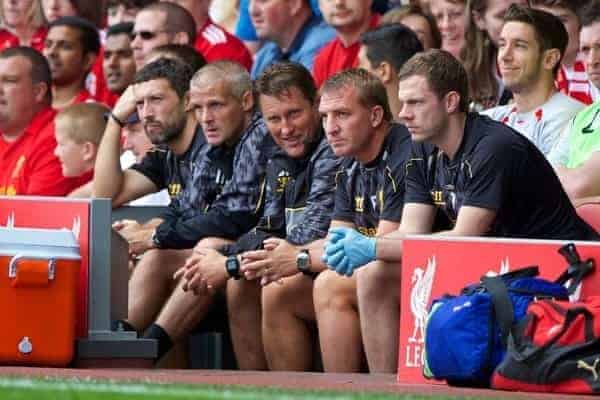 The Reds' abject end to the Premier League season has left many supporters in uproar, most notably following the 6-1 humiliation at Stoke City on Sunday.
While events on the pitch are understandably taking the brunt of the criticism and anger of the Liverpool faithful, a lack of perceived top quality coaching staff on the training pitch could be playing a part in the club's current woes.
In the aftermath of the Stoke humiliation, the usual Liverpool press gang reported that a) Rodgers' job is safe, b) that a director of football had been ruled out, c) that "departures from the much-talked-about transfer committee have also been dismissed", and d) that "alterations to Rodgers' backroom staff" may take place.
This would be a welcome move, with Liverpool's current first-team coaching staff lacking experience in their roles.
Lack of experience

When you look at the current backroom staff at Anfield, it's hard to feel enamoured with the level of experience and quality in the ranks.
Liverpool first-team coaching staff, years in their roles at Premier League level when appointed at LFC:

Manager – Brendan Rodgers: 1 year (Swansea City)
Asst. Manager – Colin Pascoe: 1 Year (Swansea City)
First team coach – Mike Marsh – None
Goalkeeper coach – John Achterberg – None
Assistant manager Colin Pascoe has been Rodgers' No.2 since their Swansea days at the start of the decade. Pascoe's coaching qualifications are not known, with the official Liverpool FC website merely stating that he obtained his "coaching badges".
Mike Marsh, the current first-team coach, was promoted by Rodgers upon his arrival three years ago having coached Liverpool's Under-18 side. Marsh is currently studying for his UEFA Pro Licence and should attain that this year.
Goalkeeping coach John Achterberg, the former Tranmere Rovers goalkeeper, was initially promoted from academy to first-team goalkeeping coach temporarily following Roy Hodgson's departure from the club. That was made permanent in 2011.
Liverpool's most experienced coaching staff member is head of performance Glen Driscoll, who worked with Rodgers at Chelsea.
Driscoll spent a decade at Stamford Bridgge and worked under esteemed manager such as Jose Mourinho, Avram Grant, Luiz Felipe Scolari, Guus Hiddink and Carlo Ancelotti, acting as head of fitness, head physiotherapist and head of injury prevention. He moved to Swansea in 2011 and then followed Rodgers to Anfield.
Another with a more appropriate CV is head of fitness Ryland Morgans, who holds a UEFA Pro Licence and worked at Nottingham Forest and Fulham before joining Rodgers first at Swansea and then at Liverpool.
Aside from Driscoll, none of Liverpool's first team coaching staff had experience of working in their current roles in European football before they were appointed at the club.
"A defensive coach"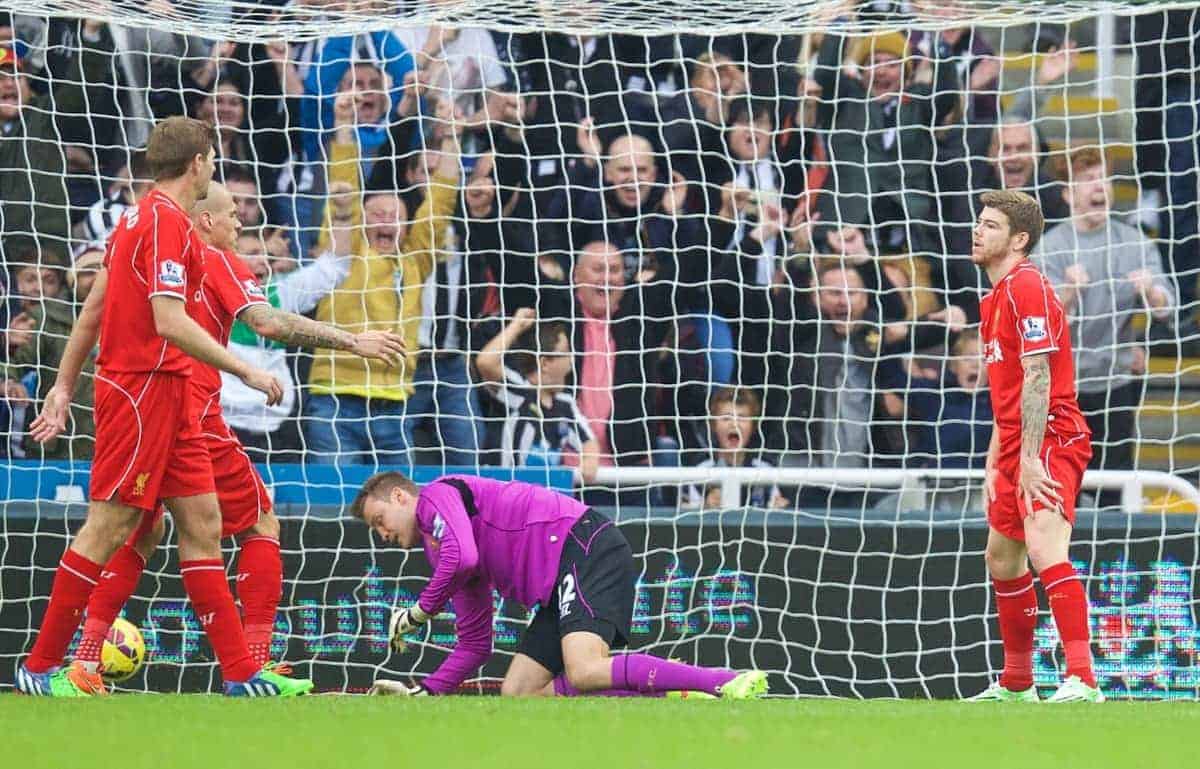 Rodgers has been outspoken in his beliefs that Liverpool do not need a defensive coach, but it has surely been proven now that the Northern Irishman must change his opinion on the matter.
Much was said about the Reds' leaky back-line in 2013/14, when goals were conceded too easily and at an alarming rate. 50 goals conceded in 38 Premier League games was unacceptable for a team finishing second.
Adding steel in that area was a key priority last summer, with many feeling Liverpool could become truly formidable should they mend their creaking defence.
Dejan Lovren, Alberto Moreno and Javier Manquillo were all signed, Lovren and Moreno for large sums of money, but nothing has changed.
They let in just two goals fewer than in the previous season in the league -oftentimes looking even more shambolic. Lovren has been a disaster thus far, Moreno has been hugely inconsistent and Manquillo has barely featured. They all look they could benefit from some actual coaching.
Liverpool have looked more susceptible than any other side from set-pieces, which again highlights a lack of a defensive focus and nous in training.
Rodgers is clearly a talented coach when it comes to the attacking side of the game, and improving young players, but he has shown time and time again that defensively he is not good enough.
Bringing in someone whose focus is on the defensive side of things – Sami Hyypia or Jamie Carragher would be romantic appointments – would help take the workload off Rodgers and improve the team in equal measure.
Help

We invariably never find out the truth about how happy or unhappy players are at clubs until they have either left or released a book, so it's hard to judge how Rodgers and his coaching staff are perceived by the players inside Melwood.
There is both a clear lack of experience and personnel in the coaching staff though, and reinforcements are needed in certain areas.
There's a clear argument for a defensive coach of some sort, despite Rodgers' rather than bullish and arrogant claim that "It's the new defensive coach that we got in that everybody thought we needed," after a series of cleansheets in January/February.
It's admirable in some ways that the manager has so much confidence in his own ability, but as this season has shown, he is flawed in a number of areas. [td_ad_box spot_id="custom_ad_3″]
"Brendan Rodgers's biggest failure is that he's not invested in his staff," said former Man United assistant Rene Meulensteen last November.
"He has obviously got people around him who he obviously thinks are the right ones.
"But I think he could have done with someone who has been there, seen it and done it.
"Playing in the Premier League and the Champions League, it's a different rhythm that requires a different style of training and a different management strategy through the week. You need to know these things."
With Liverpool's European record under Rodgers pretty appalling – two wins in eight games this season, both at Anfield and courtesy of late penalties, against Ludogrets and Besiktas – perhaps Meulensteen has a point.
Do you think Liverpool need additions to their coaching staff? Let us know in the comments below.