Neil Poole is concerned that Liverpool's owners don't have the appetite to make the big changes necessary for the club to compete at the top of the league again. It's time to stop playing safe and live a bit more dangerously.

There's nothing malevolent about FSG. They don't have a total disregard for Liverpool Football Club. They are not Tom Hicks and George Gillett.
Hicks and Gillett rode into Liverpool on buckaroos, all rootin' tootin' antics. Smith and Wesson revolvers in each hand, they haphazardly shot Liverpool FC's money, heritage and reputation into the air and in doing so nearly put a fatal bullet through the head of an unfortunate cormorant passing above.
FSG's subsequent entrance, however, was understated: all spectacled consideration and East Coast academic analysis of the long game. But with just enough big cigar pictures doing the rounds so we could see they were winners. In the autumn of 2010, although still wary, the Liverpool supporters largely welcomed the sedation FSG, formerly NESV, provided as we nursed the bruises suffered in Hicks and Gillett Wild West.
FSG have been largely consistent in their approach since arriving in Liverpool. There are of course some early exceptions to this rule as they found their feet on the other side of this side of the pond in a sport with which they were not familiar; the Damien Comolli-driven jizzing of thirty five million pounds on Andy Carroll only months into their tenure; backing down on the appointment of a Sporting Director in the wake of recruiting Brendan Rodgers; and the slight easing up of an a dogmatic belief that players weren't worth buying past once their umbilical cords dropped off days after birth. All of the above show their capacity to back track or change their mind to some extent.

In the last four years though, there have been few shocks. There have been few surprises. Year after year any money that has been brought in from the sale of players has thankfully been plunged straight back into the acquisition of new players rather than used to keep the lid on spiralling interest repayments. They have backed incumbent managers with the profits of sales.
Year on year they have, in the majority, prioritised 'value', with the purchase of young players with potential over seasoned professionals on high wages.
Their stance on valuable assets like Torres and Suarez has appeared admirably robust: they are sold for top dollar or they are made to stay, at least temporarily. It looks like they are set to repeat this with Raheem Sterling.
For all but one year, season tickets prices have been frozen. This season individual ticket prices have been frozen.
They were true to their word when they said they would review the 'new stadium vs Anfield redevelopment debate' and resolve the longstanding issue. From early on the signs were that they favoured redevelopment and this information was allowed to gently seep out. As such there was no shock when the development of the Main Stand and Anfield Road was announced. This has come to fruition as we now see the Main Stand structure steadily rising into the Liverpool skyline to create a modest increase in capacity of eight and a half thousand seats.
Life under FSG is predictable. They have calmed the waters and there are positives which can and should be taken from this.

Unfortunately, five and a half years on it's starting to look like calm and consistency might not be what we want after all. Not all of the time anyway.
A flat line is about as consistent and unobtrusive as it gets, but it quickly becomes pretty traumatic when you realise its accompanied by the absence of a heart beat and the sound of a single monotonous beep.
FSG have not, and do not appear driven to make the big changes that are needed at this club to keep it alive.
And by alive I do not mean simply existing but having living, breathing experiences that get pulses racing. It seems that every decision currently being taken at the club is enough to make it look like changes are being made but none of these changes are enough to give us the seismic kick up the arse we clearly need.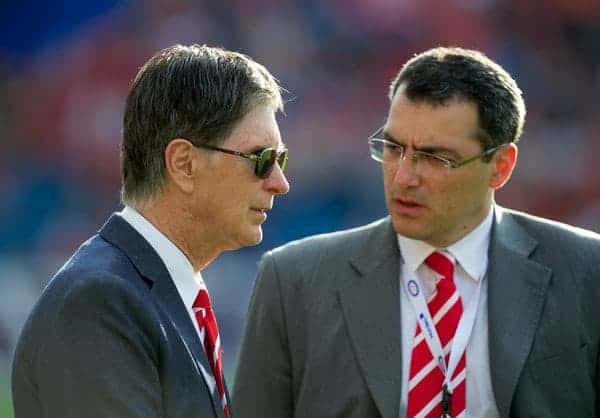 One of three big changes needed to be at the top level this summer: we either needed to change the manager, significantly change the personnel on the transfer committee, or appoint a respected Director of Football.
Instead, Liverpool chose not to renew Mike Marsh's contract and binned off Colin Pascoe. This is tantamount to doing a bit of weeding round the periphery of your garden and ignoring the ten-foot sink hole that's just appeared and taken your family and the barbecue with it. Pascoe was only ever to Rodgers what Sebastian Coates was to Luis Suarez; someone to keep him company.
It's still early days in regards to player acquisition. Indeed the window isn't even open. Nonetheless none of the players we've signed, about to sign or have been linked with will suffice, even collectively to get us back into the Champions League. James Milner is a good signing. Note the use of the non-flamboyant 'good' there.
Danny Ings' own surname is so underwhelmed with itself that it can only be arsed looking like half a word. We're on the verge of signing Adam Bogdan. Take you pick here. There's a potential play on bog standard or there's a vision of a toilet.

I'm being unfair on the player here of course. And I wish every Liverpool player well. But my issue is not with the players but with the apparent prioritisation of a midfielder when we have lots already, a fourth choice striker and a reserve keeper. Again, all changes, but changes which leaving you staring blankly into space as insects fly in and out of your gormless, open mouth.
Again the focus seems to be on dithering around with the easy tasks and tidying up the edges rather than getting hands dirty and grappling with the challenge of buying players who can make us competitive again.
I'd rather have FSG than Hicks and Gillett, of course. But it's beginning to feel like we've gone from one extreme to the other. I'm all for steadying the ship but Liverpool are currently a submarine and I'm not enamoured with remaining submerged below the Champions League positions for too much longer.
It's time for us to put our heads above the parapet and take some risks to get ourselves back afloat. It's the only way John is getting the cigar out again.