With Jose Enrique likely to leave Liverpool this summer, Jack Lusby finds 10 left-backs the Reds could target to compete with Alberto Moreno this summer.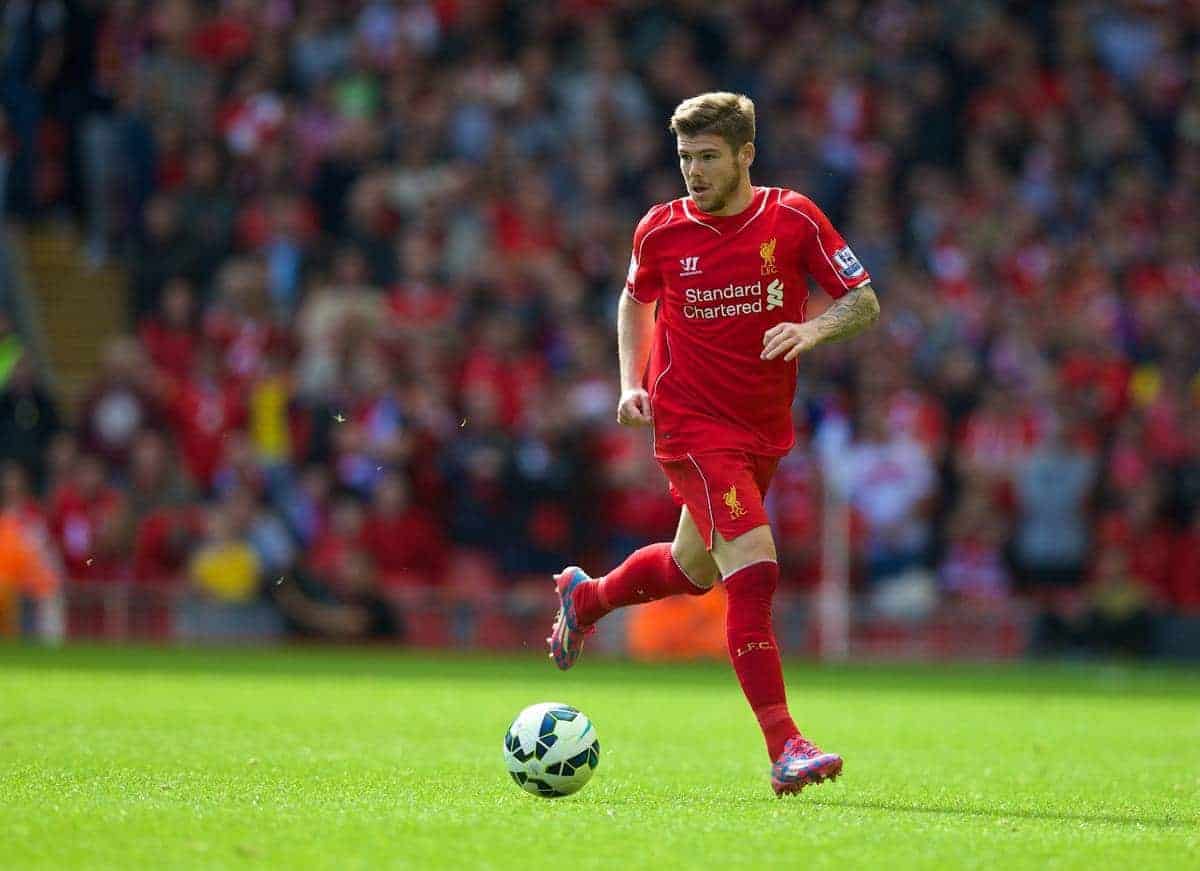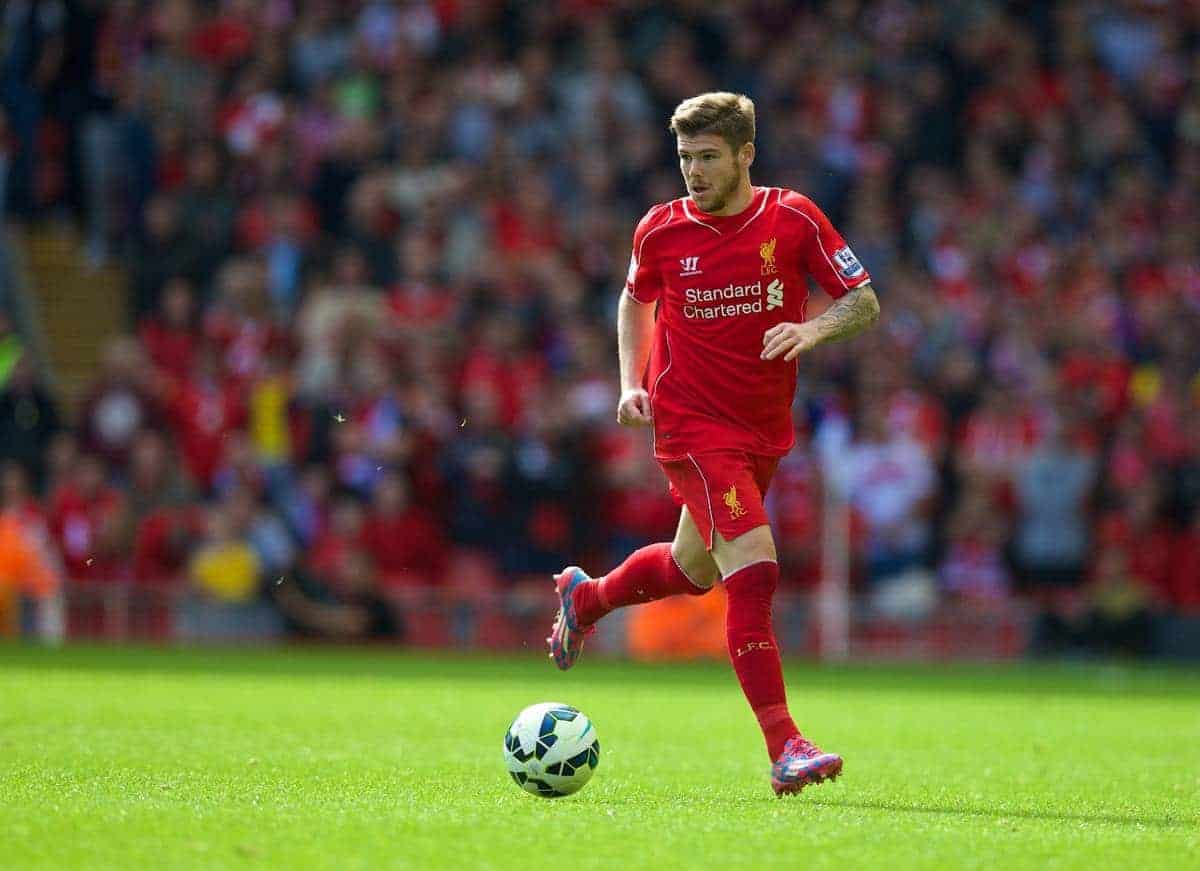 While Liverpool strive to add that elusive 20-goal-a-season striker to their ranks, one of the main deficiencies in Brendan Rodgers' squad is currently being ignored.
Within Rodgers' first-team squad, only Alberto Moreno represents a natural option at left-back – although young Joe Gomez looked good in the role against Brisbane Roar.
Jose Enrique, Moreno's compatriot, is set to depart this summer, having contributed very little over the past two seasons (other than via social media updates).
Enrique made just four Premier League appearances last season, leaving Moreno struggling to adapt to English football but unimpeded by competition—there is currently nothing to spur him on to top form.
Here are 10 left-backs that could provide Moreno with some welcome competition at Liverpool.
Aleksandar Kolarov (Manchester City)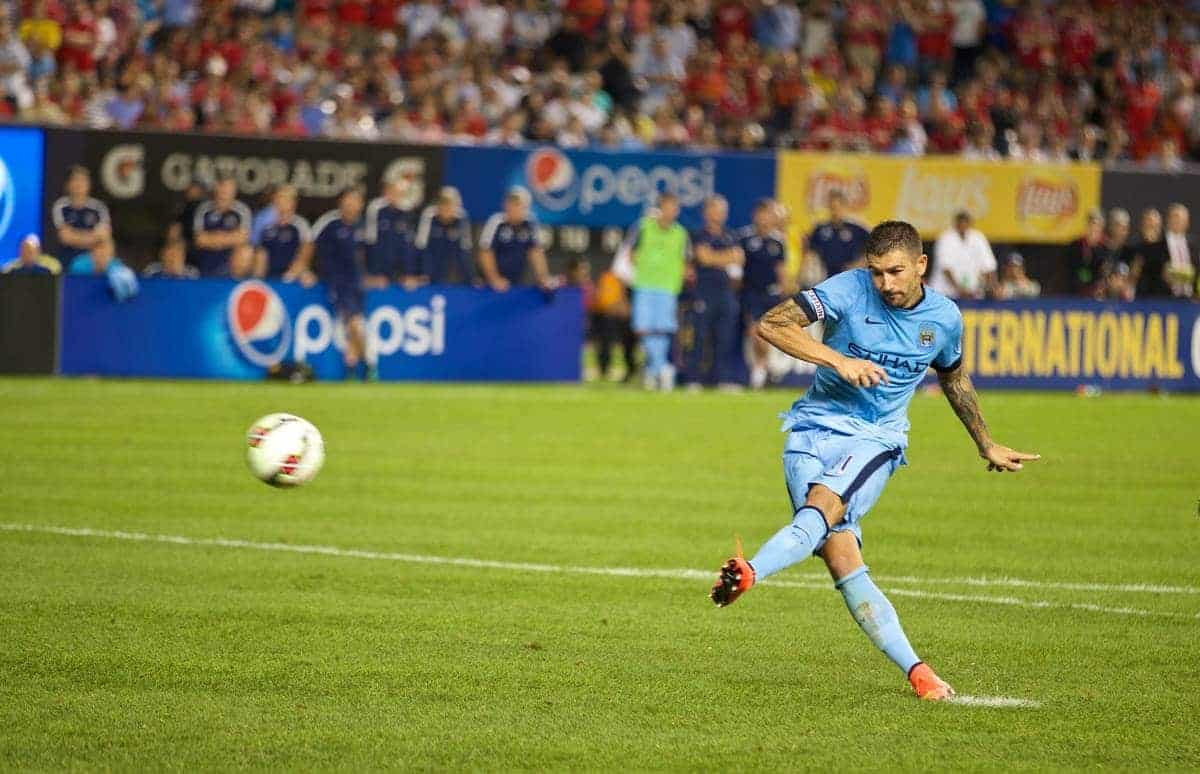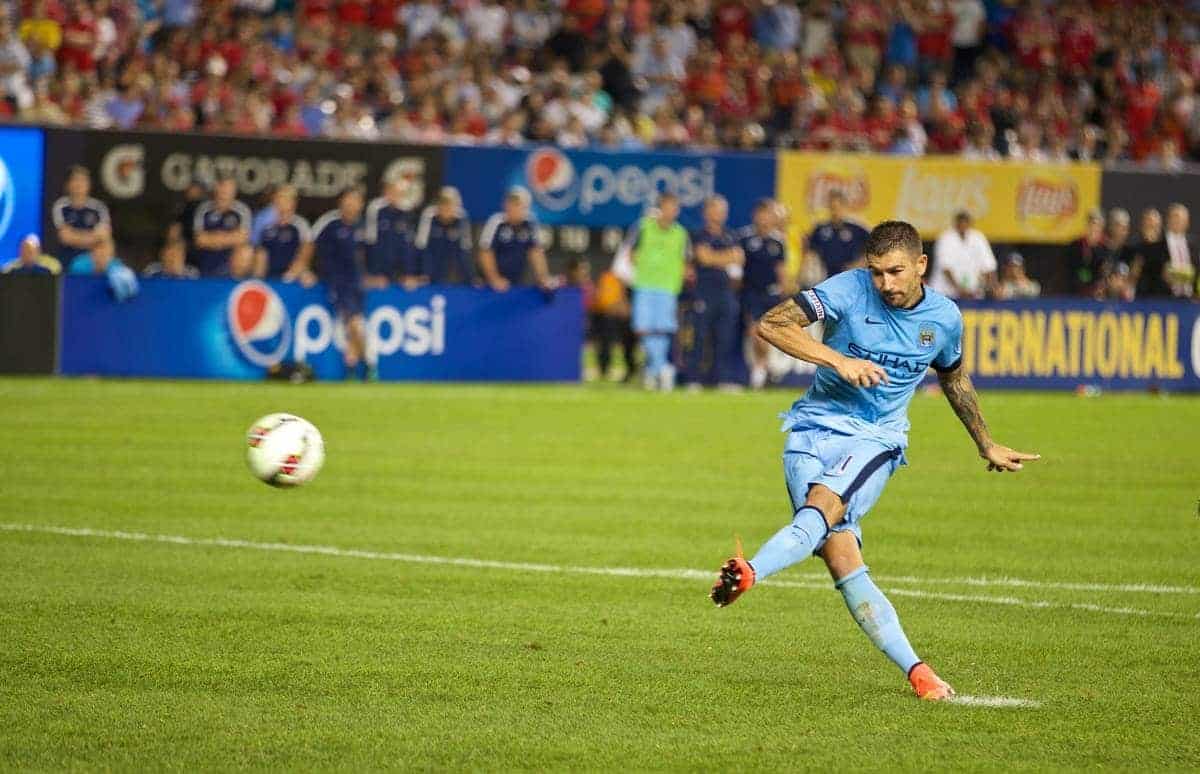 Left-back has been one of Manchester City's weakest areas in recent seasons—relatively speaking—but Serbian defender Aleksandar Kolarov would be a great choice for Liverpool in a rotational role.
The 29-year-old made 21 league appearances last season, scoring two goals and making three assists, with no other left-back in the Premier League averaging less minutes per goal (743).
He is a sturdy defensive option who thrives in the creative stakes, with a fearsome dead-ball ability. Kolarov would be a fine option to mentor Moreno.
Kim Jin-Su (1899 Hoffenheim)
Like Kolarov, 1899 Hoffenheim left-back Kim Jin-Su would offer Liverpool defensive stability doing the left flank, with the South Korean defender's primary attributes found in protecting the goal.
He is great on the ground and strong in the air, as well as possessing an astute perceptive ability in reading the game. In many ways, he's akin to last season's right-back loanee Javier Manquillo.
If Rodgers wants a candidate who could provide a counterbalance for Moreno's attacking instincts, Jin-Su would be a solid option.
Marcos Alonso (Fiorentina)
Though his two spells in the Premier League so far have been with Bolton Wanderers and Sunderland, Spanish left-back Marcos Alonso has since proven his top-level credentials with Fiorentina.
He is a well-balanced full-back, comfortable in possession as well as defensive situations. Reported to have been available for just £1.5 million last summer, Alonso could be a bargain signing ahead of 2015/16, with just one year left of his contract in Florence.
At just 24, Alonso has potential to develop, but given his low reputation, would likely be comfortable deputising for Moreno—he would provide strong competition.
Oscar Wendt (Borussia Monchengladbach)
Though reported Reds target Ludwig Augustinsson rejected any talk of a move to Merseyside earlier this summer, Rodgers would be wise to target his compatriot, Oscar Wendt.
The 29-year-old joined Borussia Monchengladbach on a free transfer in 2011 and, like Alonso, has just one year left on his contract. Rotating with Filip Daems throughout his time at Gladbach, Wendt has provided Lucien Favre with a more progressive option on the left defensive flank.
Economical in possession, intelligent in defensive situations and boasting higher concentration levels than Moreno, Wendt would give Liverpool balance at left-back.
Cheikh M'Bengue (Stade Rennais)
Cheikh M'Bengue was a highly coveted prospect when he turned down a new contract offer with Toulouse in 2013. Moving to Stade Rennais for a nominal fee that summer, the Senegalese proved a true bargain.
Now 26, M'Bengue has developed into a high-level defensive left-back during his time in Rennes, preferring to keep things simple and focus on his marker.
Yet another player just one year left on his contract, M'Bengue could offer Liverpool a cut-price backup to Moreno and a considerable upgrade on the dismal Enrique. [td_ad_box spot_id="custom_ad_3″]
Domenico Criscito (Zenit St. Petersburg)
Having spent four seasons in Russia with Zenit St. Petersburg, Domenico Criscito has established himself as a highly functional, multi-faceted left-back.
Able to play as a centre-back and a wide midfielder as well as his natural role, Criscito has all of the attributes to succeed in European football, and this has served him well for both Zenit and the Italian national team.
Strong in defensive situations and composed in possession, Criscito would arguably start ahead of Moreno, though at 28 this would not necessarily hinder the Spaniard's development.
Caner Erkin (Fenerbahce)
Turkish left-back Caner Erkin, 26, spurned the interest of both Liverpool and Chelsea a year ago by signing a new contract with Fenerbahce—but could the Reds revisit the deal this summer?
A more physical defender than Moreno at 5'11", Erkin is surprisingly adept going forward. His crossing ability saw him register eight assists in the Turkish Super Lig last season.
Erkin's extension takes him up to the end of the 2015/16 season, but with just one year left on his deal, he could be tempted to move on early.
Patrick van Aanholt (Sunderland)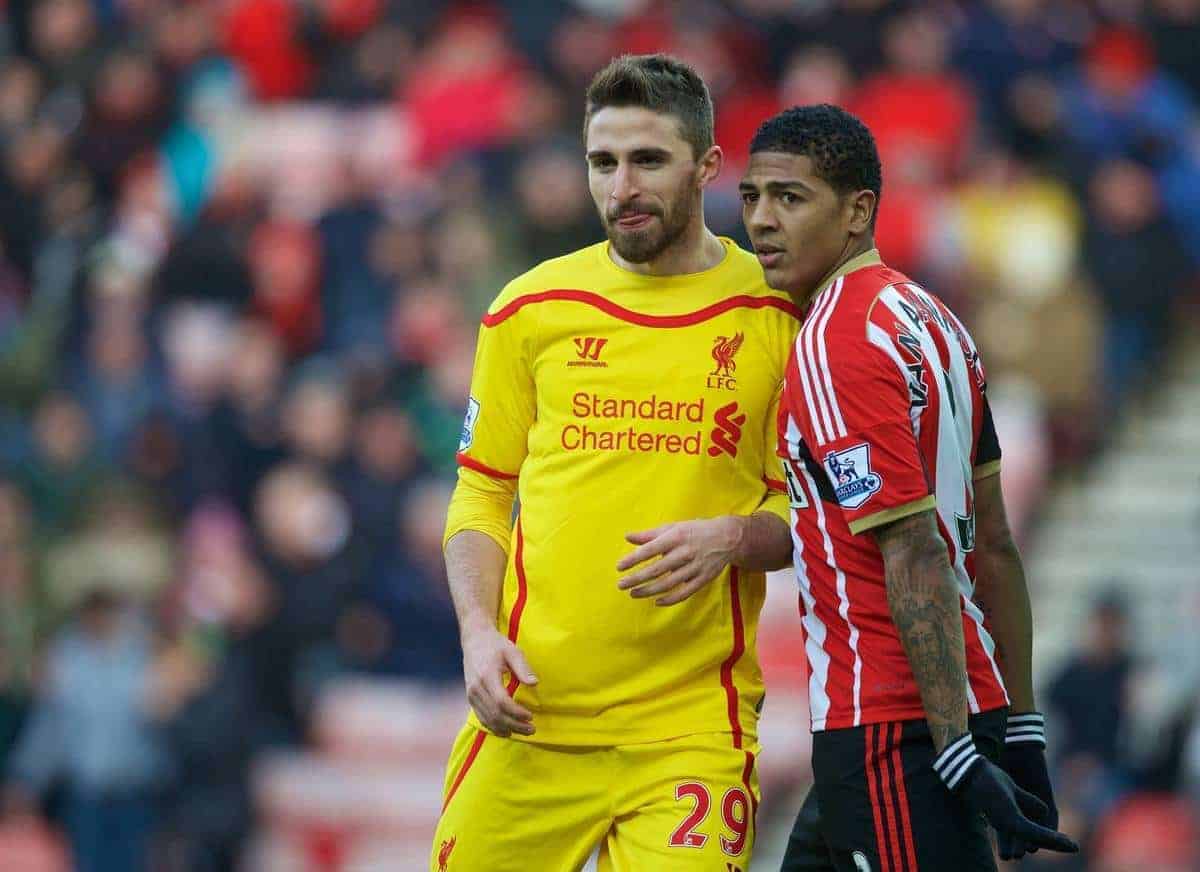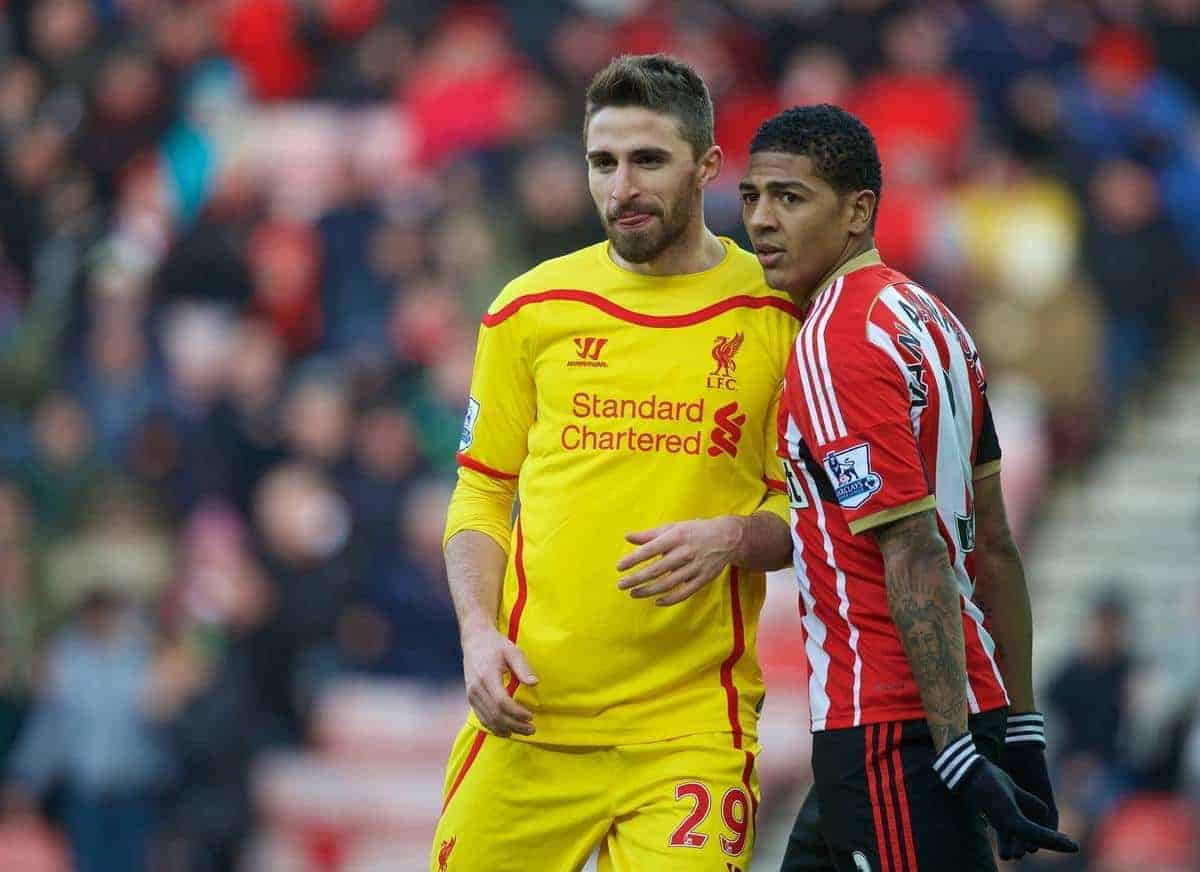 Like Alonso, Patrick van Aanholt's quality belies his lowly Premier League status.
After five seasons of moving from loan club to loan club as part of Chelsea's masterplan of value-boosting immorality, Van Aanholt moved to Sunderland on a permanent, £2 million deal last summer.
Though the Black Cats went through misery throughout 2014/15, Van Aanholt was a consistent, high-level performer in the Premier League. The 24-year-old pairs defence and attack with distinction, with strength balanced finely with pace.
Van Aanholt would be perfect competition for Moreno.
Ashley Cole (AS Roma)
Could Ashley Cole handle a return to the Premier League?
Making the move from Chelsea to AS Roma last summer, Cole's big Italian adventure hasn't quite gone to plan so far. He made just 11 Serie A appearances last season, with Rudi Garcia preferring Greek left-back Jose Holebas.
At 34, there will be question marks over whether this year of inactivity with have hampered Cole's ability, but on his departure from Stamford Bridge he remained one of Europe's leading defenders.
Moreno would flourish under his tutelage.
Joe Maguire (Liverpool)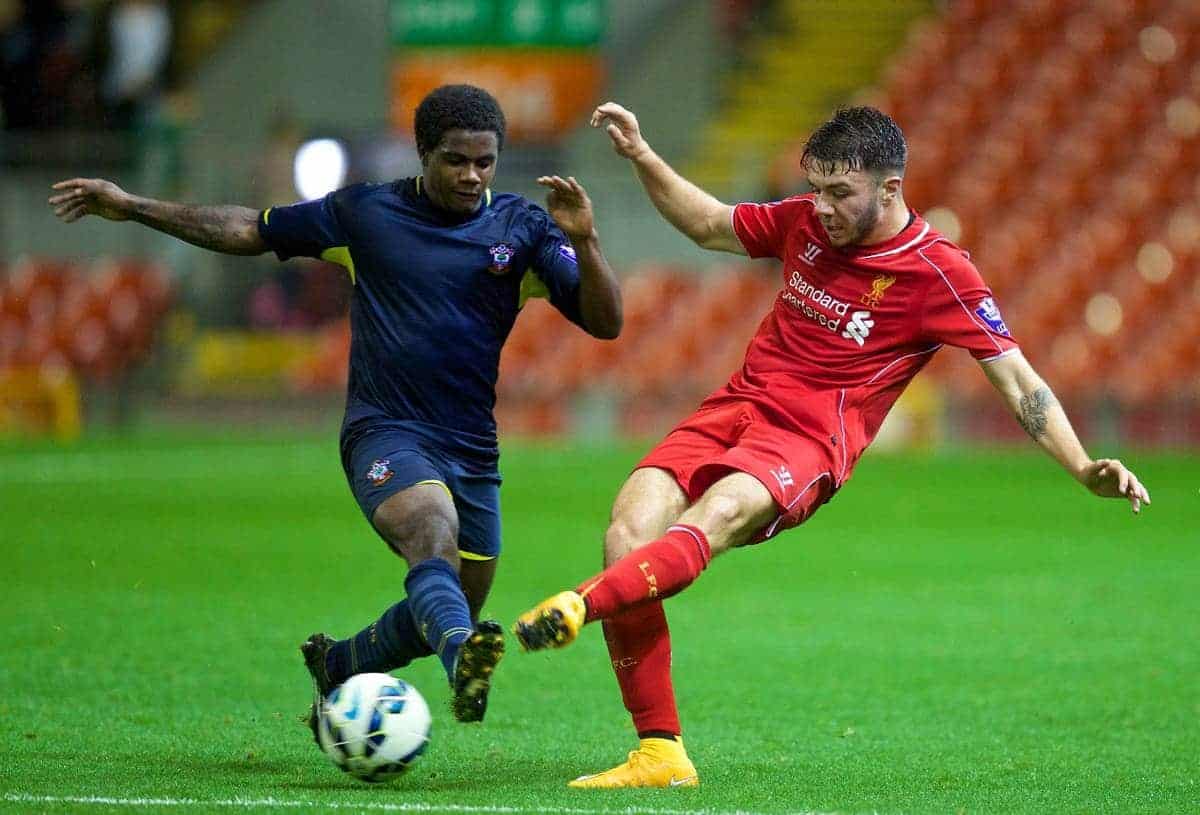 One player that Liverpool wouldn't need to sign this summer to provide Moreno with competition is 19-year-old academy left-back Joe Maguire.
On tour with Rodgers' first-team squad this pre-season, Maguire impressed in his first appearance in the Far East as the Reds defeated the True Thai All Stars 4-0. His shuttling runs and well-weighted crosses provided Divock Origi with useful ammunition in the second half.
Could Maguire make a Jon Flanagan-like rise into Rodgers' first team this season?
It would be a risk, but Liverpool's solution could already be within their ranks.
Which left-backs should Liverpool target to provide Alberto Moreno with competition? Let us know in the comments below.