Liverpool confirmed the signing of Christian Benteke on Wednesday, and here Craig Rimmer looks at the rationale behind the acquisition.

So, Liverpool have their man. In a summer transfer window characterised by unusually swift and decisive transfer dealings by FSG and co., the one protracted transfer of the summer has been brought to a close with news of Christian Benteke's £32.5 million capture from Aston Villa.
There were many, myself among them, who greeted news of the club's initial pursuit of Benteke with raised eyebrows.
Some have doubted his pedigree as a Liverpool centre-forward, but most concerns seem to have centred on how the player fits into the current Liverpool side from a stylistic and tactical viewpoint.
So, are these concerns justified? Have Liverpool just signed another square peg? Or can Benteke prove himself a success and add an extra dimension to the Liverpool attack?
Putting the fee to one side – after all, can anyone say with any certainty what value is in the transfer market anymore? – the Reds have signed a one-in-two centre-forward. 49 goals in 100 games for Aston Villa to be exact.
Those numbers were achieved in a team which finished 15th, 15th and 17th in each of his three seasons at the club.

It is natural to assume that simply by playing with a better standard of team-mate, providing higher quality service, those figures should improve.
But, questions have been raised as to whether Rodgers' current template will complement Benteke's game.
Liverpool are unlikely to transform into a long-ball team overnight, nor are they particularly set up to provide regular service into the box from wide areas. But is that all Benteke has to offer? Or does his physical stature belie a more nuanced game?
No doubt the big Belgian is very strong in the air and a presence in both penalty areas – something which could prove a real attribute for Liverpool in the coming season.
But, only 27 percent of those 49 goals mentioned earlier have been scored with his head. Admittedly, that is still a strong figure when compared with most, but it does also suggest there could be more to his game.
We are not dealing with Andy Carroll or Duncan Ferguson. Benteke is a much more dynamic centre-forward, as some of his goals against Liverpool in the past have demonstrated – including one in April's FA Cup semi-final.

He is also familiar with the 4-3-3 system that he might find himself playing in at Anfield. Villa having played a similar formation at times, particularly under Tim Sherwood, with Benteke flanked by pace in the form of Gabi Agbonlahor, Andreas Weimann and Scott Sinclair.
Although the return to fitness of Daniel Sturridge could prompt a change in shape if the manager wants to accommodate both of his front-line strikers.
Benteke is certainly a penalty-box striker, with more than 80 percent of shots at goal last season coming inside the area.
But, as controversial a suggestion as it may be, the big man may not have been signed exclusively for his goalscoring prowess.
Any Liverpool centre-forward by implication accepts the weight of goalscoring expectation attached to the shirt. However, could Benteke have been identified by Rodgers – and whoever else may be involved in the decision-making at Anfield – as a player who can bring the best out of the plethora of talented attacking midfielders he has at his disposal?
The idea of Benteke occupying the centre-backs, holding the ball up and bringing the likes of Coutinho, Firmino, Milner and Lallana into the game and closer to goal where they can do the most damage. [td_ad_box spot_id="custom_ad_3″]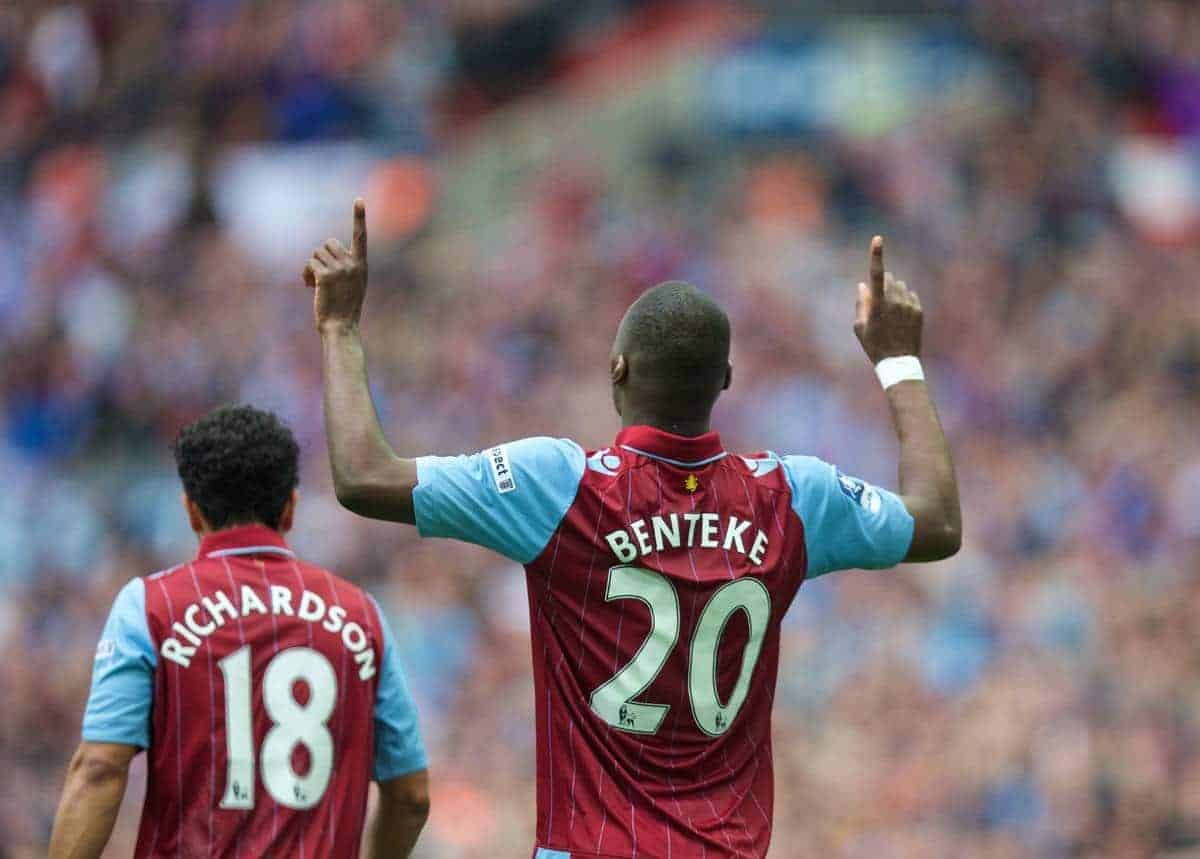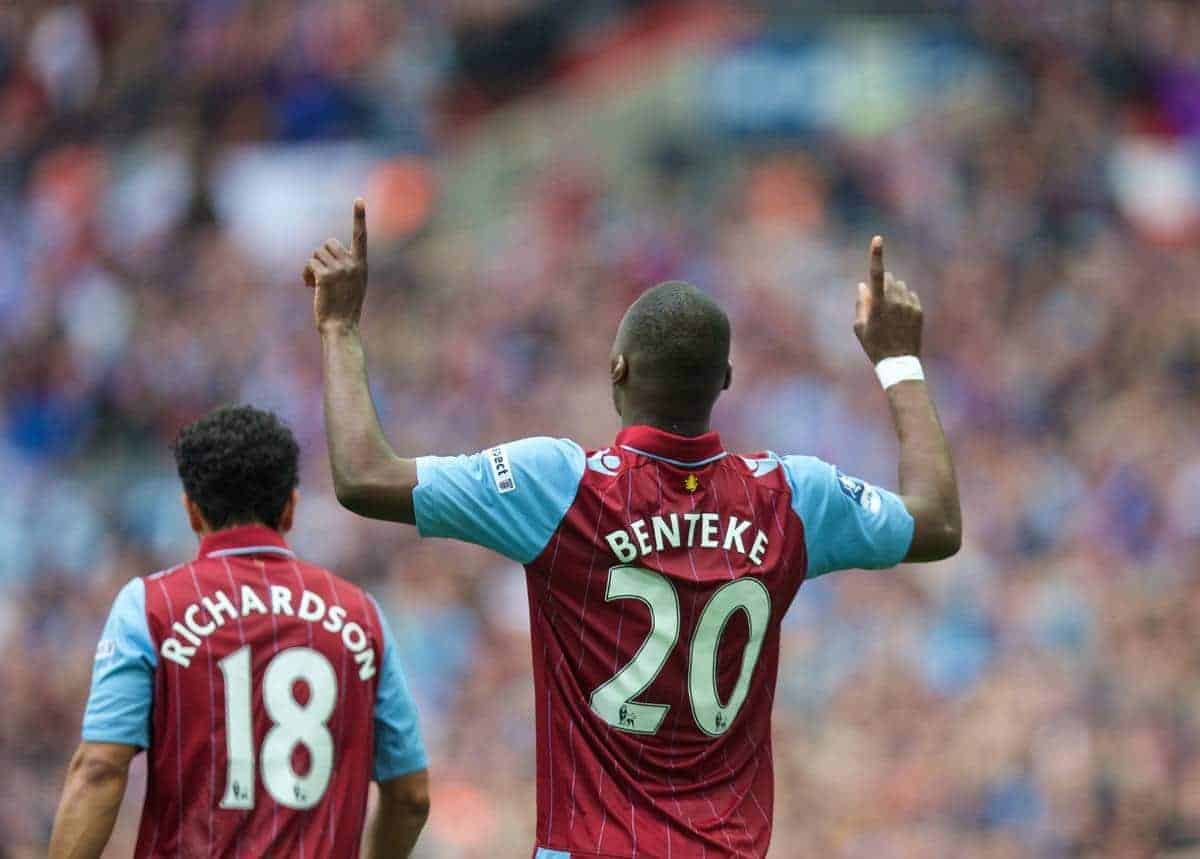 It would require a more vertical, direct approach (and not specifically in the long-ball sense of the word), but there are signs of an evolution in Rodgers' team in that direction.
Henderson, Milner, Ibe and even Firmino are all players who favour more a vertical pass or direct run.
It is also interesting that there seems to be more of an inclination to move the ball forward with greater purpose and urgency in midfield.
So, whilst it would be premature to imagine Martin Skrtel launching the ball from the back toward the general direction of a big centre-forward, or Liverpool suddenly directing play to the flanks to allow Moreno or Clyne to whip balls into the box as a common tactic, there may be a perceptible change in the Liverpool approach, and Benteke could form a part of that.
It will probably be a case of Benteke adjusting to Liverpool and Liverpool adjusting to Benteke in equal measure.
Whether Liverpool and Rodgers can afford such a settling-in period, particularly with such a brutal early-season fixture schedule, only time will tell.