After a difficult first season at Liverpool, Danny Gallagher looks at the task ahead to turn his Anfield career around facing Dejan Lovren.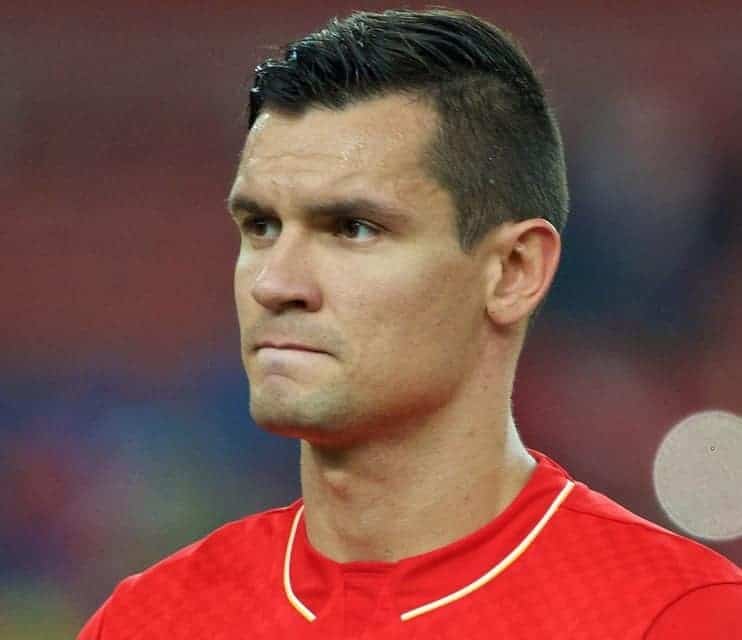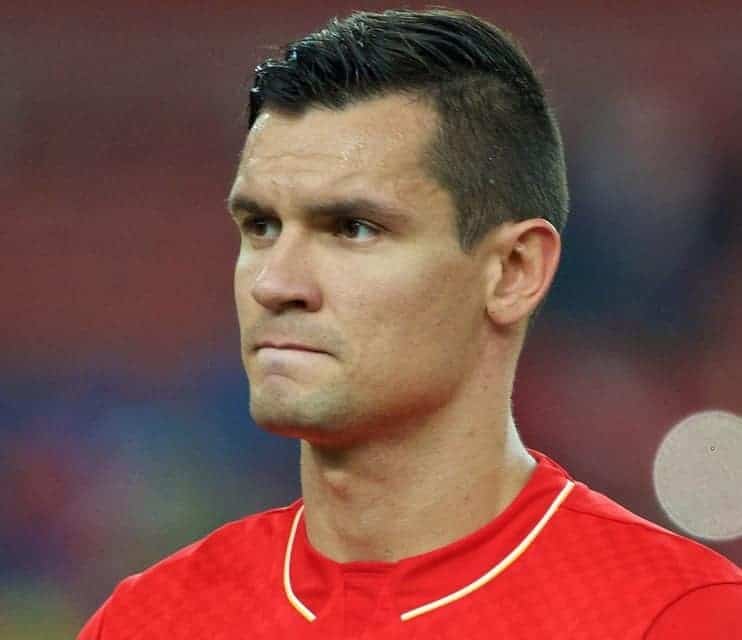 It must have been a strange feeling for Dejan Lovren heading into this pre-season. Akin to the first day at school; nerves, apprehension, trepidation.
The irregularity however is that these feelings should have been felt twelve months ago, when the Croatian centre half sealed his headline-grabbing £20 million move to Liverpool, and never again since.
After a season to forget, Lovren wouldn't be far wrong in preparing to start from square one – with a starting XI to break into and a statement to make.
Dismay
Whereas most players will have left for the summer break with hazy recollections of the season's finale, and aims in mind for the coming campaign, Lovren no doubt had nightmarish flash-backs of the Anfield bench, intertwined with an sickening image of his 30-yard effort against Aston Villa in the dying moments of the FA Cup semi-final — a shot which is rumoured to still be rising somewhere over Barnet.
Second chances are scarcely given at elite tier football clubs and Lovren now finds himself firmly, and rightly so, in the last chance saloon.
Many players are familiar with this feeling — players like Mario Balotelli have lived much of their careers in the last chance saloon, so much so they should have their names etched above the door as the sole proprietors. But stay too long and the status becomes difficult to shake.
Opportunity
As the Reds landed in Thailand to begin the first leg of their 2015 pre-season tour, the time to stake an early claim and catch the manager's eye had arrived.
Did anyone take their shot? Jordon Ibe and Adam Lallana both looked impressive. Worryingly for Lovren, so too did young newcomer Joe Gomez.
After a stop-start Liverpool career, marred with inconsistency and head-in-hands errors, Lovren will be acutely aware that the arrival of fresh faced Gomez along with the returning Tiago Ilori does his starting prospects no favours.
As the defence takes on a reassuring look of balanced personnel, pre-season isn't merely an opportunity for the lads to top up their tans and greet the club's passionate global following — it's an opportunity to make a claim for a coveted first-team place and carve an understanding among colleagues.
With only weeks until the start of the Premier League season, time for Lovren may be running out. It's not the easiest challenge to force your way into a manager's defence during pre-season, yet it is a different beast altogether when attempting to do so part way through the campaign; a neigh-on-impossible task.
A solid back line breeds team stability and is much less prone to be altered than a midfield or attacking ensemble.
Lovren may be running to board a ship which has long since set sail, but should Liverpool fans hold a flicker of hope for the 26-year-old?

December 2013
"I don't see many centre backs I'm impressed with – but Lovren of Southampton is my signing of the season at this point… He's the one I've been most impressed with…he's been absolutely brilliant the way he has marshalled that back four – we talk about players needing time to settle in but he has hit the ground running."
These were the words of former Manchester United defender Gary Neville as he joined Jamie Carragher and fellow pundits gathered around the Sky Sports football desk to discuss the 2013/14 season thus far.
Lovren's Southampton career got off to a storming start with the Croat firmly establishing himself as one of the league's stand out defenders alongside partner Jose Fonte. The duo conceded only two goals in their first six games and were integral in catapulting the Saints to top four contention.
Rise and fall
Many Kopites were rightly optimistic when FSG dipped into the coffers to part with the tidy sum of 20 million for the defensive revelation, with whispers doing the rounds that this could be the man to fill the leadership roles previously demonstrated by Sami Hyypia and Carragher.
If debuts are anything to go by, Lovren didn't disappoint. Registered just in time for the final preseason fixture of 2014/15 at home to Champions League finalists Borussia Dortmund, the Croat had only managed to put in one training session with his new colleagues before being thrust onto centre stage.

Echoing Neville's praise, Lovren again took to his new role like a duck to water, standing solid in a tight back line as the Reds stormed to a comprehensive 4-1 victory. As if the score line wasn't enough, Lovren's athletic rise and powerful header which rippled the back of the Anfield road net capped a hugely promising start for the 26-year-old.
Defensive stature since that point doesn't bare thinking about, as a spate of ill form spread across the back line, hampering the confidence of the likes of Lovren along with goalkeeper Simon Mignolet.
Last chance saloon
Looking to put last season firmly behind him, Lovren put a solid 45 minutes in against the True Thai All Stars in early July, albeit exerting more energy in dealing with the monsoon conditions than the lacklustre Thai forward line.
Coming back into the squad to feature against Adelaide United, Lovren again put in a comfortable showing – yet was once more outshone by Joe Gomez's left-back prowess.
There is a special place in football reserved for certain characters who gather a mythical following of parody and hysteria. Just ask Nicklas Bentner, Titus Bramble or Emmanuel Eboué – I bet each of those would give a fair few quid just to be taken seriously as professional footballers again.
That isn't to say Lovren finds himself in such company, and those who may consider him to be so are incredibly blinkered.
Yet the Croat is perhaps one more nightmare season from an irreversible fate. The former Zagreb, Lyon and Southampton defensive stalwart has overcome many obstacles in his career, but none as great as the one at present.
Time to step up to the plate or fade into mediocrity.