Barcelona forward Pedro has been linked with a move to replace Raheem Sterling at Liverpool, and Jack Lusby thinks this would be a significant signing for the Reds.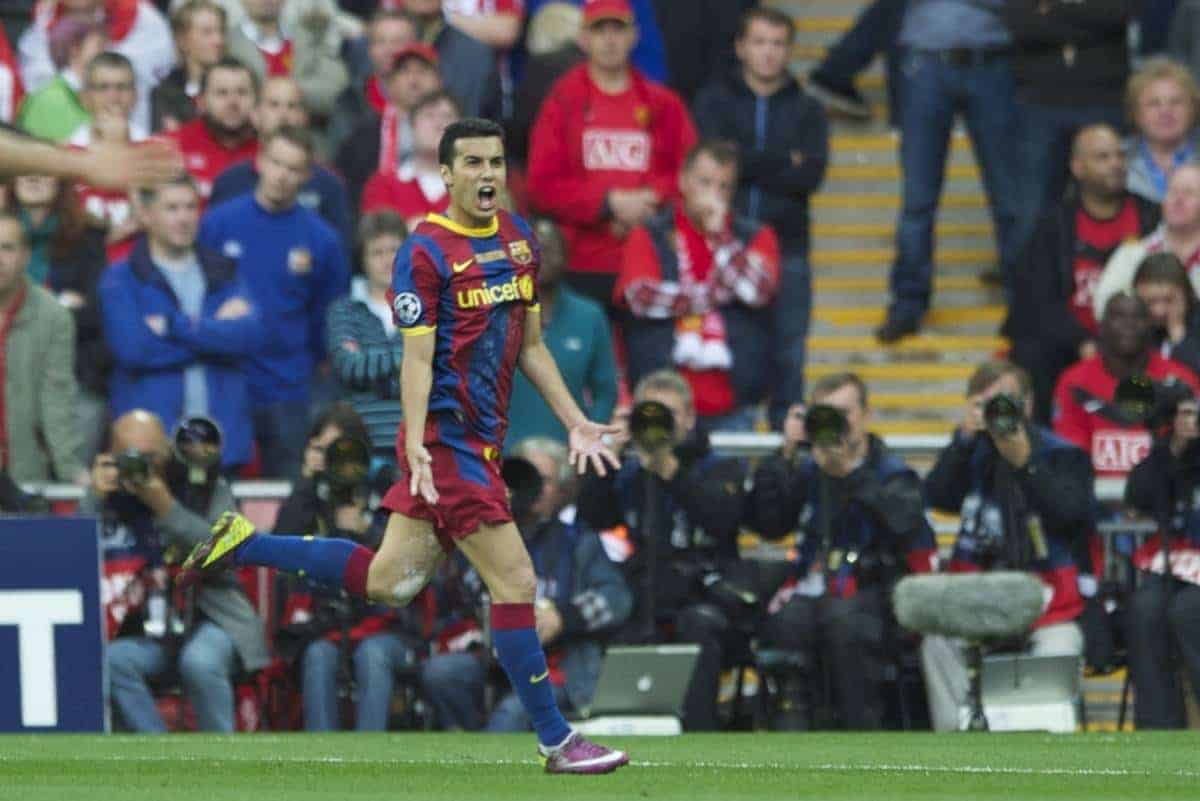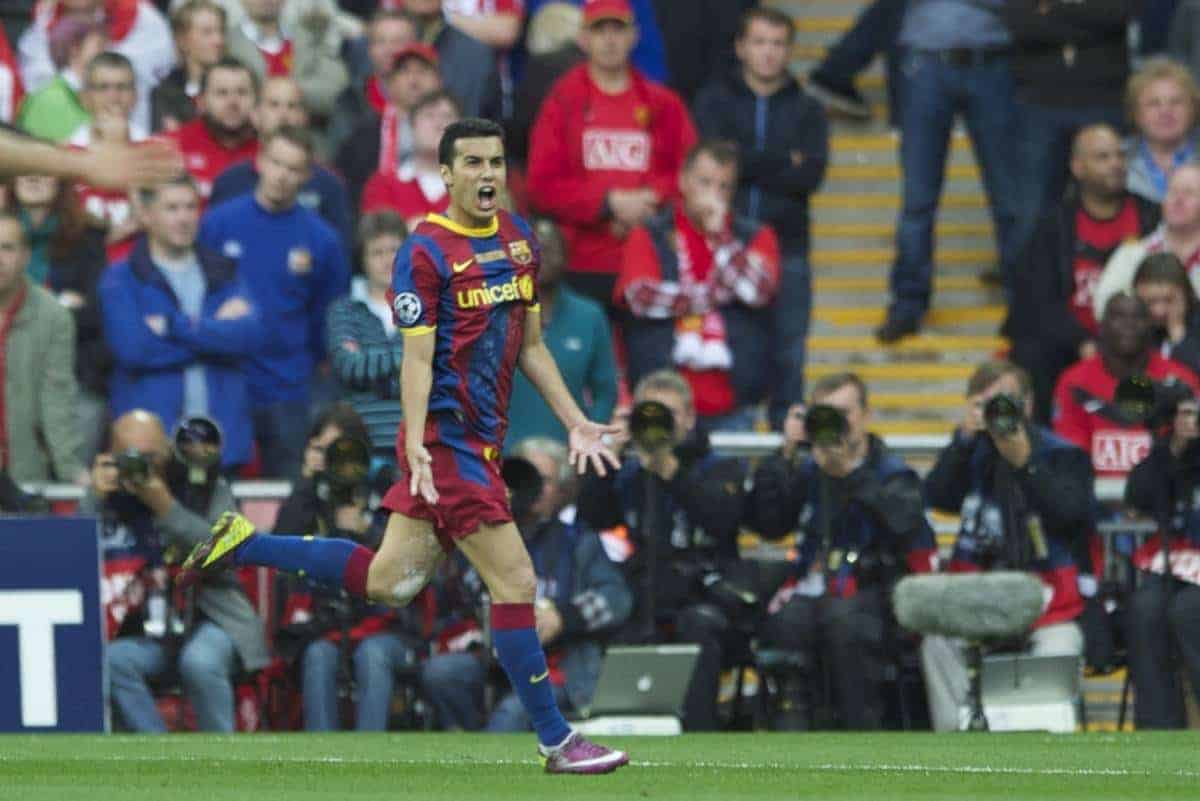 With Raheem Sterling inching closer and closer to the Anfield exit, the Reds have been linked with a move for Barcelona forward Pedro.
Andy Hunter of the Guardian writes: "Pedro is a possible target despite only recently signing a four-year contract with the European champions."
The 27-year-old is seemingly on the verge of a switch to the Premier League every summer, but with Liverpool stepping up their recruitment drive this summer with ambitious signings such as 1899 Hoffenheim's Roberto Firmino, the likelihood is increasing.
With Sterling valued at £50 million, the Reds would certainly have the funds to push through with a move for Pedro.
If they did, it would be a truly significant signing for Liverpool.
Pedro Rodriguez
Since coming through the Barcelona ranks to the first team in 2008, Pedro has established himself as the Catalan club's utility-man extraordinaire.
In his eight seasons in the first team, Pedro has made over 200 La Liga appearances.
He is synonymous with the Barcelona attack—although he has never been its star—and has interchanged phenomenally with the likes of Lionel Messi, David Villa, Thierry Henry, Alexis Sanchez, Samuel Eto'o, Luis Suarez and Neymar Jr. during his time at the Nou Camp.
It was only by chance, however, that he came to sign for Barcelona.
With scouts sent to Tenerife to watch fellow forward Jeffren Suarez, they were asked by a club contact while spending time in the city whether they were taking Pedro to Catalonia too—"Who is Pedro?" was their response.
Jeffren now plays for Real Valladolid, after accumulating only a handful of appearances per season for Barcelona between 2008 and 2011.
He's a middling talent, but Pedro has blossomed into an invaluable player.
[pull_quote_center]Pedro has become vital for us, absolutely fundamental. He is a role model, a great. He always exceeds expectations.
If Pedro was Brazilian, he'd be called Pedrinho and we wouldn't have enough money to afford him.
– Pep Guardiola, 2011[/pull_quote_center]
Pedro is the type of player Brendan Rodgers cherishes: hyper-talented yet humble, full of flair yet extremely hardworking.
If he is looking to replace Sterling with the 27-year-old, this would be an ingenious move.
[pull_quote_center]My job is to go outside and create width. Or come in between the centre-back and the full-back.
I have to fill in the space quickly, coordinate with the midfielders and make sure no one runs a counterattack on us.
– Pedro, 2011[/pull_quote_center]
His style of play would compensate for the loss of Sterling perfectly. Able to cut inside and trouble the centre-backs or drive towards the byline to drill crosses into the penalty area, he is an elite wide forward.
Importantly, too, Pedro is a goalscorer.
In 204 La Liga games, he has scored 58 goals, as well as making 46 assists.
Regularly utilised as a substitute—with 20 of his 35 league appearances in 2014/15 coming from the bench, for example—his average of a goal contribution every 117 minutes is remarkable.
Of course, playing in a team with the likes Messi, Suarez, Neymar, Henry, Villa, Eto'o and Sanchez will have aided this productivity, as well as largely eliminating the defensive work that would be required in Rodgers' Liverpool side.
But nevertheless, Pedro is a top-class talent, and one that Liverpool should pursue if Sterling is to leave this summer.
A Problematic Deal
Whether Pedro would be a good signing for Liverpool and whether he would sign for Liverpool are completely different matters, however.
Pedro joined Jordi Alba in signing a new Barcelona contract this summer. The deal would take him up to 2019, when he is 31, and includes a buyout clause of £110 million.
In the Premier League, signing a contract of this magnitude would likely signal a player's intention to stay at a club.
However, as the forward announced earlier this month, not everything is cut and dried in La Liga.
[pull_quote_center]It is obviously a delicate situation. [When pre-season starts] we have to see what is the best for everyone.
Now I just think about resting and enjoying the final few days of my time off.
– Pedro, 2015[/pull_quote_center]
Pedro's "delicate situation" is likely his role in the Barcelona squad.
Following the arrival of Suarez from Liverpool last summer, Pedro has been wholly marginalised. The Neymar-Suarez-Messi trinity stands as the best attacking line in world football, and quite rightly Luis Enrique is reluctant to break from this.
So it could be that Pedro follows Sanchez and leaves Barcelona this summer.
But, with his new contract, would a deal be feasible for the Reds?
Clearly he wouldn't be sold for anywhere near his £110 million contract valuation, but he would still require a considerable transfer fee.
Furthermore, would he swap Champions League football for a top-six Premier League battle?
Unappreciated at Barcelona, Adored in the Premier League?
Last summer, Suarez's arrival signalled the end of Sanchez's Barcelona career.
Arguably, this was due to the Chilean tiring of the bit-part role on offer at the Nou Camp—as his talent demands key-player status.
Now at Arsenal, Sanchez is the Gunners' star; their campaign button. He played the third most minutes of any Arsenal player last season and, with 34 of his 35 Premier League appearances, made the second most starts.
He is a bona fide Premier League star, finally at a level that matches his talent.
Rightly, he thrived in his first season in England, too. He scored 16 goals and made eight assists, taking to the physical nature of the Premier League immediately.
Could Pedro be looking for that situation this summer?
If the 27-year-old joined Liverpool, he would be Rodgers' first choice—replacing Sterling—and would start as many games as is physically possible. He would join Firmino, Philippe Coutinho and Daniel Sturridge as the stars of Liverpool's attack.
The boost that Firmino provided to Reds supporters and players alike would be twofold if Pedro arrived from Barcelona.
Pedro has the talent to be a key man in Rodgers' attack, and with the Reds' interest seeming genuine, he is likely to have a route away from the Barcelona bench if he wants one.
He would lift Liverpool to the next level—Pedro is a must-sign player.
[interaction id="559d1cc1529840a30eaa3579″]