After a great start to the Premier League season for Liverpool, Karl Matchett assesses where they stand against their top-four rivals.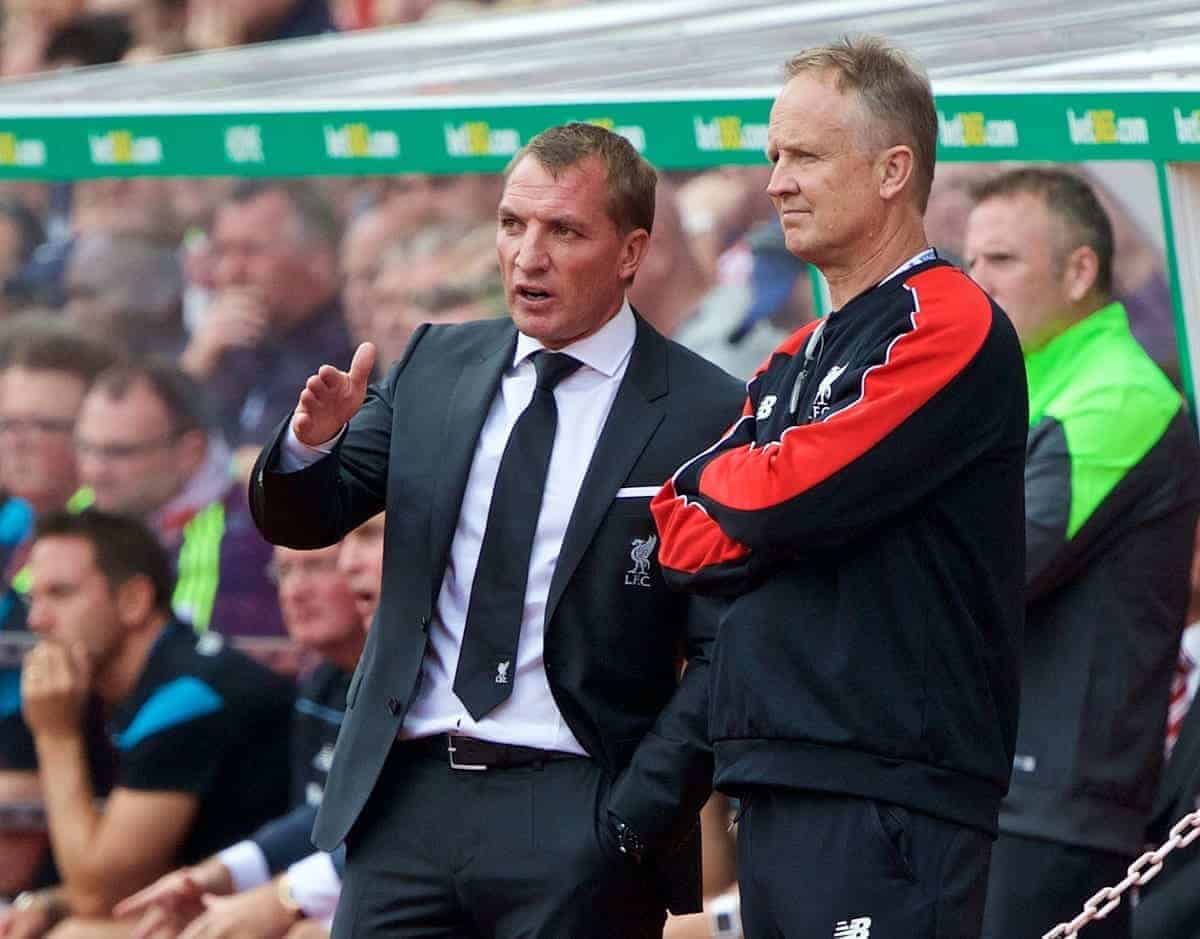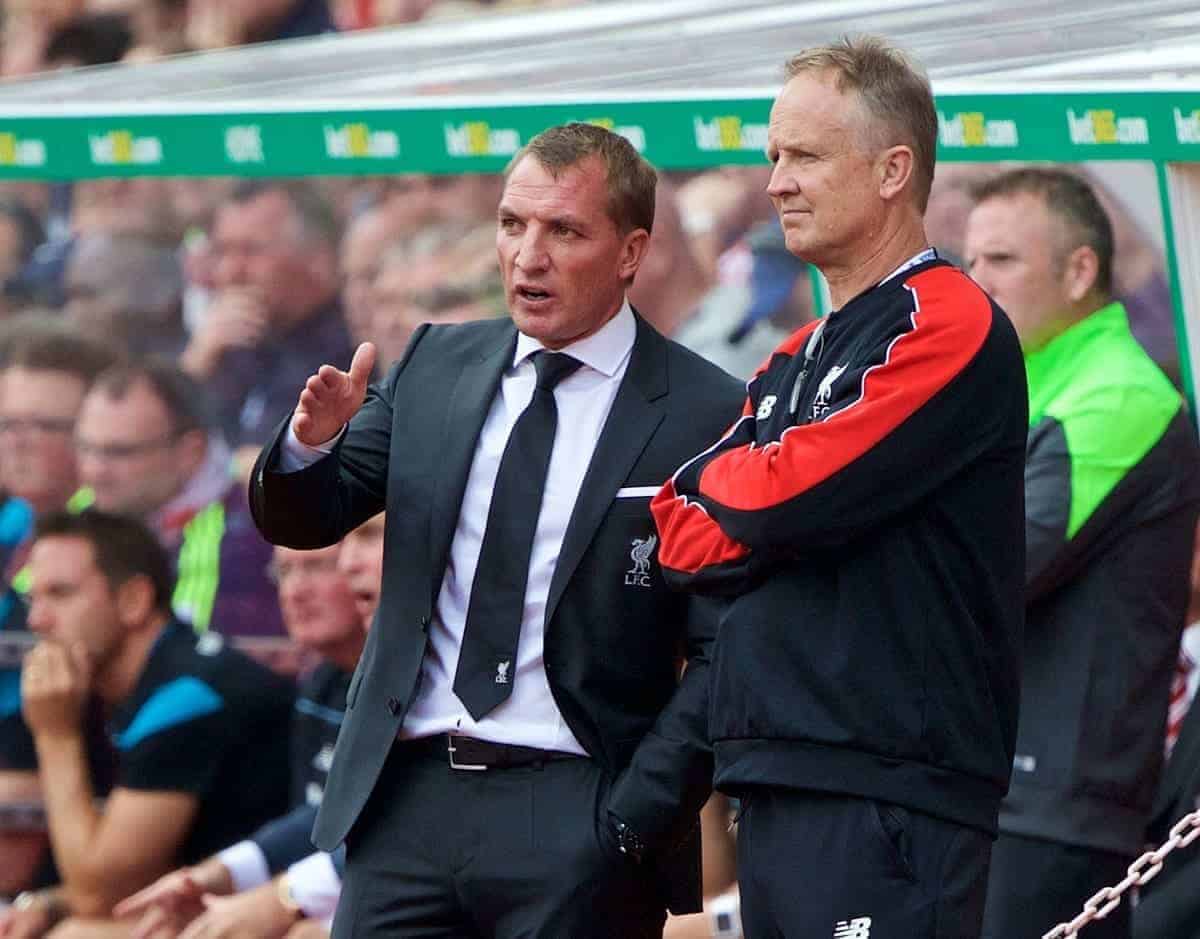 A couple of matches into the new Premier League season and already conclusions are being drawn over who is good enough and who isn't, who'll be sacked and who will be player of the year and, of course, which transfer targets certain clubs were after and failed to get. And definitely didn't want anyway.
Analysing Liverpool over the past year or so has often been a painful experience, especially when compared to teams who were seemingly putting better plans in place, or at least executing less interesting game-plans in a more effective way than the Reds were managing.
This term has started with six points and close to zero excitement, but it's only two games in and so much will of course change—for better and for worse.
Perhaps especially this early, though, with the league having started but the transfer window still a little over a week from closing, now is the first opportunity to compare Liverpool to other top-four hopefuls and identify where the race might be close, where the teams match up against each other and who might be giving clues as to why they should be considered slight favourites to finish higher.
Assuming title-holders Chelsea and the massively improved Manchester City are both guaranteed a top-four finish, let's look at how the Reds compare to Manchester United, Tottenham and Arsenal, with the latter being especially pertinent as Liverpool's next opponents.
Early Season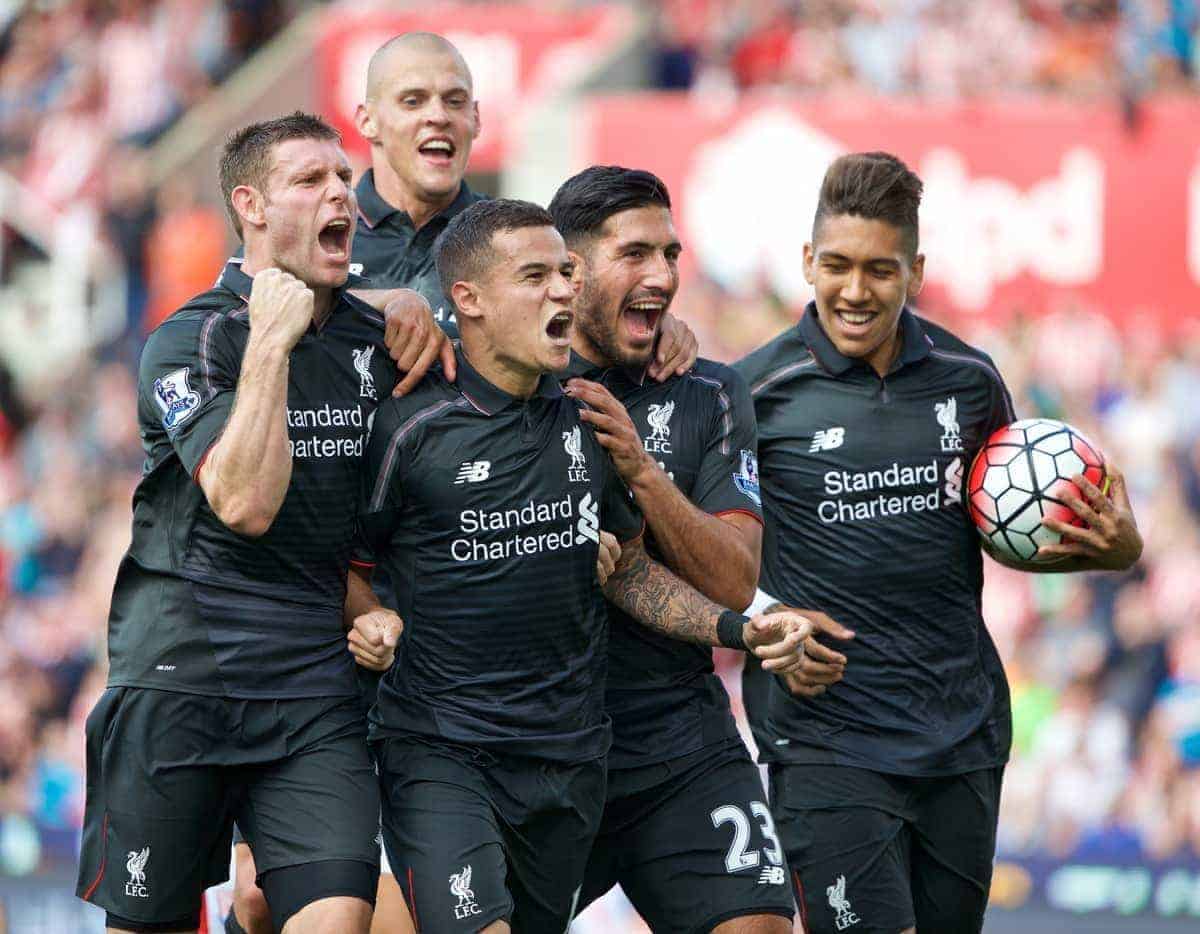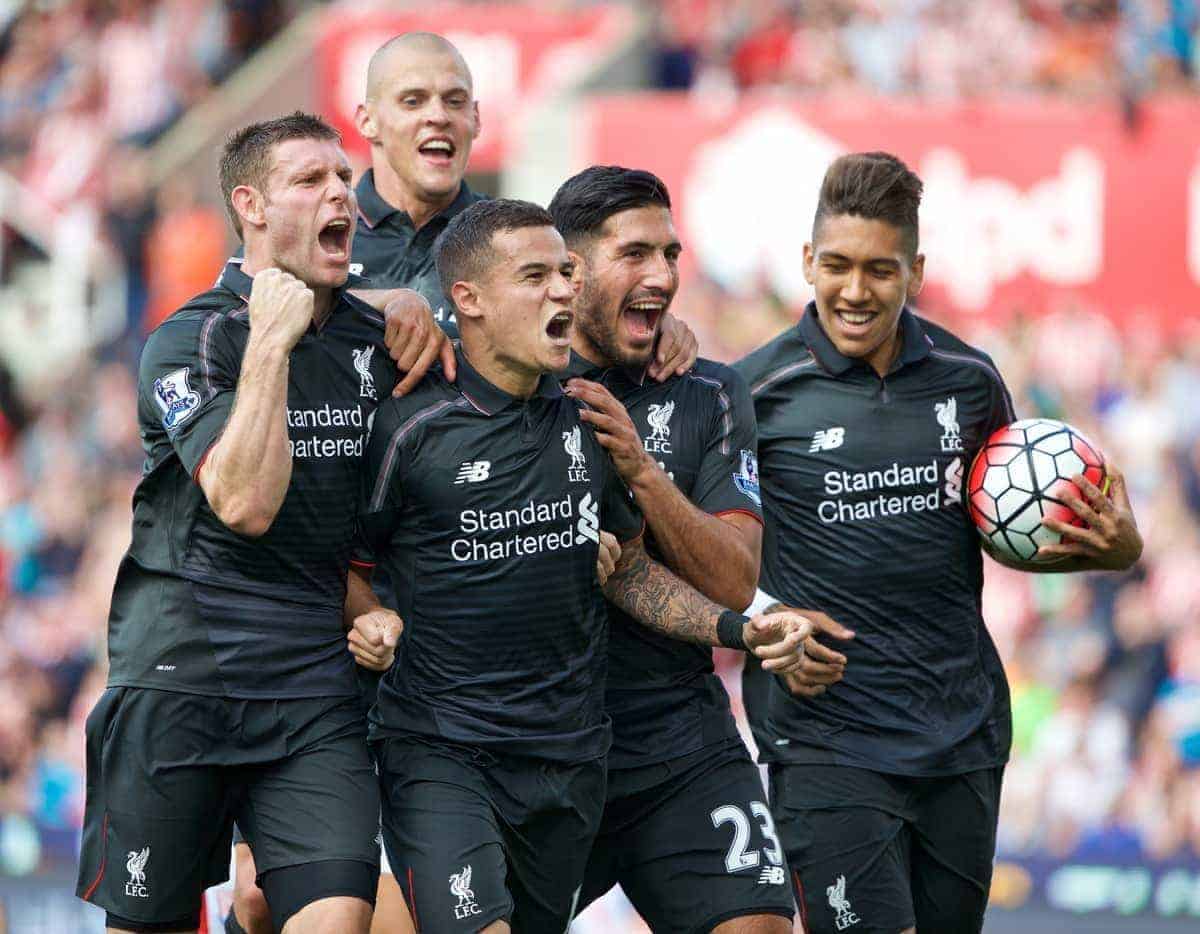 The season itself kicked off with two of those teams facing off against each other; United beat Spurs at Old Trafford, 1-0, in a game of few opportunities and little quality in the final third. Chances were at a premium and it wasn't necessarily as a result of defensive excellence; rather, both sides struggled for any real movement in attack and up-tempo build-up play. An own goal settled that match.
United took another 1-0 win in their next game, seeing off Aston Villa in a match they had more control of but again didn't exactly overwhelm the opposition, particularly after going ahead.
Spurs, meanwhile, compounded a frustrating start to 2015-16 by throwing away a two-goal lead at home and drawing 2-2 with Stoke City. They had looked by far the more likely side for more than an hour but collapsed completely once the Potters got back into the match by way of a penalty.
Arsenal's opening-day defeat was a shock as they lost 2-0 at home to West Ham United, before bouncing back with a 2-1 win at Crystal Palace. The Gunners were impressive in spells in that second match, having been lethargic and sloppy on the opening day.
Liverpool, of course, have mirrored United: two 1-0 wins with little in the way of all-guns-blazing offensive football, a little luck along the way and a few frustrations in their overall play.
Systems and Traits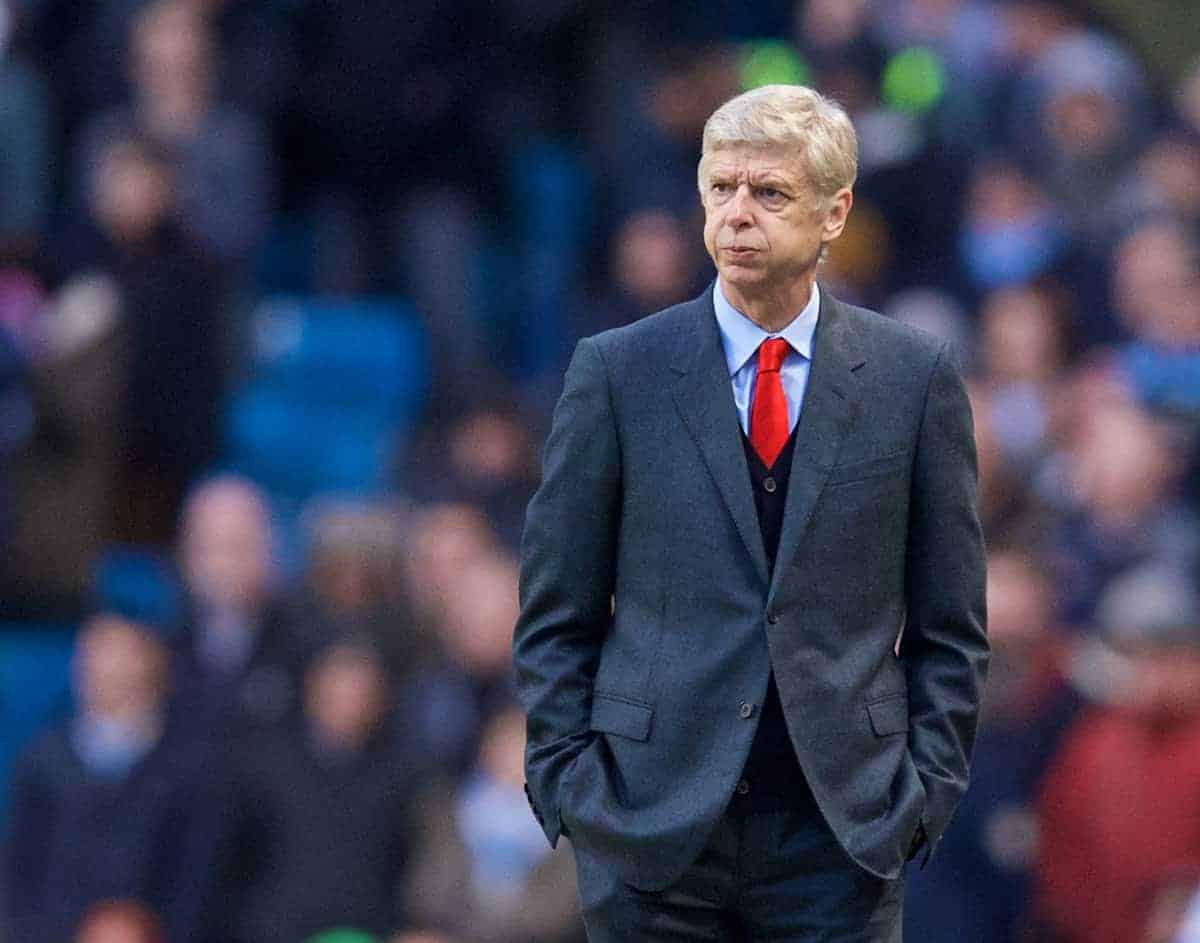 What is immediately noticeable about each of the four sides is that they (as well as Manchester City and Chelsea) have all begun the new season utilising a 4-2-3-1 system, even those who didn't play it during pre-season—Liverpool and City, for the most part.
With United and the Reds both having utilised a variety of base systems last term, it's quite a departure from the norm to have all the top teams using identical platforms at this stage.
An early attempt to provide points on the board and solidity before experimenting further, or a nod toward it being the go-to system of success in England over the past few seasons? Chelsea use it almost exclusively, Arsenal have won the last two FA Cups using it more than any other system and City have flitted between that and a two-man attack for several years.
We'll see as the season goes on which it is: fixation or fluctuation.
In looking at whether the Reds have what it takes to compete with—and above—these sides, a good place to start is where those teams have tended to focus their energies in the match and, particularly with Arsenal, whether Liverpool can both stop and exploit them.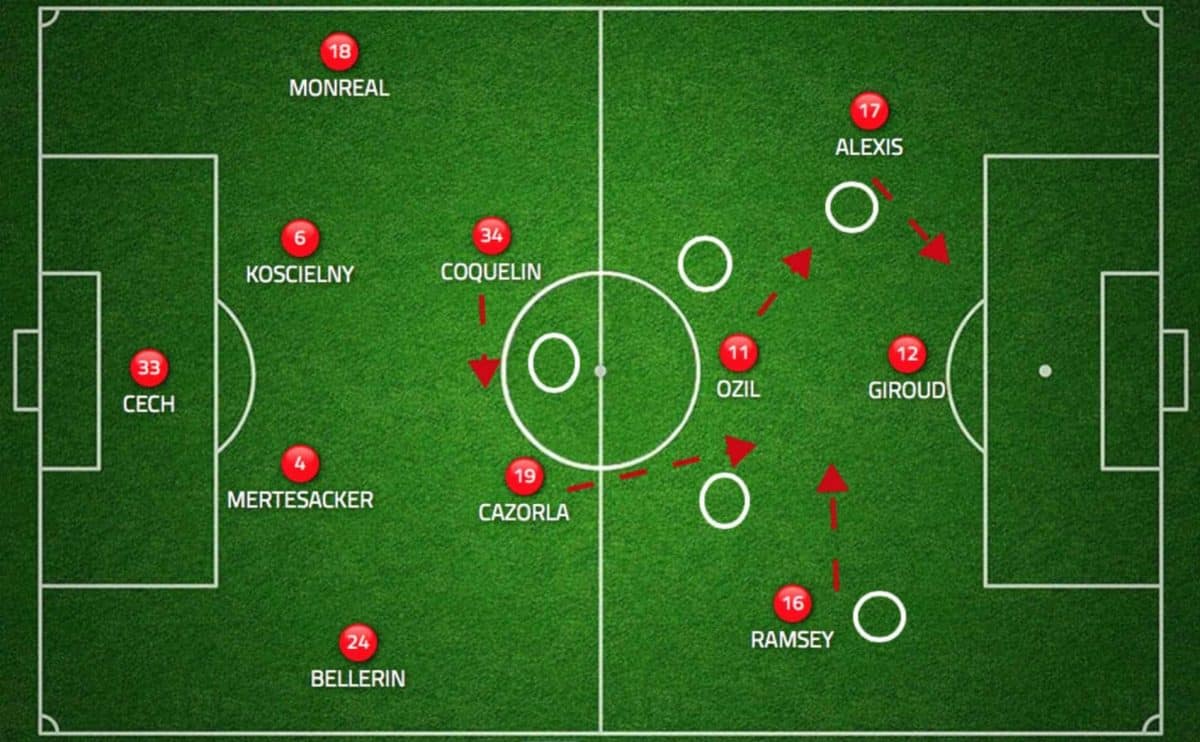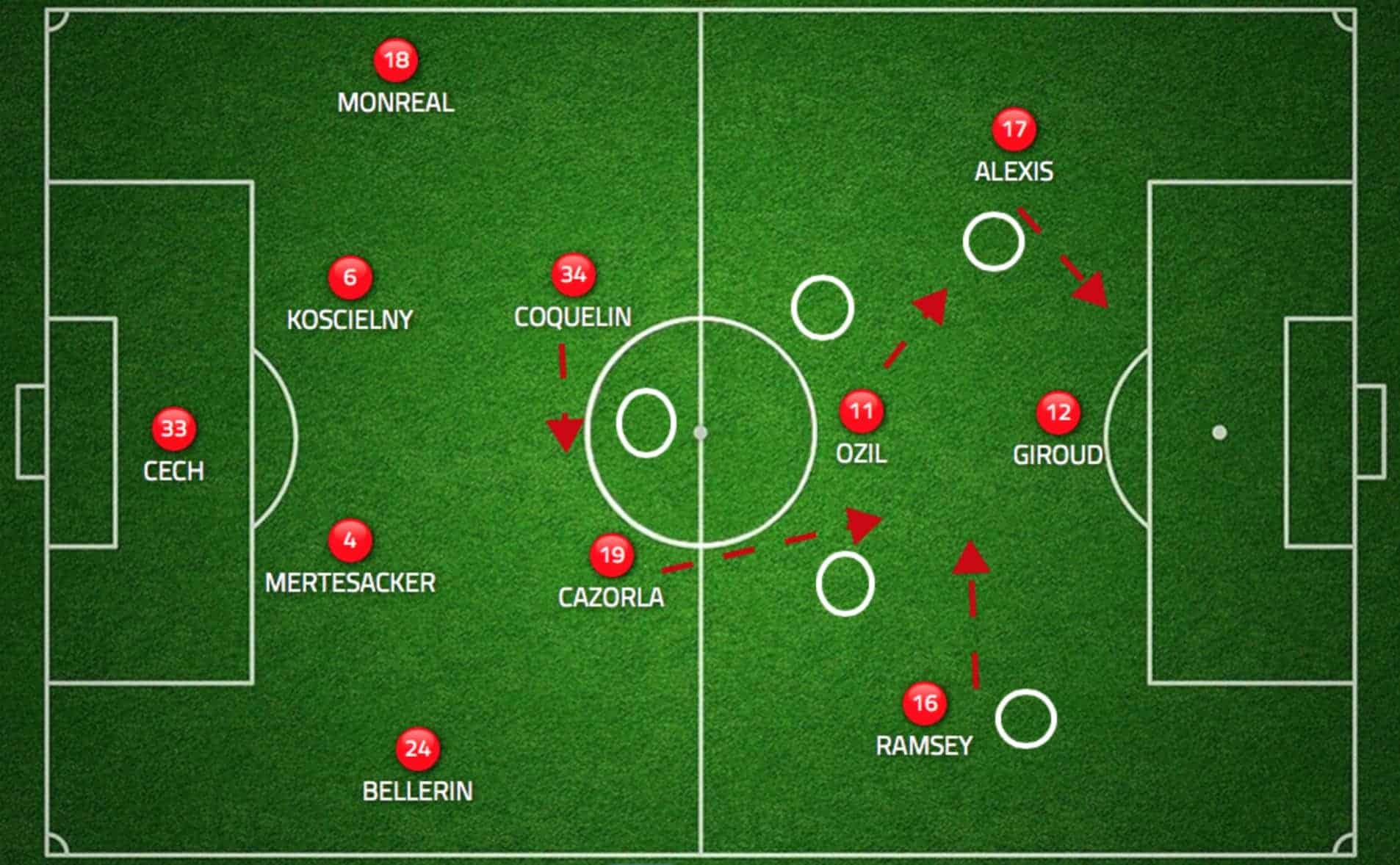 The Gunners have switched personnel a little in the opening matches, but the basic responsibilities and roles are the same.
It's as we have come to expect: lots of emphasis on recycling play in midfield and movement in the final third—though the majority so far has been geared toward the left channel, with Mesut Ozil's natural inclination to pick the ball up that way and Santi Cazorla also pushing on through the middle.
Aaron Ramsey starting "wide" right against Palace also meant he vacated the channel with some frequency, leaving room for the pacy Hector Bellerin to roam forward.
In fairness, while Arsenal's movement in attack could potentially be a problem, the fact that it comes down their left channel—Liverpool's right—is a potential blessing.
Not wishing to launch any more criticism the way of Dejan Lovren, the Reds' clear first-choice partner for Martin Skrtel right now, it's a simple fact that the majority of goalscoring chances Liverpool have given up this season have come down his channel, either by Lovren starting out of position or by being too hesitant and indecisive to actually take command of a situation and make an intervention.
On the flipside of Arsenal's talented attack, the Reds have kept two clean sheets so far, thanks to a combination of Simon Mignolet, generous refereeing and quite obviously better organisation in the team as an entire unit.
The latter, of course, is related to the lowered amount of excitement at the opposite end of the field.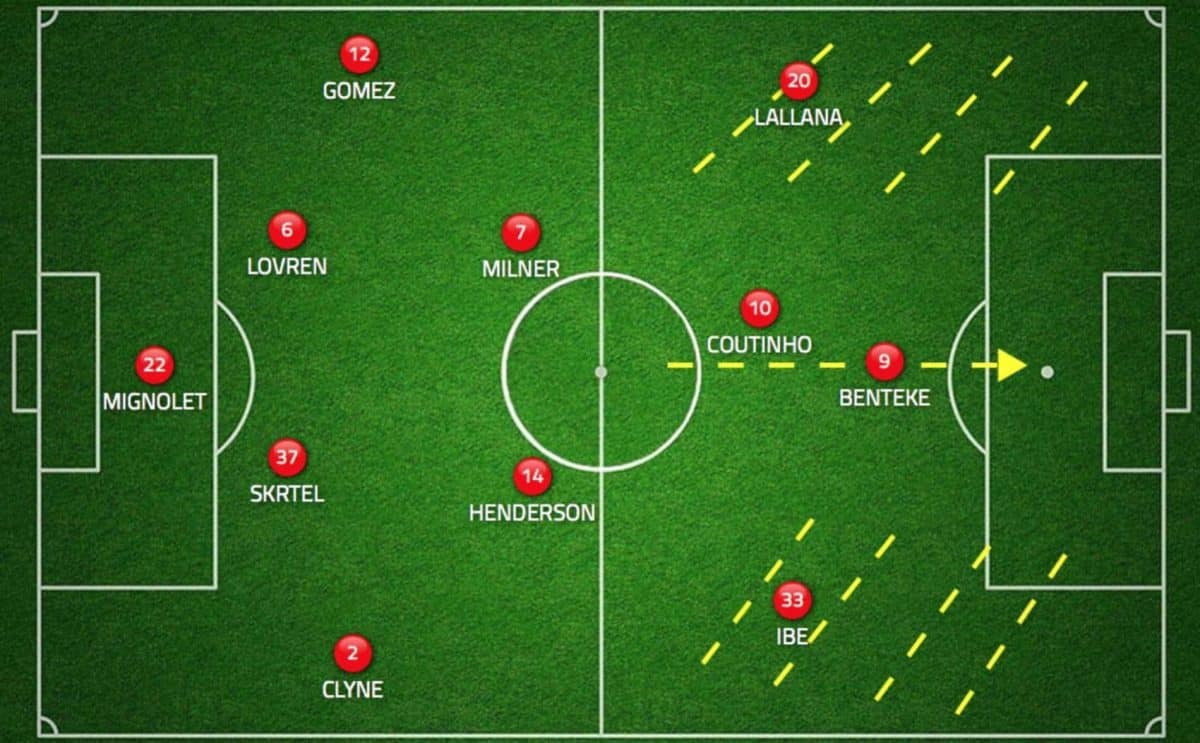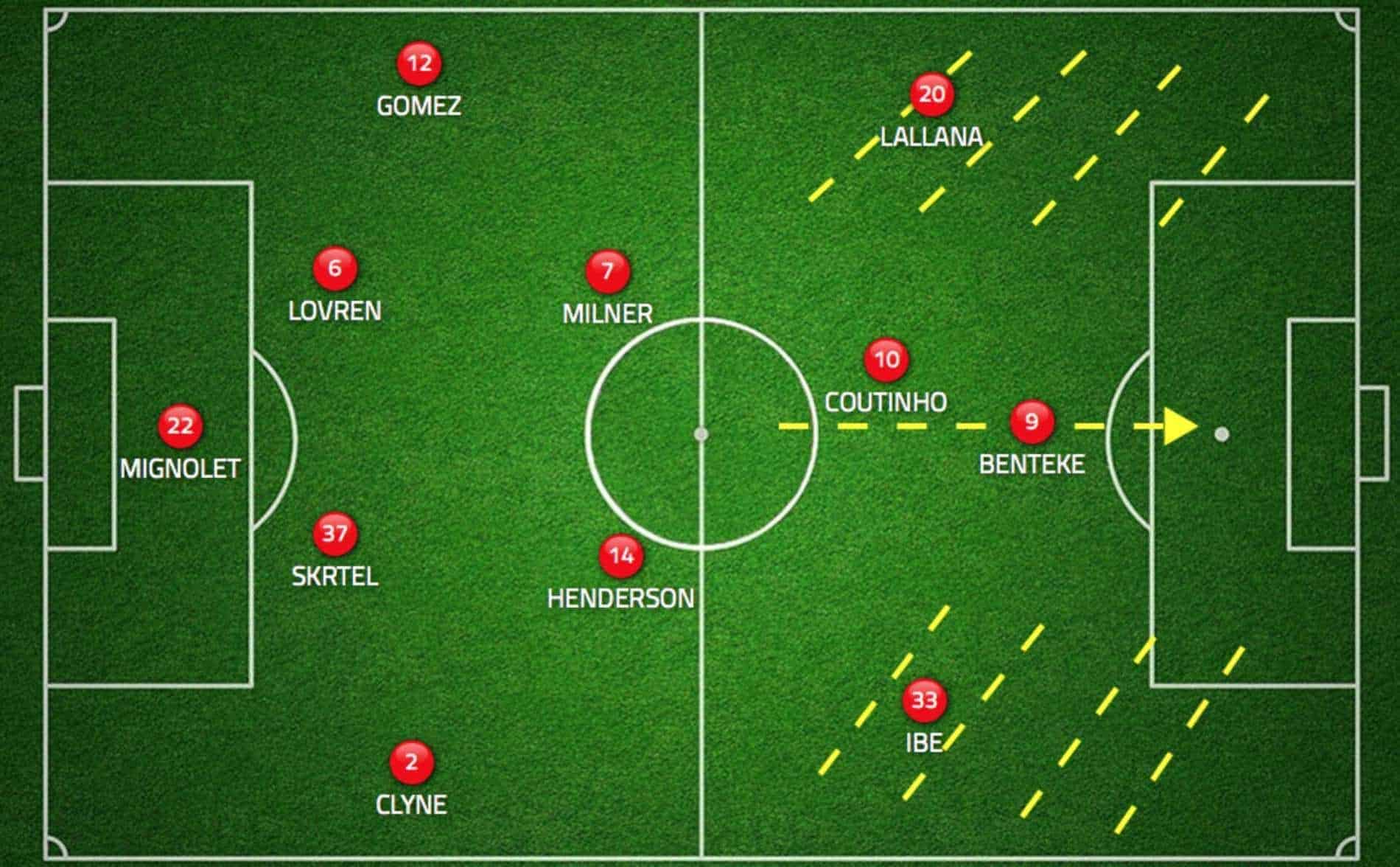 The shaded channels of the pitch have habitually been key areas for Liverpool to exploit opponents under Brendan Rodgers, with very fast exchanges of play between full-backs, wide forwards and onrushing central midfielders, be they from the two (offensive) central men in a 4-3-3 or the tip and respective sides of a diamond.
Right now, with just one player (Philippe Coutinho in the first game, Adam Lallana in the second) playing as an attacking central option, there is a lot more stress placed on that creative player linking with the striker and also being the support for the wide players.
Neither Lallana nor Jordon Ibe have been at their best in the first two fixtures, having limited success in one-on-one duels and managing very little end product between them.
The remedy is partly obvious and partly risky against Arsenal: flood the central area on the counter, leaving only one holder in place.
Whether that is to start with a 4-3-3 or to shift systems in and out of possession, with James Milner most likely to press on and become a second central attacker, is for Rodgers to determine.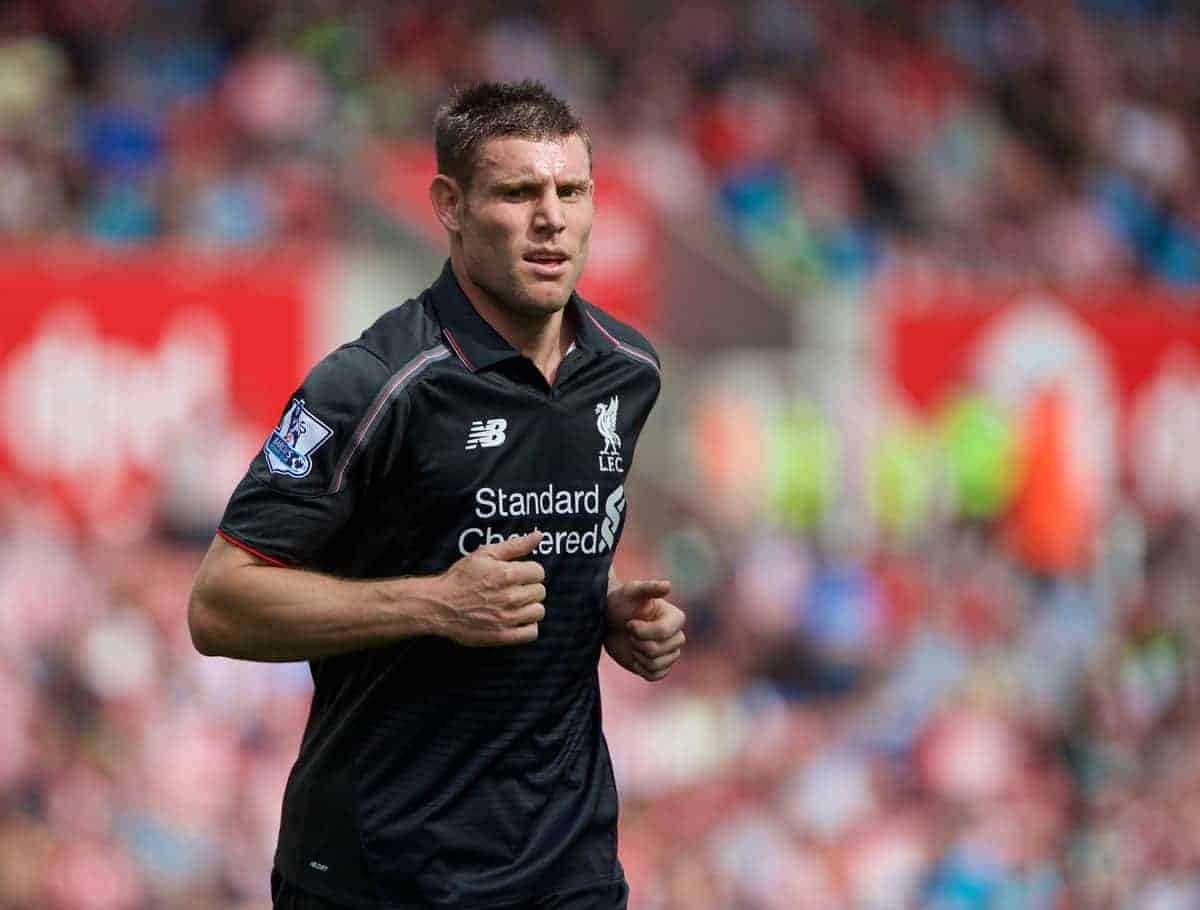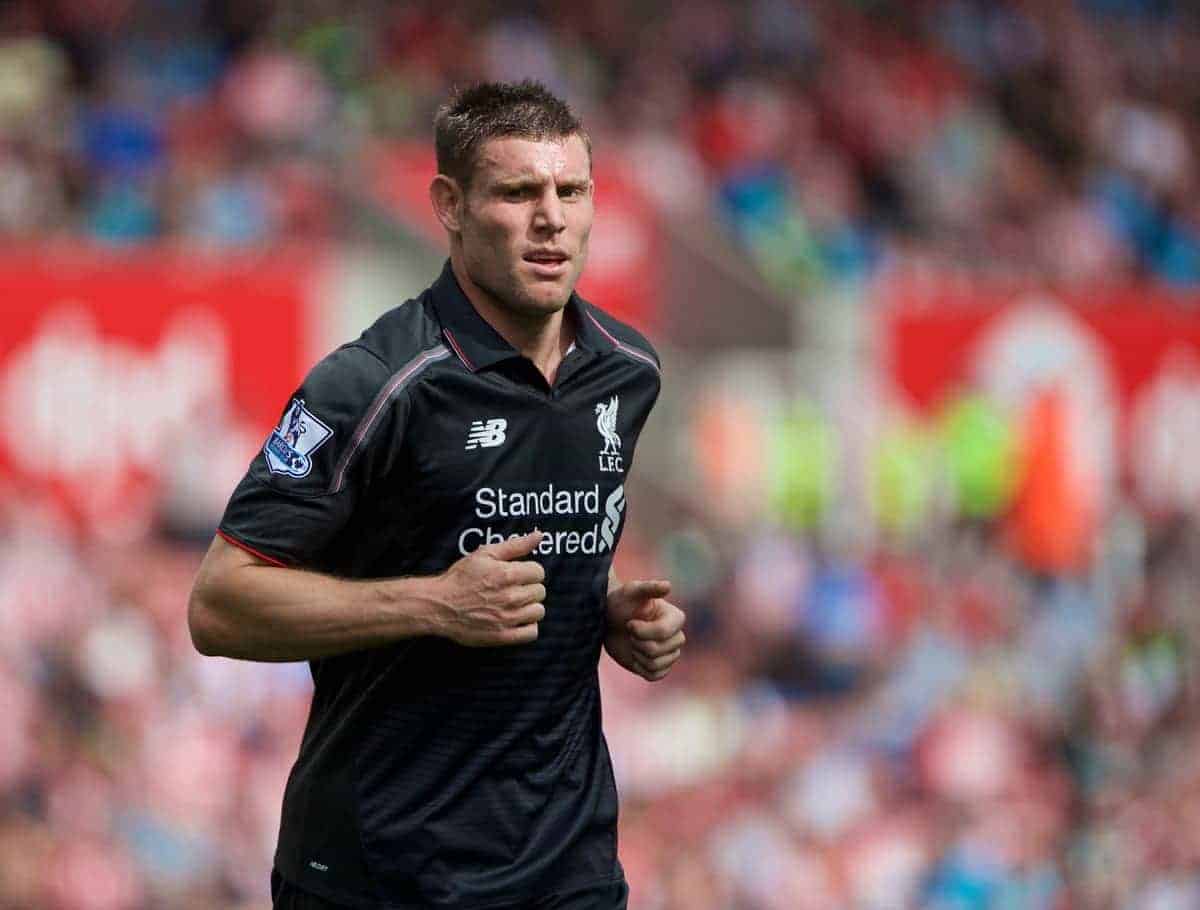 In favour of that from a Liverpool perspective is Arsenal's lingering propensity to overcommit themselves.
Against Palace, away from home and 2-1 up, Arsene Wenger made a series of changes which saw them switch to effectively a 4-1-4-1—see the white circles on their lineup graphic for their midfield set-up late on in the game—leaving Santi Cazorla, of all people, as the single, deepest holding player. That was, of course, after Francis Coquelin had been substituted, being lucky not to be sent off instead moments earlier.
That ability to break forward in numbers, centrally to link with quicker wide players, will be key in Liverpool's ability to create scoring chances against Arsenal.
Other than that, given the current style of play, it will be a case of looking at Christian Benteke to dominate their defence aerially. Open-play build-up has been too slow and predictable so far to assume it can be stepped up a notch or two, even if the likes of Roberto Firmino come in to start.
Depth and Weaknesses
Looking at the other two, they have similar stories to tell so far: relatively solid in defence with suspect left side of centre-backs, problems in attack with penetration and frustrations in the transfer market.

United's main route to the final third has been to let Juan Mata roam in off the right, get the ball to his feet and then search for passes either between the two centre-backs or between centre-back and full-back. Memphis Depay's continual movement will doubtless make this a success sooner or later, but at present their build-up is continually stopping with Wayne Rooney.
Whether he regains form or not, they're likely to go back into the transfer market before it shuts—but an inability to compete at the level they want in the market so far is an indication of the levels of competitiveness of this league and others.
Matteo Darmian is looking an unqualified success and his flank play compensates fully for Mata's propensity to play further infield.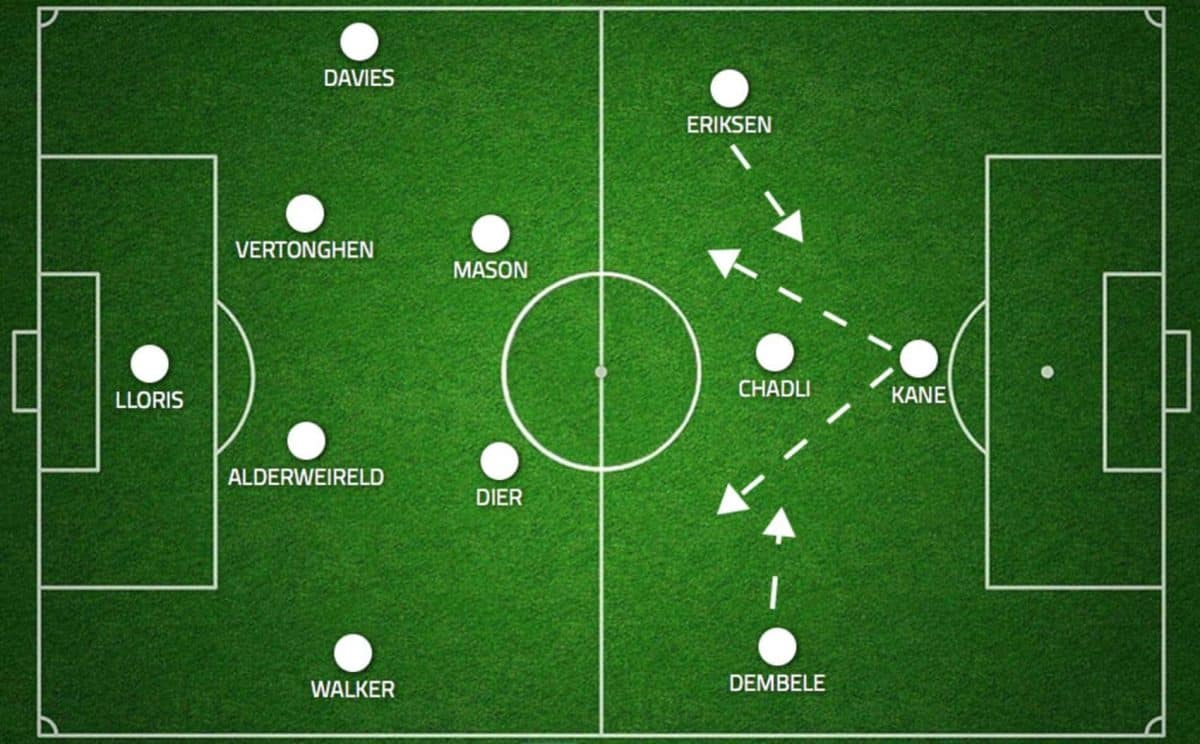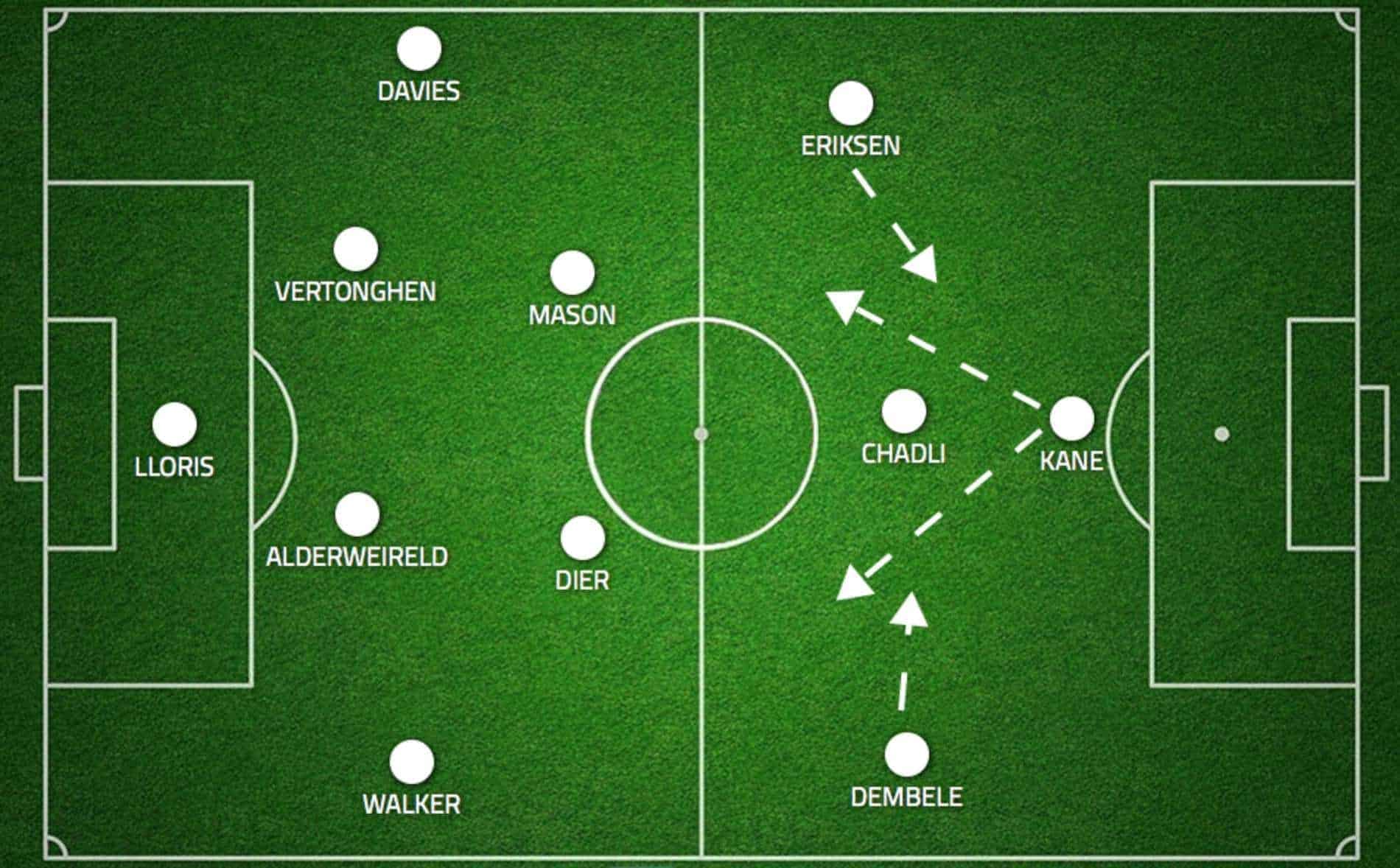 Spurs have a different problem: everyone in their final third wants to play in the same area, just off the striker zone. In itself that's not an issue—as long as someone makes the runs beyond Harry Kane.
The problem is, for most of the United match and all except a brief spell against Stoke, nobody does. Ryan Mason did it once and nearly scored, Ben Davies did it the next time and ended up assisting a goal as a result.
Those runs from deep to break the lines are absolutely critical, both in general tactics and in terms of getting the best out of Kane.
Forget him nabbing 20 goals this season—if they don't buy support forwards to utilise the space he leaves, Liverpool can almost certainly disregard Tottenham as serious top-four opposition.
Liverpool: To Assume or to Believe What We See?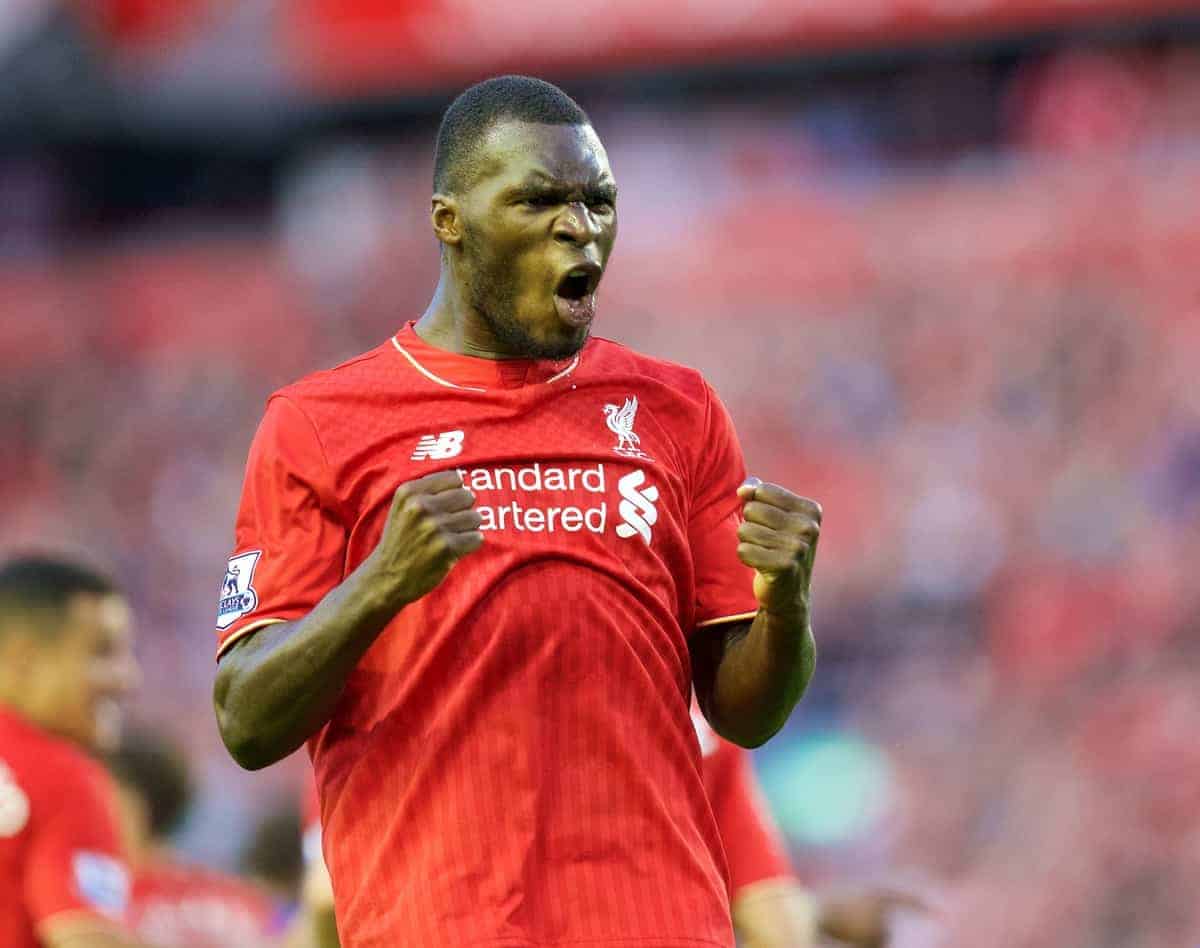 So, back to the Reds.
Functional, pragmatic, uninspiring…joint-top. It's early days, but early days with six points is better than early days with one point and already losing heavily against one of your main rivals.
While no great leaps will come in playing style in a matter of weeks, it's also not true to imagine Liverpool will play this way all season long. At some point, Rodgers has to make the transition from safety and minimal risk to placing more emphasis on chance creation by way of faster, braver football.



There can't be too much doubt that Liverpool have the attacking armoury to trouble most teams' defences, but it's about getting the best combination plays going the most frequently—while maintaining a balance at the opposite end.
At the start of the season Liverpool have just about tipped that balance in their favour even though it has been a close call—but the same outcome against Arsenal would be nothing short of perfection, regardless of style on that occasion.
Perhaps then, with points and confidence both in the bag, things will start to pick up in terms of a swagger about Liverpool's play—because none of the other major contenders can claim anything like perfection at this stage.
This year's top-four race might just turn out to be a case of who dares, wins.