Liverpool captain midfielder Jordan Henderson could miss Monday night's clash with Arsenal through injury. Jack Lusby explores options for cover.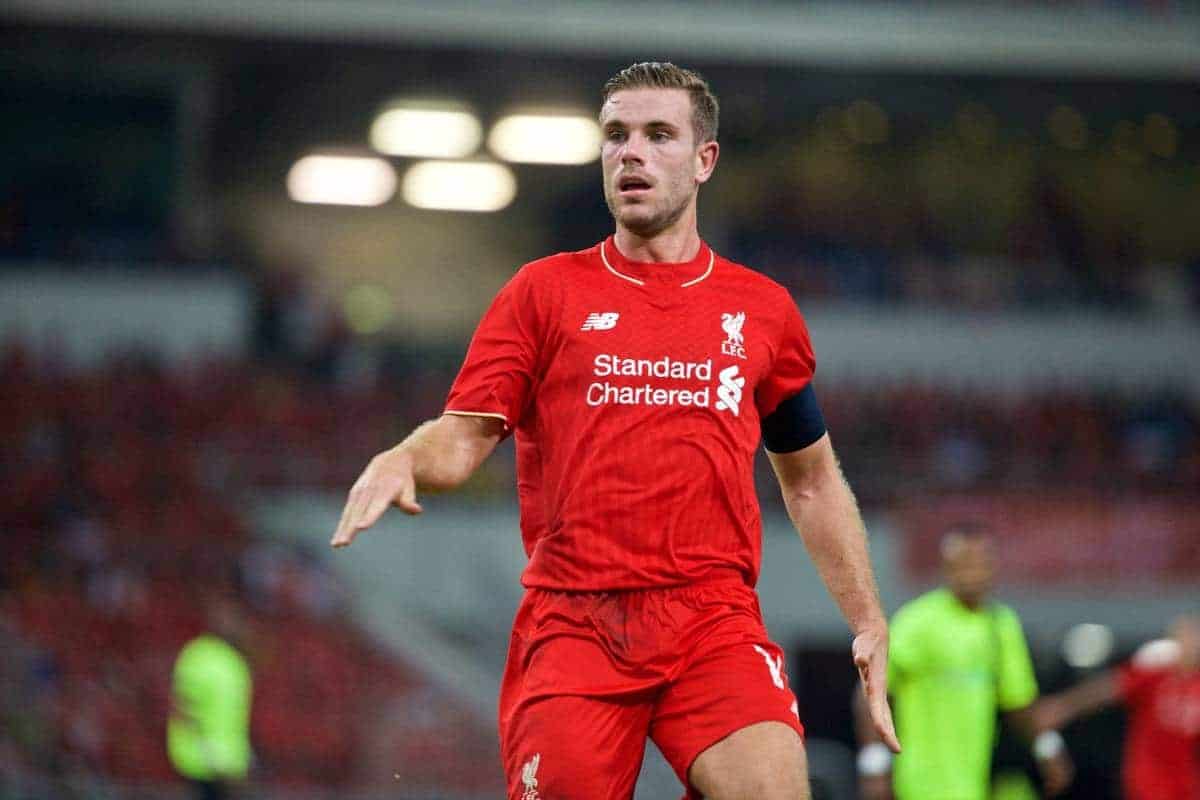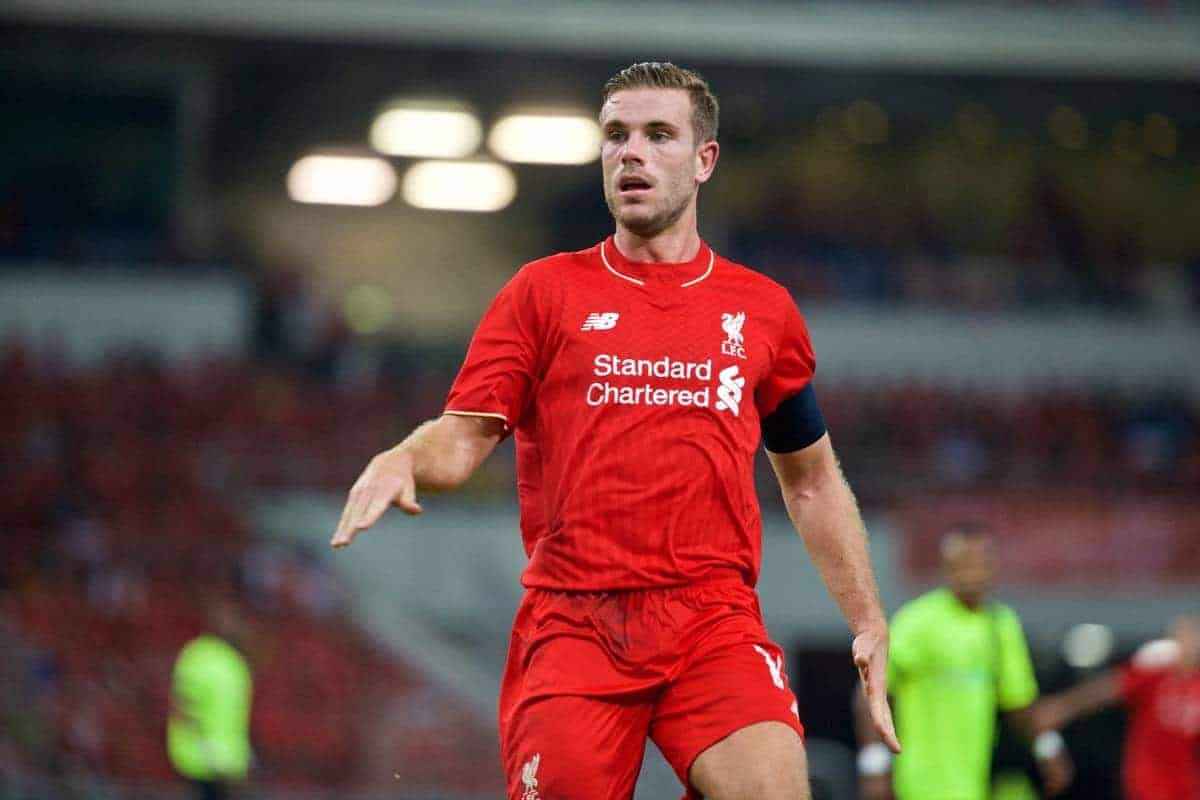 Though Jordan Henderson's injury problem is not as bad as it was expected to be, he could still miss Monday night's important clash away to top-four rivals Arsenal.
The 25-year-old was taken off just after half-time in Liverpool's 1-0 win over AFC Bournemouth, with Brendan Rodgers revealing that "he had a problem with the bottom of his foot [and] he hadn't trained for part of the week."
Named captain this summer following the departure of Steven Gerrard, one of the defining factors of Henderson's Liverpool rise has been his remarkable vitality.
It's not often that the Reds must plan without him.
But with Henderson considered a doubt for Monday's game, it may be best they do so in the interest of long-term stability.
The trip to the Emirates Stadium poses an important tactical dilemma for Rodgers, so how could Liverpool cope without Henderson?
Liverpool's System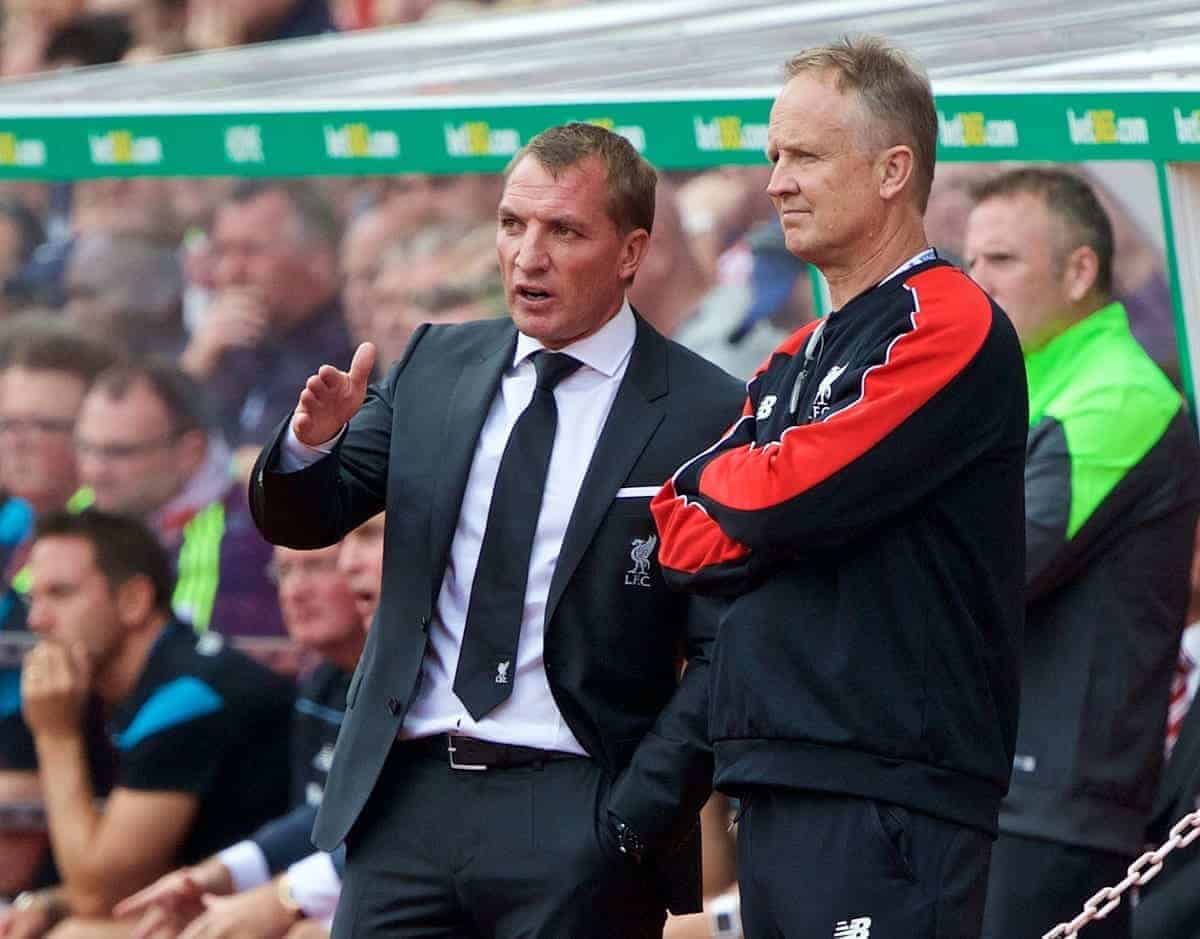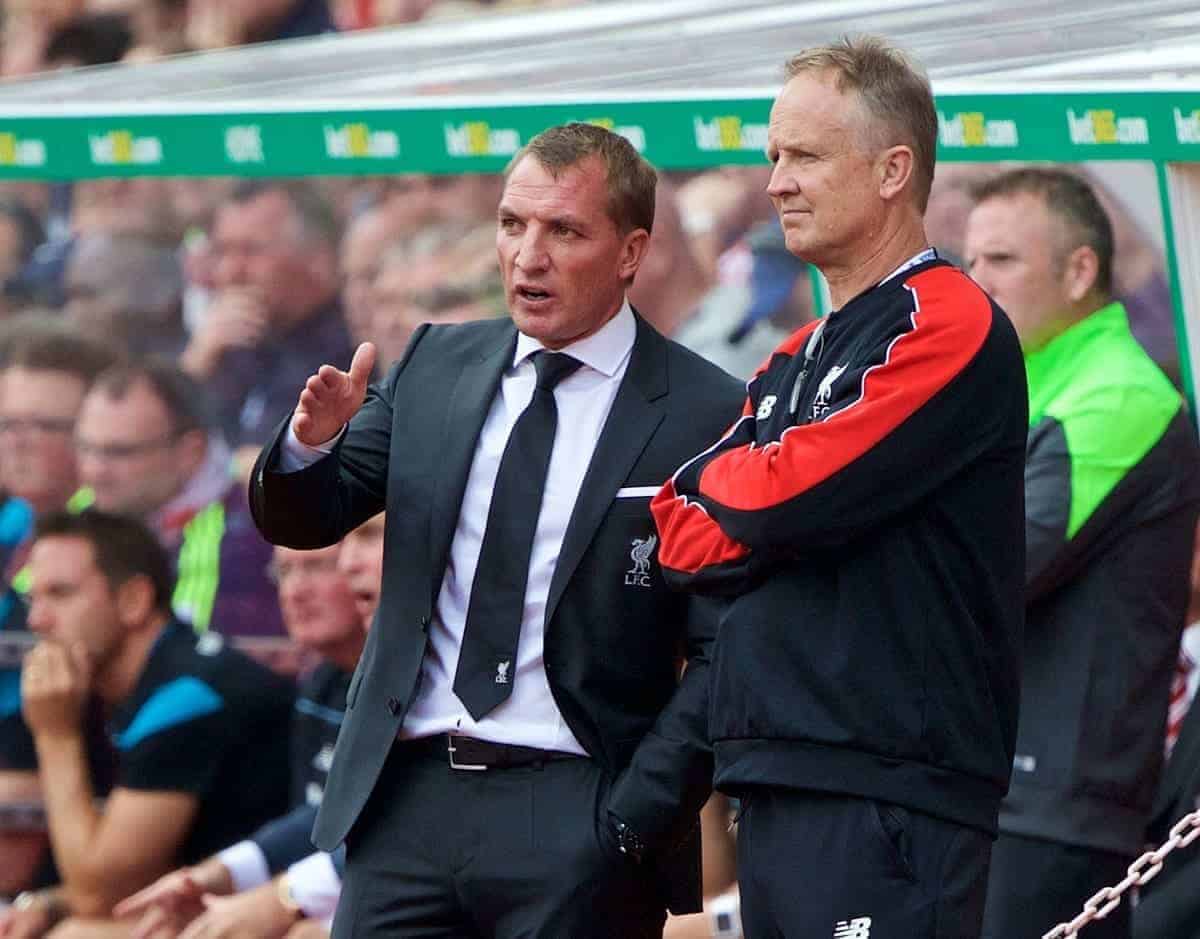 Rodgers has implemented a tactical sea change this season, countering the departures of key players such as Gerrard and Raheem Sterling.
Despite largely utilising a 4-3-3 formation throughout pre-season, Liverpool have played the majority of their first two games of the 2015/16 season in an intriguing, lopsided 4-2-3-1.
The numerical deployment of this formation from kick-off sees a deep-lying midfield pivot supporting two wingers and a No. 10, who are fielded to swarm around the lone centre-forward.
This formation is arguably designed to get the best out of £32.5 million man Christian Benteke, and the interchanging styles and unfortunate flaws of the system to date revolve around the Belgian.
As is the essence of football tactics, this system is not rigid, and Liverpool have drifted between the 4-2-3-1, a 4-1-4-1 and a 4-3-3 against Stoke City and Bournemouth.
The pivot is one of the most important elements of this, with one of the midfield two playing more of an advanced, pressing role—primarily James Milner.
This sees Milner flooding forward towards the right channel, filling the gap between the No. 10 (typically Philippe Coutinho) and the right winger (Jordon Ibe or Adam Lallana).
Liverpool's pair of 1-0 wins highlights how this is a flawed system, as despite the four-man support in theory providing enough to supply and feed off Benteke as target man, this hasn't been the case so far.
Instead, much of the Reds' success has stemmed directly from Henderson's role, and Rodgers' upcoming conundrum is fuelled by its singular importance.
Henderson's Role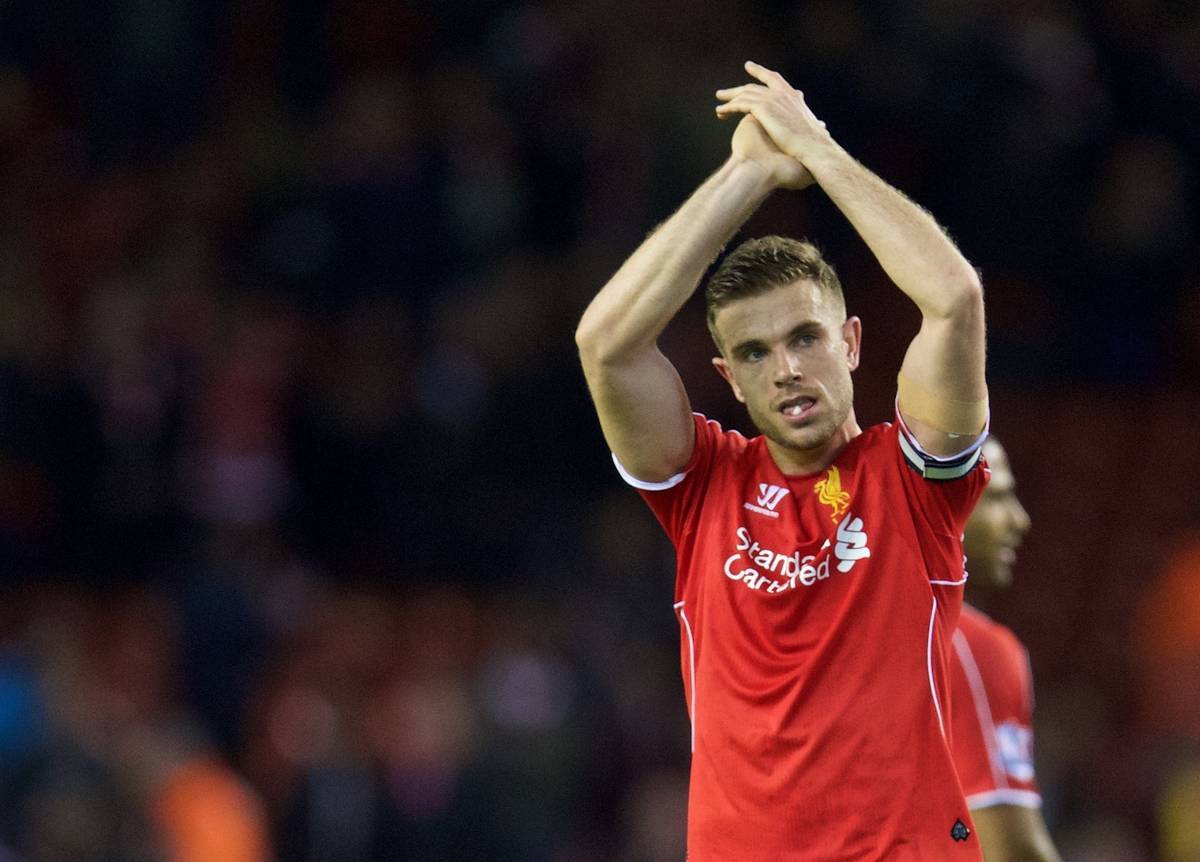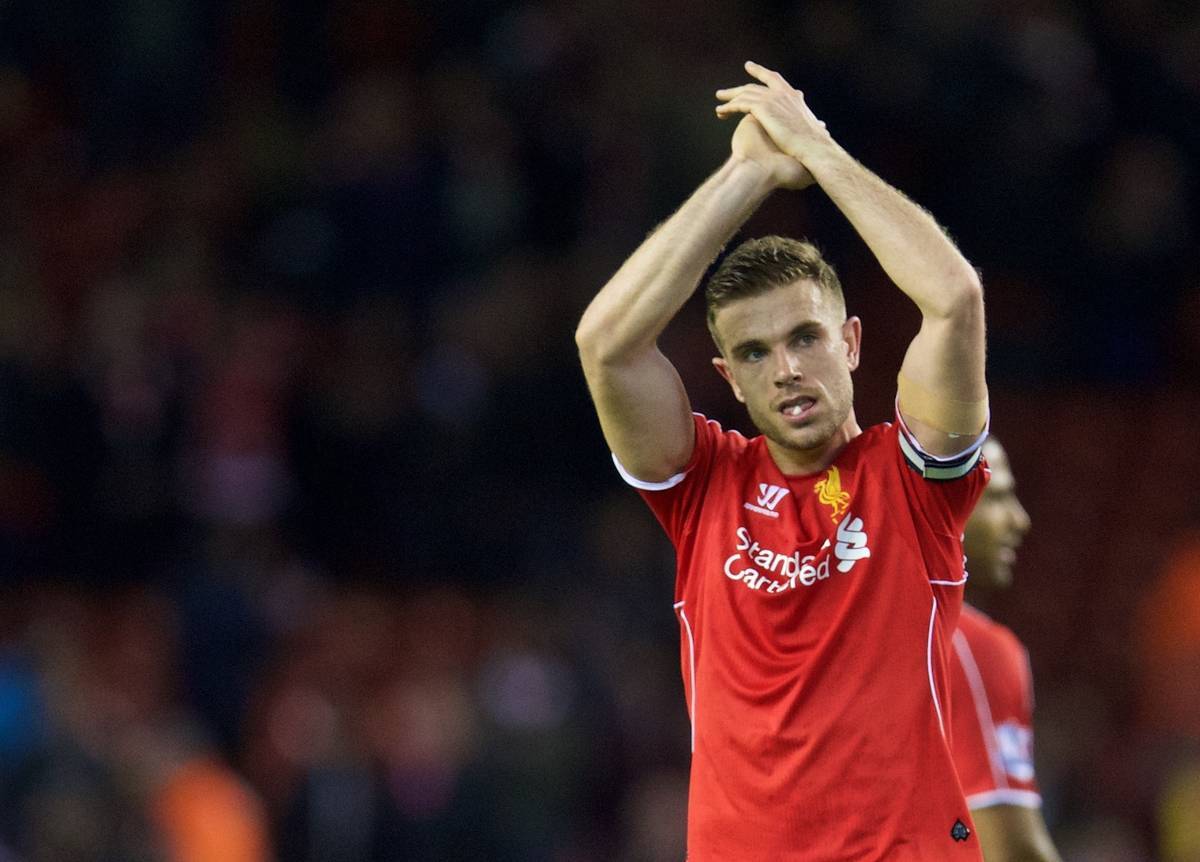 Henderson has progressed into one of Liverpool's most important players since his 2011 move to Merseyside, and the former Sunderland midfielder has earned his captaincy.
He's one of Rodgers' hardest-working players, and a hugely reliable character: he has been Liverpool's most-used outfield player for three of the four seasons he has spent at Anfield so far, while he was joint-third most-used in 2012/13.
He possesses a robust engine, tenacious defensive instincts and a never-say-die attitude, which has made him one of Rodgers' most valuable players.
However, he has also complemented this by honing his technique, with a strong passing range and understanding of tempo.
His role has shifted throughout his time at Liverpool, and this season is no different.
In this 4-2-3-1 formation, Henderson has been so far utilised as the deep-lying midfielder in Rodgers' two-man pivot.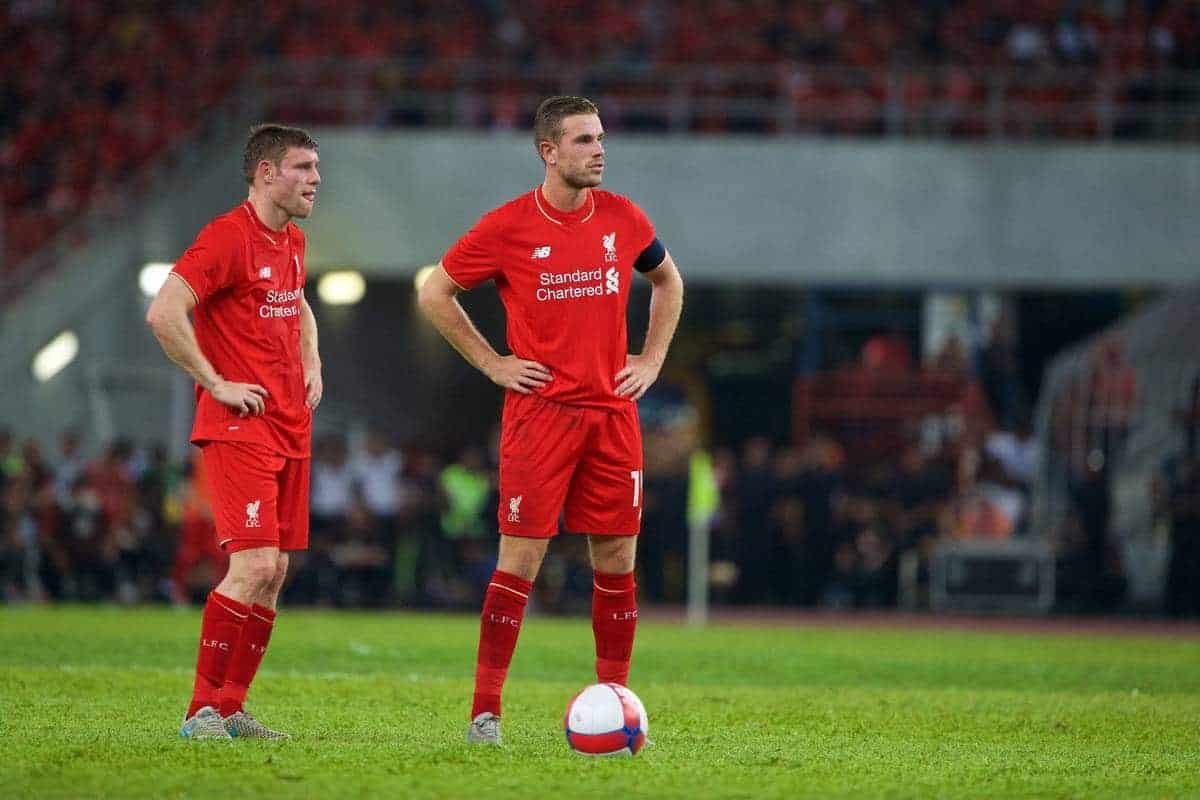 His strong relationship with Milner has been invaluable, with the pair seemingly enjoying a telepathy akin to that of Daniel Sturridge and Luis Suarez during 2013/14—a canny sense of where the other will be at any given time.
With Milner being given license to roam, Henderson has operated as a sitting midfielder, screening the back four and spraying passes from deep.
With Benteke's unavoidable aerial prowess giving the Reds a shameless direct-ball outlet, Liverpool have utilised the Belgian with long passes in their early fixtures; though Benteke has shown he can perform with the ball at his feet, this has been a useful strategy while Rodgers' side gels.
Henderson has been Benteke's principle supplier, lofting an average of seven long balls per 90 minutes so far this season—more than any other Liverpool player.
His role has helped Liverpool both break up play and quickly propel attacks, and potentially losing Henderson presents Rodgers with a quandary.
Options for Cover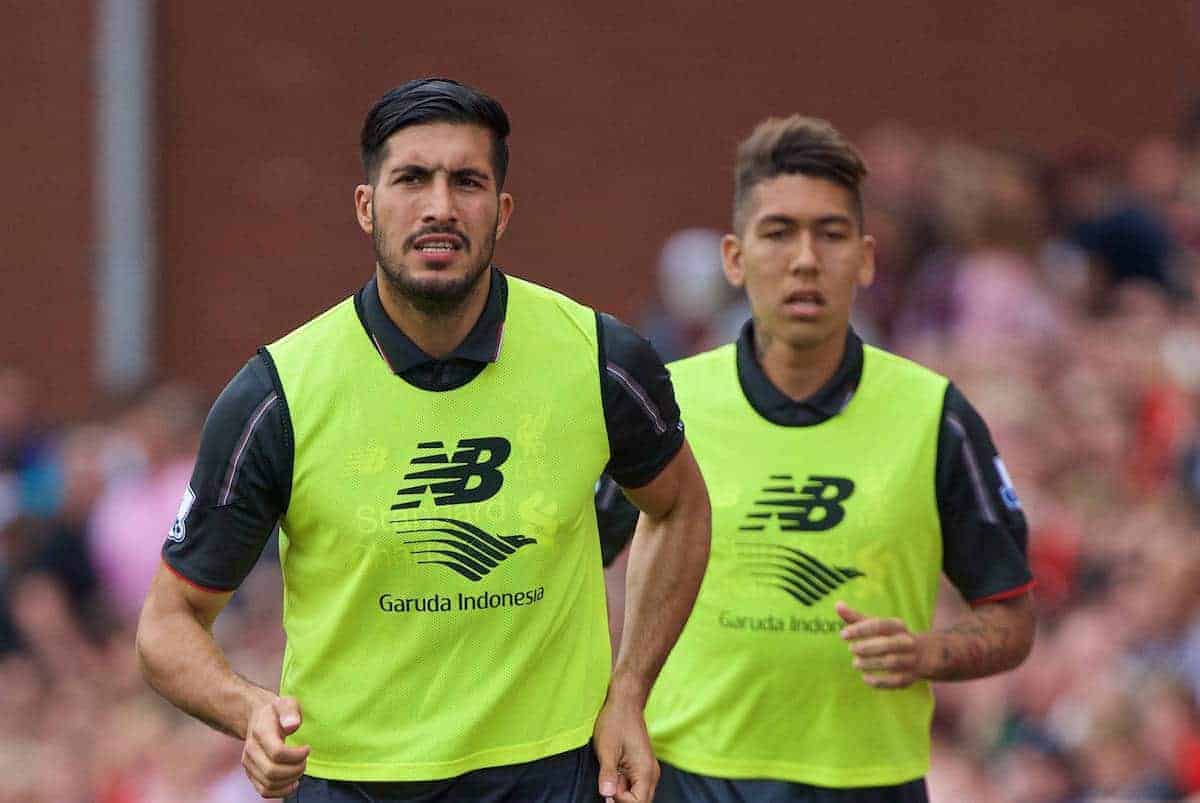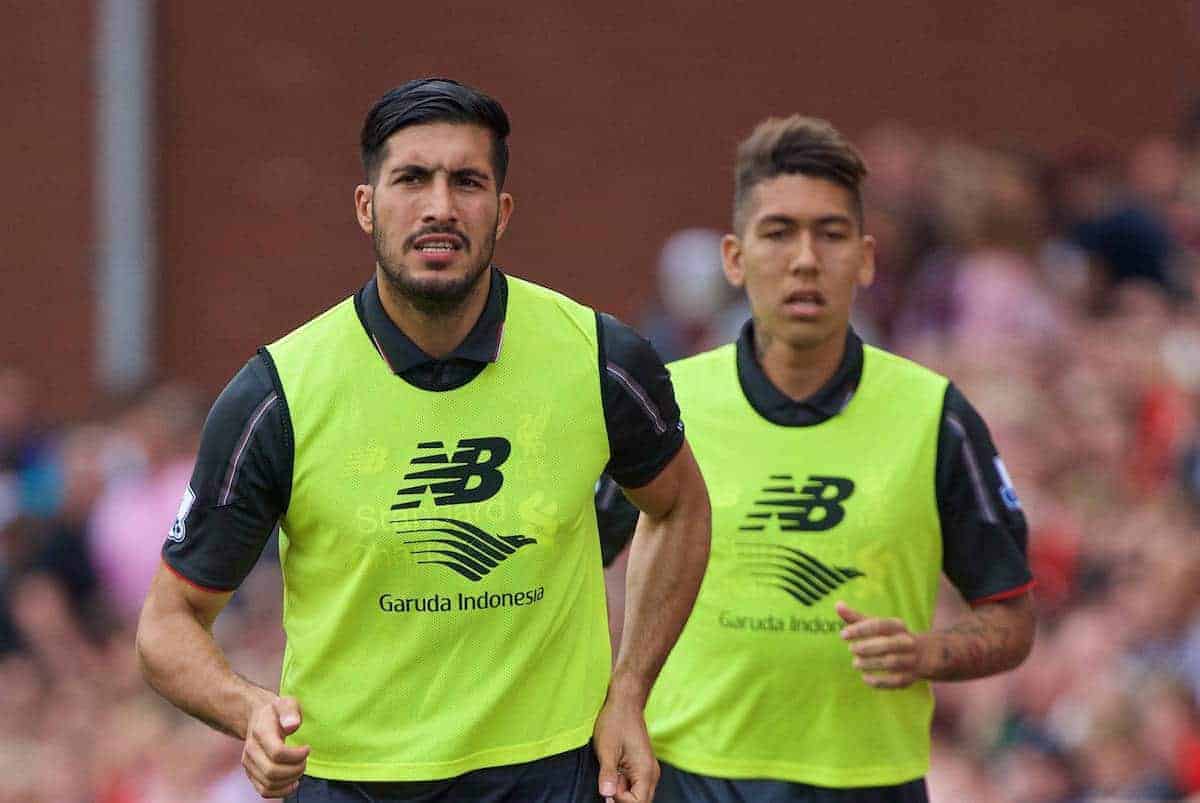 As Rodgers approaches his first top-four test of the season he has three key options in replacing Henderson—assuming he persists with the 4-2-3-1.
Firstly, and perhaps most likely, is German midfielder Emre Can.
Can came on for Henderson at Anfield on Monday night and performed a similar role to that of the captain for the 40 minutes he was on the field.
However, with Can a completely different specimen to Henderson, his execution was slightly altered.
He is capable of performing the defensive duties, but his take on the deep-lying midfield role is different to that of Henderson.
The 21-year-old is more of a box-to-box midfielder, and it can be argued that his attributes in Henderson's absence would better suit the role Milner plays alongside the Englishman.
Therefore, another option for Rodgers would be to shift Milner into Henderson's vacant spot.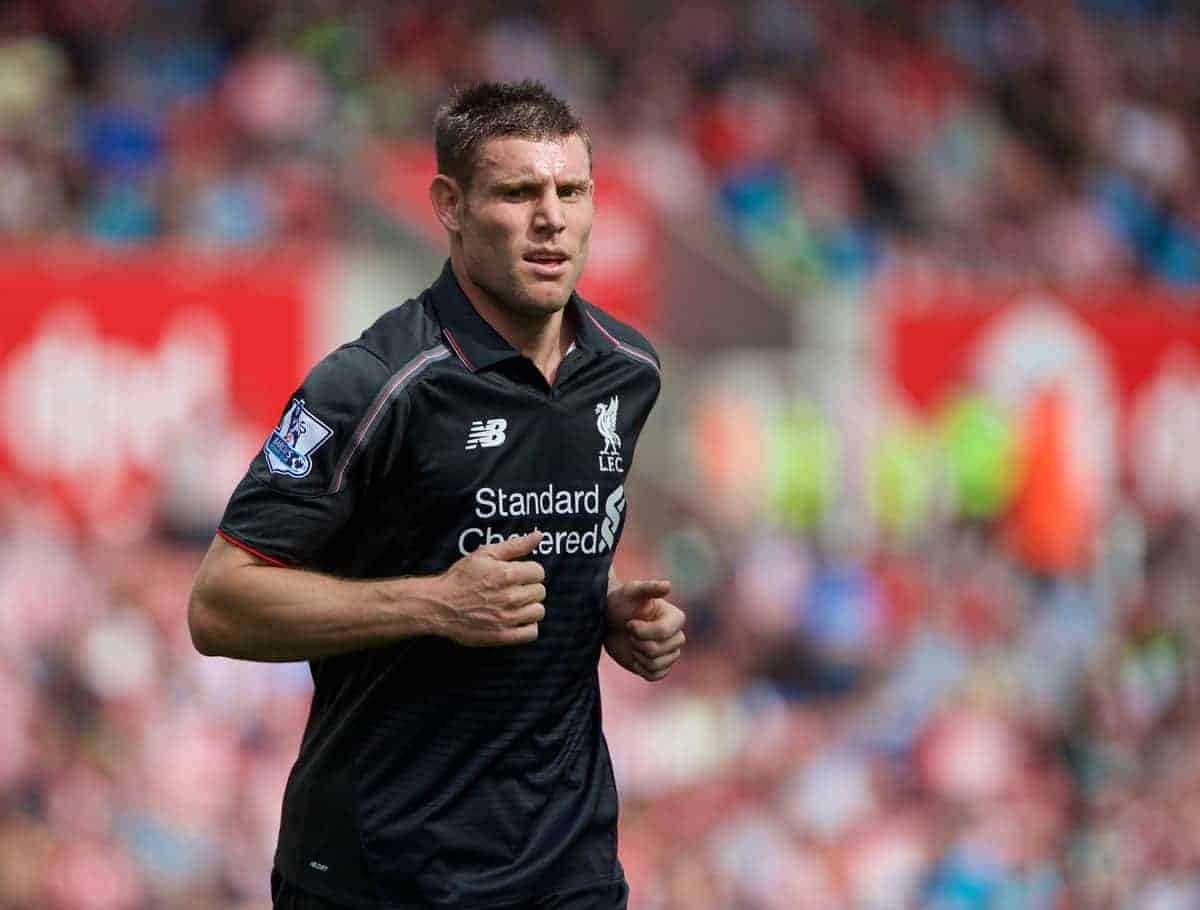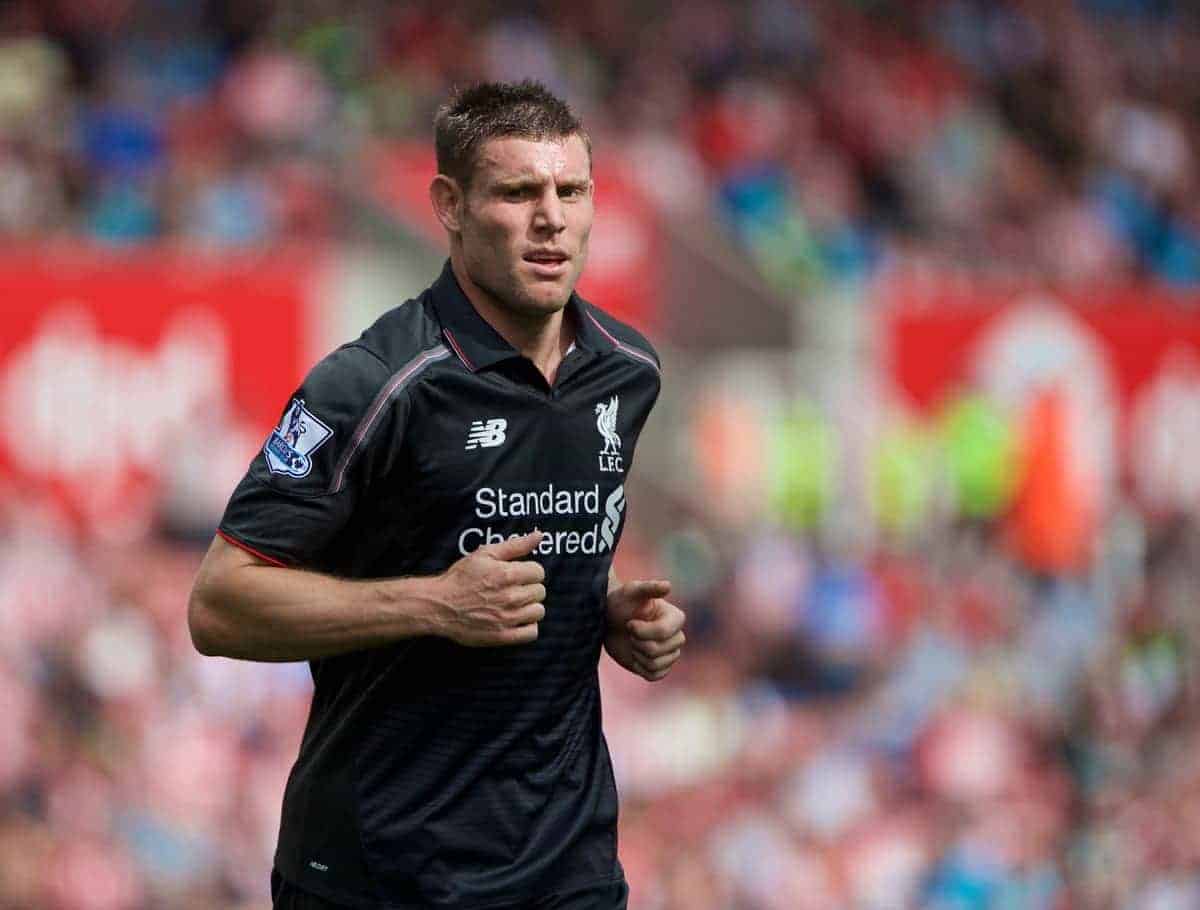 Like Henderson, Milner is a Jack-of-all-trades midfielder, able to pass, tackle and read the game well—furthermore, as a diligent, experienced player with a strong team ethic, the 29-year-old would likely put the structure of the midfield above his attacking tendencies.
Utilising Milner as the deep-lying midfielder in the 4-2-3-1 would allow Liverpool to continue the direct approach of the past two games without disturbing the midfield balance.
However, while this setup was enough to quell Stoke and Bournemouth, would a return for the more defensive-minded Lucas Leiva be sensible for this visit to the Emirates?
Absent from Rodgers' match-day squad for both of the opening two fixtures, Lucas returning to the starting lineup would be a surprise move, but his limited, tough-tackling game could be favourable against attack-heavy Arsenal.
Can is most likely and Milner arguably most suitable, but Lucas could be the wildcard Liverpool need in north London.
That is if Rodgers decides following Henderson's injury scare to prolong the Brazilian's Reds future once more—fortune favours the No. 21.
[interaction id="55d4b7bd8768712c75d70ebc"]