Ahead of Sunday's clash with Norwich City, Brendan Rodgers has discussed the virtues of partnering Christian Benteke with Daniel Sturridge.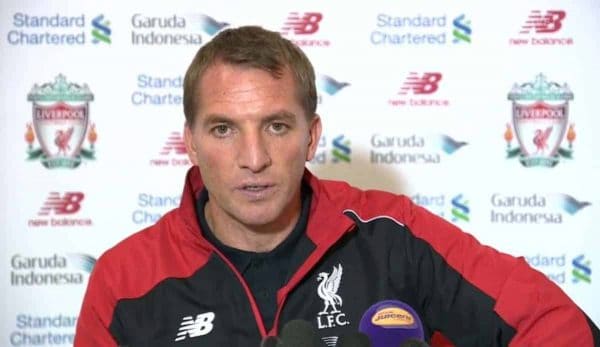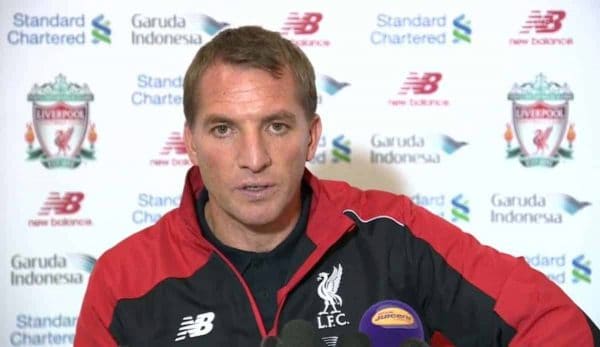 Brendan Rodgers is looking forward to partnering Christian Benteke with returning striker Daniel Sturridge, but the Liverpool manager remains guarded as to a change in formation.
Speaking ahead of Sunday's Premier League clash with Norwich City at Anfield, Rodgers discussed his side's lack of attacking strength, saying the Reds need to return to the "risk-taking" approach that has plagued the Canaries in the past.
"For some reason that wee bit of risk has come out of our game," he told reporters.
"We've missed a lot of goals and creativity in our team…but that's something the players have been working really hard at.
"It only takes that one performance to spin the season around again."
Rodgers stressed the importance of a clutch of key players returning to the first-team fold, with Sturridge perhaps the key absentee so far this season – the England forward will be assessed ahead of Sunday's game and could be back in the squad for the first time since April.
Asked whether he would consider pairing Benteke and Sturridge, Rodgers said "we've been waiting for that."
"On his game [Sturridge is] one of the best that there is," he continued.
"For him it's just about getting himself back in and playing and obviously getting the goals.
"When he can stretch teams like he can with his pace, and you put Christian beside him and Coutinho behind that or beside him, it's a really exciting dynamic.
"We've been waiting for that for quite a period of time."

However, when asked whether this would mean a switch to a two-striker system, as opposed to the 4-2-3-1 and 4-3-3 formations that Liverpool have utilised in the league so far, Rodgers remained cautious.
"When I play the striker off the side he's never really and out-and-out winger, he'll always be off the inside," he explained.
"Danny [Ings] we had in the team against [Manchester] United just off the inside and he worked tirelessly in the game."
However, he conceded: "[Playing two strikers] is something we'll look up."
"Whatever the system we know that we need to create and score more goals," he continued.
"However that balance is, that's something we're looking to improve on."
Pairing Benteke with Sturridge would arguably solve many of Liverpool's attacking problems, with the 26-year-old's pace and dynamic movement complementing Benteke's strength and power.
Whether Rodgers adjusts his tactics to accommodate the pairing remains to be seen.